Toddler Costumes
We don't need to explain why giving a toddler a costume is a good idea. You know that getting them dressed in a toddler cat costume before reading about three little kittens missing their mittens could make learning to read more engaging. You understand that the itsy-bitsy spider is a lot less spooky when a kiddo gets to be the intrepid critter in a toddler spider costume. And that imagination grows when the characters from each make-believe adventure come to life!
We need to explain that we have over 1,000 toddler costumes to make all of the above happen! The following guide will break down a few popular toddler girls' costumes and boys' costumes, how to turn playtime costumes into full trick-or-treating ensembles, and why our exclusive costumes are the investment dress-up collections crave. All while inspiring new costume ideas from group looks for family Halloweens to birthday party ideas any toddler will love!
Toddler Girl Halloween Costumes
There's a reason the poem goes "sugar and spice and everything nice" not "beauty and bows and everything rose." Toddler girls are more dynamic! They're magic, opinionated, and wildly imaginative. Playing everything from house with their Barbies to LEGOs and monsters. Their costumes should match!
Curate the fierce, frilly, all-around fantastic collection of costumes your little lady needs with the help of our toddler girl costume ideas. From spooky Halloweens to peaceful princess playtimes, we have costumes for every growing gal!
Toddler Witch Costumes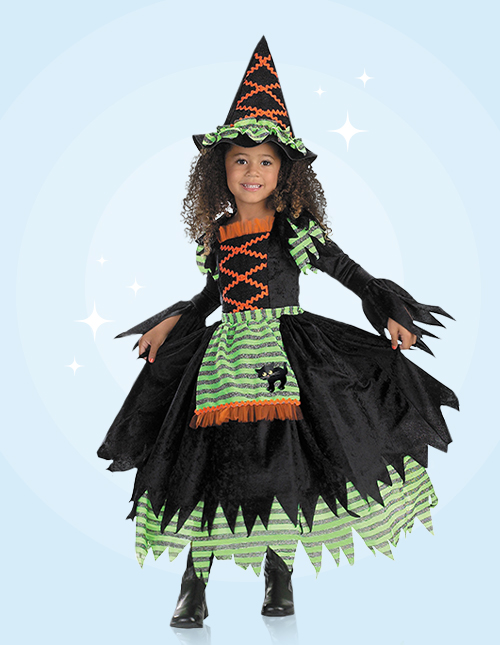 Witch costumes are an essential ingredient in the Halloween brew. And with their diverse styling, from glitter to gloom, there's a bewitching option for everyone! Including the little sorceress that might be living in your home! Choose this storybook witch style for a cute and classic look that's sure to conjure fun even after trick-or-treating ends with its playful detailing and easy-to-wear design. Just don't forget a wand or broom to perfect its charm!
Toddler Clown Costumes
Toddlers have a natural ability to make us laugh. It's like they all graduated clown college on their way out of infancy. So, it just makes sense to consider clown costumes when getting your little one ready for Halloween or playtime! Especially, with styles like this toddler clown costume! Full of color and featuring a tutu with plenty of twirl factor, this vibrant option is sure to entertain from make-believe circus to trick-or-treat!
Toddler Dalmatian Costumes
Puppy playtime takes many forms. Games of fetch with Fido may be your first thought. Unless you have a toddler. In that case, you likely imagine your kiddo crawling on hand-and-knee, yipping for snacks, and making endless blaba-blaba-blab sounds with their tongue. Help them enjoy the pup session even more with dog costumes like this adorable Dalmatian! From our FUN Costumes collection, this sweet ensemble is made to outlast puppy love!
Toddler Fireman Costumes
If not dreaming up fairytales or imitating real life with playsets, toddlers can be found imagining what they want to be when they grow up. With our occupation costumes, the adventure begins at playtime! Whether your little gal wants to be a top chef, a nurse to more than baby dolls, or a firefighter ready to save the day, our selection has them covered. Pair with props, accessories, and more from our occupation gift ideas to level up the career play fun!
Toddler Boy Halloween Costumes
Just like the gals, toddler boys hit more than one note. It's not just getting messy outside and inciting NERF fights. They're also dreaming up how their home will look, and whether they'll be a vet, police officer, or celebrity when they grow up. Or maybe they'll be all three for Halloween!
After reading our list of toddler boys ' costume ideas, assemble an assortment of costumes that suit your little fella's every mood and interest! From classic trick-or-treating options to licensed Disney duds for every prince, our selection is a kiddo's dream come true!
Toddler Ghost Costumes
Simply put, peek-a-boo is a favorite toddler game. Even if they don't hide under blankets, a gasp at their "sudden appearance" delights every child! Which makes becoming the ultimate peek-a-boo-player an easy choice, especially with this classic sheet ghost costume! From jump scares to displaying a tot's old soul, ghost costumes are the way to go! Help them carry the fun past peek-a-boo with our spirited selection and a sturdy trick-or-treat bucket!
Toddler Dinosaur Costumes
We know a costume everyone loves. Dinosaurs! But it may be toddler boys that love them most. Each style lets them bring the roaring, stomping, giants to life. For energetic hatchlings, there are few things better. Opening their own Jurassic Park might be a contender but we digress. Help your little one uncovers their dino passion with our toddler triceratops fossil costume. Easy to wear and made to last, you'll both dig having this exclusive in the dress-up collection!
Toddler Spider-Man Costumes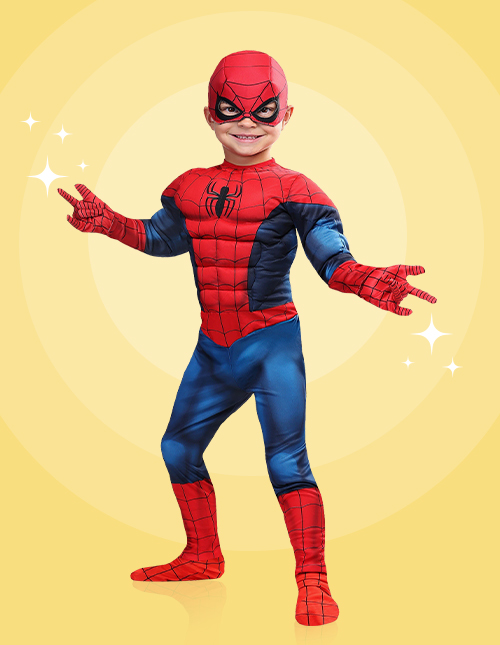 The proof is in the pictures. Every toddler goes through a Spider-Man era! And our Spider-Man costumes ensure fans can swing into action as their favorite version of the web-slinging hero whenever they want! Get them suited up in this exclusive Spidey costume, fit for the inevitable weeks-long period when it'll be the only thing they'll wear. Then explore our full Spider-Man selection for gifts that help fans enjoy Spidey without the mask.
Toddler Lion Costumes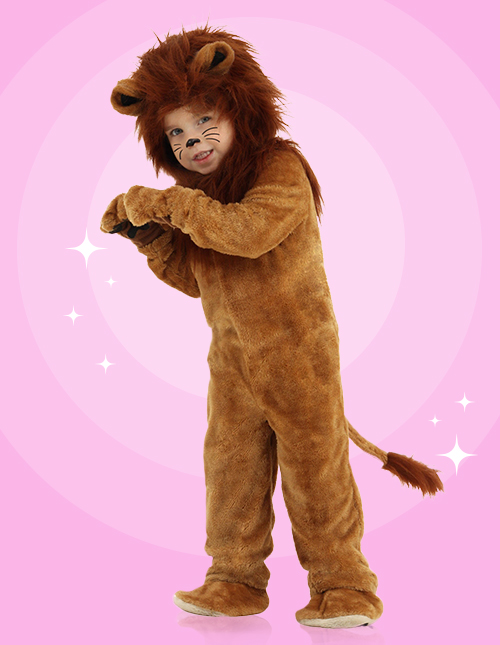 Part of the fun of toddler costumes is knowing it unleashes their wild side. And if we had to pick the best group for the job, we'd point to animal costumes. Especially options like this exclusive toddler lion costume that'll help your toddler imagine being the king of the jungle! Or bring zoo trips home with lions, tigers, bears, and more for the entire family. From Wild One birthday parties to crowd-pleasing trick-or-treat themes, our animal gifts have ideas for everyone!