Marvel Gifts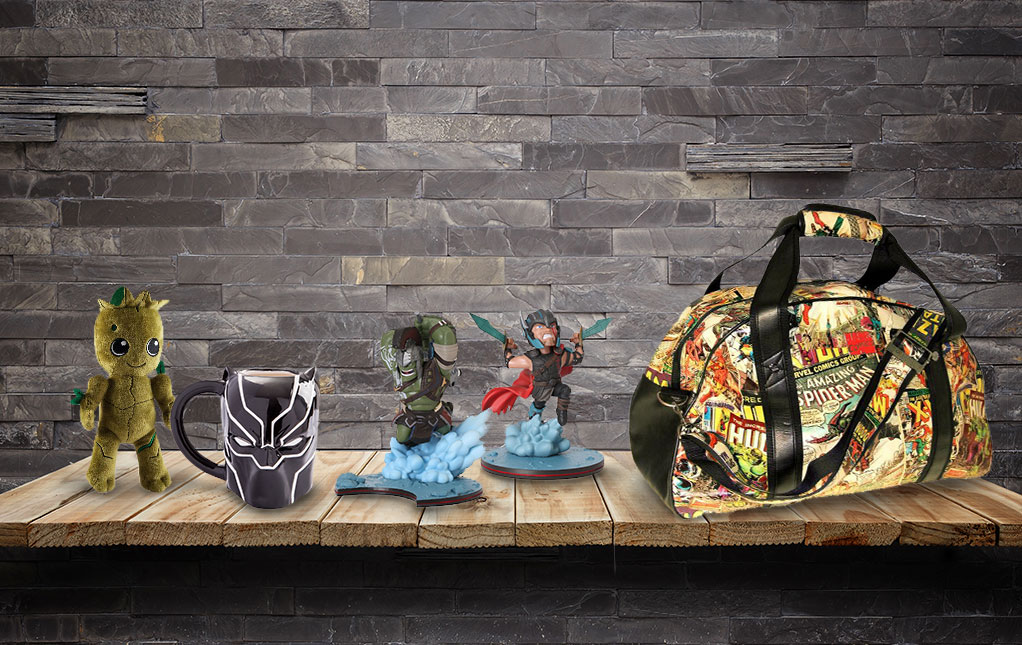 hen you learn that there might be a whole bunch of superheroes running around and using amazing powers in various acts of protection and wonder, it is more than reasonable that one of your first reactions is to ask how you can be a part of something that fantastic. (Probably after purchasing collateral damage insurance and tinfoil hats, obviously.) Activating your own abilities might not be as easy as drinking a mysterious elixir or a heroic workout, but you can always be a hero to yourself and others by inviting some of the superhero squad into your lives. Take on the marvelous job of becoming a gift-giver when you stuff your friends' presents. We have a wide variety of Marvel gift items from the serious like this Thor collectible to the silly, like a Groot plushie, and occasionally scary. (Say hello to this Hulk figure)!
Marvel Gifts for Him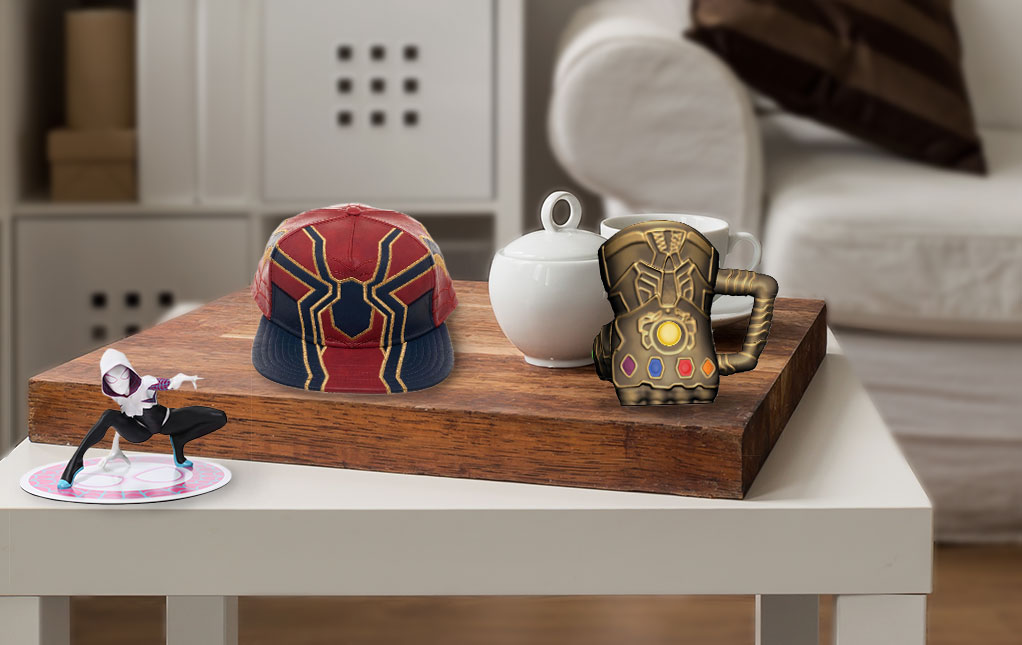 The Marvel Universe is populated by a ton of different kinds of folks from genetically adapted mutants and cosmically empowered villains wielding the Infinity Gauntlet to serum-altered soldiers and heroes from parallel dimensions (we're talking about you, Spider-Gwen). There are even a handful of profoundly skilled but otherwise normal humans. Of course, nothing stops these Marvel men and women from standing toe to toe with the baddies that threaten the world and we know that you think the same of the geeky guys in your life. Even if he isn't flipping out windows and firing a hundred arrows a minute, there are plenty ways to let him feel like a hero. Sometimes, it can be as simple as finding a unique Spidey-themed cap among our variety of Marvel merchandise.
Marvel Gift Ideas for Her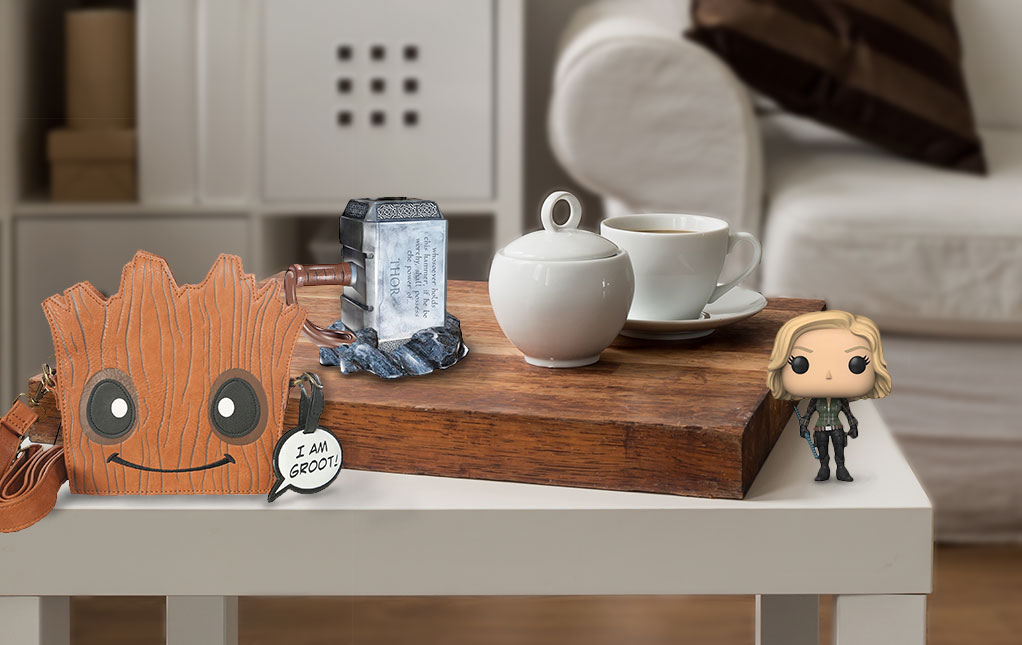 You might think that impressing the ladies of your life is going to be a legendary task, but there are just as many geek gals out there are there are guys! Take a lesson from the Black Widow, for one. This femme fatale has a heart of gold and a stinging punch, and she stands as a great inspiration to anyone on how to get just what you're looking to grab whether it is by sneaking or exploding your way in! All you really need to figure out is if your gift needs to be for someone who is looking for a cute companion Groot and Rocket mini backpack to ease her burden or if she's to wield this Mjolnir mug herself!
Marvel Gifts for Kids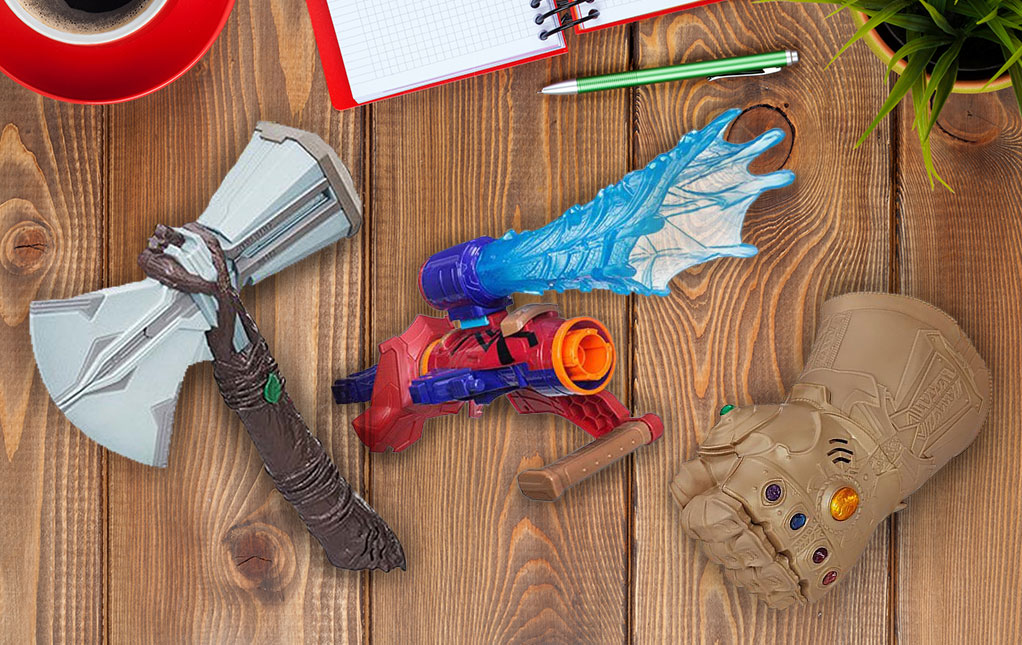 It's always a challenge to find the right token that'll bring a gleaming smile to a child's face, though it's also a surefire method of improving your entire world. And, if regular folks have a tough time standing up to villains, our tykes have even further to go! There are some fantastic Marvel gift ideas for kids that will not only brighten their day but give them the edge to win in the fight for reality (in the form of the Infinity Gauntlet itself). Imagine putting some of the weapons that shape the fate of all into their hands. These Marvel Universe toys are fortunately only kiddo models of the real thing, but the nerf firing action of this Spider-Man blaster or the lightning-like electronics of this Thor hammer can give a serious vicarious thrill!
Marvel Toys
Marvel Avengers Toys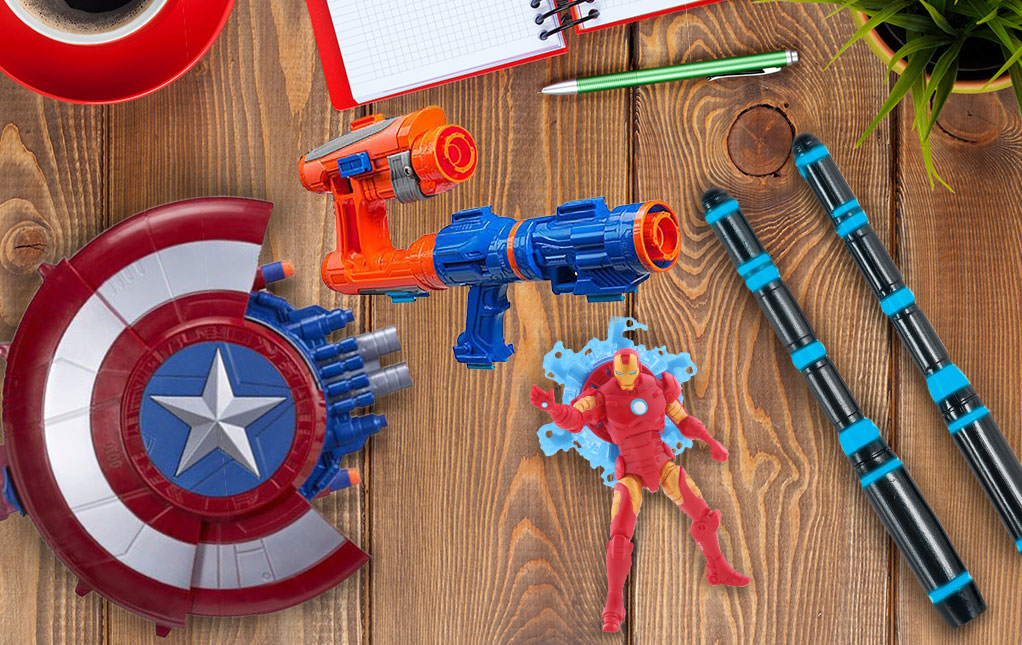 The heroes aligned with S.H.I.E.L.D. aren't successful just because of their superhero squad. They've also got all the tools they need to get those world-saving jobs complete! So, if you are looking to plan for a great memory for your kiddos, imagine a themed party as a great Marvel birthday gift! Get all the Nerf darts you need and watch the fun begin when the kids become their favorite Avenger, Iron Man. Will it be some of our customizable Nerf assembler gear or perhaps the lightshow of melee with some Black Widow batons? Show the would-be heroes the benefit of a good surprise with a shield hiding a secret! This party will be one for the books. You might need some Marvel super hero squad toys for yourself. (We understand that you won't want to be left out!)
Black Panther Marvel Toys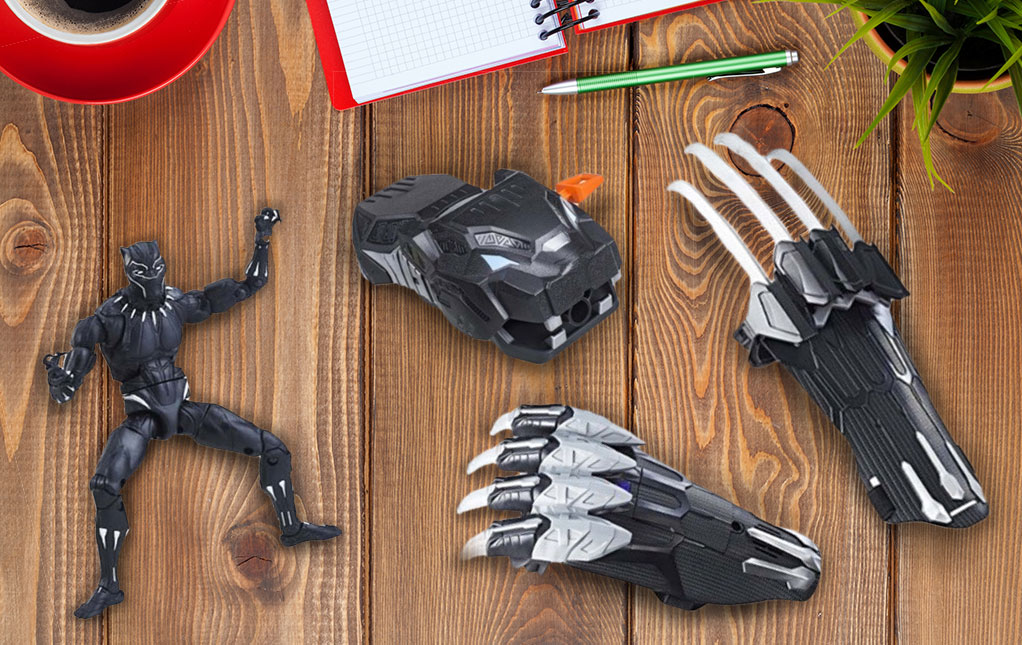 There aren't many things better than making a new friend. Of course, if that new friend just happens to be Black Panther with a bunch of select toys that heighten his nation to a futuristic utopia, that only increases the fun. Let your tyke see what Wakanda is like! Meanwhile, you can be just like Shuri and decide what gear your little royal folks need for their mission with these Black Panther Marvel toys. Should your little panthers flash their assembler gear or fire off energy bolts from their panther gauntlet? (Those bolts look surprisingly like Nerf darts!) Perhaps all that flash and crash isn't necessary... Then again, the right claw with light and sound effects could be a blast! Wakanda forever!
Marvel Gallery Figures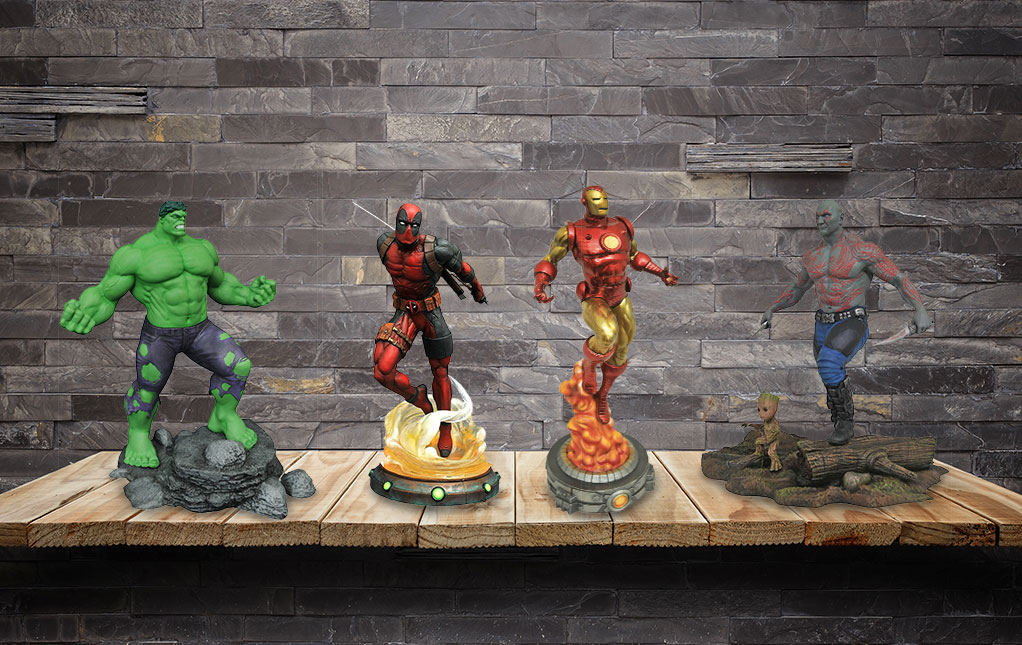 When you've managed to win the warzone, there's only one thing that you need. That sigh of relief and the knowledge that you've guarded the galaxy like Groot and Drax is great at settling the heart and giving you that sense of profound pride. But... hey, everyone likes a trophy for saving the world! Whether you are looking to reward a major success or even just honor the heroes who helped save the galaxy, these Marvel superhero figures make great gifts for adults and kids alike. Celebrate the Avengers with Iron Man, the Hulk, and the rest or even sit back with some chimichangas and chatter about the whole Marvel universe with the crazy mutant, Deadpool, who has done it all!
Marvel Props
Infinity Gauntlet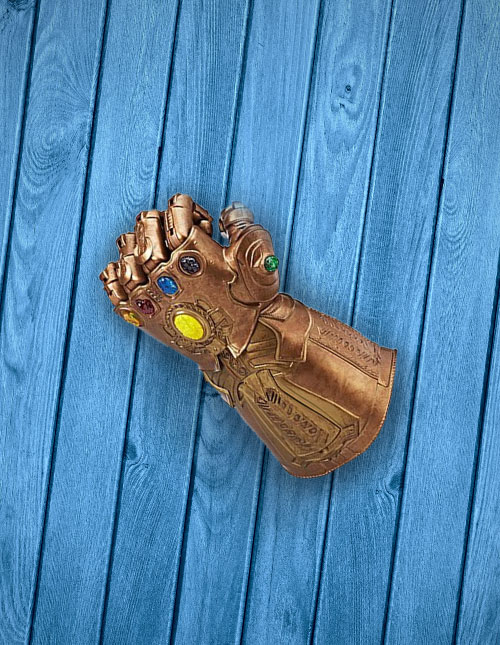 When it comes to having the right prop for the right task, things can get a little out of hand. That's especially true if you're talking about certain glove-shaped relics that can reshape reality how you see it. On the other hand, (possibly literally), the ability to make the world exactly how you want it might not be all bad. Did you particularly enjoy the Marvel Zombies comic series? Well, you're one snap away from imagining all your favorite POP! figures as a bunch of Marvel zombie toys! Of course, we probably would prefer you go a different route when you give this gleaming movie replica as a gift. At least you can say that you're giving someone the whole world with this one!
Star-Lord Mask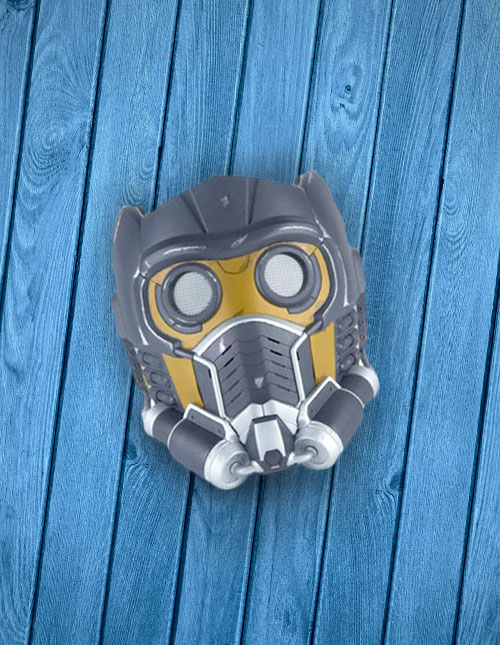 Now, if someone does go a little crazy with divine power or cosmic gauntlets, you might need to so some galactic salvation of your own. Sure, you've got plenty of options amongst the superhero crew for who you can call to combat the forces of evil, but sometimes someone has to take the fight into their hands. In that case, a brave human needs some extra gear to bring home the win. The right authentic prop can give anyone what it takes to be guardian worthy... and the right flashy sound effects and lights are always helpful to make sure everyone else knows that you are! One of Star-Lord's masks is a surefire way to make your space-faring friend successful!
Captain America Shield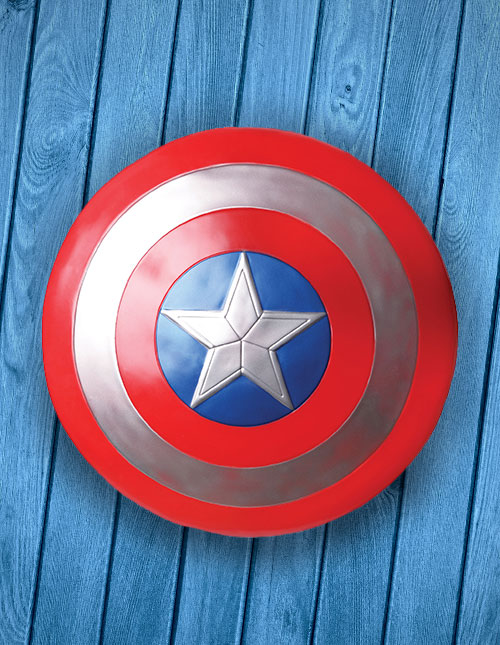 Everyone knows that holding the right prop helps to complete your look. But, think about how the precise prop makes it all the clearer. Captain America, for example, is immediately recognizable because of his heroic looking shield. Stars and stripes are a bold claim for any heroic look, but which Captain America are you looking to become? Are you a vintage hero from the World War II era? Well, then you've got to go with a kite shield appropriate to the time! But, if you're ready to show the world that you are the newest, bravest, and most stand-uppiest Cap out there, the iconic circular shield of truth and justice is the only way to go!
Thor's Hammer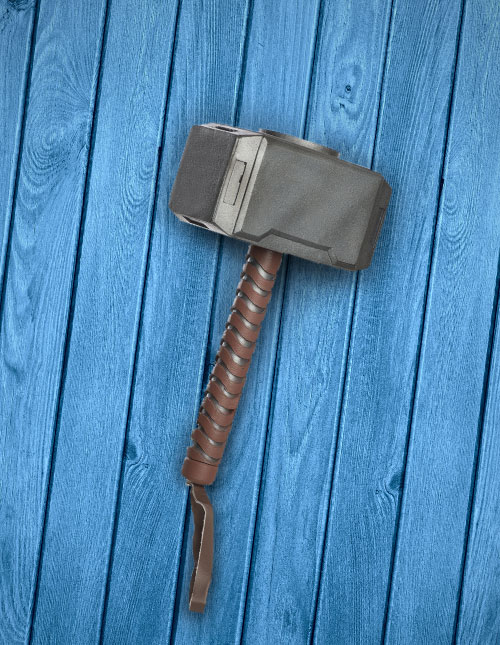 Do you know someone who you think is worthy to take on the mantle of a hero of the people? Maybe start out with just saving the Asgardian folks and branch out to taking down the biggest bads in the universe. Either way, it's pretty cool to think that the power of the god of thunder isn't just passed down from father to son but is available to whoever is truly up for the task. Like our own world's Excalibur, whosoever is worthy to take up this magical hammer is bound to be the next protector of the skies! We're pretty sure that you've got the perfect someone in mind to bring the thunder down and make that rainbow bifrost bridge to tomorrow.