T-Shirts for Adults & Kids
Getting ready for the day is already tough enough. The alarm blaring. The sun always managing to break through the smallest crack in the blinds to disrupt your dreams of being a sleeping beauty. Then, of course, there is the war for the bathroom. Who has the time to deal with all of that and then still put on a bright face for the day? We need support in these trying times. We need something that's got our back! (If it could get our front, that'd be helpful, too.) That's when we can turn to our trusted fun t-shirts. They're comfortable. They put our heart right on our sleeve! And, heck, they're just fun!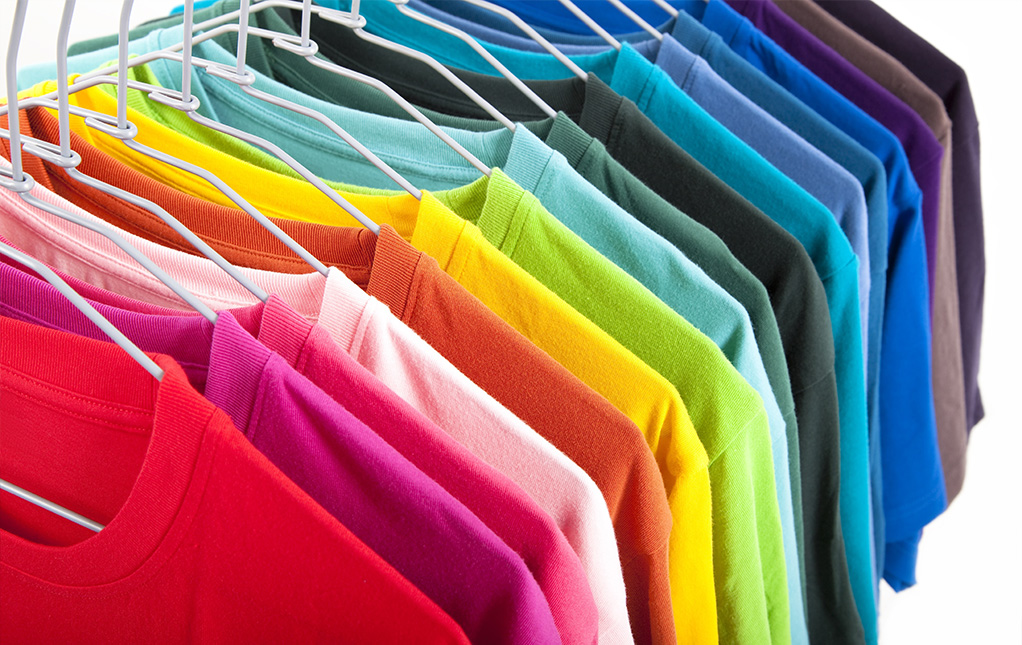 If you're looking to bolster your supply of whacky, funny, or on-topic t-shirts, we're here to help you find the perfect ones! Even if your closet has already attained the peak perfection of your shirt collection, we all know that friend who is sorely lacking. (You know the one who you'd swear is a cartoon character since they're always in the same shirt?) Gift 'em some variety or expand their fandom universe with everything from iconic comics to classic Nickelodeon memories. Browse through our categories of great t-shirts to find the ones that make you laugh or make you scream, because we've got your back, too!
Disney Family Shirts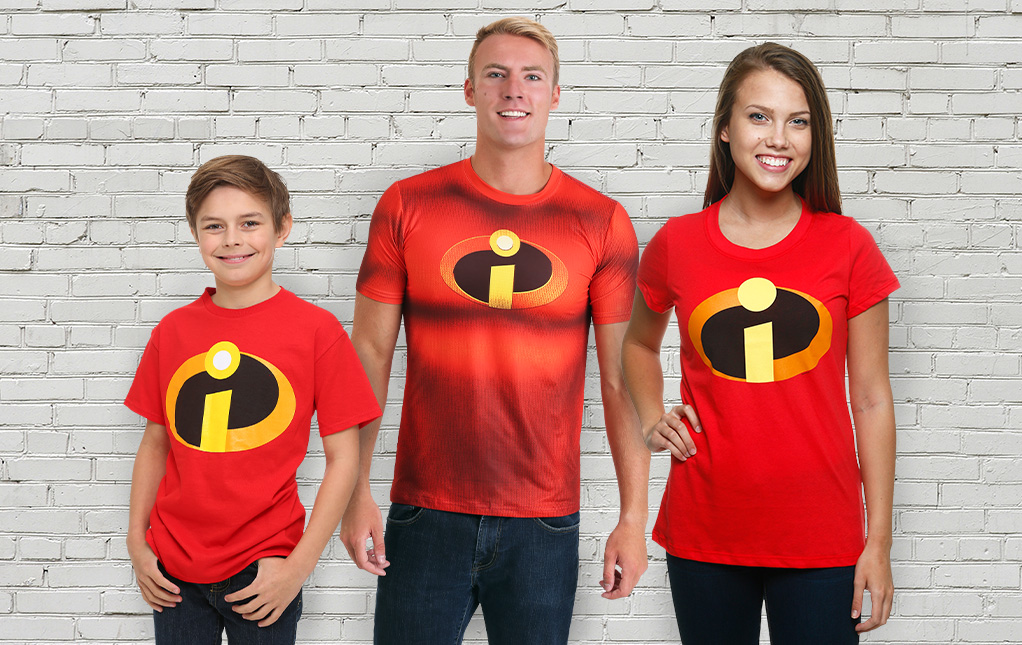 We know you've got the Disney movies, the costumes, the streaming service, and maybe even the toys. But do you have the shirts? Are you living your very best Disney life? Of course you are! But does that mean you have all the Disney t-shirts that you've ever wanted? If there are new characters you need to show love for...or even if you just still have room in your closet, you've come to the right place!
Disney Shirts for Women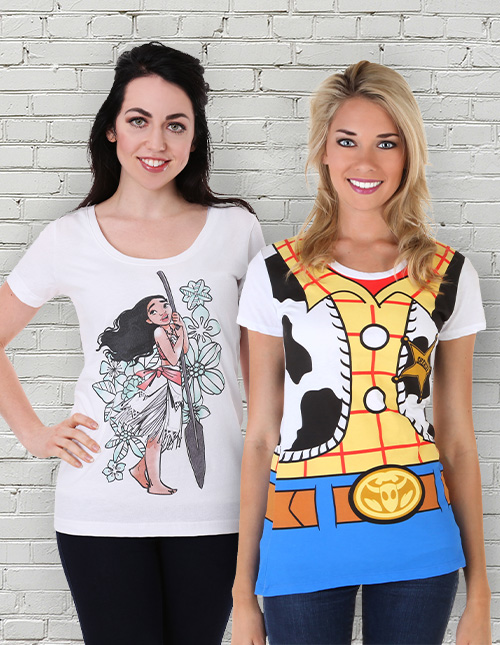 If you've got a love for Disney Princesses, cute tops, and brightly contrasting color schemes, this is the thing for you. We've got a variety of women's Disney t-shirts that are perfect for every occasion. Show that you're brave. See a whole new world. Hear the call of the ocean. It's time!
Disney Shirts for Men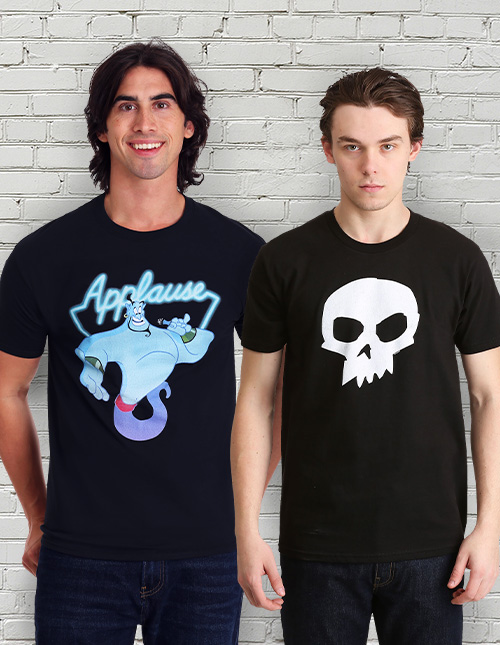 Just like Gaston, no one shows Disney pride like a tee! Feel like a (Lion) King with a Mickey Mouse t-shirt. Feel the superhero strength of the Incredibles. From Toy Story to Kingdom Hearts, you won't need Aladdin's lamp to grant your wish for a great Disney t-shirt for guys.
Disney Shirts for Kids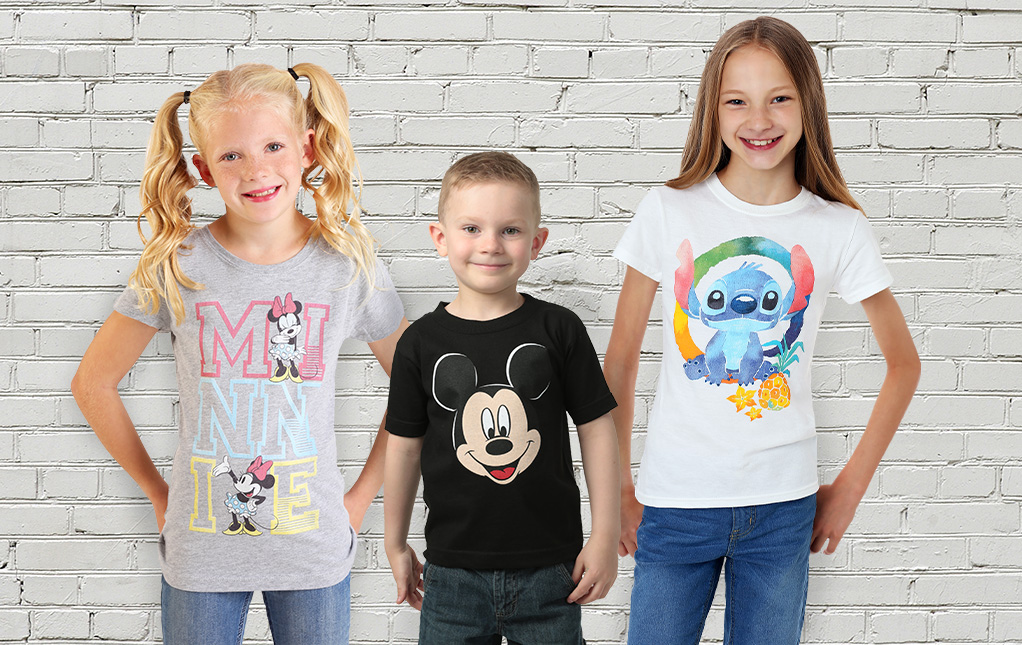 There's nothing that speaks more to kids than Disney. And we're happy to supply a ton of kids' graphic tees that feature their favorite Disney folks! From classic Mickey, Minnie, Goofy, and Donald shirts to the modern characters, you're sure to find a shirt that'll make your kiddo smile.
Star Wars Shirts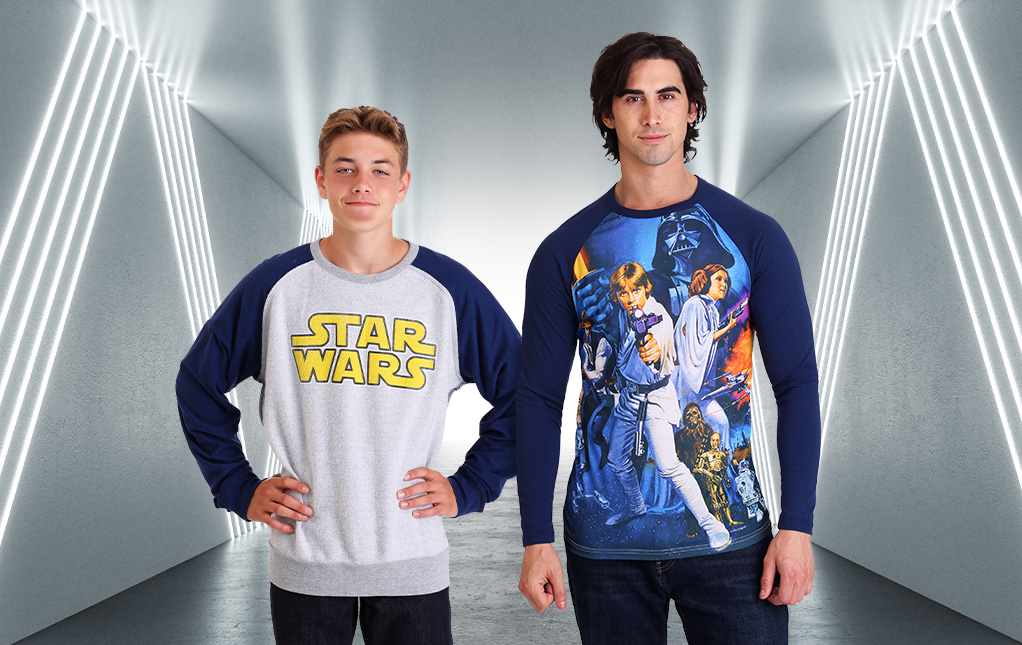 We certainly love our 80s movie t-shirts. From Beetlejuice and Back to the Future to Ghostbusters and Gremlins, we can't get enough. But nothing wins our hearts quite like Star Wars. We've got all your favorite characters and movie moments from the original series in Star Wars t-shirt form. Of course, if you're a fan of the prequel and sequel trilogy, may these Star Wars t-shirts be with you, too!
Women's Star Wars Shirts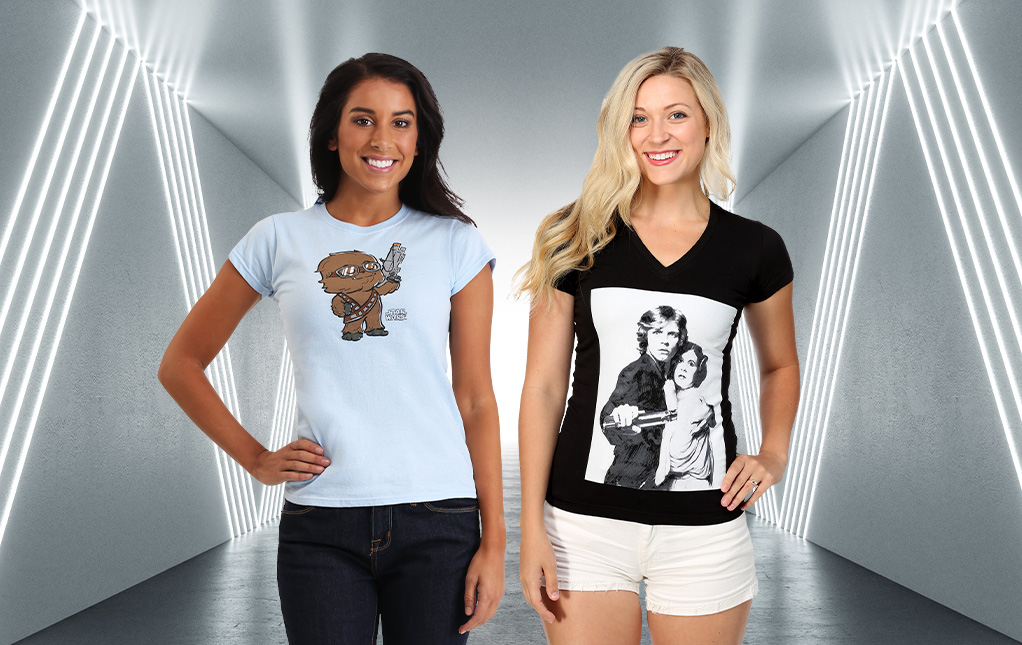 Ewoks, Droids, and Porgs, oh my! It's time for Star Wars shirts for women that have some of the cutest designs the galaxy has ever seen. It isn't all destruction and Dark Side, after all. Look at these adorable critters... and then watch out for their terrible destructive power!
Men's Star Wars Shirts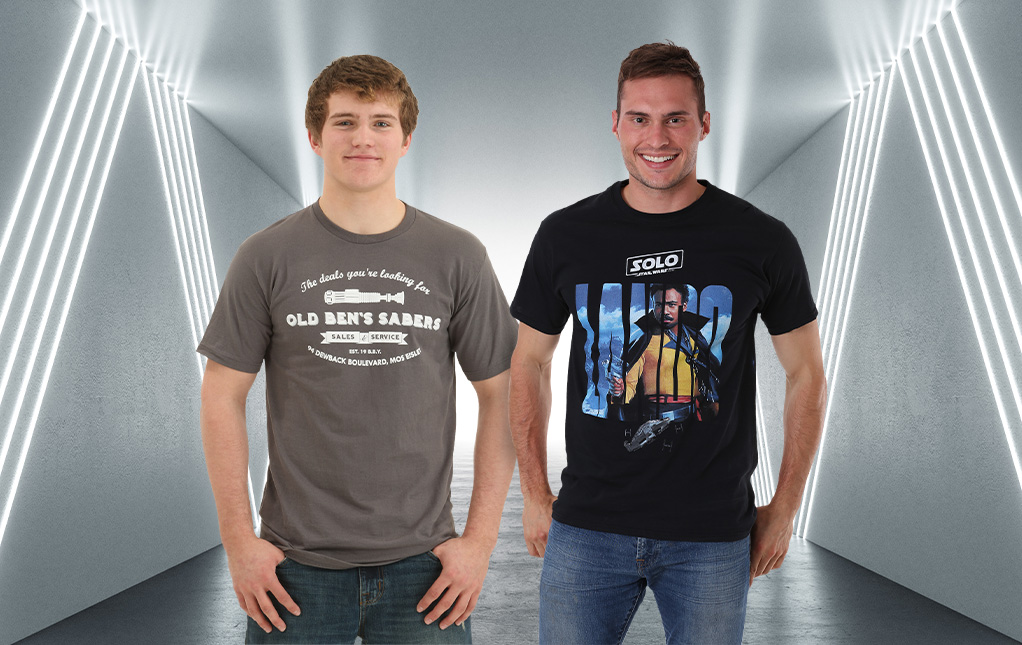 Guys have been in love with Star Wars since we were all speaking like Chewbacca. (Just because we didn't know words yet!) That's why we needed to have so many different styles of Star Wars t-shirts for guys. From dark and brooding to bright and colorful, you'll find a galaxy of options!
Anime Shirts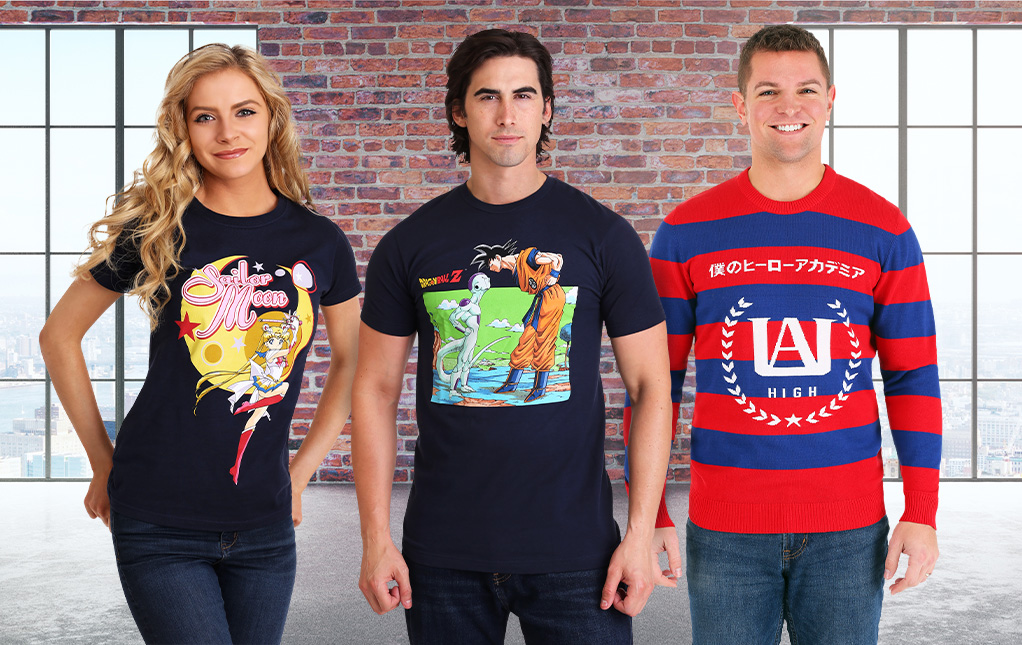 Do you hear the music? Are you getting into the mood for a real adventure? Do you bleed Ghibli and know all the powers of every My Hero Academia character? Is anime life!? Well, of course it is! That just means it is time to find the t-shirt that shows off your fandom for all the world to see. Whether you need a cool tee to wear after getting out of your cosplay or something for casual Friday at work, you'll find love for everything from Sailor Moon to DBZ among our anime t-shirt collection.
Rock Band T-Shirts
Nobody gets sick of someone asking them what their favorite band is...but sometimes it is a little tough to choose which one merits the title. Let's face it: sometimes our favorite changes! If only there were a way to have that answer right on our sleeve. Then your fellow KISS and Pink Floyd fans already know which topic to start with. (Of course, the only problem is choosing which Rock t-shirt to wear.) Still, we've got a vast collection of rock band t-shirts that will match your love for the music!
Vintage Band T-Shirts
Have you been a fan of your favorite band since before they were cool? Did you have t-shirts that have literally fallen apart after years of love? Well, you can't exactly get the genuine article without time travel, but you can get some vintage rock t-shirts that have an older look without the falling-apart problems. Get your faded shirts in full comfortable form and get your rock on!
Football Shirt Ideas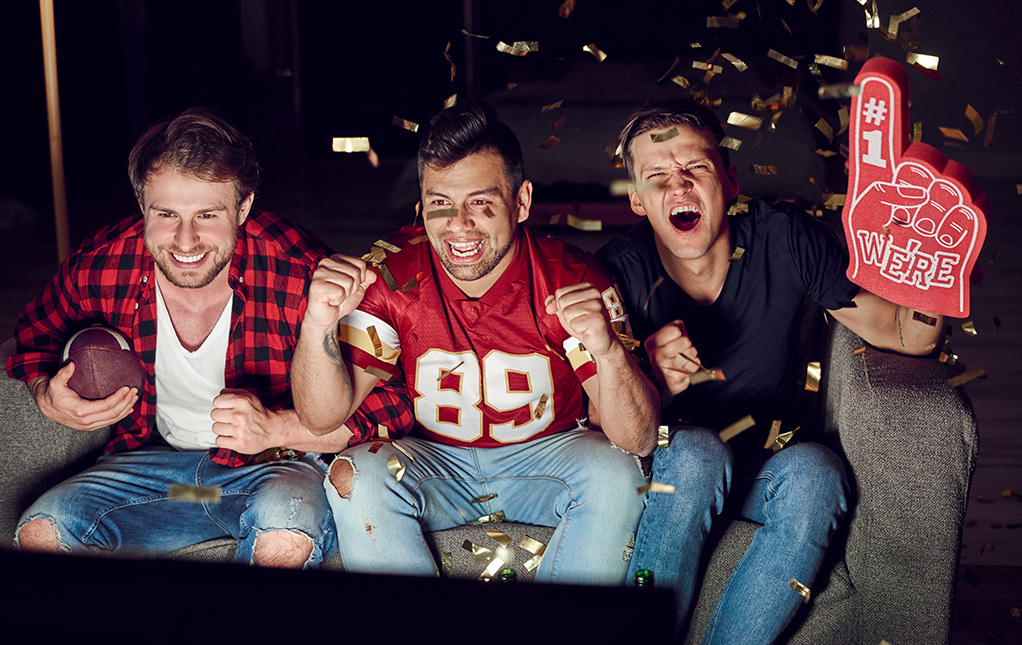 The season has come. While everyone else is hanging out in their Thanksgiving best, you're cheering on your team. Sure, you can go with your official jerseys or keep things comfy and warm with a hoodie... but do you want to risk getting gravy on those when you need to leap up after a touchdown? Instead, get your game on with your favorite Football team t-shirt and you'll have it ready year 'round!
Men's Football Shirts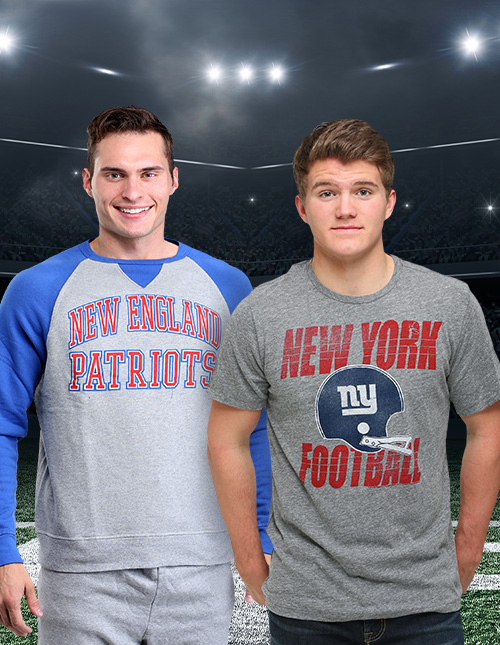 Football fandom is real. That's why we've got a ton of different types of football tees to keep you in the game. Show off your favorite team, player, and keep it in your team's colors at a fraction of the price of the jerseys. Plus, it'll go great with your team jacket, too!
Women's Football Shirt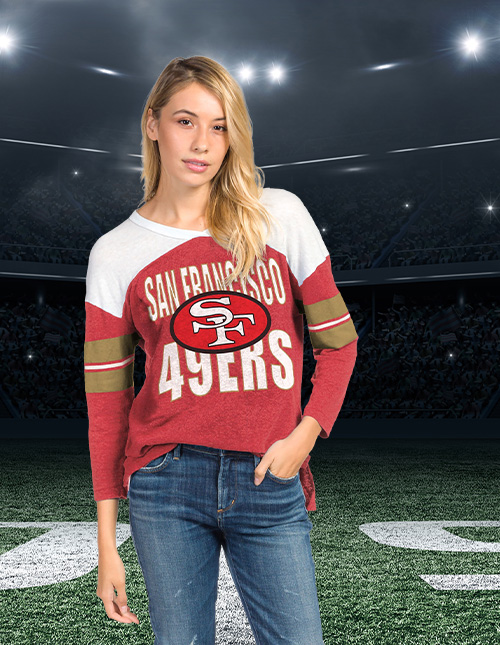 Whoever said that football was just a game for the guys? When folks see our collection of Football t-shirts for women, they'll know better. Cheer for your team louder than any guy out there with the benefit of additional styles. (Even better if you're rooting for the opposing team!)
Horror Movie T-Shirts
Of all the fandoms out there deserving of a great t-shirt, the horror film certainly wins, hands down. (And sometimes hands off!) We've got horror film t-shirts that bring all your favorite characters to life. Whether you want to chill out with Freddy in the waking world or get to know Michael Myers better than anyone, this is a perfect way. And—you never know—they might give you a pass when they find out that you're their biggest fan!
T-Shirts FAQ
When were t-shirts invented?
The t-shirt is surprisingly young despite the fact that they're such a huge part of our modern apparel. They started in the late 1800s when laborers wanted to stay cool so they cut their jumpsuits in half! Comfort became the name of the game and soon the Navy started issuing them as regular undershirts. The age of rebellion had Marlon Brando and James Dean showing everyone that you could wear your heart on your sleeve...and the rest was history!
When did t-shirts become popular?
While graphic tees and t-shirt printing became the thing to do by the '60s, it wasn't really catching on until the 1970s. Then, the punk movement came and t-shirts became a way better way to voice your thoughts than carrying a sign. T-shirts could do everything from outraging "the man" to showing off your favorite bands! Soon, the t-shirt was not only a comfortable thing to wear but was the purest way to voice your opinion in clothing form!
What are t-shirts made of?
T-shirts are made out of a lot of different materials. Most of them are made from cotton, polyester, or a blend of the two. The highest quality of those are from Supima cotton, which gets softer the longer it's worn. That's not all, though. You'll also find super flexible and soft t-shirts made out of jersey or practically silk-like drapes of rayon. The fabric of choice says almost as much as the graphic you wear!