Disney Halloween Costumes
If you're anything like us, you're constantly inspired by the mirth and mischief of Disney. From classic animation to the newest musical movies, there is always a character that will make us smile. So, if you are looking to give the gift of serious fun, look no further than the perfect Disney character costumes! All you have to do is think of your favorite movie character and you're sure to find the perfect option.
Of course, if you'd like a little help coming up with some ideas, we've cultivated some of our favorite pairings right here! Whether you are seeking the ultimate birthday bash or just need a few accessories to make your next Disneybound a success, you're sure to make your Disney dreams come true when you combine a few of these options for your friends and family.
101 Dalmatians and Cruella Costumes
Some costumes aren't simply channeling your favorite characters. They're also all about fashion and adorable dogs! Combine something truly adorable with something equally edgy when you try out a Cruella De Vil costume. Inspired by the animated classic as well as the newest entry to Cruella's story, these 101 Dalmatians costumes are the perfect option for a group costume of any size!
Peter Pan and Tinkerbell Costumes
The classic tale of Peter Pan and the magical world of Neverland is just as ageless as our spritely friend. Whether you're an adult or a fledgling Disney fan, there's nobody better to lift your spirits than the boy who can fly and his feisty fairy friend! If you're looking for a fantastic costume for two that is fitting for folks of any age, look at the collection of green tights and fairy wings from our Peter Pan costumes!
Mickey Mouse and Minnie Mouse Costumes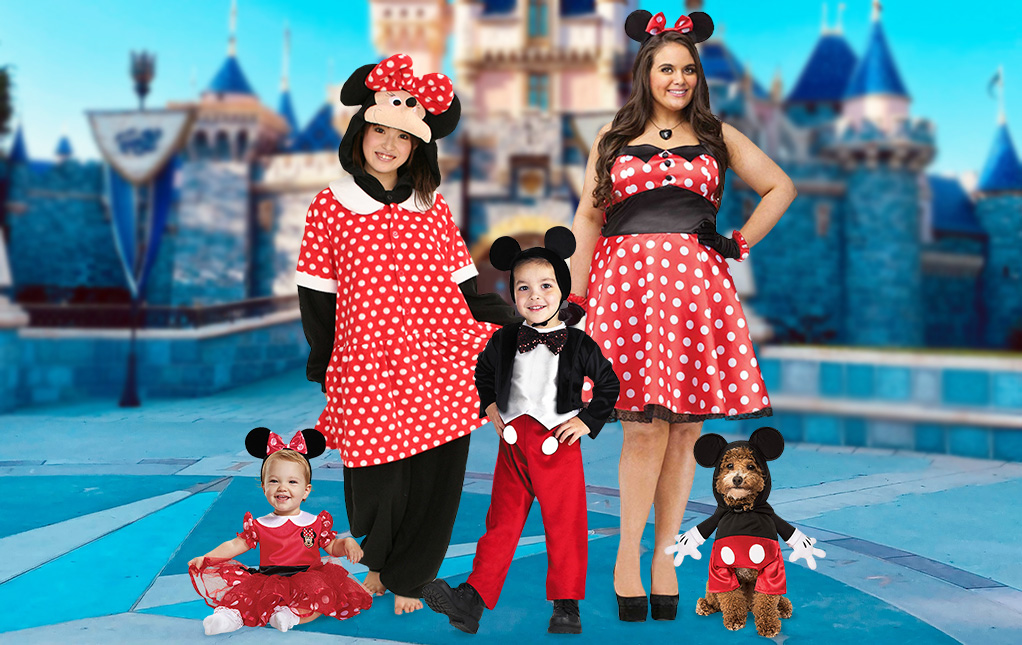 The classic duo of Disney will always be among your favorite characters. Whether saving magical worlds in Kingdom Hearts or going on a high-energy couple on an adventure with their friends, you can be sure it is going to be a great story whenever you see those pair of round ears!
So, prepare your favorite memorable lines and make your Disney dreams a reality when you find the perfect Minnie Mouse or Mickey Mouse costume. Mickey is known for being a mischievous and happy friend to all. Minnie is ideal for anyone who is bold, fashionable, and fun. So, of course, when the two are together, you can be sure any event is going to be memorable!
Frozen Costumes
2013 brought us a brand-new animated film that warmed our hearts! With a unique cast of bright characters all voiced by powerful singers, pretty much every home was soon filled with kids and adults alike joining in for an at-home rendition of "Let It Go!" The 2019 sequel and additional shorts ensured we'd be able to see even more stories from Arendelle. Are you ready to join in the Frozen fun!?
Elsa Costumes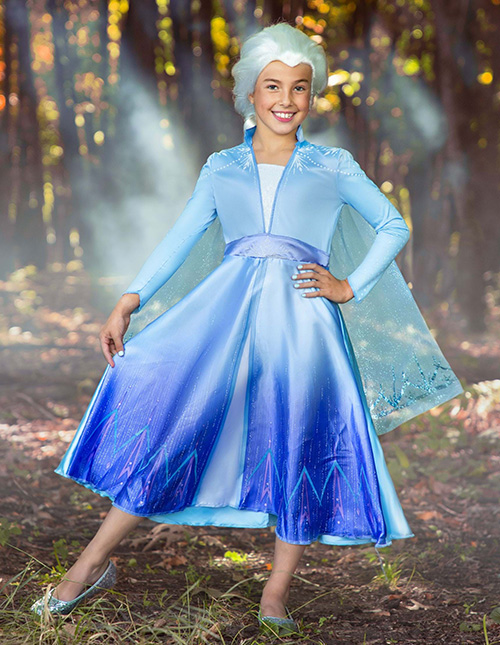 We all would love a little bit of magic in our lives. Of course, it might be a little scary if we didn't know how to control it! Fortunately, when you and yours dress up in an Elsa costume, you'll look and feel the part, but won't need to worry about any unexpected snowmen. Strike a classic pose in the beautiful blue dress and don't forget the gleaming crown on top!
Olaf Costumes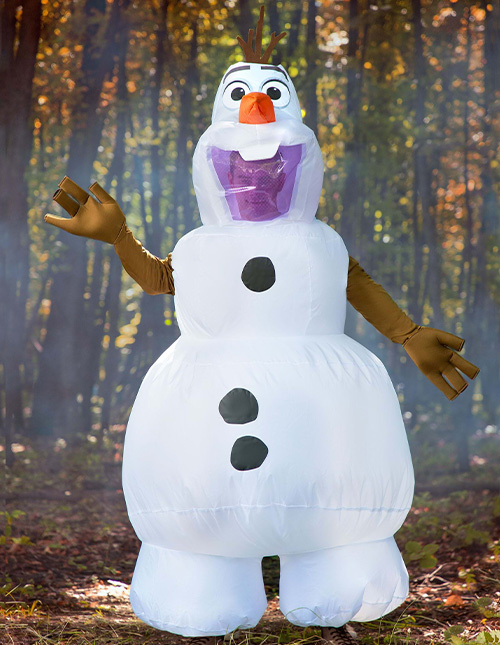 Did you ever wonder how Olaf managed to run around without ever melting? Well, that layer of permafrost magic sure helps. But if you're wanting to build a snowman that will bring the same amount of joy and don't have Elsa's magic at your disposal, you can still get in on the fun. From tunics, jumpsuits, and bubble costumes, it's time to tell a new tale with an Olaf costume!
Kristoff Costumes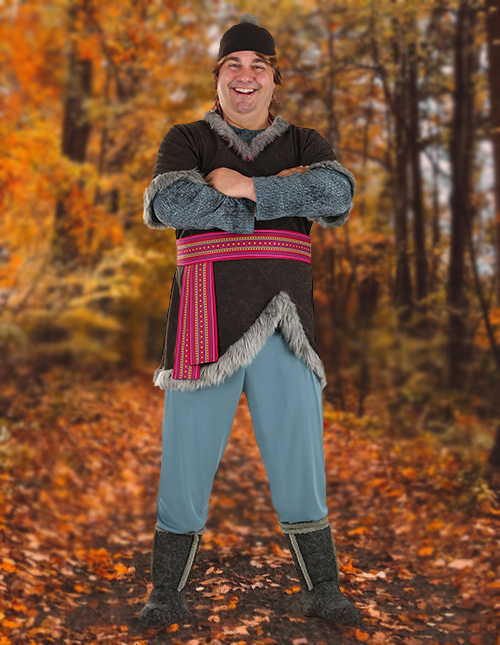 If you're like us, you might have a special place in your heart for unsung heroes. And in the epic story of Frozen, that means we're talking about the one and only Kristoff! Not only is he heroic and willing to step in to help save the day, but he's also keen to play support when the situation calls. If you need to look like a true hero, look no further than a Kristoff Bjorgman costume!
Anna Costumes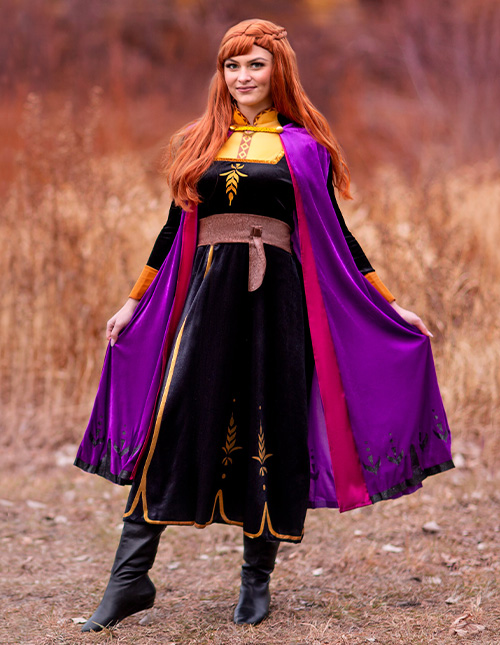 Anna might not have inherited amazing magical powers, but her singing voice, adventurous spirit, and eternal kindness is a magic all their own! If you'd like to stand out with a fiery hairdo and an inspiring attitude, an Anna costume might be the perfect thing to round out your fun, whether you are helping out your own little Elsa or claiming the crown of Arendelle!
Toy Story Costumes
Sometimes all you really want is a friend to go on adventures with! Fortunately, everyone can trust they have a friend in the action figures, stuffed animals, and even a few electronic gadgets from the crew in Disney's Toy Story. Whether you want to get the entire crew together for an ultimate cosplay event or have been looking forward to sporting your favorite Toy Story look since '95, we've got several options!
Buzz Lightyear Costumes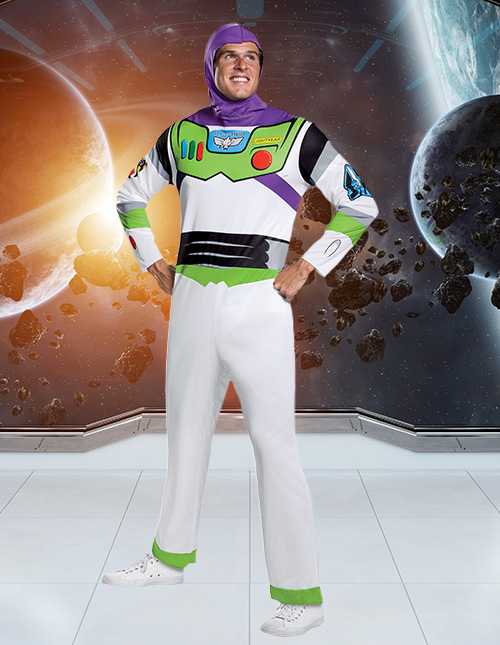 Of all the characters in Toy Story, Buzz Lightyear likely has the most epic history. First, he's a TV character, then has to discover he's actually a toy. Then he becomes a real hero. And finally, we all get to explore the cosmos and time itself with the genuine Space Ranger! Isn't it time that you enjoy the next story when you and yours climb into a Buzz Lightyear costume!?
Bo Peep Costumes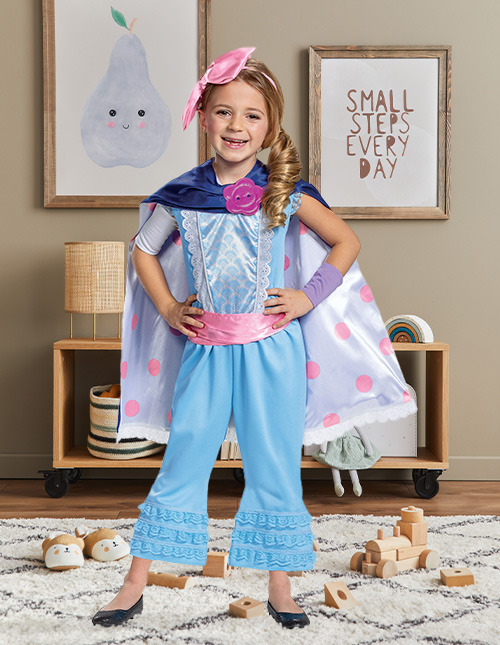 There are a ton of great costumes for gals of any age, but if you're looking for a Disney costume for girls that will really surprise you, look no further than our collection of Little Bo Peep costumes. Whether your tyke is lion-hearted or sweet as a lamb, the adventurous spirit of Bo Peep means they'll have the perfect combination of sweet and superhero for any situation!
Jessie Toy Story Costumes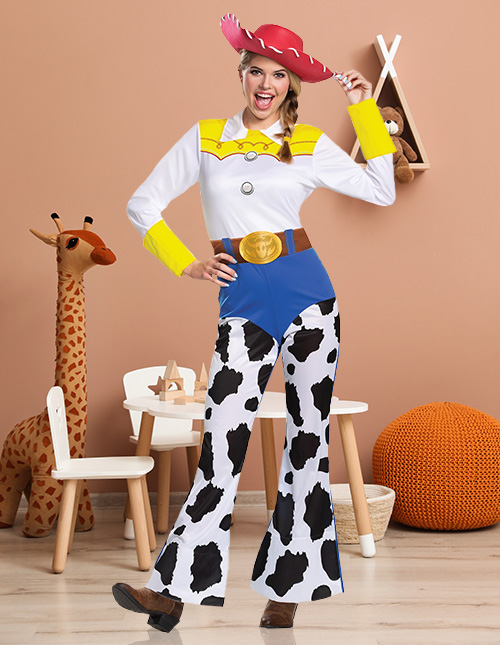 Woody might have been the stellar Sheriff and leader of the toys, but there is another cowpoke that brings the heart! With her cow-print pants and bright red hat, it is no wonder that Jessie is bound to summon a ton of smiles. You and yours are sure to join in the fun when you bring home one of our Jessie costumes, too. There's a new Sheriff in town and it's time to shine!
Woody Toy Story Costumes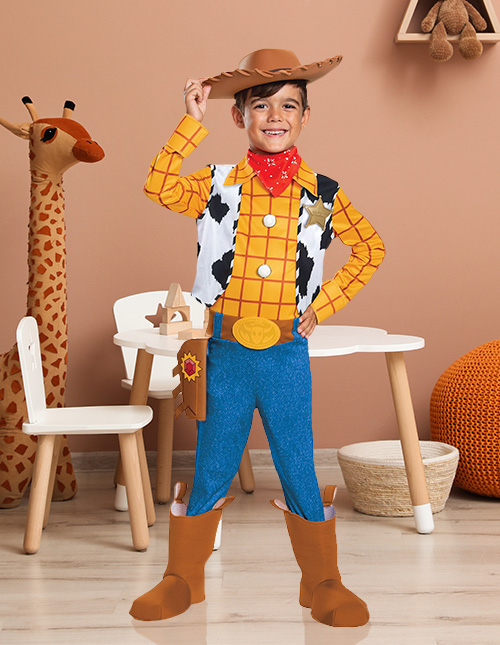 There's nothing quite as classic as the image of a cowboy riding into the sunset. Of course, Pixar and Disney gave us all a brand-new image, too. Now we can all imagine a tall cowpoke with a big smile and a truly animated way of greeting new friends. If you're looking for a Disney costume for men sure to inspire some smiles, saddle up with a Woody costume today!
The Little Mermaid and Ursula Costumes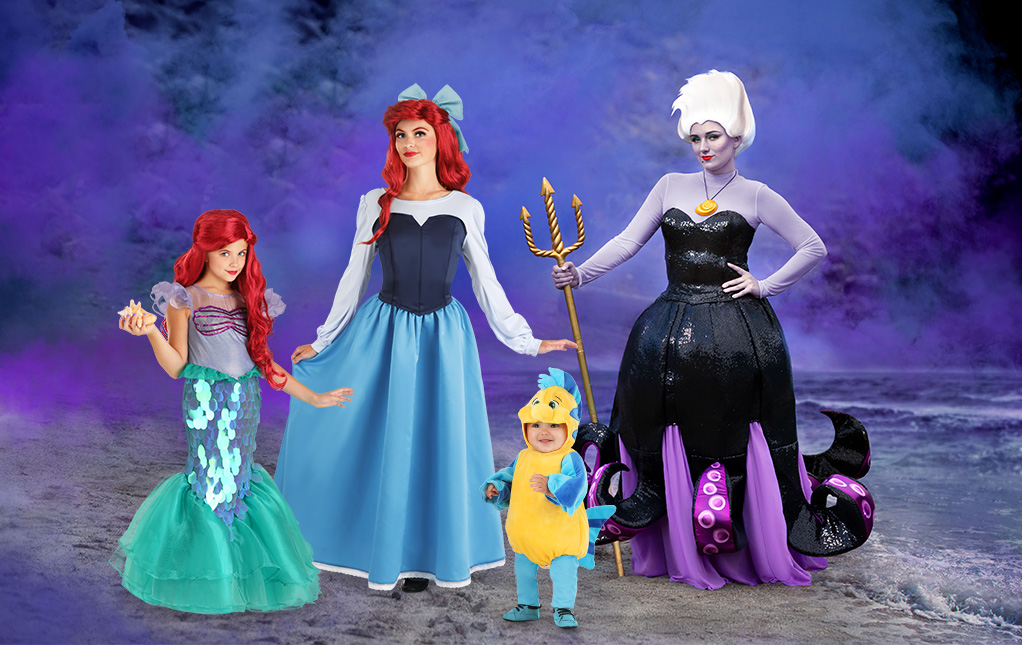 Wearing the right costume can be a truly magical experience. You can feel yourself practically transform when you step into the outfit of one of your favorite characters! Disney's Ariel had the very same hopes of experiencing another world and, meanwhile, every fan of The Little Mermaid wanted to get a little closer to Atlantica!
Now your whole family can enjoy the fun of Disney's epic animated film thanks to our collection of officially licensed Disney costumes. Pose proud as the hard-working and big-hearted hero when you wear a Prince Eric costume. Channel a bit of magic when you dress up as Ursula! Sing your heart out with the fam in an Ariel costume. We have a ton of options to help you have the ultimate underwater adventure!
Disney Group and Couples Costumes
If you thought one Disney costume was great, just imagine how much fun you'll have with a collection of them! Gather up all your Disney fan friends and pick out your favorite film. In no time, you'll be able to put together the ultimate Disney Group costume! (Okay, so maybe you'll need to have a long debate and watch several for a chance at a single pick, but there's nothing wrong with mixing and matching, too.)
Now, we can't really help you choose who is going to dress as which Disney character. That, unfortunately, will be a quest for each of you. But we are happy to help introduce you to a few ideas to help you start deciding! From feature Disney Princesses to Pixar pals, keep scrolling and be inspired by characters new and old and the costumes we've cultivated for your enjoyment!
Tangled and Rapunzel Costumes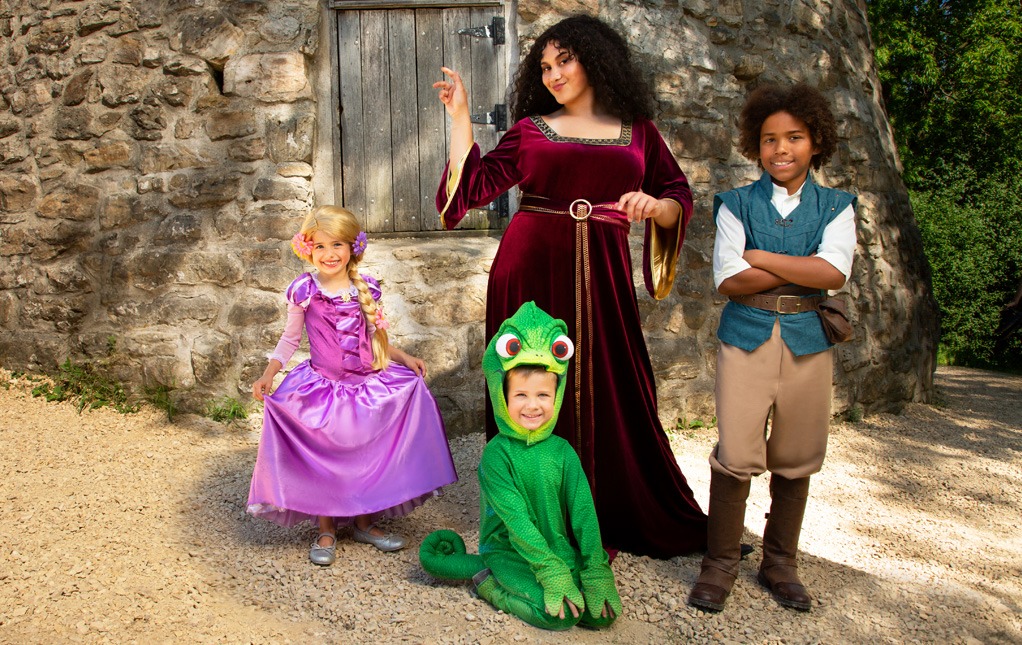 If you're ready to smile bright as the sunshine over the kingdom of Corona, it's time to enjoy some of our Tangled costumes. Whether you want to twirl around as the Disney Princess, Rapunzel, or show off your roguish wit in a Flynn Rider costume, we're here to provide. Complete the entire cast by bringing Pascal and Mother Gothel in on the fun today!
Hocus Pocus Costumes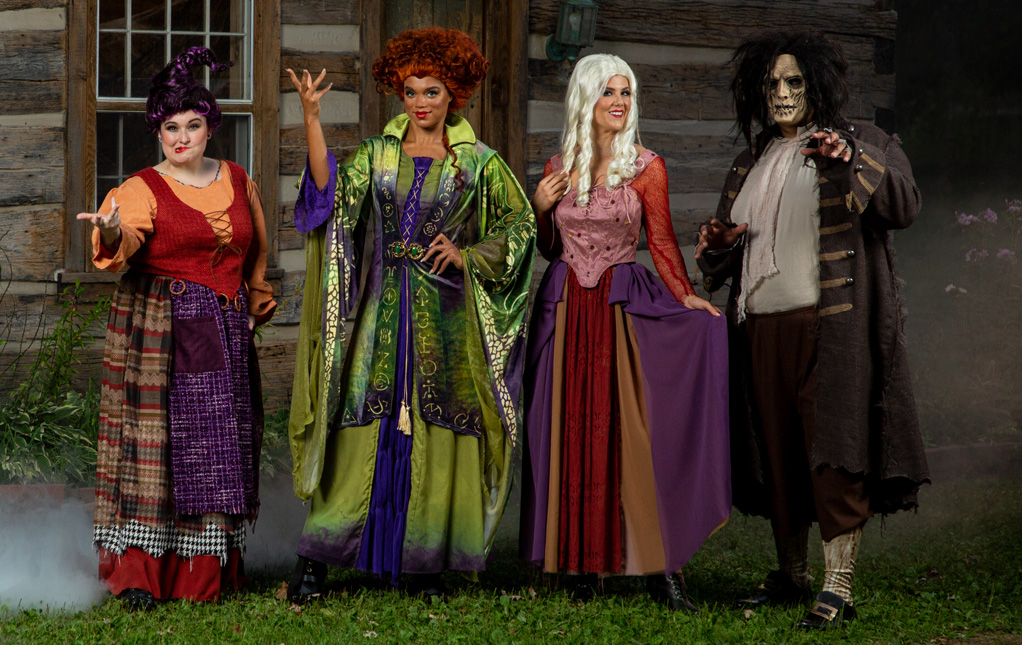 Whether celebrating Halloween or simply looking to live out some of your witchy wonders, everyone knows that Hocus Pocus is perhaps the best option out there! Gather a trio of gals for a perfect costume idea when you pick out your favorite Sanderson Sisters costumes. And if you need a Disney costume for men, it's always fun to conjure up Billy Butcherson, too!
Incredibles Costumes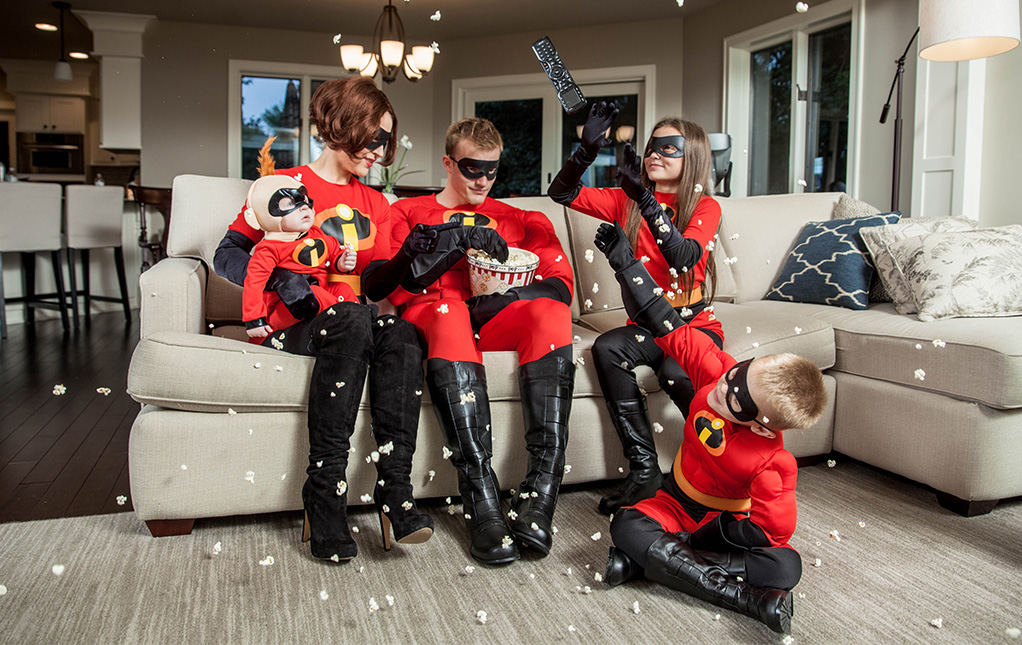 Superheroes are always a great option for any costumed event. But just because folks always assume you're talking about Batman, Superman, or the Marvel crew doesn't mean that there aren't even better options. Combine Disney and heroic fun and you are talking all about the Incredible family! Rather than dialing up Edna Mode, try out these Incredibles costume picks!
Beauty and the Beast Costumes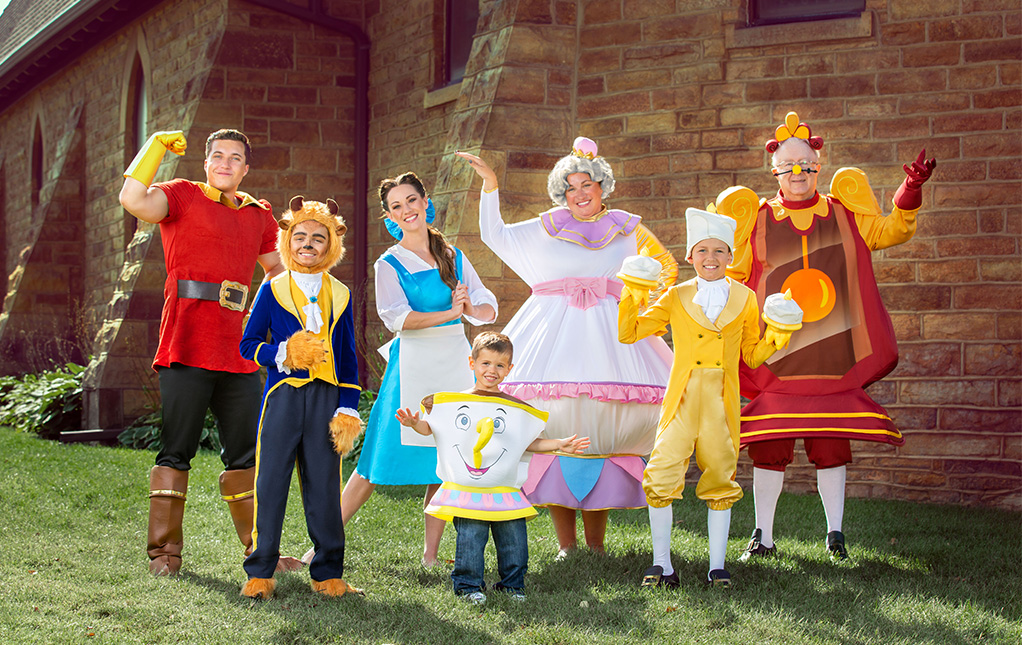 We've already mentioned that Belle is among the most beloved of the Disney Princesses. So, when you're looking for an epic Disney group costume, consider bringing the entire castle along for the fun. From Lumiere and Cogsworth to the Beast and everyone's favorite auntie, Mrs. Potts, there is a character for everyone in our Beauty and the Beast group costume category!
Meg and Hercules Costumes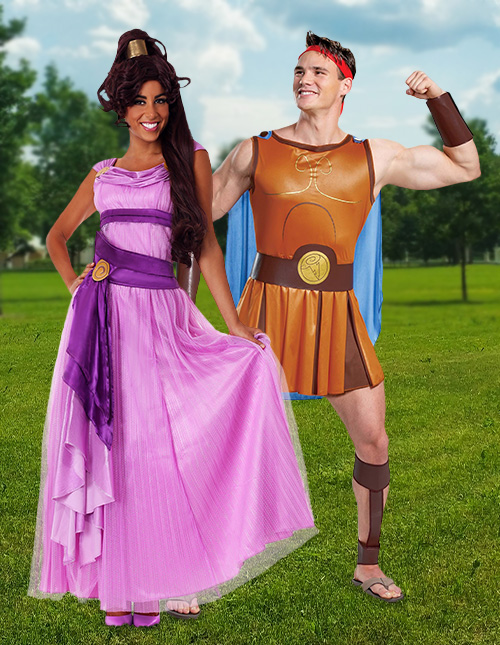 Perhaps you are seeking a Disney costume that also feels mythical. If you want a look that is larger than life, we would love to introduce you to someone the muses have been singing about for years! When you dress up in a Hercules and Megara costume, you might not actually gain supernatural strength, but you'll feel larger than life. You can even bring Hades along for fun!
Coco Costumes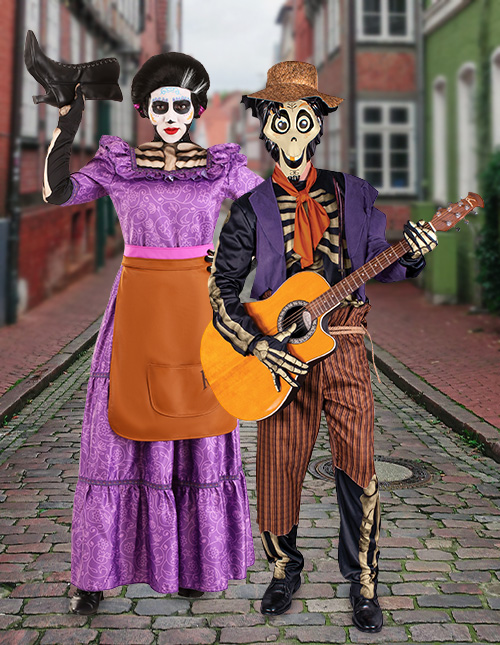 There are some costumes that are just perfect for certain seasons. But just because they are great for the Day of the Dead doesn't mean they can't be spectacular the rest of the year, too! If you're looking for a festive costume that brings a bit of Disney magic to bear, call on Coco and bring the whole familia along! Mama Imelda and Hector were perfect together after all!
Jack Sparrow Costumes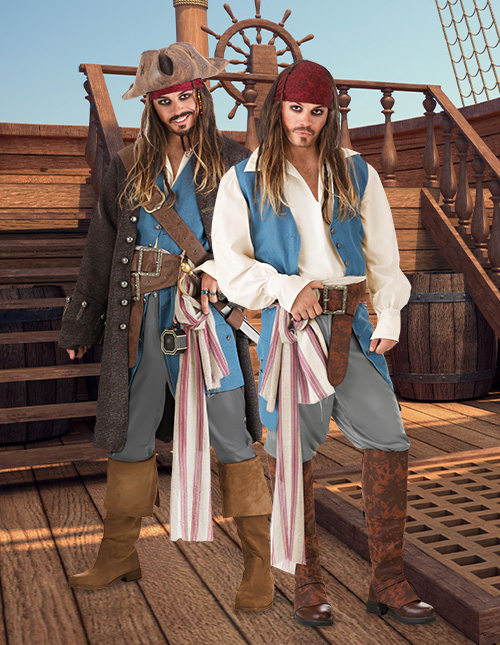 Commodore Norrington called the notorious Jack Sparrow the worst pirate he'd ever seen, but how many pirates has he actually seen!? We think not only does Jack have his pirate game down to perfection, but he also has style like no one else! In fact, imagine an entire crew decked out in various Captain Jack Sparrow costumes! Set sail for fun with these officially licensed looks!
Monsters Inc. Costumes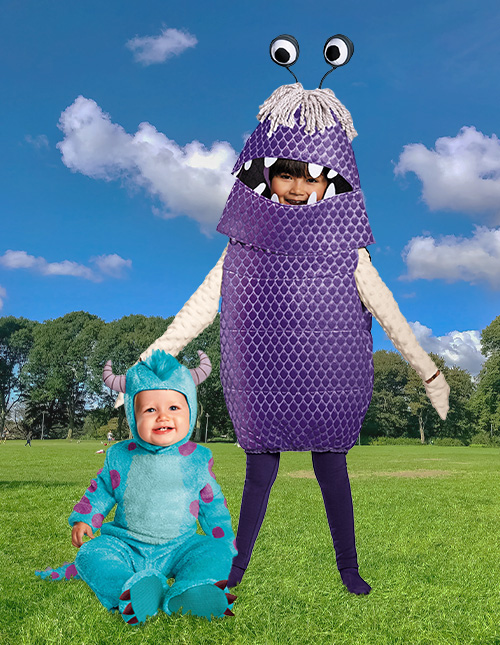 They say that if you love your job, you'll never work a day. Well, if that's true, you know that our Pixar buddies at Monsters, Inc. must be really enjoying themselves. If you love monsters of every shape and size, you'll love jumping into some of these Monsters, Inc. costumes! From Sulley and Mike Wazowski to our favorite little Boo, the whole family can enjoy giggling the day away!