Action Figures Guide
Action figures first found their rise to popularity back in the 1960s. Although dolls have been around since the beginning of time, it wasn't until the 1960s that the term "action figure" made its way into popular use. Back then, it was deemed "uncool" for boys to play with dolls (even though boys and girls alike both know that dolls are the bomb). The rebranding of dolls to action figures made it acceptable for all kids to play with dolls, especially since boys could play with one of the coolest toys known to humanity… G.I. Joe! Of course, the toy was a smash hit and every cool theme wanted to get in on the action! Superhero toys quickly became the rage and then, the 70s hit.
The 70s saw a new flood of great figures, like Star Wars and Transformers. Kids couldn't keep their hands off these irresistible toys and, quite honestly, neither could adults. These days, adults and kids, both boys and girls all play with action figures. Collectors love them and so do imaginative little rascals looking for a way to conquer boredom! Here, you'll find some of the best action figures around. Let us show you some of our all-time favorite ones!
Star Wars Action Figures
We can't talk about awesome action figures without talking about Star Wars! No one really knew how big of a success Star Wars: A New Hope would be, but we all know the best part about the movie were the action figures. The best way to continue the adventure was by grabbing a Han Solo and Chewbacca figure to take them on wild escapades around the backyard. Now, 40 years later, they're still making some great Star Wars action figures based on all of your favorite characters. From the original trilogy to new figures from The Force Awakens and The Last Jedi, you can find some classics, along with the new kids on the block! (Sorry, we don't currently carry New Kids on the Block action figures, but we're working on it.) Of course, the Black Series represents the pinnacle of Star Wars figures. Just check out these highly poseable and high collectible figures.
Black Series Figure
First up is this handsome soldier! Sandtroopers made their debut in the first film and showed the world the true power of the Galactic Empire. This Sandtrooper action figure brings the iconic baddie in a highly detailed mold. Pose him with his blaster and backpack to let all of your figures know that he's ready to blast them in the name of the Emperor if they get out of line!
Obi-Wan Black Series Figure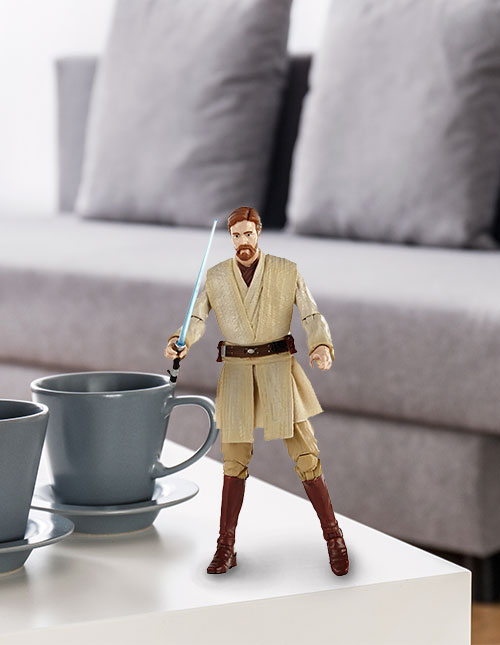 Obi-Wan Kenobi is the original Jedi! Okay, so maybe according to true Star Wars lore he's not even close to the first Jedi, but he's the first one that we're ever introduced to in the films. We then get a glimpse into what he was like during his prime in the prequel movies. This Obi-Wan Black Series action figure gives you the younger and more limber Jedi Knight from Revenge of the Sith.
Rey and BB-8 Black Series Figures
Obi-Wan represents the old-guard of the Star Wars universe, but Rey is our new dashing hero! She's begun mastering the ways of the Force and there's no limit to what her potential holds for her in the future. This Rey action figure recreates her look from her debut in The Force Awakens and she even comes with a small BB-8 figure so you can recreate their journey on Jakku.
Kylo Ren Black Series Figure
Gone are the days of Darth Vader. These are now the days of the menacing Kylo Ren! Adam Driver portrays a much different villain in the sequel trilogy and we love every minute of it. From his brooding nature to his wild outburst of rage, we find his take on the classic bad guy quite refreshing. That's also why we love this Kylo Ren from the Black Series.
Darth Vader Black Series Figure
Darth Vader might be the most iconic movie villain of all time and it's quite easy to see why. With his rhythmic breathing, his deep, menacing voice, and his Frankenstein-like movement, these attributes make him a towering juggernaut of evil. Many villains in film have used him as a blueprint for characterization. This Darth Vader action figure captures his imposing nature in a cool collectible that any fan can appreciate.
Luke Skywalker Black Series Figure
Finally, we have the star hero of the series. From that whiny kid fooling around at the Tosche Station to the savior of the Rebel Alliance, he certainly shows how much one guy can grow over the course of a few movies. This action figure shows Luke during his prime from Return of the Jedi. He looks ready to tackle Darth Vader and The Emperor with his cool black outfit and his brand new green lightsaber.
Marvel Action Figures
Spider-Man, The X-Men, Deadpool, and The Avengers… in action figure form? Where do we sign up? Of course, with the advent of superhero movies, the hottest action figures around are ones based on your favorite superheroes. Marvel action figures have been popular ever since the 70s, when Spider-Man figures hit the scene. Since then, we've seen X-Men action figures in the 90s and even some great Deadpool action figures to commemorate his smash hit movies. Below, we've put together some of our favorite action figures based on Marvel superheroes.
Deadpool Action Figure
What can we say about Deadpool? He's a little bit unhinged, he can't die, and Marvel makes some really sweet action figures based on the guy. This collectible Deadpool action figure comes with everything you need to pose him in some stellar action poses. Swords, sais, pistols, and a rifle all come with this action figure set, so the only thing missing with his figure is a chimichanga for him to snack on in between poses.
Iron Man Action Figures
If we've learned anything from watching all of the Iron Man movies, it's that Tony Stark loves to make new super suits. It must be exhausting for him, but it does mean that we get a ton of great Iron Man action figures to choose from. We carry a whole plethora of ones based on the comic books, the movies, and even cartoons. Our Iron Man action figures include collectible ones, like this red and gold Marvel Gallery figure, along with War Machine and this cosmic looking action figure based on his appearance in Guardians of the Galaxy comics.
Marvel Legends Action Figures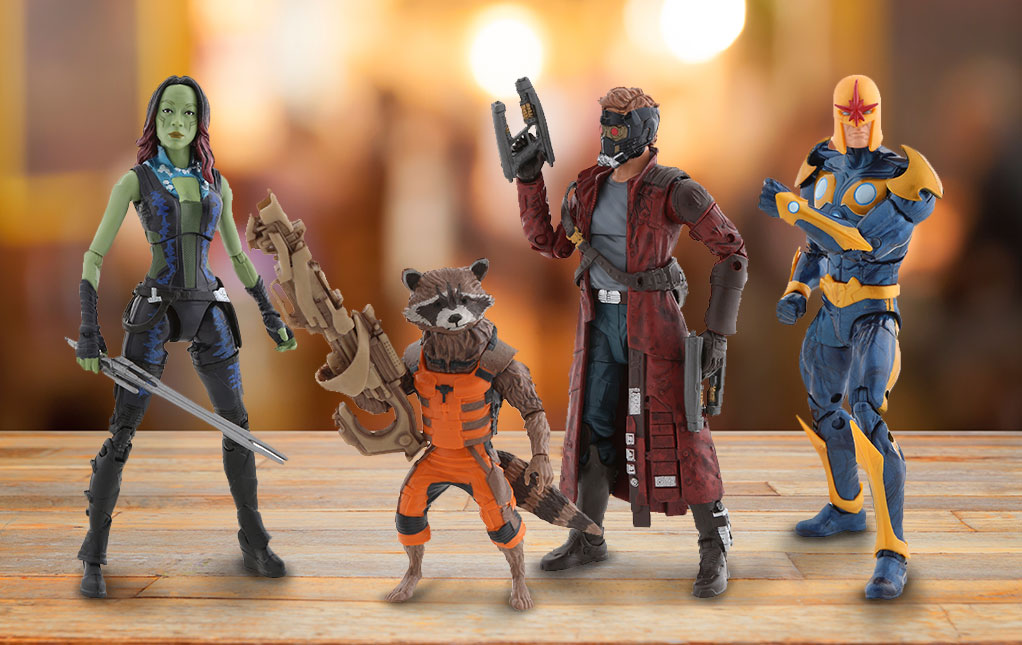 All action figure collectors know about the Marvel Legends series. They're the premier name in superhero collectibles and they've created tons of different figures based on the well-known and some of the not-so-well known characters from the Marvel line-up. We've been keeping our eyes on all the new ones coming out each year, and we even keep a few of our favorites in stock! Below are some examples of the iconic characters you can collect in this renowned series. The Guardians of the Galaxy had been a lesser known hero group from Marvel comics. Then the MCU happened and introduced us to a live-action version of the heroes. Star-Lord, Rocket Raccoon, Gamora, Drax, and Groot become the coolest crew in outer space. These Marvel Legends action figures perfectly capture the look of their respective movie counterparts! Marvel even brought Nova into the mix, since Nova was a strong part of the comic book series, even if he never made an appearance in the cinematic debut of the team.
Minecraft Action Figures
Minecraft is everywhere these days. Kids love it. Adults love it. Anyone with an active imagination and a passion for video games is bound to find something to love with Minecraft! So, of course, Minecraft action figures are big thing for anyone who spends hours toiling away on their digital creations. We carry a pretty wide selection of them and we've wrangled up some of our favorites here.
Classic Minecraft Action Figures
Steve is a staple in any collection of figures. He's the everyman of Minecraft and he's what the average player sees when they start up a game. And the Creeper is public enemy number one in the pixelated world, making both of these figures easy must-haves for any fan.
Batman Action Figures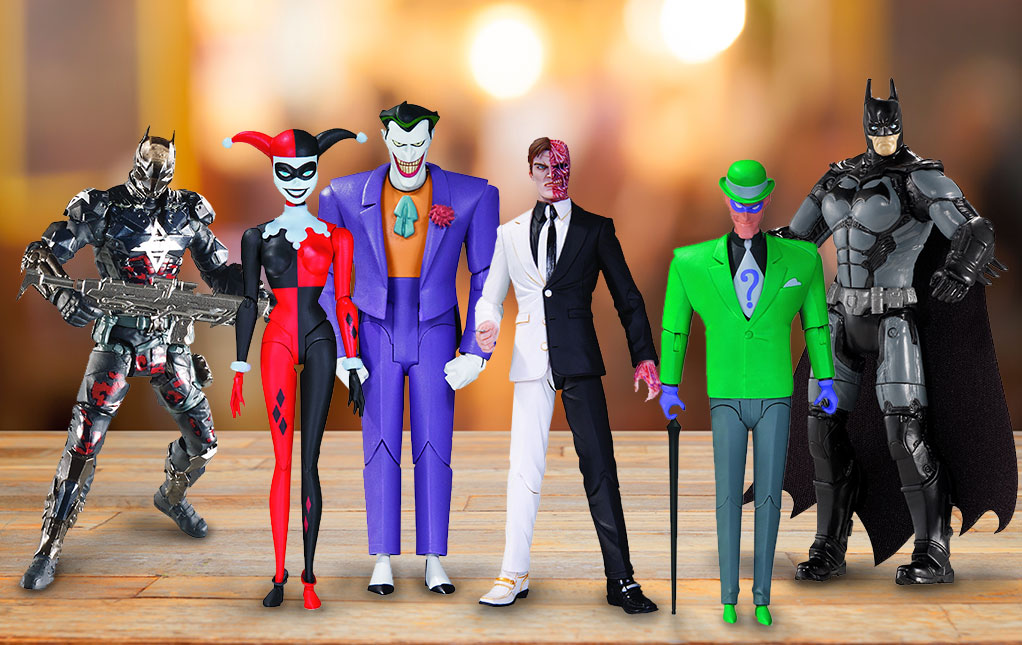 Batman has been beating up the bad guys and saving the innocent citizens of Gotham City for decades now! It's only natural that he'd have plenty of toys based on him. These action figures cover some of the highlights of Batman's career, including some of the nasty villains he's had to do battle with. From Harley Quinn to The Joker, and even the modern Batman look, these figures are everything that a true DC fan could want in an action figure. Arkham Knight and The Riddler even make an appearance!
Pokémon Action Figure
Are you one of those lucky folks who hand their hands on a Game Boy Pocket with a copy of the very first Pokémon video games? Well, we were (Red for life)! We spent hours catching every last Pokémon, pitting them against our friends' critters and even trading a few away to get the last few to round out our collection of 150! Of course, now the line-up of Pokémon has grown to an enormous number and we find it pretty hard to keep track of all of them, but that hasn't stopped us from trying to catch all of the Pokémon action figures.
Pokemon Sun and Moon Action Figures
Pokémon Sun and Moon came out 20 years after the original games came out. Can you believe that? 20 years of catching critters and Nintendo is still churning out some amazing games in the series! Of course, our favorite new additions to the roster are Solgaleo and Lunala, the latest in a long list of legendary Pokémon that have been sought after by trainers across the land. These action figure versions of the critters are a great way to get your hands on them without having to use up a Master Ball!
Eevee Action Figures
Who's the most popular Pokémon of them all? Pikachu! Eevee does come in at a close second though! The adorable little creature has the amazing ability to take on any element when it evolves, easily making it one of the most versatile Pokémon to have with you on your adventures. These Eevee action figure packs each come with 3 versions of the evolved critter. You can either get Espeon, Umbreon, and Sylveon, or you can opt for the original Flareon, Jolteon, and Vaporeon combination.
Pokémon Action Figures with Poké Ball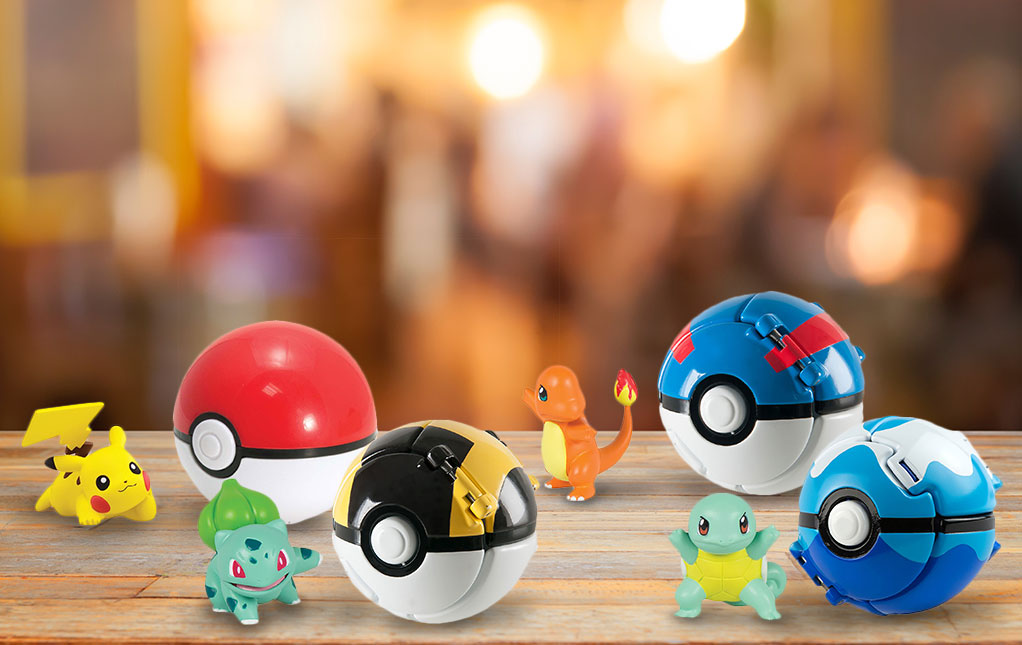 Okay, so here's the million dollar question. What starter Pokémon do you choose when you bust into Professor Oak's lab? Do you get wet and wild with Squirtle? Maybe you like the smell of fresh flowers and you want to hang with Bulbasaur. You could even get a little fiery with Charmander! And then there's Pikachu. He might not be the best choice for taking on Brock at that first gym, but he may be the most adorable one of the bunch! The choice is up to you, but maybe you can just grab all three to have all of your bases covered.