Mace Windu Clone Wars Action Figure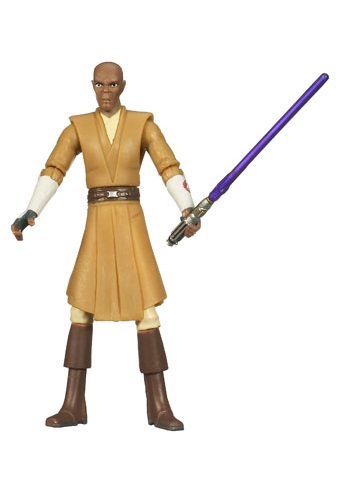 Product Description
Some Jedi Masters are really good, but Mace Windu is one baaaaaad man with a lightsaber. We mean bad in the "he-dices-up-droids-like-a-food-processor" kind of way and a not in the "he-destroys-with-force-lightning" kind of way. He's the only Jedi that rocks a purple lightsaber like a pro and he even mastered Vapaad, the most deadly form of lightsaber combat known to the galaxy. Heck, we'd go far enough to say he could have beat Palpatine had Anakin not intervened like a punk. Any which way, this action figure lets you have all that awesome badness in a small little 3.5" package.
Sign Up
to be Notified When Your Size Is Available
Figure

Lightsaber

Clone Armor
3.5" tall

Purple lightsabers are cool

Lightsaber swinging action

Clone helmet and armor
There are no reviews for this item yet. Be the first to write a review!
 Write A Review