Spacetrooper Action Figure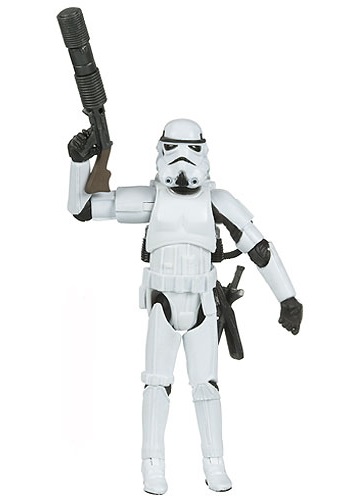 Sign Up
to be Notified When Your Size Is Available
This product is only available for sale in the United States and may limit available shipping options. This product cannot be shipped to any other country.
Product Description
Spacetroopers were an integral part of the Imperial war machine. Stormtroopers who were a particularly bad shot (and that's really saying something given their penchant for poor aim) eschewed advanced fighting classes in the academy to take Zero-G training. These troopers are frequently used in space walks to repair and maintain vessels when out of spacedock. They were, of course, armed with blasters, although generally if they had to shoot, their targets would be small ships. A much larger target than a person but still missable for these Spacetroopers!
3.5" Action figure

Removable helmet is attached to rebreather backpack via connected tube

Includes T-21 Repeating Blaster Rifle weapon

Includes droid factory piece, collect figures in series to assemble droid
Figure

Backpack

Blaster Rifle

Droid Factory Piece
There are no reviews for this item yet. Be the first to write a review!