Incredibles Family Costumes
Family is everything. What's better than getting the gang together over a nice cup of cocoa, sitting by a fire, and playing games or watching movies all night? Doing all of that as superheroes, that's what! You know what they say, the family that plays together, saves together, or something along those lines. Even among Disney Pixar films, the Incredibles is a classic. It hit the big screen in 2004 and its sequel in 2018. It's Disney's take on the Fantastic Four in a society where heroes are outlawed. If you want to emulate this extraordinary group with those you love most, check out these Incredible Family Costumes.
Mr. Incredible Costumes
Even though he's not a DC superhero, Bob Parr has a lot of similarities to Superman, minus the cape, of course (no capes!). Super strength, an iconic costume, and the swag to pull off incredible feats. He is also a great father! We already know you are a super dad, uncle, or brother—so bring the family together and make it a reality with a Mr. Incredible Costume.
Mrs. Incredibles Costumes
All moms are super, but Helen Parr takes this to the next level. Her powers resemble Ms. Marvel, but she has been in the hero game much longer. She is a great pilot, has exceptional motorcycle skills, and showed us she didn't sleep in espionage class. If you want a women's costume with all the swag of Elastigirl, it won't be a stretch to get a Mrs. Incredible Costume.
Violet Incredibles Costumes
Violet's evolution as a character from the first movie to the second was remarkable. She was an unsure teen trying to find her way in high school. That can be hard enough without Invisible Woman-esque superpowers. Now she's a true and true hero. If you want a girl's costume that your kid can wear confidently (even with the family), get them a Violet Incredibles Costume.
Dash Incredibles Costumes
Dash is like the little brother who is super annoying but grows up to be a great guy. At least, that's our prediction. We just love the little dude. The scene in the first film, when he was discovering his Flash-like abilities, was the absolute best. Sometimes boys just need to get their energy out. Let your kid run "As fast as they can" (safely) with a Dash Incredibles Costume.
Jack-Jack Costumes
Babies can be a handful. Putting them down for a nap or getting them to eat can seem impossible. We're sure getting them into an infant costume can become a struggle like no other. That is unless it's a Jack-Jack Costume. Just watch Jack-Jack Attack a few times, and you'll be ready to handle any baby, let alone your super one. Plus, just think how cute they'll look!
Incredibles Halloween Costumes
Heroes come in all shapes and sizes. That is why we provide adult and kid costumes that we know any family can enjoy separately or together. An Incredibles Halloween Costume also gives you the opportunity to finally do that Marvel/Incredibles crossover battle you planned with the neighbors. We'd also like to see Pixar's first superfamily go toe-to-toe with other Disney Villains in sort of a bad-guy clean-up film. We can only dream. In the meantime, get your family and friends together after picking up an Incredible Halloween Costume and have a blast dressing up as these magnificent characters.
Frozone Costumes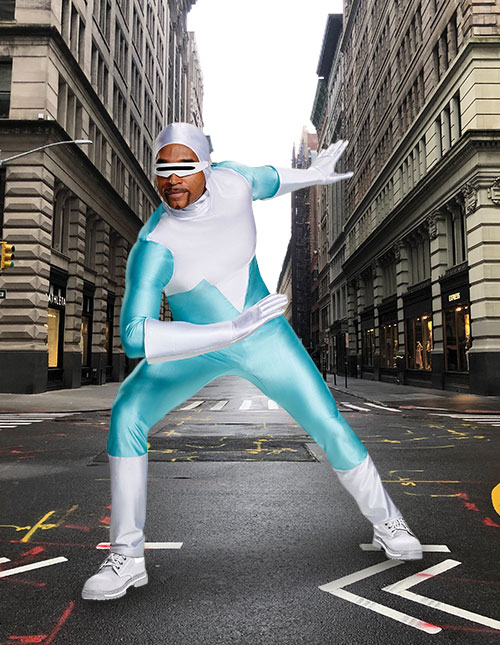 Frozone is the man! You'd think he's an X-Men with his cryokinetic Frozen-like abilities. He is the cool head who always seems to have The Incredibles' backs when they need him most. That is when he can find his super suit. Be like Lucius but don't be like Lucius and pick up an officially licensed Frozone Costume. We might be a bit biased, but we think it'd be pretty cool if you did.
Edna Mode Costumes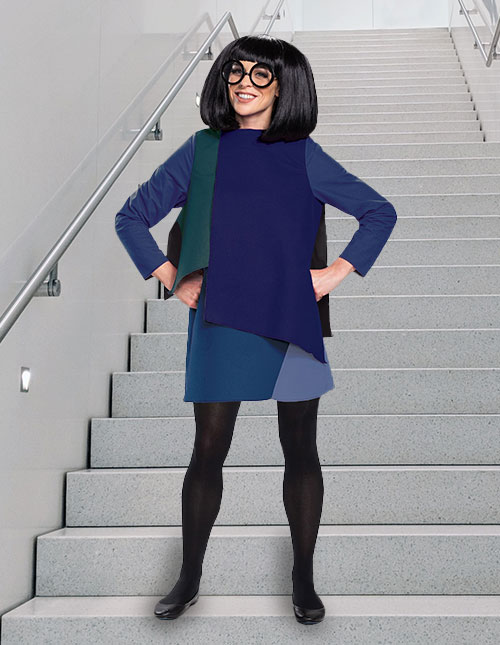 No capes! But we love capes. They make you feel like the hero you were always meant to be. But, if Incredibles taught us anything, you always listen to Edna. If she's smart enough to make super suits for a myriad of abilities, we'd hate to get on her bad side. That sci-fi security system is pretty terrifying too. Become the fashion-forward mad scientist with an Edna Mode Costume.