The Incredibles Gifts
Everyone has a sort of secret identity, if you think about it. We've all got those little qualities of ourselves that maybe we're not jumping to Mach-3 to share. But there are plenty of ways to both let others know your secrets or to let them know that you think they're special. In fact, you might think they are incredible! Let your friends know that you think they're pretty super with some of our exciting The Incredibles products. From great items like The Incredibles omnidroid toys to action figures of the only family that can take it down, these gifts are a great way to show your friends and family that you care. (Or they can give you a smile when you bring them home for yourself)!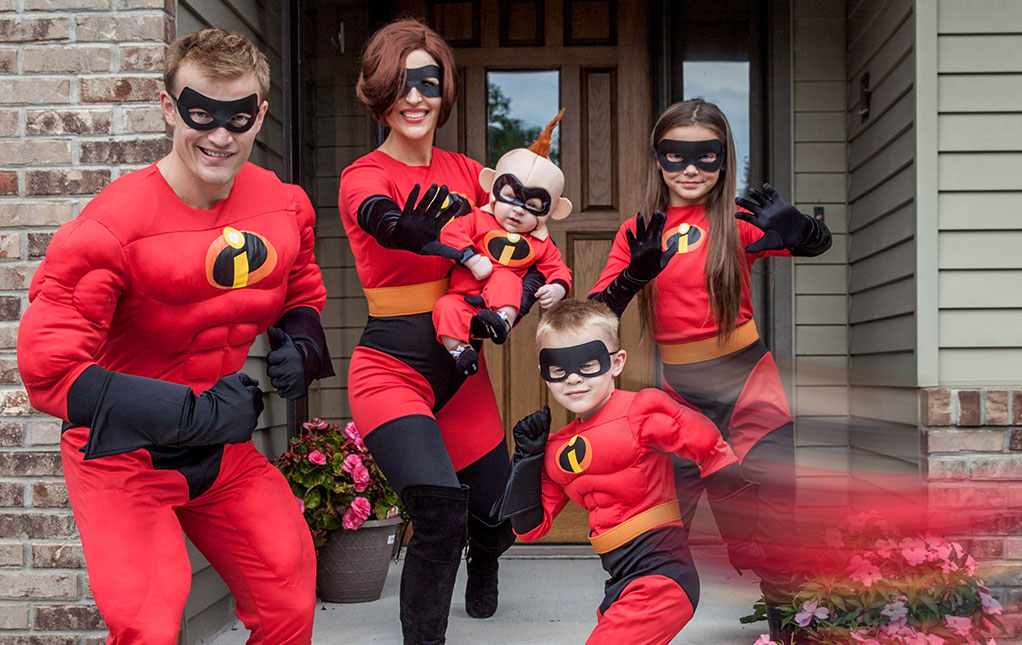 The Incredibles Merchandise
You've got lots of ways to show off your personality, like your choice of clothes (or amazing superhero costume) and the accessories that you keep around, (otherwise known as your alter-ego gear). So, whether you're a hero in disguise or just want to show your support to those fantastic folks you love, you can't go wrong with some of our The Incredibles 2 merchandise. Share with everyone just how much this fantastic family makes you smile and bring a great grin to whoever is lucky enough to get a gift from you!
Incredibles Loungefly Bag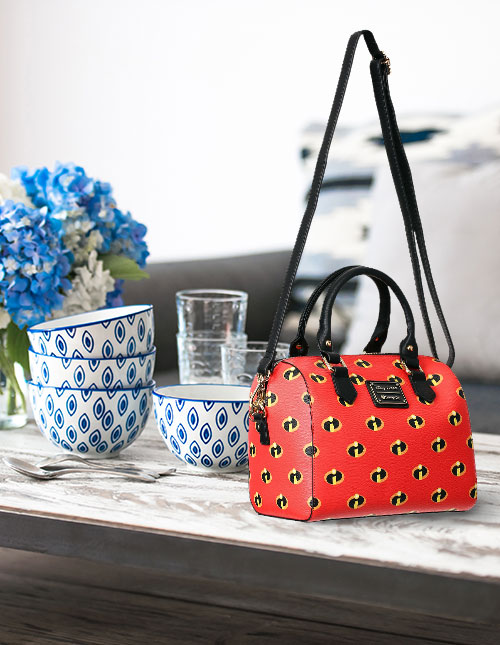 Style seems to come and go with the time faster than just about anything else. One thing is super popular and then, snap, it is yesterday's thing and tomorrow's vintage. Well, one thing that never goes out of style is individuality, and sometimes the right bag can be just the thing to make that shine—and be functional at the same time! You can be someone's hero when you hand over this Incredible handbag! The bright contrast of black, red, and yellow with The Incredibles icon is going to be a winner with any look and a perfect place to hide some super swag!
Art of Incredibles 2 Book
We figure that a hero family like the Incredibles probably tries to keep out of the limelight as much as they can, so they probably avoid having any The Incredibles plush toys sitting around. But, that doesn't mean they shouldn't keep up to date on their research! Villains everywhere are constantly coming up with new ideas, so having a nice record of activity can help us all know what is really going on in the superhero world. This Incredibles art book can fill you in on all those hidden secrets and help you root out the goodies from the baddies while you all share in your love of the Incredibles family.
The Incredibles Toys
Figuring out how to deal with superpowers is always a trying experience. You have to worry if your running speed is going to be so fast that you're going to break stuff. Getting control of that laser vision is even tougher! Of course, it isn't just Superman that has to contend with a ton of crazy powers, so having some early practice for any would-be superhero is crucial. From the the incredible powers the team has to the tech and tricks they've got at their disposal, these toys from The Incredibles may be just the thing to test out all your tactics before the real trouble starts!
Jack-Jack Doll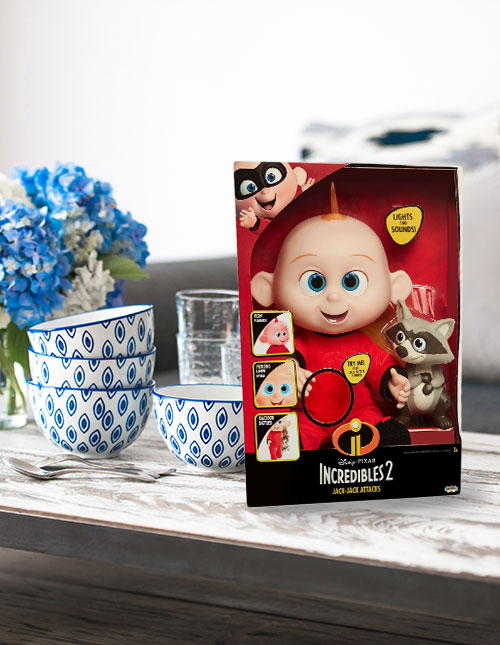 Probably the first thing that needs to be tackled is that whole laser vision of doom. We tend to look at a lot of things every day and having them burst into fire isn't the kind of accident we expect to deal with when it comes to babies! But, so long as he's calmed down by his favorite buddy, Jack-Jack's eyes can almost be like a nice night light! That kind of utility and the two-for-one reward makes this gift among the best of The Incredibles 2 toys out there!
Elasti-Arm
Just being able to watch your favorite heroes run around and wield their powers for the good fight is hardly fun enough! Imagine the ability to take up those powers for yourself and test them out! Give your favorite lad or lass a (literal) hand with the signature punch of Elasti-Girl. These are one of The Incredibles toys Violet would even want to play with. (Invisibility and force bubbles only get a gal so far, after all.) With this you can both look the part and have the power. Zonk the baddies and win the day!
Incredibles 2 Hydrofoil Set
Not all the baddies out there can be held off with the strength of fist or speed of feet. Sometimes, you've got to set out on a grand adventure to bring home the win. And, who wants to be a superhero team without a fabulous vehicle anyway!? Just imagine the adventures that can be had when your The Incredibles action figures toys head out to sea with this fully-loaded hydrofoil ship! Fire projectiles at the giant teddy bear and launch the pod to rescue the GI Joe! The fun doesn't have to end with the film.
The Incredibles Monopoly
What do you suppose a superhero family does when they get home after saving the world? It is time to sit back, relax, and have a family game night! You and your family can snuggle up with some of our The Incredibles stuffed toys to cheer each other on while trying to win this The Incredibles edition of the classic Monopoly game. (Just watch out for the collateral damage so you don't Go To Jail.)
The Incredibles Clothing
Heroes come in every shape and size, but that's something you already knew. We figure you probably also know that they come in every level of super, too. From the creative kiddo to the mighty mom, the doting dad and the tiny tyke, our friends and family are all pretty incredible. What better way to show how great they all are than to give them the gift of some Incredibles gear from the guys who know that the family that saves together stays together. Our The Incredibles clothing features characters from each of the films, baddies and goodies alike, and will have anyone feeling like a member of the team!
Incredibles T-Shirts
You don't have to go on a crazy rescue mission to show your loved ones that you care. There are plenty of ways to make them feel incredible. Clearly one of the best ways is to give them a gift that shows off their inner greatness. What could be better than matching The Incredibles T-shirts for the whole family? We've got them for men, women, tykes, and tots, all featuring the Incredibles logo from the fantastic family and even a few for the baddies who maybe got a little off track from their heroic hopes.
The Incredibles Costumes
There's only one thing better than giving incredible gifts to folks... and that is giving them to super folks! One never knows what secrets our loved ones might have, maybe even a secret addiction to collecting coffee mugs. Perhaps they're on a quest to collect every pair of shoes in the world. As it turns out, on the rare occasion, they might have just what it takes to become a super hero and save the world! Be their own personal Edna Mode when you make sure that your super friends are geared up with the best in superhero costumes when function meets fashion with these The Incredibles 2 costumes.
Mr. Incredible Costume
So, you know someone is willing to save the world from the most notorious villains and robot destroyers out there. That's great! This Mr. Incredible costume is just the way to go for all your heroic needs. But, what about after the day has been saved? Well, head to that victory party and, after boasting about the win, another great conversation piece will be identifying those superhero muscle groups. We figure you should give them names, though. The whole six-pack and "gun show" nicknames are a little tired. How about "donuts of steel!?" No? Well, you'll come up with something incredible; we're sure of it!
Mrs. Incredible Costume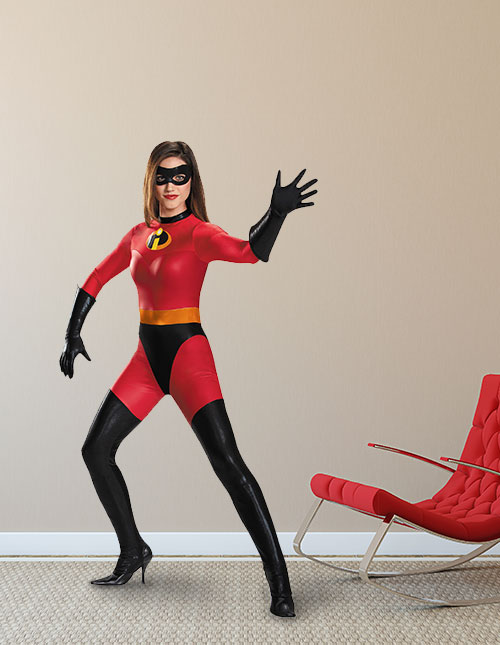 Ladies these days are always stretched a little thin. They're expected to be everywhere at once and juggle how many tasks at the same time? It's a miracle that those limbs aren't snapping from the pressure! Well, there is one way to show that you know just how much a woman is working. Whether you know her as Mrs. Incredible, Elasti-Girl, your best pal (or even your own secret identity), this Mrs. Incredible costume gives a gal the chance to relax those limbs and take a deserved break. This great gear is perfect to unite with the rest of the Incredibles family or show the world a real wonder woman.
Frozone Costume
The term 'secondary character' and 'sidekick' is practically pejorative, don't you think? Here, you've got a person who stands up to help out someone in need — you might even get rid of an impossible obstacle and make victory an option! (That's exactly how you get a guy like Syndrome.) Show the crucial support in your life the respect that they've earned with a costume of a guy who defines cool. This Frozone costume doesn't just add to your Incredibles team; it completes it! (And, then, fetching the ice cubes from the freezer is more like roleplaying than an errand.)
Jack-Jack Costume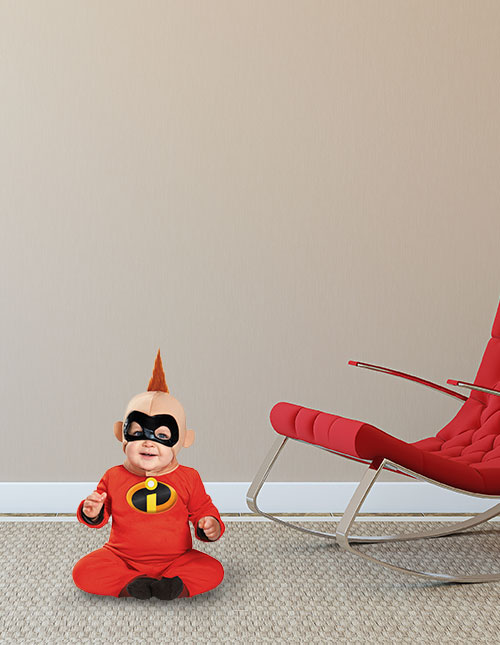 It can feel a little awkward trying to express your feelings about a baby. Sure, they're cute, but everyone says that! You want your thoughts to be as unique as the kiddo. Of course, since you're here and checking out this page, you've already proven that you've got your own superpower in the way of genius-level thinking. So, you've already thought about how great that tyke is going to look in this baby Jack-Jack costume. But, just think of what it is saying about the little one. You're basically proclaiming, "This baby can do anything!". What is better than omnipotence? This way, you both win!