Bags and Backpacks
Themed Backpacks and Bags
Ah, the humble bag! It's such a revolutionary invention, despite its rather simplistic design. Bags have been around since the dawn of humanity and although they may not have been toting around a laptop, a stack of Harry Potter novels or fully charged power bank for your smartphone, they definitely found them just as useful back then as we find them today. The versatility is just off the charts and with so many different styles and designs to choose from, it can be a little daunting to find the one that's perfect for you. You can use a classic backpack to store all your necessities, or you strap a fashion-forward messenger bag around your shoulder. Then, the question of what sort of decorative elements you want on the exterior…
Well, why not combine your favorite video games, movies, and themes with your bag. In the modern age, you can get a great backpack with Marvel superhero themes, Star Wars themes, Disney themes and plenty more! This helpful guide should give some tips on how to choose the perfect bag for you. From sleek packs that are designed to hold your laptop to more durable designs that are perfect for young kids who are headed off to their first day of school, we've got something for everyone.
Star Wars Bags
Let's talk Star Wars right off the bat. A Star Wars bag is a no-brainer for anyone who loves the iconic movies. We prefer the Original Trilogy, but with the Prequel Trilogy and the latest Trilogy in motion (that's a lot of trilogies), there are new fans of the series being brought into the fold every day.
So, what kind of Star Wars bag might be right for you? We have a large selection of bags, but you should always begin by deciding which style of bag you want. Do you want something that will hold all of your books with ease? Do you want a classic backpack? Maybe you want a messenger bag? There's always something so suave about slinging a modern messenger around your shoulder. Below you can find some different styles that should suit any of your needs.
Star Wars Book Bags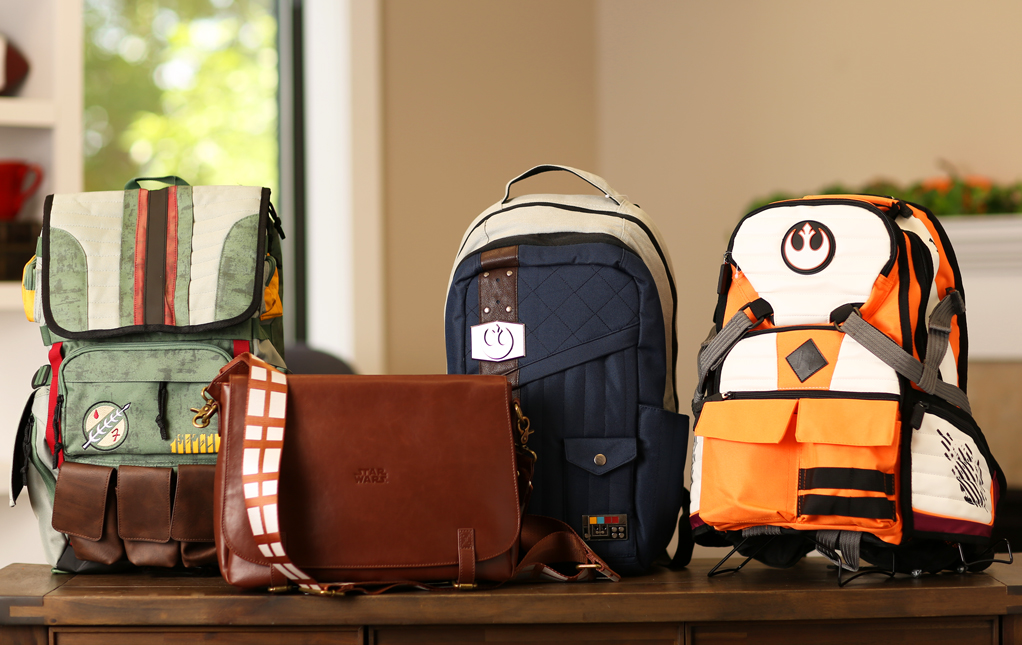 You can never go wrong with a classic Star Wars book bag and with so many styles, you can represent your favorite character with class while you carry your books to class. These bags were designed for carrying all your academic supplies with you, so all you need to do is select your favorite character. One of the greatest figures in Star Wars history rocks a messenger pack! The one and only Chewbacca carries his book bag with him on all sorts of adventures with Han Solo. And if you're a true scoundrel at heart just like Han, then you might want a Han Solo themed backpack. Or maybe you want to bring out your inner Luke Skywalker by wearing our Rebel Squadron style pack. For those feeling villainous, we even carry Boba Fett themed backpacks as well.
Star Wars Messenger Bags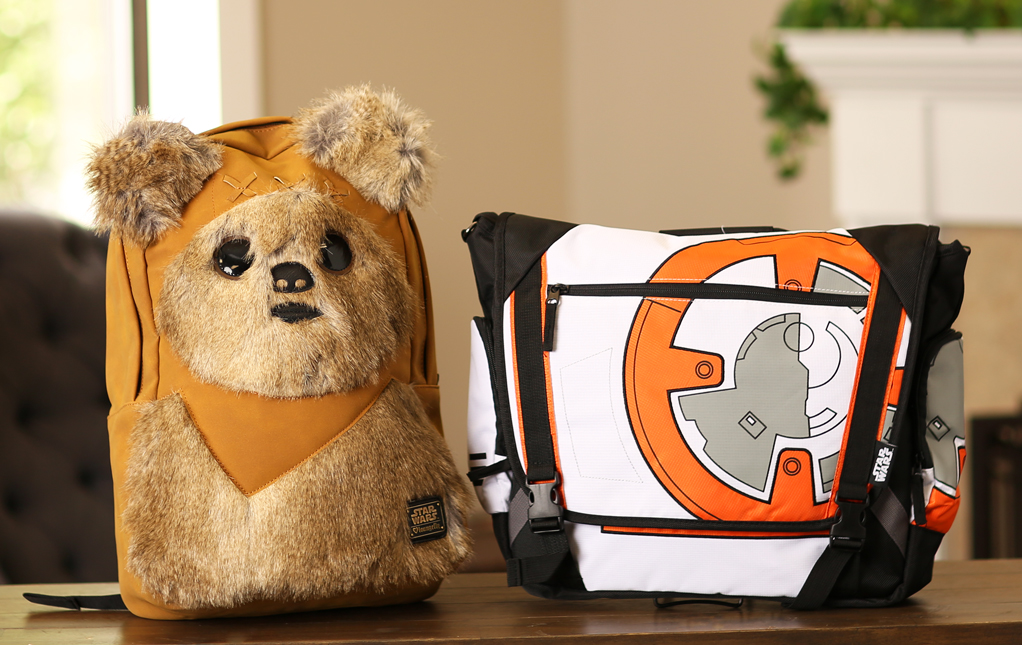 When it comes to toting stuff around at your side, we have a Ewok pack that's as adorable as it is useful! Well, we're quite certain that it's good enough to carry your laptop and books, since it looks just like Wicket the Ewok. (After all, he did well when he was battling the Empire!) We also have a great BB-8 messenger bag based on the lovable droid from The Last Jedi. Both are great for anyone looking to get a Star Wars messenger bag.
Superhero Bags
Superheroes are a pretty integrated part of pop culture these days. It used to be that reading Batman comics was just for nerds, but now, especially with all the great movies, everyone knows exactly how awesome characters like Batman and Captain America are. These days it's downright cool to show off your superhero swag and what better way to do that than with a superhero bag of your own. We have tons of styles, so we suggest deciding on whether you want a backpack or messenger style bag and going from there.
Superhero Backpacks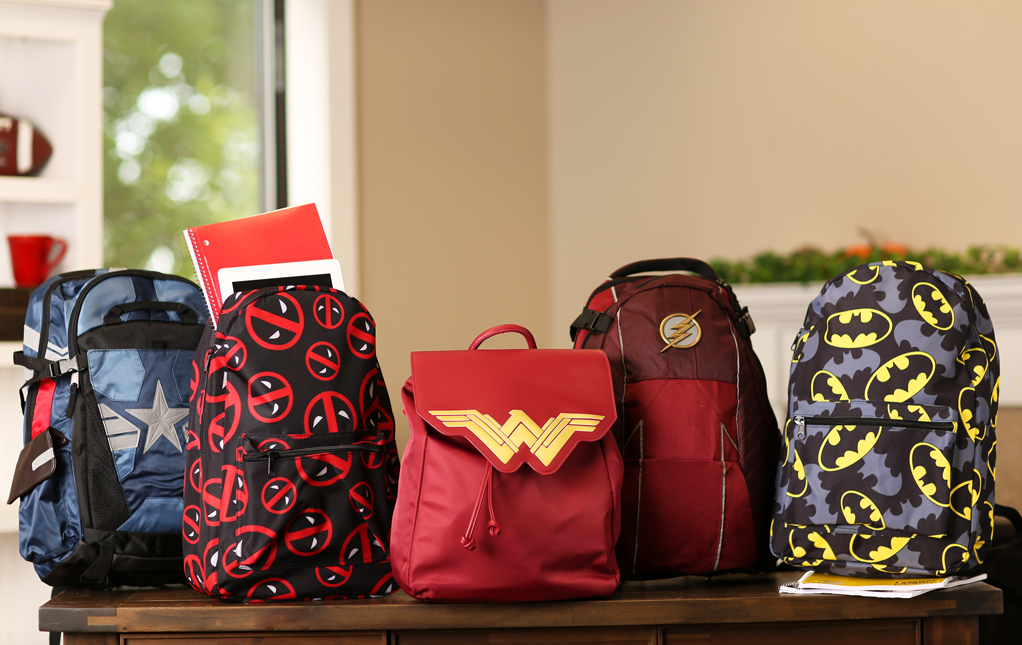 When an adult wears a superhero backpack, it becomes a symbol of a youthful spirit. A lot of adults just let that inner child inside them fade away, but those that keep the spirit alive get to relive some of the greatest moments of their childhood. You can celebrate your love of watching Batman: The Animated Series by wearing a Batman backpack, or dash to work with a Flash backpack slung on your back. We also have Captain America backpacks for superhero fans who feel a little more straight-laced and a Deadpool backpack for those who are the furthest thing away from being straight-lace. And to top it all off we even carry Wonder Woman backpacks for those who are still rocking their girl power style!
Video Game Bags
It's no secret that video games are the greatest invention since sliced bread. Heck, they might even be better than sliced bread if you ask us. Can sliced bread take you on an epic adventure to save Hyrule from Ganon? Can sliced bread stop the evil Bowser from kidnapping Princess Peach once again? Can sliced bread catch 'em all? That's a resounding no to all of those questions! Well, if you feel the same way about video games, then perhaps a video game bag is the right choice for you. We have plenty of bags based on your favorite games, so whether you're trying to rock a backpack or messenger bag, you should be able to find something that fits your style.
Video Game Backpacks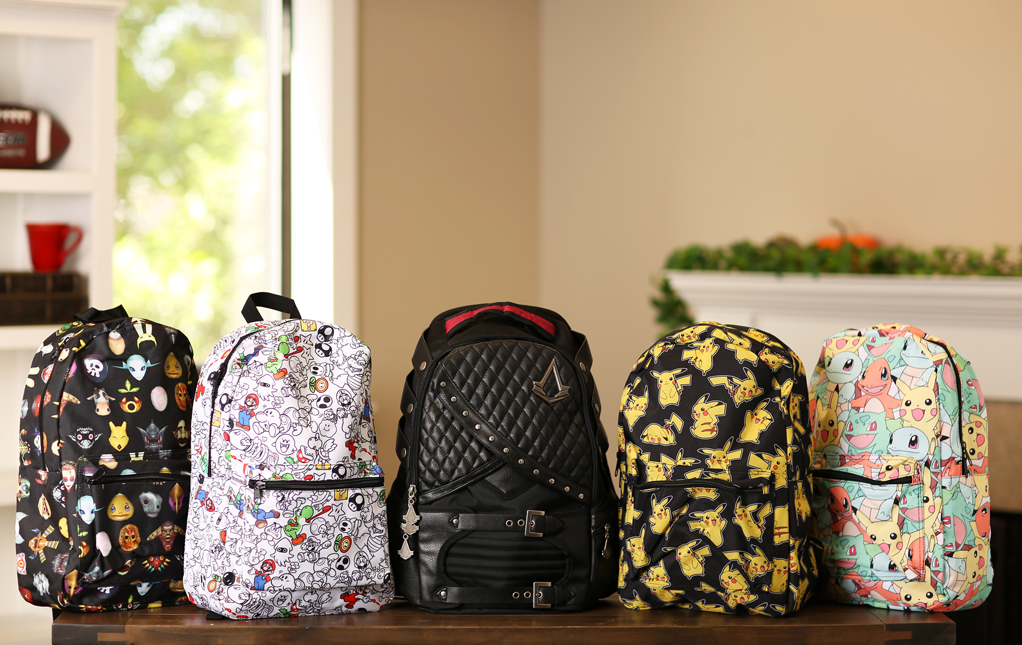 Choosing the right video game backpack all comes down to figuring out which video game is your favorite. Since we carry backpacks based on all the iconic Nintendo games, you can find a classic Mario backpack, a Pokémon backpack, or even a stylized Pikachu backpack. You can even find a Legend of Zelda backpack to store all of your adventuring gear inside! And if you're more of an Assassin's Creed fan, you can find an Assassin's Creed backpack right here too!
Video Game Messenger Bags
Don't even think for a minute that we forgot about video game messenger bags. Some of our best bags are actually messenger style bags that are themed after Zelda, BioShock, Mega Man, and Halo. Our Legend of Zelda bag and Mega Man bag are both perfect for carrying your books to class, while our Halo bag and our Bioshock Booker bag has a slightly more adult and sophisticated style.
Cartoon Backpacks
Is there anything more wholesome in the world than cartoons? Okay, so maybe some cartoons of yesteryear were a little more violent than modern day cartoons (Wile E. Coyote used to blow things up on the regular in Looney Tunes). These backpacks are 100% wholesome, though! We have a ton of different designs, including some based on your favorite lunchtime snack.
SpongeBob Backpacks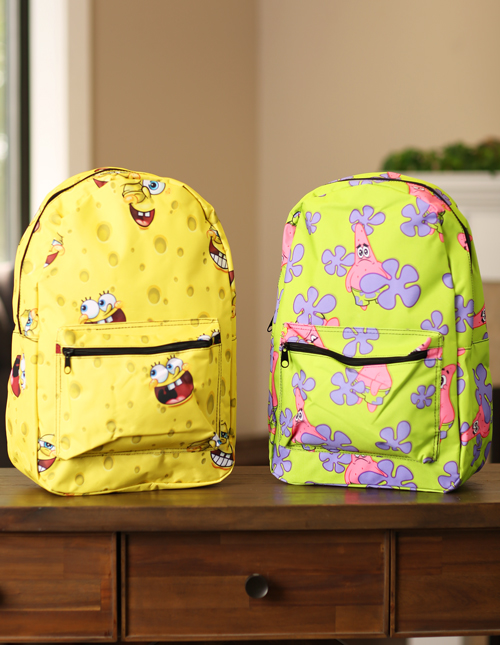 Can you believe that SpongeBob SquarePants begin its run back in 1999? That means the porous little aquatic guy is over 18 years old. He's legally an adult in some parts of the world! Well, he's been making fans laugh their heads off for years and there's just nothing quite like one of our SpongeBob SquarePants backpacks. We have styles based on SpongeBob himself and we also have a Patrick-themed backpack to satisfy any fan of the Nickelodeon series.
Steven Universe Backpacks
Cheeseburger Backpack! Cheeseburger Backpack! Cheeseburger Backpack! If you've ever seen Steven Universe, then you're most likely familiar with this legendary item! Okay, so maybe Steven just ordered his online and it's just a normal backpack, but there's no limit to the things you can do when you're fully prepared for adventure. You could even save your friends with bagels! This officially licensed version of the backpack is perfect for fans of the Cartoon Network series.
Disney Backpacks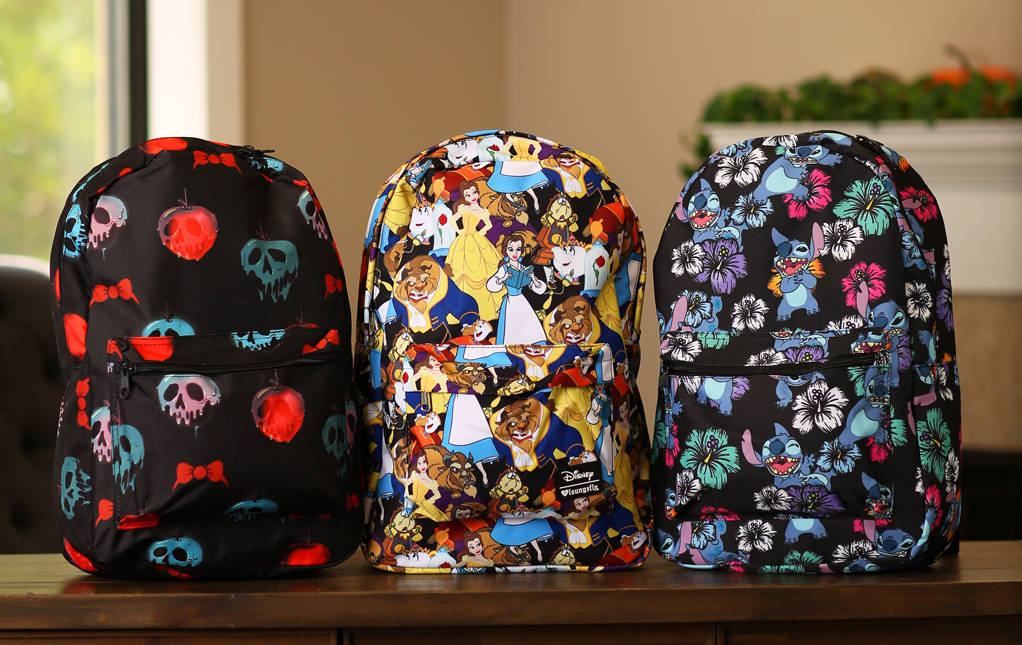 When it comes to cartoons, Disney is at the top of the game! Making cartoons since the 1920s, they've truly mastered the art of animation and they've made some of the most impactful animated movies since then. Of course, we gathered up all the best backpacks based on Disney movies, including ones based on Beauty and the Beast, Lilo and Stitch, and Nightmare Before Christmas.
Nerdy Bags
You're a nerd, aren't you? It's okay. You're among friends here! And besides, being a nerd isn't quite the stigma it used to be. These days it's actually pretty cool to be into video games, computers and DC comic books, which used to be considered the things that nerdy outcasts used to do. Now, we rule the world. Muhahahaha!
Oh, sorry. We got a little out of control there. It is true though. It's never been a better time to be a nerd and with some of our nerdy backpacks and messenger bags, you can even get a stylish bag based on your passions. Of course, whether that means rocking a Star Trek backpack or an internet cat meme bag is up to you!
Nerdy Backpacks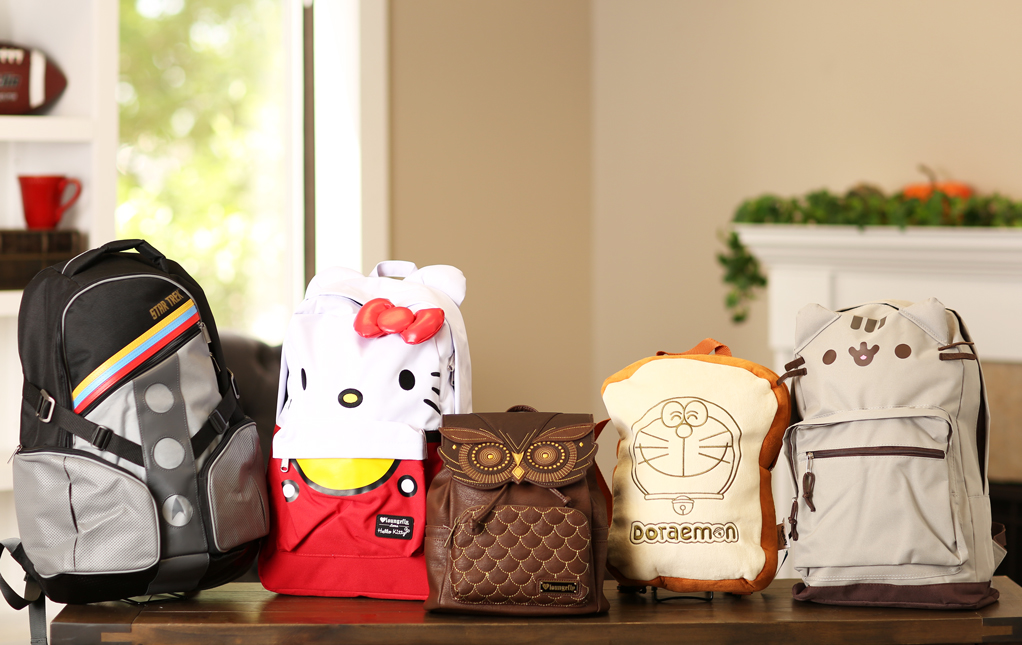 First up is our collection of nerdy backpacks. The key to choosing a nerdy backpack is finding one that captures an odd aspect of your own personality. Whether it's your love of Pusheen cat or Hello Kitty, or you just really like owls (there's absolutely NOTHING wrong with loving owls). If you're a huge anime fan, then we have adorable Doraemon backpacks and if you're an old school Star Trek fan, then nothing is better than slinging this retro Star Trek backpack.
Nerdy Messenger Bags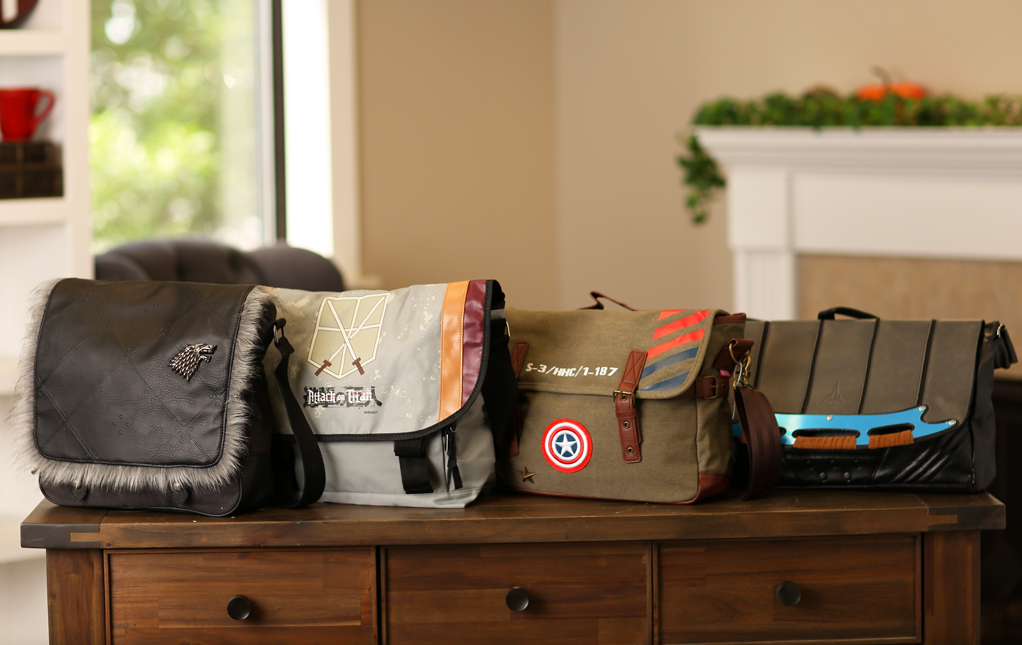 If you're looking for a nerdy messenger bag that perfectly accents your personality, then you're in luck! We carry nerdy styles of all varieties in messenger bag styles. If you're a Game of Thrones nerd who knows every line ever spoken by Arya Stark, then you may just want a Game of Thrones messenger bag. Star Trek fans won't be able to resist carrying their books in our Klingon messenger bag and anime fans will love rocking an Attack on Titan bag. Even Captain America can help you show off your nerdy comic book style when you use a Captain America messenger!
Funny Backpacks
We all love a good laugh. So why not have everyone who sees you wearing your pack enjoy a good chuckle? We think that's a fantastic idea, and you'll probably enjoy the comedy inspired by a funny backpack yourself. Choosing a funny favorite backpack is sure to be just the thing to get folks smiling, so consider one of these ideas when making your backpack selection!
Fun and Funny Backpacks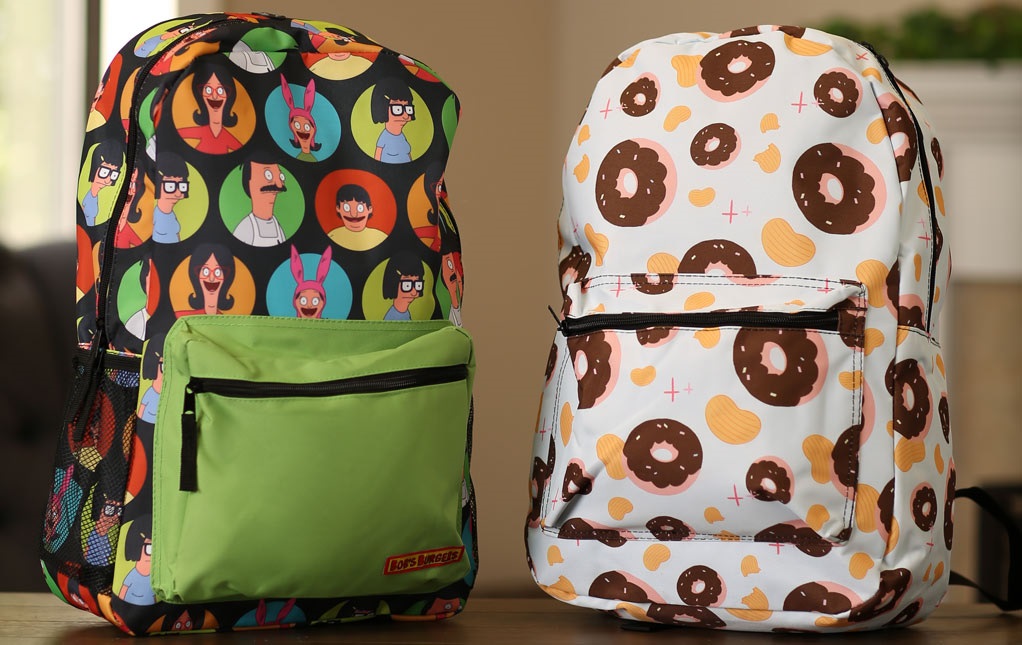 Sometimes, you just need a good laugh! The good news is that we carry plenty of backpacks that should help you and your friends have a good chuckle. With styles like our legendary donut backpack and selections based on Bob's Burgers (this licensed Bob's Burgers backpack has ALL the members of the Belcher family on it), it's easy to find a style to suit your sense of humor.