Superman Gifts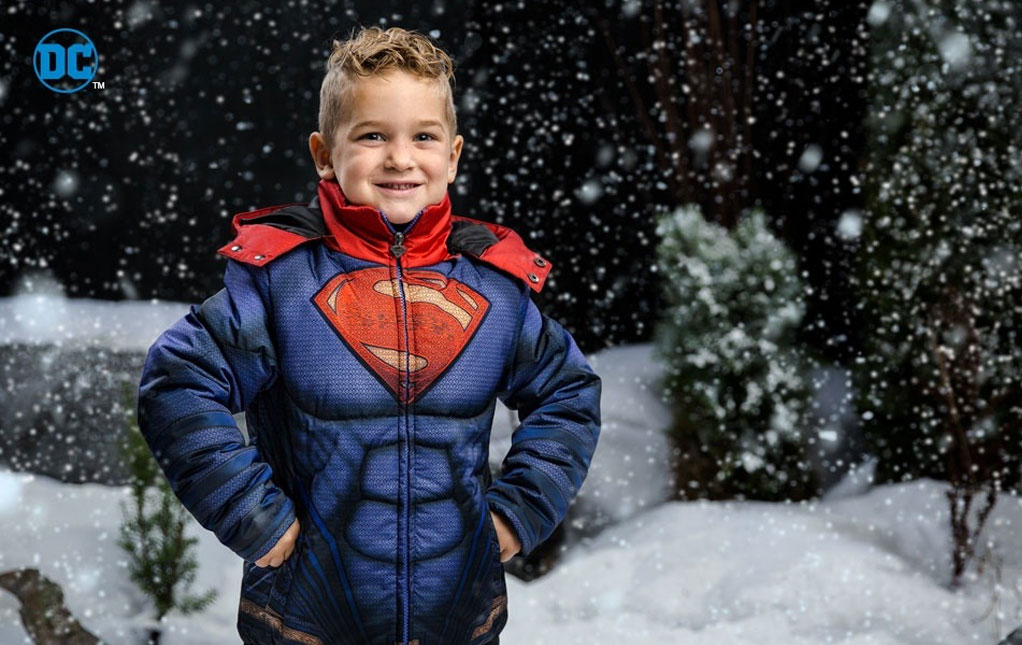 It's a bird, it's a plane, it's…need we say more? For over 80 years, Superman has been the quintessential superhero—strong, brave, and always fighting for the forces of good. Superman represents heroes in the purest form, from his origin story to all of his cool powers! Over the years, Superman has graced the pages of magazines, television shows, cartoon specials, and full-length features on the silver screen, appealing to adults and children the world over. Handsome, helpful, humble, and heroic, Superman is DC Comics' most enduring creation, a character who speaks to generation after generation, constantly reinventing himself with the times.
This collection of Superman products is curated specifically for the Superfan in you and yours. Whether you wish to collect each item yourself or you plan to give them away as gifts, the products here represent Supermania in its finest form. If life feels lacking and in need of a boost, the emblematic "S" and energizing red, blue, and yellow of this Superman collection is here to swoop in and save the day!
Superman Gifts for Men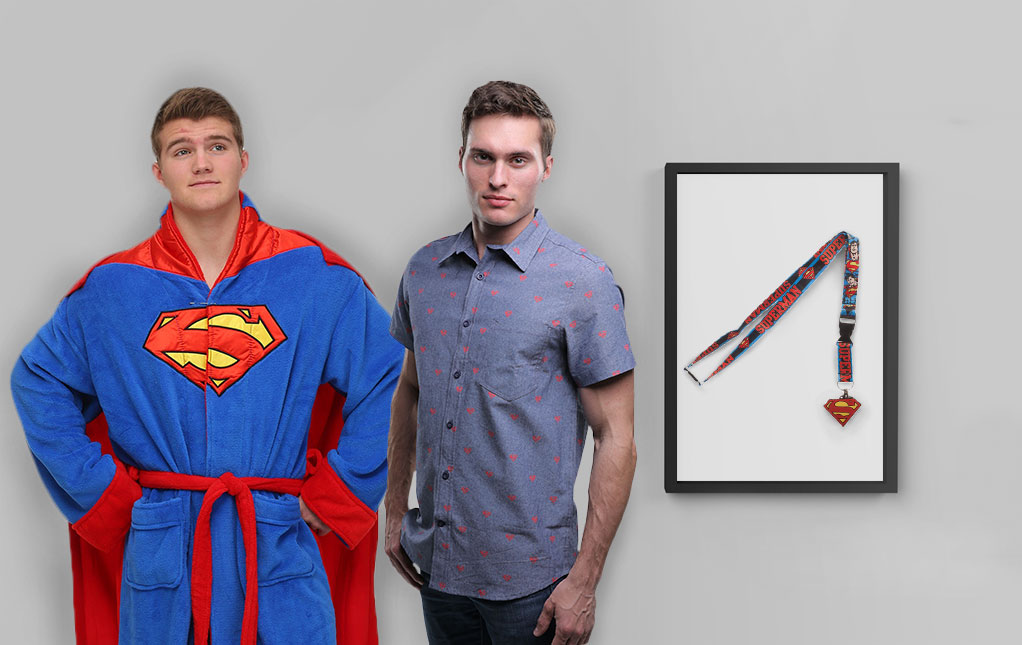 You can remember every detail of the 1978 trailer for the original Superman film. The feeling is still palpable—your favorite comic book character would be brought to life before your eyes! The graphics, the inspiring soundtrack, the drama of Krypton's demise—it felt too good to be true. And since then, your commitment to the Man of Steel has never wavered. You know that becoming Superman takes more than just an outfit; it's an attitude. Superman feels as powerful in his bathrobe as he does at the comic book convention. Or maybe you prefer to simply infuse your casual Friday with some super subtle vibes, in which case this button-up shirt is a supreme choice for afternoons at the office or a day off barbecue!
Superman Gifts for Kids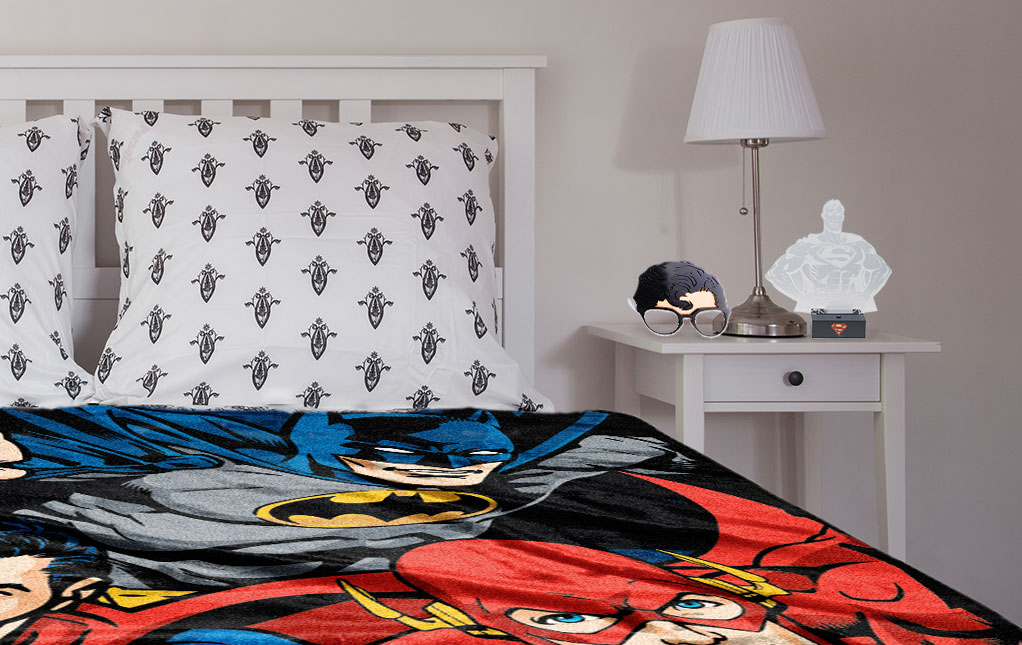 Whatever your kid gets up to, it's wise to plan for bumps in the road. These Supergifts will grant them strength and serenity, along with a strong moral compass, to help remind them to navigate life like their ultimate hero! Trust us—Superman merchandise goes over well with the kiddos! Maybe your kid needs an imaginative boost? These Superman Glasses can pep up an otherwise boring picnic. Perhaps they are having trouble sleeping at night? Your little one will doze off feeling safe and secure with this Superman Hero Light on their dresser. Or it may be chilly in the car on a long road trip and thisJustice League Trio Throw will keep them cozy. The sky is the limit for your little one when they've got the Man of Steel on their side!
Superman Gifts for Women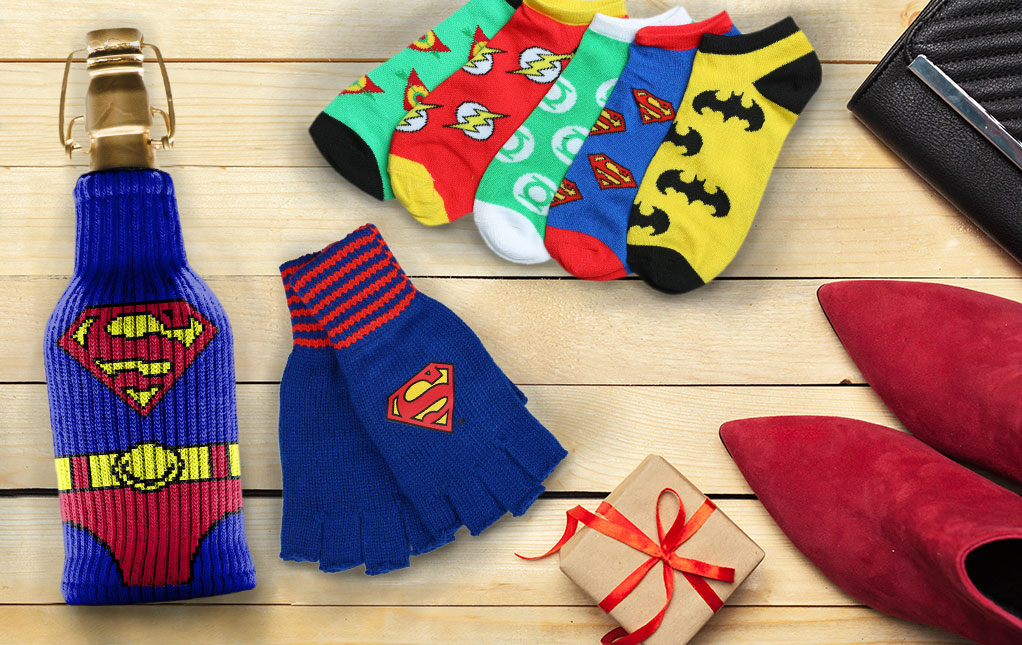 You ladies are already busy being multitasking superheroes every day, so there's no need for a cape. But sometimes you just want a bit of a jolt—a buzz that powers your day and subtly declares, "I kick butt! And I do it before breakfast!" We suggest adding in small nods to your super strength, like this DC Logo Ankle Sock Pack. Superman is obviously your favorite, but this pack also includes Flash, Batman, The Green Lantern, and Green Arrow. BAM! An instant supercharge to your Monday. And what about when it's cold out, and you need just a tiny token of warmth? These Blue Superman Fingerless Gloves will keep your hands cozy until your heat vision kicks in. When the opposite happens, and it's sweltering hot at a pool party, you can keep your hands dry and comfortable when that icy-cold beverage has other plans. This Superman Freaker Drink Insulator helps you stay cool!
Superman Gift Ideas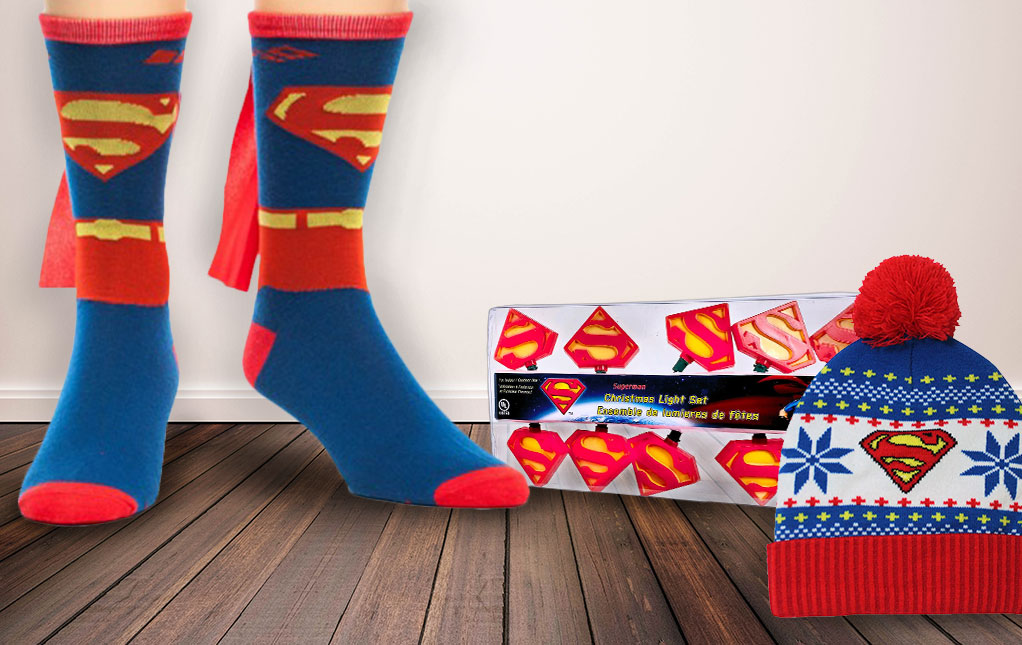 When temps drop and the holidays loom, you can easily feel zapped of energy and overwhelmed. Don't let the to-do list bog you down; just think WWSD? What Would Superman Do? Well, he's never been one for material possessions and would probably give the gift of safety and protection to all—but assuming that's not in your wheelhouse, then he'd probably curl up with a cup of tea and his laptop to pick up one of these great gifts! What? You expected us to say he'd fly around from shop to shop, using X-ray vision to see into stores for inventory? Nah, Superman deserves some down time, just like you. Whether you opt for this Superman Light Set, this Superman Fair Isle Cuff Pom Beanie, or the super-adorable Superman Cape Crew Socks, these Superman gifts for adults offer cheer, coziness, and super-cool style to the holiday season!
Superman Home Goods
A super life begins at home. From the moment you wake up to the instant your head hits the pillow, you should be surrounded by things that inspire your greatness. And nothing does that better than your idol, Superman! From your office to your kitchen, from the bedroom to the backyard, these items can keep you grounded in what makes you feel special, even when life in your metropolis insists on flying by at super speed!
Superman Rug
Turn your home office into a super productive space (finally) by lining your floor with this Superman Rug! You can practice setting firm deadlines for yourself—it may help to pretend that you work at The Daily Planet and have an issue to get out! Or, you can just kick back and work your way through your reading list. Either way, this plush throw rug will keep your toes cozy while instilling your workday with a strong sense of purpose!
Superman Coffee Maker
Mornings at your house can be hectic. When you seek a moment to yourself, wake up before the rest of the crew and brew up a cup of joe in this Superman Single Brew Coffee Maker. Sipping a rich roast while staring out at the morning light may just turn your kitchen into a momentary fortress of solitude. Superman may not need coffee to kickstart his day, but you are a mere mortal—get your energy and seclusion where and when you can!
Superman Slow Cooker
We know Superman has a lot of skills and talents, but he's got nothing on you in the kitchen! And while everyone will love the dish you're bringing to the potluck, a super chef like you knows—it's all about presentation! Up the ante on your entrée by serving it in this Superman Slow Cooker! We're not sure this is what the health food industry means when they refer to "superfoods," but anything made in this pot is bound to give you endless energy!
Superman Toaster
We rarely see Superman (or Clark Kent) eating, but we know he must have a healthy appetite to fuel all that world-saving and whatnot! And we imagine that his breakfast is hearty—eggs, orange juice, bacon, and of course, toast! If you want to emulate Clark, this Superman 2-Slice Toaster looks great, outside and in! It has extra-wide slots to hold bagels and thick breads, and it will imprint the Superman logo right onto your slices, for a breakfast of actual champions to fuel your day the right way!
Superman Costumes
While some days call for just a dash of super style, some others require all-out transformation. Whether you want to wear these costume items to a full-blown party or you prefer to simply tote them around in case you need to change quickly in a phone booth (good luck finding one these days), these super looks will fire you up for battle with the forces of evil, all in the name of good, of course!
Collector's Edition Superman Costume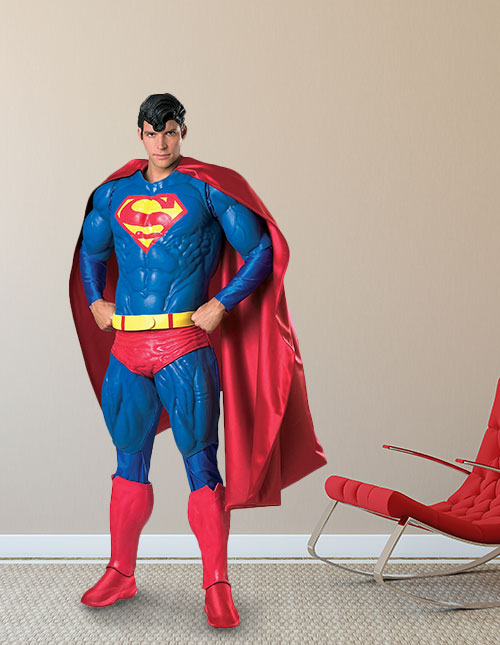 Anyone can slap a jumpsuit on and call themselves Superman, but few go through the rigorous training and intense physical challenge of truly trying to become the Man of Steel! You, however, have tried to mimic his muscled physique, his perfectly-coiffed hair, and his power stance. As it turns out, it's really, really hard! This Ultimate Collector's Edition Superman Costume can fill in the…few gaps…in your training by turning into you Superman from head to toe. We think you've earned it for working so hard!
Superman Cape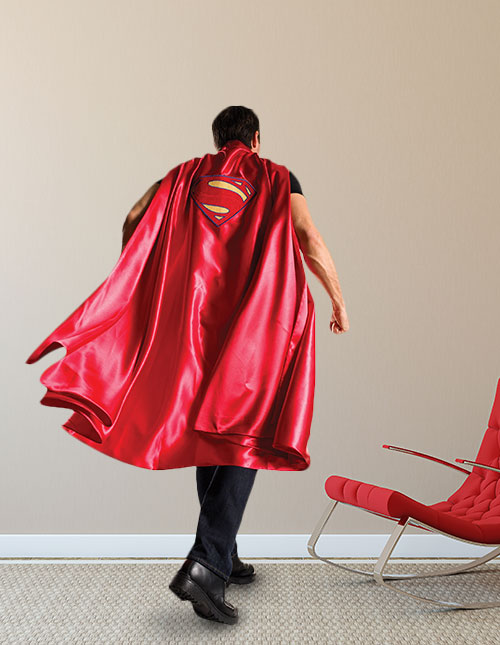 Maybe you're not looking for complete transformation; perhaps you want just a dash of Superman's swagger that's easy to add to your everyday outfits. Or maybe you already have an ideal jumpsuit, but you've been using your X-ray vision to search the town for the perfect cape to accompany it. Either way, this Adult DC Dawn of Justice Deluxe Superman Cape comes to you straight from the film and will have people saying "the red capes are coming," whenever you waltz into a room!
Kids Superman Costume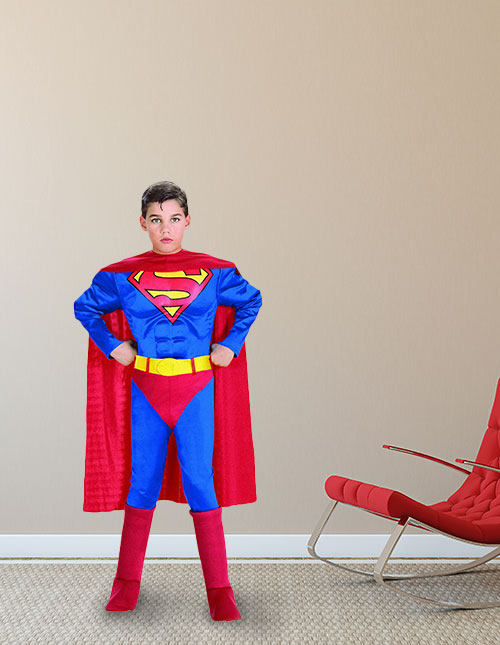 Your adoration of Superman started long before you had kids of your own. But now that you do, you can't wait to share the magic with them. Costumes have come a long way since your grandma hand-sewed yours for you, but this Kid's Superman Costume will instill your kiddo with the same thrill when they put it on! Not to mention, you'll get a rush of nostalgia seeing them run around the backyard, shouting, "Up, up and away!" with one fist raised to the sky.
Toddler Superman Costume
Life is hectic; but your little tyke is your kryptonite. And when they ask for a movie night, you go all in by bringing matching Superman costumes! Show them the original film from your day, then follow up with the latest installment. They'll look adorable in this Toddler Superman Costume with Cape, but of course, in between screenings you'll want to let them run around the house, stretch, and play "Superman" while they balance on your legs to fly!
Superman Collectibles
You've just moved into a new house, and there is finally space to unpack your boxes of DC Collectibles you've had in storage! But as you unpack, you notice a grave lack of Superman items among the bunch. Not to worry; we can correct that. And now that you aren't crunched for space, you won't have to decide what to display- your bobbleheads or your Funkos. Get them all and rest easy knowing they have a bright, sunny new home on your shelves!
Superman Bobblehead
This DC Classics Superman Head Knocker is too cool to be kept on display in a case! Place him on your desk at the office or leave him in your home entryway to endorse your days with superhuman strength and power.
Superman Funko POP!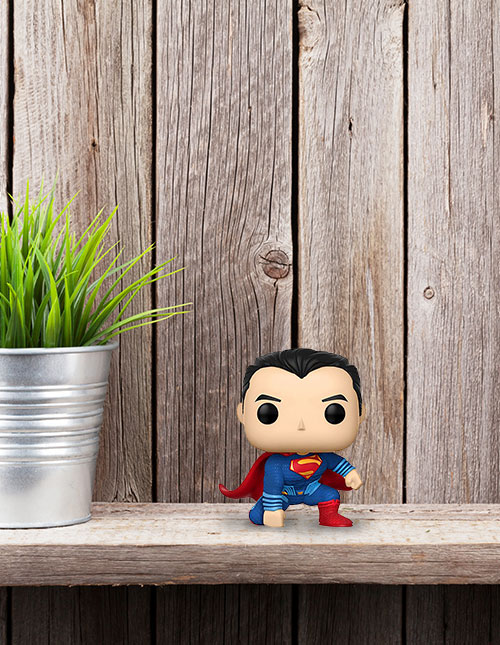 This Superman Funko Pop Figure knows how to pose! Kneeling in the classic superhero stance, with one fist to the ground and his eyes to the sky, this little vinyl figurine may just teach you how to strike a strong pose in the name of greatness.
Clark Kent Funko POP!
You've always been partial to Clark Kent—he's just so…intriguing. Whether you're a huge Smallville fan or you want to pay homage to Superman's humanity, this Clark Kent Funko Pop Figurine honors the man behind the legend.
Superman Geeki Tiki
Have you ever wondered, "What would Superman look like as a tiki mug? Well, of course you have, superfan! There's nothing you haven't wondered about the Man of Steel. Ta-dah! Here's your answer: this DC Comics Justice League Superman Tiki Mug!
Superman Clothing
Not all superhero garb is capes and jumpsuits; sometimes you just want your clothes to reflect your superhuman nature. This collection of cute and comfy clothing is a category all its own. Honoring your favorite character ever, Superman, we've taken some fun spins on classic looks to ensure you remain the Man of Steel's most stylish fan, even out of costume!
Superman Suit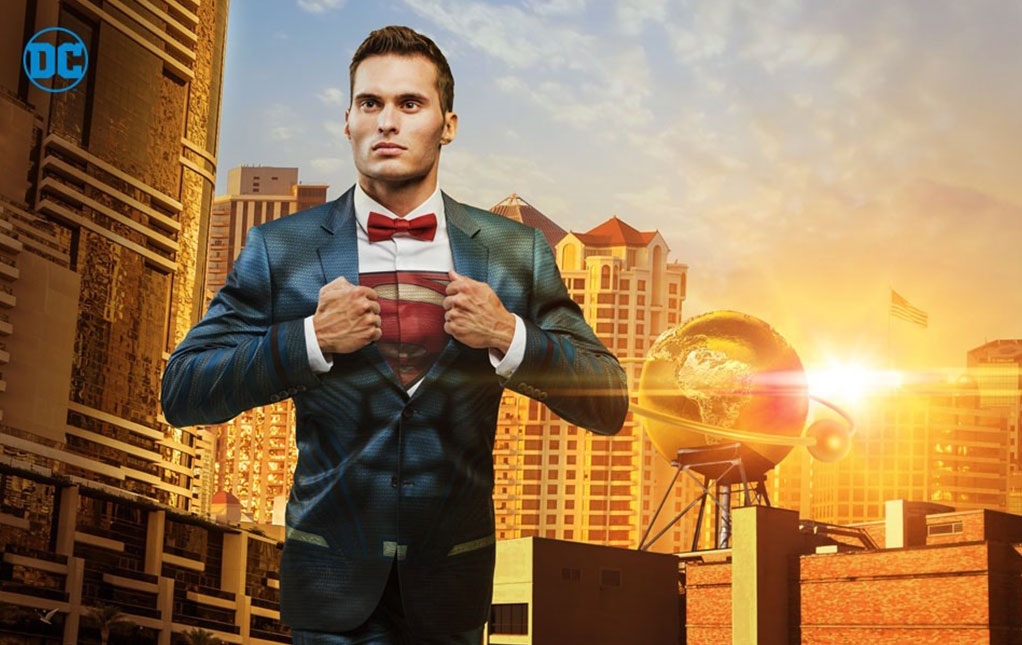 Everyone has their own favorite Superman installment (and the debates about which Superman iteration is the best could go on forever- trust us). Yours happens to be Man of Steel, and you'd go to the mat for your choice. If that's the case, you'll want to snag Clark's look straight from the film. This Superman Slim Fit Suit Jacket is cut slim and features a double vent and two interior pockets. We'd love to tell you your vigilante persona will be concealed in this suit, but it only makes an OK disguise…because you look, well, super in it!
Superman Kids Clothing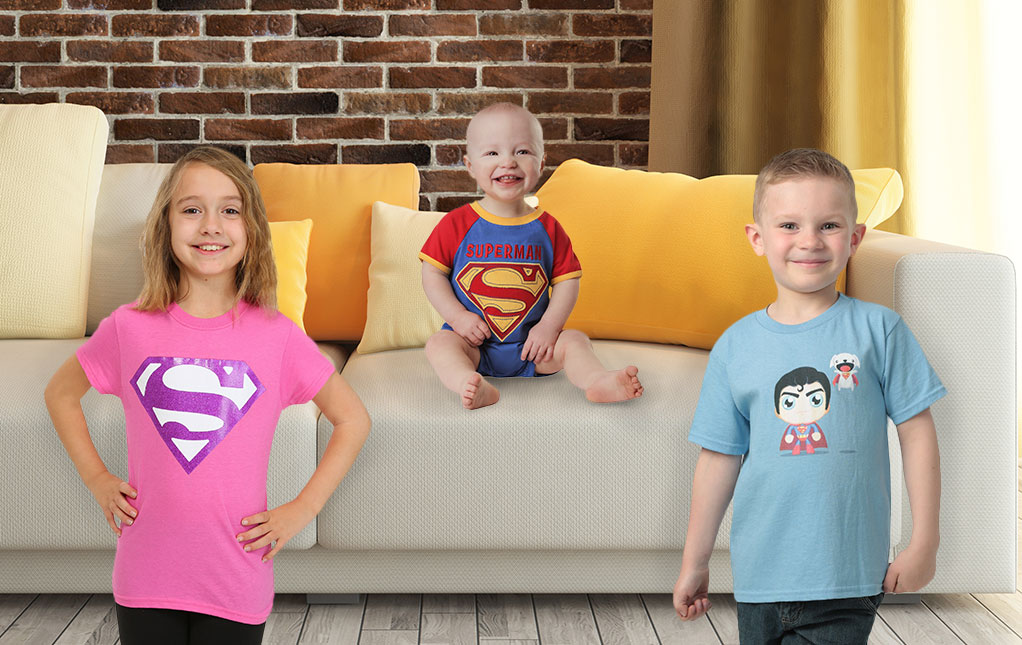 Everyone wants the very best for their child—you hope they will grow up to do amazing things, conquer huge goals, triumph in the face of conflict, have strong morals, and be extraordinary! Sound familiar? Deck your little one out in these Superduds—such as this cartoon Superman and Krypto Tee, this licensed Super-Romper, or this Pink Glitter Logo Tee—and infuse their early days with a mega dose of do-gooder spirit and superhuman skills. Your kid may not be the powerful Kal-El, but that doesn't mean they're not a hero in your eyes!
Superman T-Shirts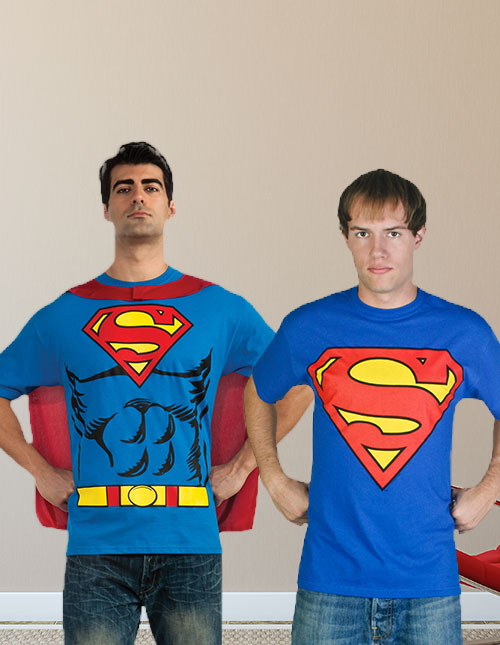 As much as it pains us, not everyone can be in costume all day, every day. It's a terrible, grown-up fact of life. But just because your office doesn't have "Cape Casual" Fridays doesn't mean you can't slip this Superman Shield T-Shirt under your button up (just like Clark!). Or, when Cape Casual Friday rolls around, then just choose this Adult Superman T-shirt Cape Costume. We don't really know what else to say except for bring it on Friday!
Superman Clothing for Women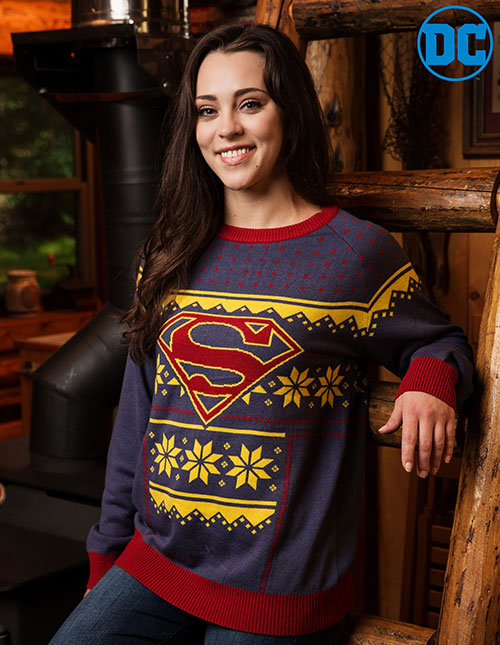 Great news, gals! You don't have to be Lois Lane to be in Superman's life; you just need the right attitude and a super snuggly Superman sweater! The Superman fan club isn't only boys; women think going faster than a speeding bullet is pretty cool, too. Our Women's Superman Holiday Sweater is a fun, Fair Isle look you can really cozy up to. It's a FUN.com exclusive, made right here in our own design studio in tandem with DC Comics!