Get ready for the latest and greatest exclusive products to be featured in our online store at FUN.com! These new products are great, whether you're looking for a unique gift or you're planning on treating yourself. We pride ourselves in our selection of apparel and accessories, so believe us when we say that we're excited to introduce you to these brand-new items! Keep reading to find all about the latest merch to be featured at FUN.com.
Disney Shoes

We're sure you're going to LOVE our new Disney shoes! We've got high-top and low-top sneakers featuring designs from Lilo & Stitch, Minnie Mouse, and Lightyear! Our Lilo shoes and Minnie Mouse sneakers are sized for women, while our Stitch sneakers and Lightyear shoes are unisex/men's sizing. (We recommend that women shopping for unisex sneakers check the size chart. It usually works out to two sizes smaller.) That's right, we created something!
Original Trilogy Star Wars Shoes
Is it even May the 4th without new Star Wars gear? We launched three new character shoes based on characters from the original trilogy—Princess Leia, Chewbacca, and Boba Fett. The quilted sides and faux fur cuff on the Leia shoes remind us of her cozy Hoth outfit, and who could miss Chewbacca's belt on his shoes? (We thought about making them hairy, but then you'd have to brush your shoes!) Finally, is it even Boba Fett without the symbols on his Mandalorian armor? These kicks would look great at any comic con, but don't be shy about wearing them around town. You might even have people asking you where you got your cool Star Wars shoes!
Friday the 13th and Jim Henson Bags
Are you in the market for a new bag? Instead of reaching for a boring old purse or mini backpack, find nerdy bags and backpacks that are more your style! Jim Henson fans rejoice because you can find officially licensed mini backpacks with characters from Dark Crystal and Labyrinth and a sweet Dark Crystal shard bag. (And how cute is the Ludo character bag?) On the flip side, there's also a killer new crossbody bag from Friday the 13th. This compact purse features quotes and sayings from the franchise, with a Jason mask on the front.
Harry Potter House Sweaters
You may never get that Hogwarts letter, but don't let that get you down! We have exclusive new Harry Potter house sweaters for all four Hogwarts houses! Live your storied Ravenclaw life, or kick back with your Hufflepuff friends. Wear your Hogwarts sweater like the students do, or make it casual with a pair of jeans or leggings. These sweaters are wonderfully versatile, so be the Hogwarts student you were meant to be!
Donkey Kong Action Figure
Our first exclusive action figure goes to Donkey Kong! This classic ape has seen it all, from Super Smash Bros. to Banjo-Kazooie. This 6" Donkey Kong action figure has 10 points of articulation, allowing for tons of cool posing options. He'll look great on any collector's shelf, but he'd also be at home on your gaming station. We're going bananas for this new action figure!
Michael Myers Halloween Shoes
Michael Myers really knows how to accessorize! We have discussed the origins of his mask numerous times, but he also has great taste when it comes to these kicks. While he mostly blends into the shadowy portions of these shoes, Michael always knows how to stand so the light hits him for maximum terror. Now, you're not likely to elicit screams with these shoes (unless you run across another fan), but they're ghoulishly good.
Harry Potter Blazers
Add a touch of mischief to your outfit with one of our women's Harry Potter blazers. Keep your Marauder's Map handy for hijinks with this burgundy blazer, or channel your inner Luna Lovegood in a lovely heathered pink. We love that you can dress them up for business or dress them down to go out on the town! We wanted to make an invisibility cloak blazer too, but technology isn't quite there yet. Bummer.
St. Patrick's Day Sweaters and Accessories
Not everyone hits the bars on St. Patrick's Day dressed as a leprechaun—but what is a good option for you? These festive St. Patrick's Day sweaters fit the occasion nicely, and will also keep you warm through any chilly March weather. We also have cute companion purses fit for the day so you can keep your cash close and match your outfit. (And, dare we say, you can hang onto any rainbow accessories to use again for Pride?) We hope a little luck comes your way when you wear a shamrock on St. Patrick's Day!
Care Bears Shoes and Accessories
Are you looking to create the most perfect pastel pop culture outfit? Perhaps you're simply a purveyor of cute. These Care Bears accessories are sure to scratch that itch when you need adorable outfits. Use one of these items as a statement piece, or simply wear all of them at once to fit your maximalist style! Anyone who loves all things adorable will love these Care Bears accessories for adults.
WWE Shoes and Accessories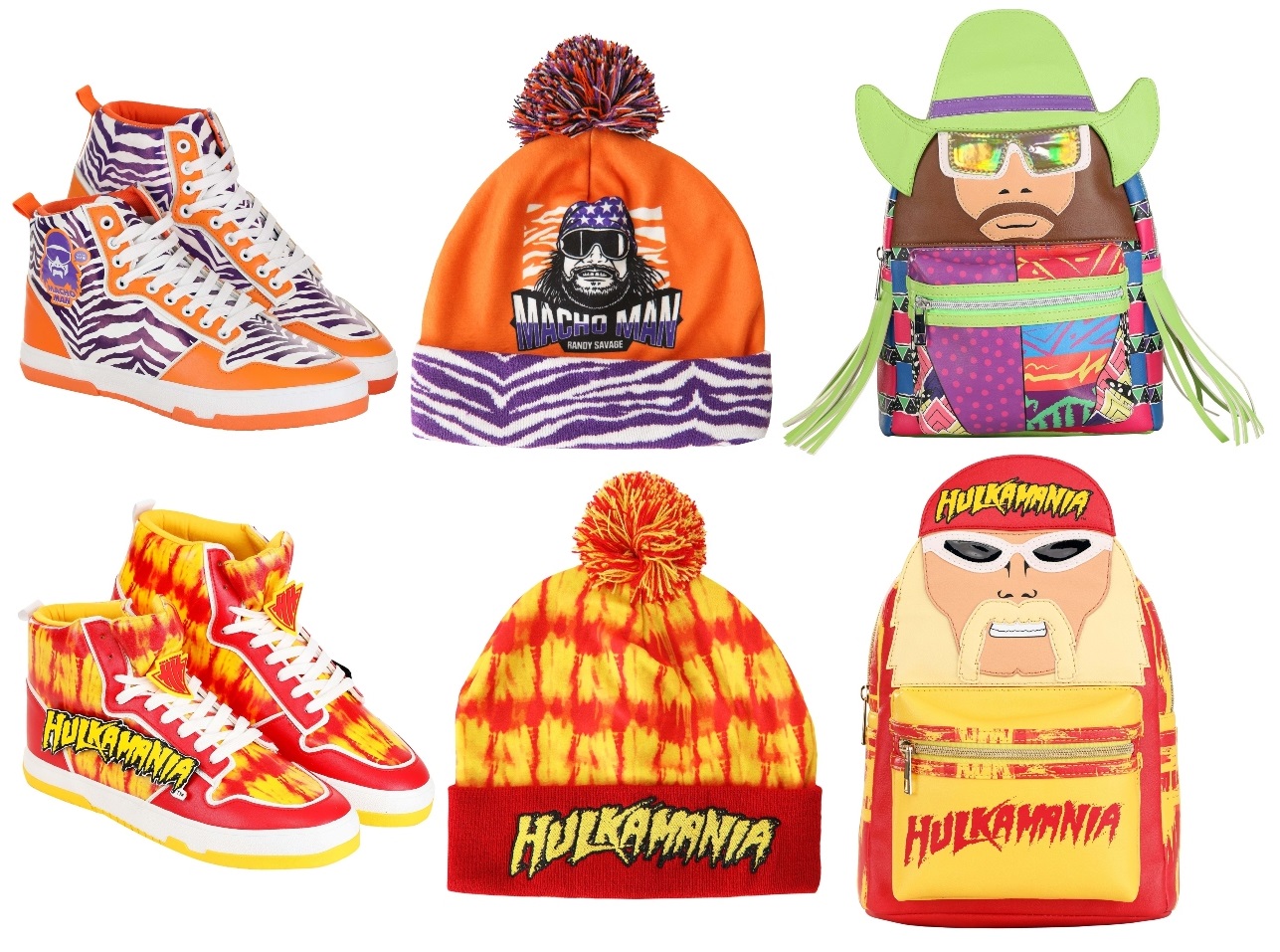 Oh yeah! We have new WWE merch that's going to pump you up! You're going to love these bright and colorful WWE shoes and accessories that are bound to make a statement. Step into the ring with Macho Man's signature stripes, or maybe Hulk Hogan's yellow and red tie-dye is more your style. Whether you're gearing up for fight night or you're a fan no matter the day, these bold WWE accessories are your outfit's true MVP.
Valentine's Day Sweaters
Have you ever struggled with what to wear for Valentine's Day? Do you feel like your looks don't express your sentiment for the holiday enough? Maybe you're just not that into V-Day and you don't want to explain yourself verbally. These cute and alternative Valentine's Day sweaters from FUN.com are a wonderful way to dress up for V-Day! Feeling cute? Love-a-Lot Bear knows how you feel. Maybe you don't much care for the holiday, and we have some creepy-cool Valentine's sweaters. Even our simple Hugs and Kisses sweater can be dressed up to fit any holiday aesthetic!
Movie Slippers
Slip into something more comfortable with these quirky licensed slippers from FUN.com! Your toes will stay nice and toasty while serving up a smile with characters from The Nightmare Before Christmas, Beetlejuice and more. These fun character slippers for adults may even smile back at you with their cute plush faces! Sure, some people might find these fantastic pieces of footwear to be strange and unusual, but you honestly wouldn't have it any other way!
2021 Care Bears Home Collection
Shop entire Care Bears Home Collection
Bring Care-a-Lot into your home with FUN.com's new Care Bears Home Collection! Fans of the Care Bears series will love this cute pastel assortment of home items, from pillows and a rug to children's playroom pieces. Take a ride on the Care Bears cloud rocker, or snuggle up with Bedtime Bear in a cozy bear-shaped sleeping bag. The Care Bears striped rug looks great in any room, and who doesn't love some cute pillows? Get these adorable Care Bears home products before they disappear!
2021 Halloween Sweaters
Horror isn't part of everyone's Halloween style, and that's fine with us! Everyone's favorite Halloween-themed Care Bear, Trick-or-Sweet Bear, now has their own sweater. So cute! Even Scoob and the gang are visiting us this Halloween season on this printed Halloween sweatshirt filled with ghosts and ghouls. You can also creep it real with spooky sweaters featuring monsters, plague doctors, ghosts, and the headless horseman himself! Should you be more into cute Halloween sweaters, you'll feel pretty in pastel or fabulous with this astrology-themed sweater. There are so many fun new styles for 2021 that it's hard to pick just one!
Horror Halloween Sweaters
Horror fans, rejoice—we have several officially licensed horror movie sweaters just for you! All three of these are unisex sweaters, so no one can stop you from displaying your spooky style. (Not even for Christmas! These are ugly sweaters, right?) Proudly throw on this Pennywise sweater, or add Annabelle and Valak to your wardrobe. These cozy horror-themed sweaters are sure to be some of your favorite movie-watching companions.
FUN.com Exclusive Loungefly Mini Backpacks

You'll want to get your hands on these FUN.com Exclusive Loungefly bags before the nargles make them disappear! Both mini backpacks feature front and top zippers, along with handy side pockets and top handles. The Luna Lovegood mini backpack has a splash of bright, bold colors that remind us of her signature attire, and her spectrespecs are shown prominently on the front. Our Beetlejuice mini backpack has a mixture of Beetlejuice's famous black and white stripes, with bold lime green and purple colors. His oddly adorable face peeking out from the bag is sure to make your millennium.
Pop Culture Shoes for Adults
Have you ever looked at kids' shoes emblazoned with the likes of Spider-Man, Wonder Woman and other characters and thought, "I'd rock those if they came in my size"? Well, these adult pop culture shoes are calling your name! Flaunt your feet with the likes of Baby Yoda, Wonder Woman, Luna Lovegood, Avatar: The Last Airbender and Harry Potter. Fashionable footwear like these shoes are great for your casual street style as well as conventions and events where you want to show off your nerd cred.
Care Bears Clothing and Accessories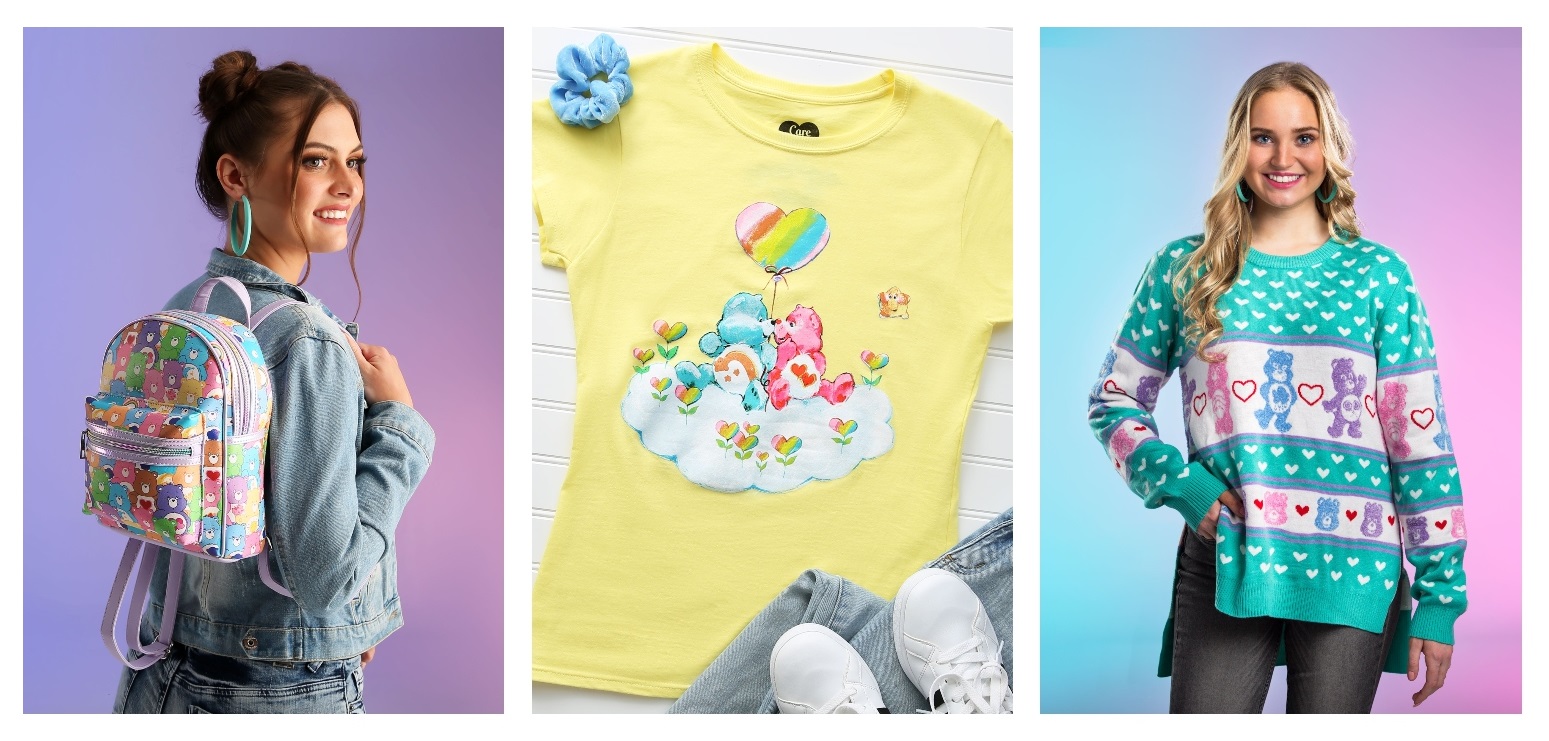 We're big fans of Care Bears here at FUN.com, so it was a dream come true to launch our own collection of Care Bears clothing and accessories. We've got everyday apparel like Care Bears shirts, of course. But we also designed Care Bears sweaters and hoodies so you can stay cozy when it's cold outside. Then there are Care Bears backpacks that look like real Care Bears, and a fashion-conscious mini backpack that's roomy enough to fit all your necessities!
Care Bears Face Masks
That's right, we have masks, too! Show everyone that you care when you wear one of our new Care Bears face masks. It's hard to be grumpy when you're showing off your favorite 80s cartoon characters! We have face masks for Cheer Bear, Funshine Bear, Tenderheart Bear, Bedtime Bear, Grumpy Bear and Share Bear. These fun printed face masks come in a rainbow of colors perfect for every occasion! Also, add to your accessories with other exclusive accessories from FUN.com. Our Loungefly Toy Story Purse could be just the little bit of flair that your outfits need!
Avatar: The Last Airbender Ramen Bowls and Appa Mug
There are few animated TV series that can hold a candle to the likes of Avatar: The Last Airbender. How many times have you wondered which of the four nations fit you the most? Did you see yourself as a bender, or perhaps part of the Kyoshi Warriors? Maybe you'd be more likely to run the Jasmine Dragon. (Or be a cabbage merchant?) If your love for this Nickelodeon classic knows no bounds or you're shopping for an avid ATLA fan, these ramen bowl and chopstick sets and Appa mug will feel right at home. Yip yip!
Jerry Leigh Horror Movie Shirts
What's your favorite scary movie? Classic slasher films such as A Nightmare on Elm Street and Friday the 13th will certainly come to mind! Iconic horror movie villains like Jason Voorhees and Freddy Krueger are some favorites for horror fans. If you're shopping for a horror movie fan—whether it's for a friend or yourself—these classic adult shirts aren't going to disappoint. Just make sure that, if some nameless person quizzes you on your horror movie prowess, you remember that it was Pamela Voorhees and not Jason in the first movie.
Jerry Leigh Beetlejuice Shirts
These new Beetlejuice t-shirts by Jerry Leigh are going to make your millennium! Whether you're a fan of Lydia Deetz, Beetlejuice himself, or you're simply in love with the 80s goth aesthetic, these tees aim to please. We're proud to say that these adult Beetlejuice shirts are unisex, so guys and gals can bask in their favorite 80s movie designs. As you very well know, you're going to have to shout "It's Showtime!" whenever you leave the house in these graphic shirts.
Jerry Leigh Harry Potter and Wonder Woman Shirts
Bring out your inner hero with shirts from Wonder Woman 1984 and Harry Potter! Wizards and superheroes alike will love graphic tees featuring their favorite movies. These unisex adult and kid shirts will help you show off your favorite fandom in style. With so many cool t-shirt designs, you might need to get a bigger closet! If you're super-excited about more superhero apparel, we also have a collection of DC Comics Sweaters and Marvel and DC Outerwear to keep you prepared, no matter the occasion!
Beetlejuice Shoes
It's shoe-time! This exciting new pair of Beetlejuice sneakers are exactly what 80s-movie-lover dreams are made of. Go bold with striped sandworm sneakers with Beetlejuice-green accents if you're looking for your sneaks to stand out. Or, if you're more of a fan of subdued styles, treat yourself to the maroon Handbook for the Recently Deceased shoes. You really can't go wrong with either pair! Just make sure not to accidentally summon any bio-exorcists, or you're going to have your hands full. If you're still hungry for Beetlejuice and other horror movie goodness, you might also want to visit our women's horror movie blazers.
Women's DC Comics Blazers
Channel that geek chic girl boss energy with our exclusive DC Comics women's blazers! Business on the outside and party on the inside, they're the perfect combination of fashion and fun. Keep these blazers buttoned for a day at work, or roll up your cuffs and keep it casual paired with your favorite pair of jeans and a nice top. Our exclusive DC blazers come in pink, black and navy, with fun comic book print on the inner lining. You'll feel just like a superhero when you swap from your business self to your fun alter-ego!
Horror Blazers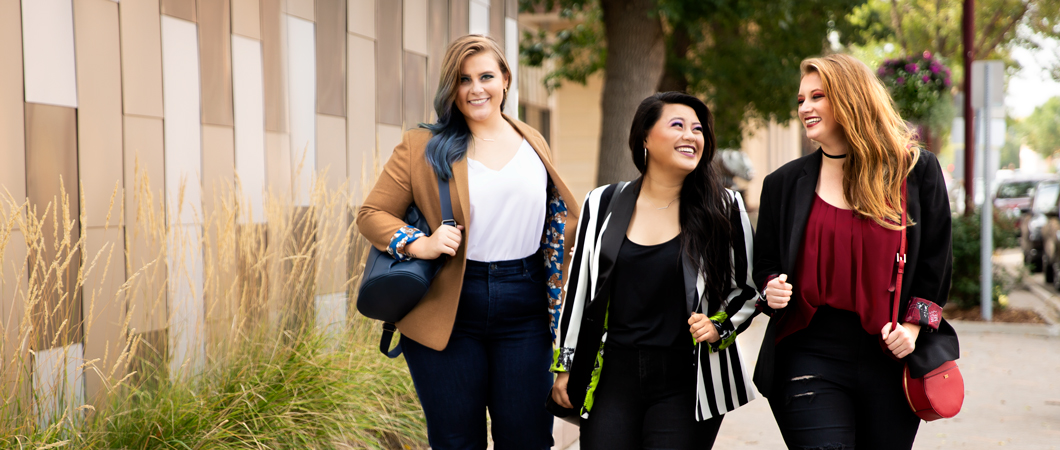 Inspired by some of the most beloved horror classics including Beetlejuice, A Nightmare on Elm Street, and Gremlins, these blazers are the perfect balance of chic and spooky. Make a bold fashion statement with flashy black-and-white stripes, or keep it subtle with brown and black blazer tops. Dress them up by pairing them with some nice black dress pants, or keep it casual by pairing them with slim-fitting, denim jeans. Don't be afraid to add some casual cosplay touches with ripped jeans for Freddy, or matching accessories for Gremlins and Beetlejuice. Whatever your decision, we're sure that you can make these blazers look fabulous your way!
Loungefly Toy Story Purse and Incredibles Purse
SO cute, right? As you can see, this Toy Story purse features Woody, Buzz Lightyear, Jessie, the squeaky toy aliens, Slinky Dog, Mr. Potato Head, Hamm, Rex, Bullseye, and the Bucket O' Soldiers. Our other Incredibles Loungefly purse features a bold red color with the famous family logo featured all over the bag. The bags are made from faux leather, have nice fabric linings, and are the PERFECT size to carry your toys (or wallet and keys, whatever) around with you wherever you go. These bags are great for everyday use or would be a perfect finishing touch on your Disneybound outfit the next time you cosplay at one of the parks.
DC Comics and Marvel Outerwear for Kids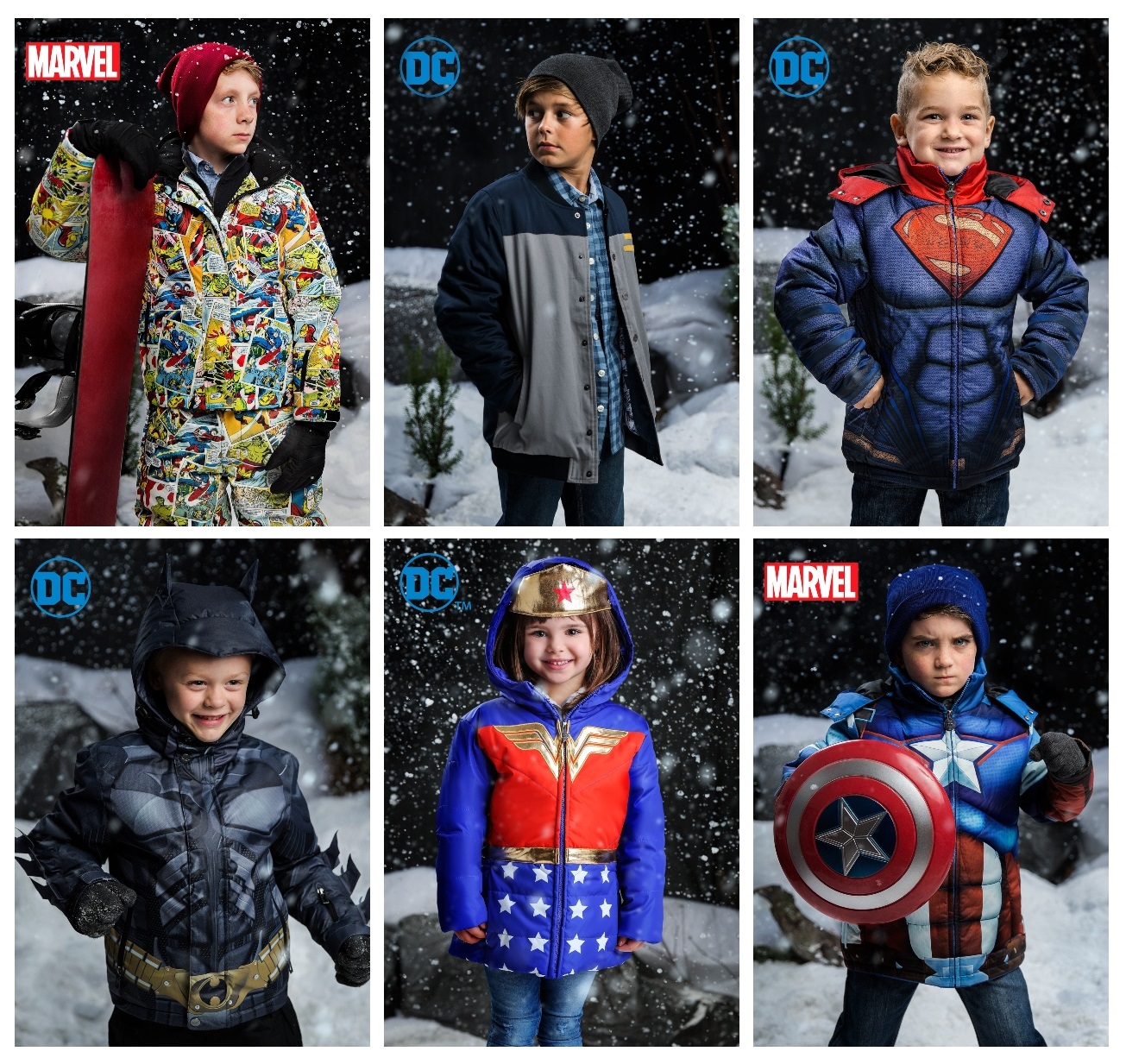 Any kid who wishes to be a superhero can now do so every day by staying warm in our superhero puffer jackets. These jackets feature costume designs of heroes like Marvel's Captain America and the Man of Steel himself, Superman. Not only do they look like heroes, but the stitching of the muscles and other details of each design make them stand out while being less bulky than most puffer-style jackets. Looking for something a little more heavy-duty? Hit the slopes in style in these superhero snow jackets that feature the same amazing superhero details with cool comic book print all over! The snow jackets have added features like fleece lining, attached hoods, and zippered pockets that make them more durable for outdoor sports.
Exclusive FUN Wear Suits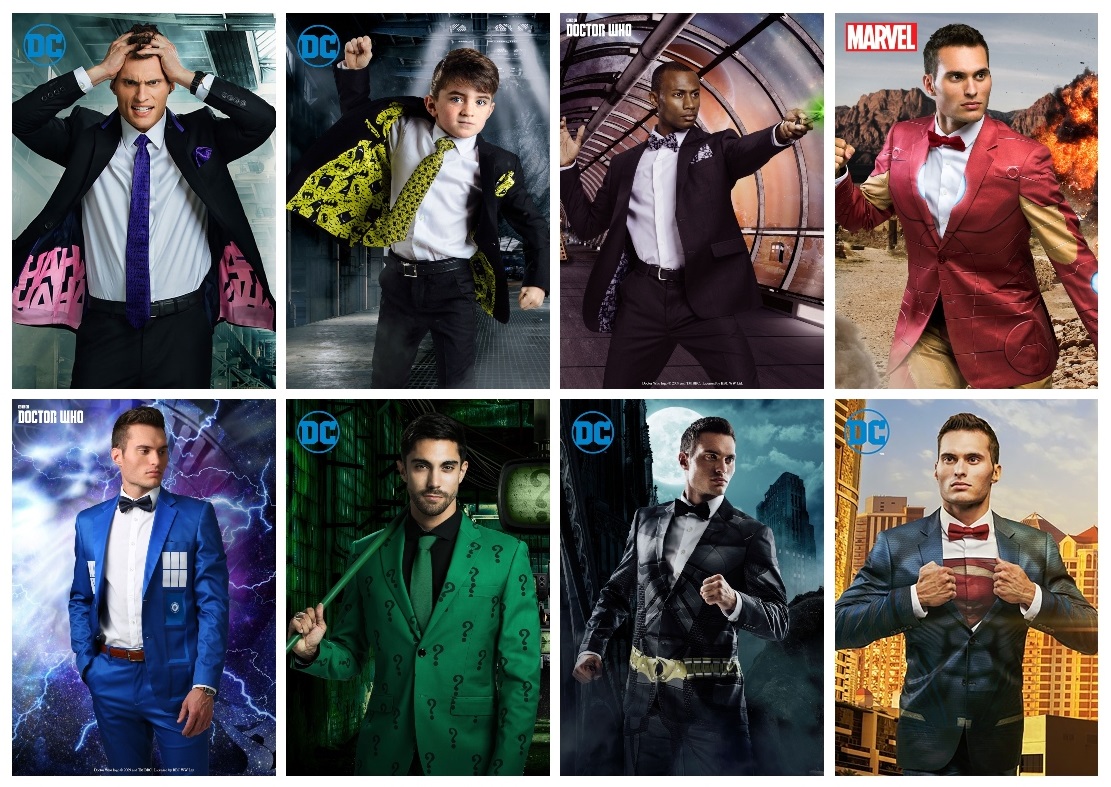 | | | | |
| --- | --- | --- | --- |
| The Joker Slim Fit Suit Jacket (Secret Identity) | Kids' Batman Suit (Secret Identity) | Doctor Who Dalek Suit Jacket | Iron Man Slim Fit Suit Jacket |
| Doctor Who TARDIS Slim Fit Suit Jacket | The Riddler Slim Fit Suit Jacket | Dark Knight Slim Fit Suit Jacket | Superman Slim Fit Suit |
Hold on to your capes! We're excited to announce that we've partnered with both Marvel and DC Comics, as well as Doctor Who to release an exclusive line of suits! These one-of-a-kind FUN Wear suits are officially licensed and available as part of two different collections: Secret Identity or Alter Ego. The Secret Identity collection is full of fashionable black suits featuring subtle comic book details on the interior of the coat and pants, as well as on the accessories. These suits are perfect for showing off your fandom while maintaining a professional businessman look. The Alter Ego suits, on the other hand, are made to resemble superhero costumes. There's no hiding your identity in these suits, and who would want to? If you're going to be Batman or Iron Man, why not show it off in style?
We hope you enjoy these new exclusives! Are you a fan of licensed merchandise? What would you like to see us make someday? We're always working on getting the best fan-favorite gifts. Keep checking back at FUN.com for more exclusive merchandise!