Joker Gifts
The world of superheroes is filled with villains that run the gamut from quirky mischief-makers to terrifying ones ready to destroy the universe. Some even saddle up with the heroes, so you never know on which side they're playing! (We're looking at you, Catwoman!) Lex Luthor has his evil, genius brain and is always working on a plan to undermine Superman. Wonder Woman has to go head to head with literal gods from Ancient Greek times. And, over on the other comic book universe, Marvel's Thanos is literally ready to unmake half the multiverse with a snap of his fingers! But, despite all of those unique baddies, one tends to stand above the crowd and leave us shaking in our boots in fear of the next prank he's going to pull.
That's right. Just because the Joker spends most of his time in Arkham, that doesn't mean we're not all grinning from ear to ear to see what the Clown Prince of Gotham has in store for the Bat. Where did this jokester come from, anyway? Actually, nobody really knows...and that might be part of why we love him so much. Was he the Red Hood? Was falling into a vat of chemicals what had him come out so wrong? Was he a stand-up comedian who scarred himself to keep a grin that just wouldn't quit? Perhaps he was just a really creative gift-giver who wanted to make someone's birthday filled with smiles! It's hard to say. Even the unreliable narrator himself says that if he's gotta have an origin, he'd rather leave it up to the guesswork of multiple choice. The good news is that if you've got Joker on the mind like the rest of us, we have a ton of epic Joker gifts that you can give. Take a browse through our page and we're sure that we can help you bring a smile to everyone's face...and that's no crime at all!
Joker Toys
One of the Joker's most iconic tricks is throwing out a handful of toys to distract the Batman. Sure, most of them end up exploding, but it's even better when they just turn out to be a pair of chattering teeth or a creepy but otherwise innocent doll! Don't worry, though. We can promise that our Joker merchandise is all of the pleasant variety! While we don't have any of the truly dangerous versions of Joker merch in stock, we know that you're going to find a perfect Joker toy that will do the trick for your tot!
Joker Action Figures
There's a ton to figure out if you're going to conquer Gotham. Heck, even escaping Arkham Asylum is pretty tough. Then again, maybe your tykes would prefer to build up their hero credibility by taking down the Clown Prince. Either way, Joker action figures are the way to go!
Joker Playing Cards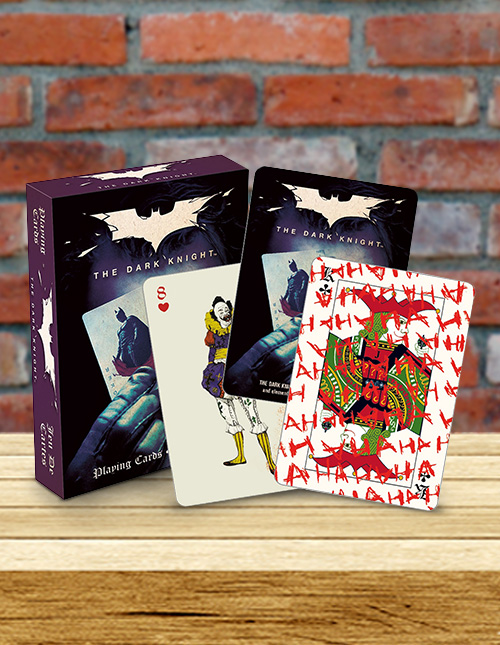 Whenever the Joker is finished with his latest in practical jokes or epic crimes, he tends to leave behind a calling card to let the Bat know who got out of the clink! The joker card is one of the few things that we see in every Joker origin. That's why Joker card games are such a great gift!
Joker Trike and Batmobile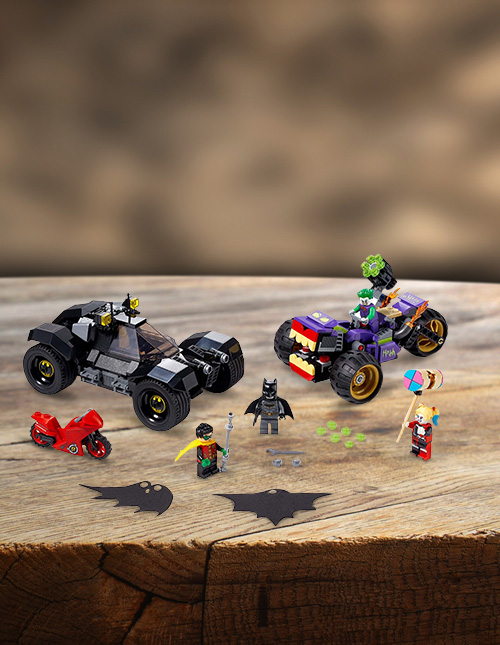 Batman is always talking about his fancy gear. Batarangs and Batcopters. (Let's not even talk about that Bat Shark Repellant!) But we have to admit that the Batmobile is pretty great. Fortunately, the Joker has a Tricycle that will put a smile on your face, too. Time to race!
LEGO Joker and Batman
If you thought that LEGO Batman was an epic adaptation, just wait until you see the next evolution of the Joker! He's better suited to LEGO fun, anyway. Just keep an eye on these LEGO Joker toys to make sure he's not up to something sinister...like leaving them on the floor.
Joker Collectibles
The Joker might not seem like the kind of villain who wants to keep something around as a keepsake. He seems a bit too chaotic for that kind of nostalgia. Turns out that the Joker loves collecting things just as much as the rest of us! Sure, his idea of a complete collection looks more like the entire Bat-Family frozen in his showroom...but who are we to say what people should hoard!? Still, if it is the Joker you and your friends and family love, we have a few suggestions that you will likely enjoy that won't have you shipped off to the Arkham Asylum. Choose these Joker-themed gifts to help you and yours put together the ultimate Joker museum!
Joker Pop! Figures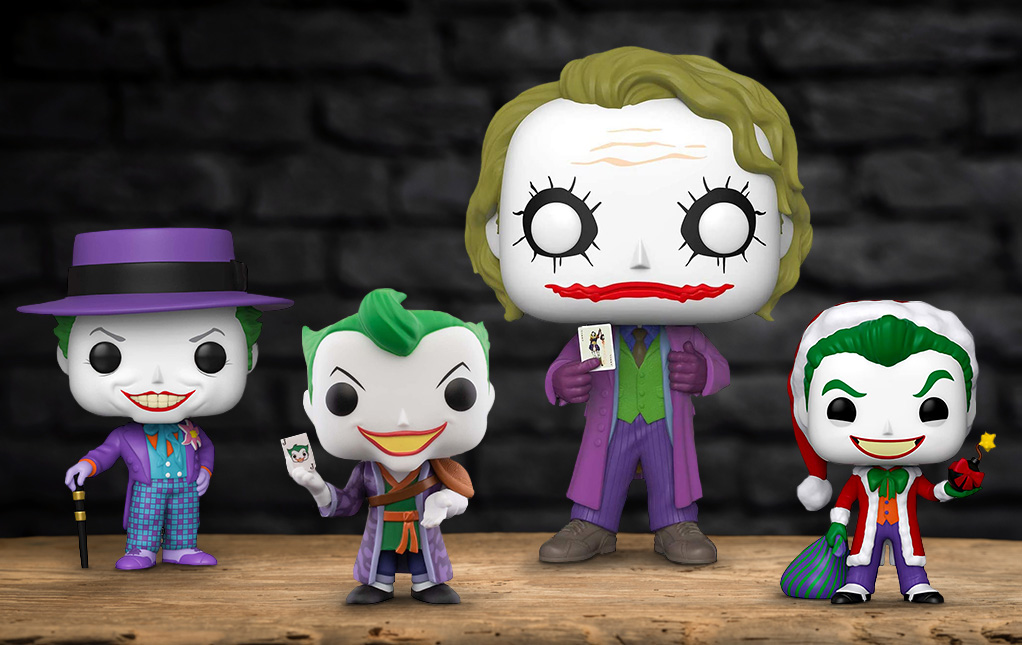 The best way to prove your fandom has and may always be your collection of Funko Pop!s. DC Comics has a bunch of the adorable big-headed figures to bring home, but the Joker Funko Pop! figures are even better. Why? Well, just look at the size of the grin on these faces. Who can resist joining in some of the manic fun that this entire Joker collection has to offer!?
Joker Die Cast Model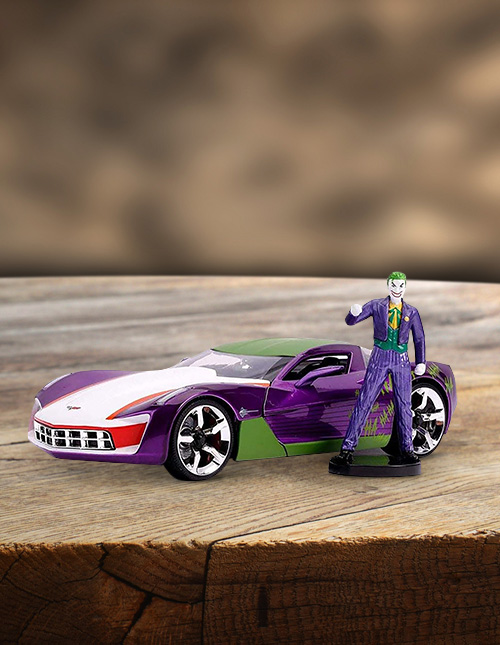 The Joker is just as much a fan of something fast and shiny as the rest of us. (Don't be fooled by his strange color scheme or his obsession with Batman.) If you're a serious enthusiast of Gotham gangsters and DC speedsters, take a look at this shiny collectible Joker model!
Joker Collectible Statue
If you really want to show the enigma that is the Joker, sometimes a cute collectible isn't enough. For those situations, you can look to a real-to-life Joker Statue to bring to your home. The careful craftsmanship is second only to the creepy smile that the Joker has mastered.
Joker Clothes
They say to dress for the job you want! Well, who wouldn't want to be a guy who spreads smiles around the world? Okay, actually, that's probably not the best idea in the world. That said, you can borrow from some of the Joker's sartorial style to give yourself the upper hand when dealing with comic fashionistas! Start with some comic t-shirts or even wind up your wear with pins and bandanas that have the same look of laughter that helped to make the Joker the famous madman he is. We've got a vast collection of Joker clothing, so let's make sure your wardrobe is as well-stocked as the Joker's storeroom.
Joker Suits for Men
The Joker might be known for that wide smile, but he's probably even better recognized for his epic suits. Whether it is a pinstriped purple or the clashing combo of the green vest, we're not sure, but we know we can't get enough. Try on one of our men's Joker suits to fit your style!
Joker Suits for Women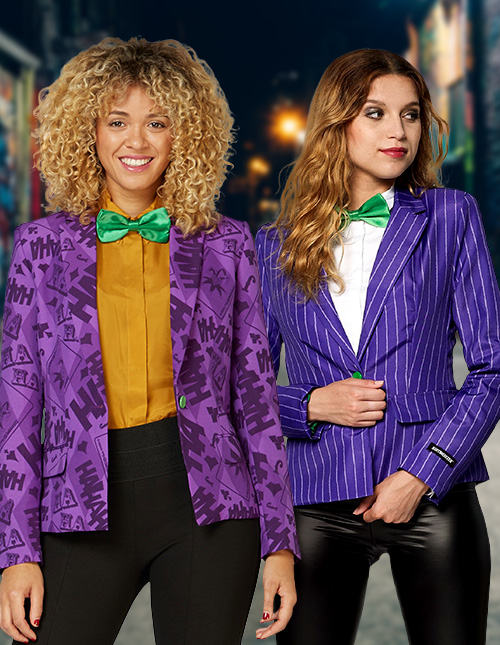 The snazzy style of the Joker isn't just for the guys. Women can really make their mark in the crime world of Gotham, too. That's why we are sure to carry a few women's Joker suits to show that they can be the Harlequin of Hate and love their look while they are at it!
Joker Shirts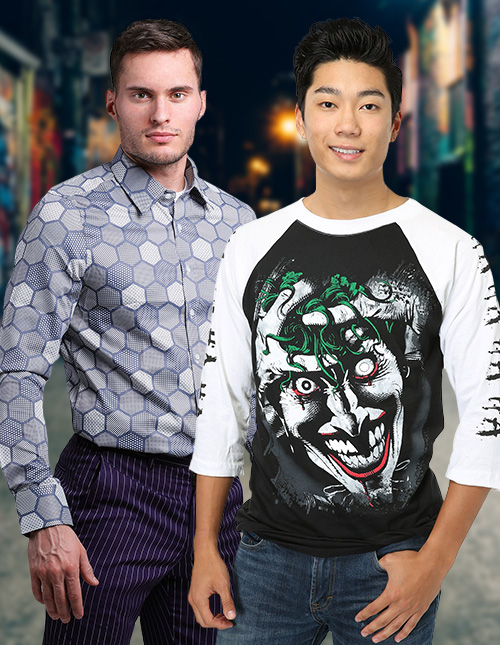 When you'd rather keep your manic moments on the cuff of your sleeve, you don't have to get as formal as a Joker suit. You can just enjoy the simple comfort of a Joker T-Shirt, too. Show the world that you can keep your crime casual! (Plus, you can always pair a suit coat with a T-shirt!)
Joker Apparel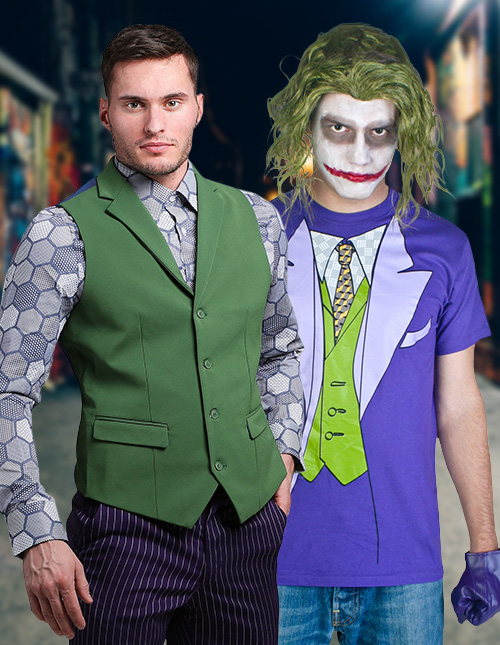 From grinning face masks to gloriously green vests, there are plenty of daily wear that can still show off your inner madman. Browse through the rest of our Joker outfit options to find the perfect pieces to make a fashion statement that no one will soon forget!
Joker Accessories
nce you think that you're decked out from head to toe in Joker style, we're here to tell you that the Joker never stops at "done." He loves his pranks over the top! How can you give yourself the same gift that Joker gives himself? Well, the answer is always: accessorize! The Joker has his chattering teeth, an electrified hand buzzer, and a flower lapel that typically squirts out more than just fizzy soda water. That might be going a little far for the average day, of course. So we're here to provide a panache of purple to help you bring the essence of pranks and fun along with the help of these Joker clothing accessories.
Joker Hats
Make sure that the first thing anyone sees is your love for the master of mischief, the Joker. How can you do that? Well, you can't dress head to toe in Joker fashion if you aren't starting at the top! Our collection of DC Comics hats includes some of the best Joker caps to get you grinning.
Joker Backpacks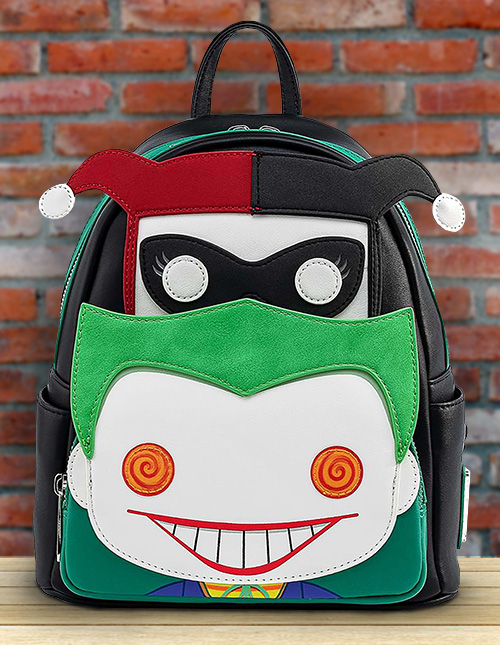 Whether your kids are heading back to school or the Joker is heading to school the Bat, it's essential to store your stuff. Batman may have a Time Lord level of space in his utility belt, but you and the Joker will have to depend on some amazing DC Comic backpacks to help you out!
Joker Neckties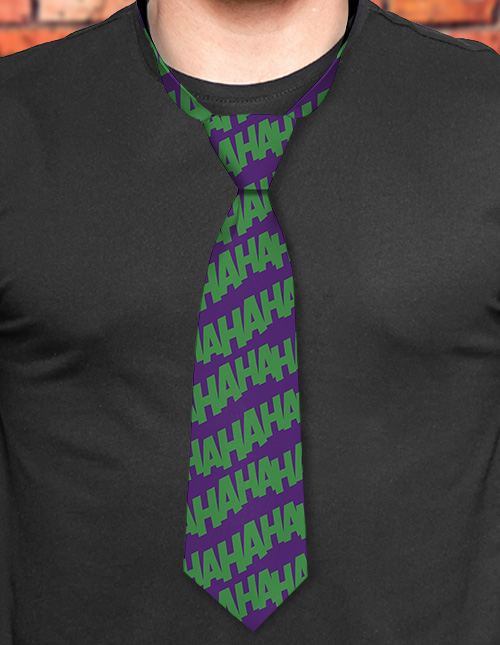 It might seem a bit obvious to get your guy a tie for Dad's Day, but when you turn to some DC Comics neckties, you're sure to see some serious smiles. That's especially true if it's a Joker tie, showing the men in your life just how fun formal wear can be! These are sure to be some Joker clothing accessories that'll be remembered.
Joker Socks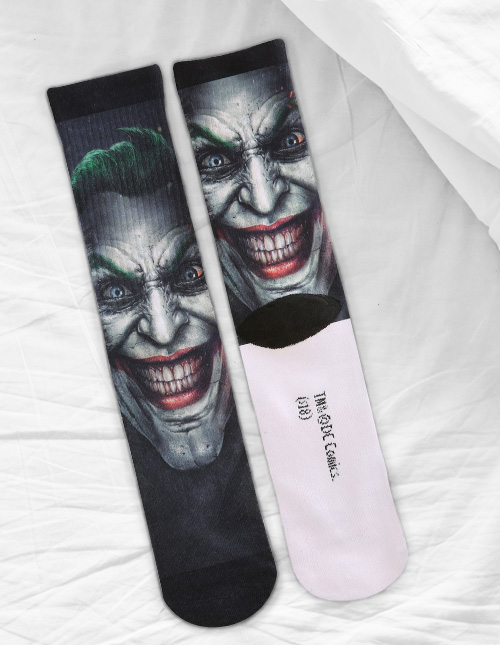 We already mentioned the importance of dressing up in Joker style from head to toe. Well, we've got the head part complete, so it's time to give those tootsies some attention! We highly recommend being a superhero by offering up a pair of DC Comics socks to get your friends and family dancing with a villainous flair.