Iron Man Gifts
Iron Man fans demand only the best! After all, Iron Man has been around since 1963, and during his long tenure of superhero work, he's done it all. He's lead the Avengers, he's invented some cutting edge technology to save the world, and he's even defeated a Celestial or two. It's only natural that fans would desire the kind of Iron Man present that showcases his awesome feats. Well, we're fans too of the iconic superhero too, so we've taken the time to gather up all of the coolest Iron Man gift ideas around. If you're trying to find something cool or unique to get as a present, then you've come to the right place. We'll help guide you into finding the perfect gift for the occasion! We have Iron Man gifts for adults and plenty that are perfect for kids too!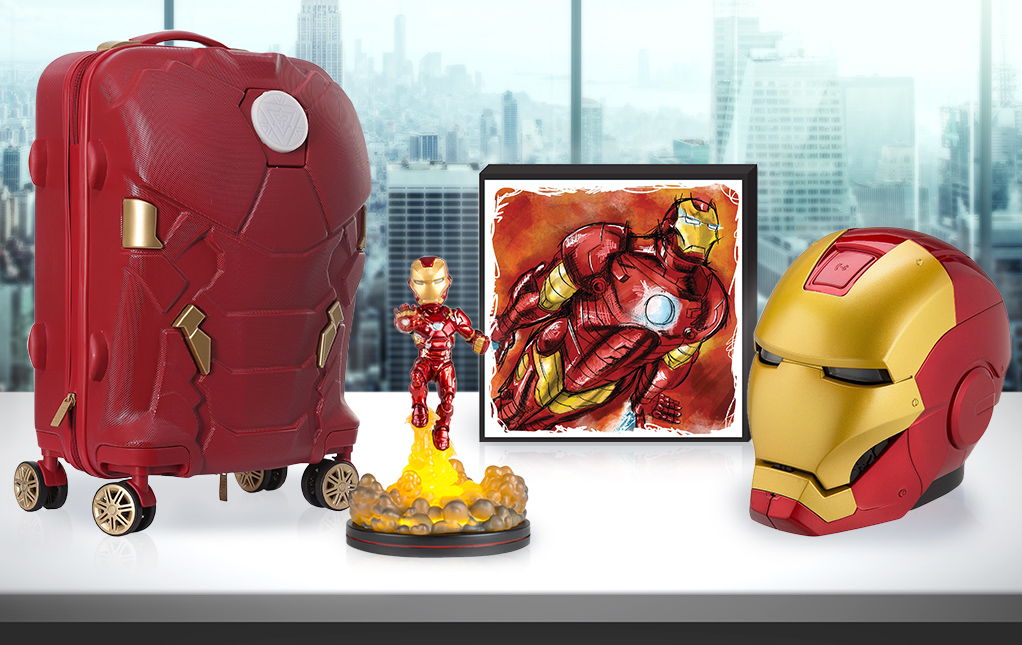 Iron Man Gifts for Men
Marvel fans aren't afraid to rock some apparel based on their favorite superhero. That's why many of these Iron Man gifts for men are a great choice when shopping for guys. They combine the style of the comic book character with some comfortable apparel that any fan will be ready to add to their wardrobe.
Iron Man Snow Jacket
Every guy wants to feel like a superhero! Of course, few guys ever get the chance to don a suit of Iron Man armor like Tony Stark. We wanted to change that, so our designers got to work on a line of winter wear to help you unleash your inner superhero. That star of our collection is this Iron Man Snow Jacket for men. It combines the iconic look of Iron Man's suit with a sleek, comfortable, and warm snowboarding jacket style. This handsome coat comes loaded high-quality features that will have any fan ready to do battle with the forces of winter like a true Avenger.
Iron Man Suit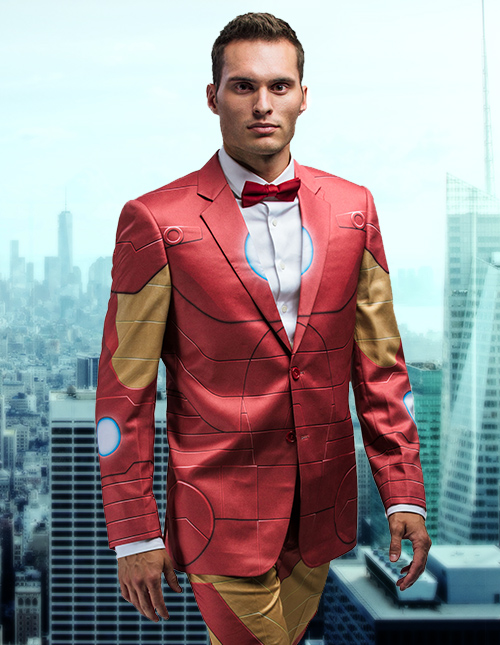 Are you buying for a suave superhero type? Then how about a dapper suit that even Tony Stark would give the thumbs up to? This Iron Man Suit is a suit that's actually designed to look like the mighty super suit seen in the comic books and movies. Is it practical? No, but nothing this awesome is ever a practical gift! This suit is for any guy who loves his comic books and has no fear in letting the world know exactly how much he admires the Marvel character. It's also a unique choice for anyone who likes to dress up for a cosplay event.
Iron Man Hat
Alright, alright. So, a few of our apparel items might be for the more adventurous Iron Man fans. Not everyone likes to wear the hot rod red and shimmering gold colors on a day in and day out basis. If you're looking for a gift that's a little more subtle and makes for a great everyday item, then this Iron Man winter hat is what you're looking for. It's functional, features a subtle red stripe around the edge, and has an embossed leather patch on the cuff. It matches well with just about any winter outfit and it's sure to keep any fan warm during the coldest of blizzards!
Iron Man Jacket
Another piece of our apparel for men, this Iron Man jacket does an amazing job of grabbing slight nods from his suit, like the deep red sleeves and the subtle yellow accents on the chest. It mixes that with a comfortable, casual fit, so it's perfect for a night out. The interior of the jacket features classic comic panels, making it the coat that any Iron Man fan will be glad to add to their wardrobe.
Iron Man Gifts for Women
Looking for something for a female Iron Man fan? Plenty of women are into collectibles and toys, but we picked out a few items that can add some Marvel fashion into their everyday wear. Just check out our favorite gifts for women below!
Iron Man Zip Around Wallet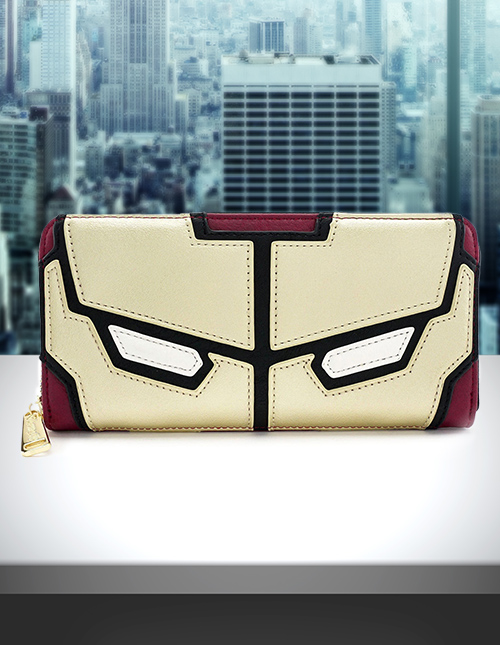 Iron Man knows all about packing a ton of things into a small space! After all, his super suit is basically a mobile HQ with weapons, transportation, and a million different computer systems. This Iron Man Zip Around Wallet, made by Loungefly, takes that same sort of ingenious thinking and brings it into women's fashion with a spacious wallet that will fit all tons of cards and cash. It's great for any female fan of Iron Man.
Iron Man Fanny Pack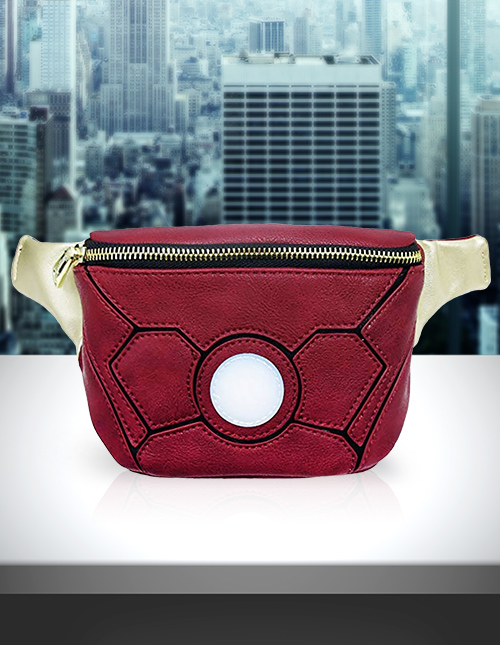 Why carry your bag in your hands when you can sling it around your waist? This cute Iron Man Fanny Pack lets you carry your necessities in a cute, stylish bag that leaves your hands free. It has his mask designed into the top of the and the arc reactor designed into the middle. It comes with multiple compartments and is sure to add some superhero style to any outfit.
Iron Man Gifts for Kids
It's no surprise that kids love the notion of superheroes. They appeal to our greater sense of imagination, and no one has a better sense of imagination than a child! So, naturally, an Iron Man gift for kids makes perfect sense. We carry a pretty large selection of gifts for kids, from kids' apparel to fun games and toys. Check out some of the best Iron Man themed ones below.
Iron Man Suit for Kids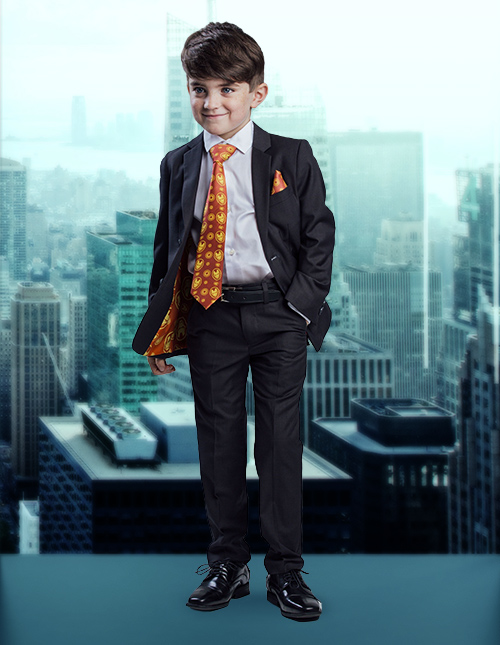 Dressing a child up for a formal event can be an uphill battle. Most kids just don't want to wear fancy clothes, but it becomes a lot easier when Iron Man has your back. This Iron Man suit for kids features the handsome style of a suit with the cool stylings of your young one's favorite superhero. It's the kind of outfit that you will be ready to put on the second he sees it, making it a great gift for any kid who needs a dapper new suit.
Iron Man Journal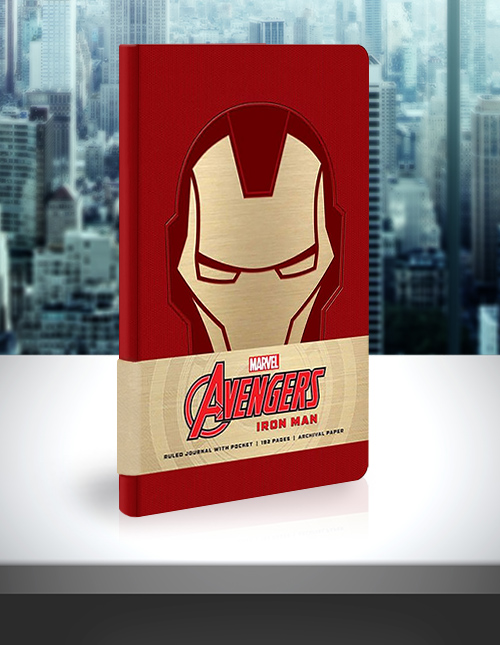 Ahhh, the days of journaling! Not many adults keep up with the practice, but plenty of kids still do. Every kid likes to have a unique style and this Iron Man Journal is for the kid who wants to protect their innermost secrets with the image of the greatest hero of them all! It comes with an Iron Man themed cover, comic panel imagery inside, and plenty of ruled journal paper to write on. It's exactly what any young writer could hope for.
Iron Man Costumes
Giving a costume as a gift is a pretty unique and out of the ordinary choice. For kids, it's a slam dunk. Every kid loves dressing up in a costume, so if you're looking for something for your young one, then it's a good option for a gift. For adults, you need to take a little more care. Cosplayers and ultra-fans will love the idea of one of our Iron Man costumes as a gift, but others may not be as ecstatic about it! So, just make sure you do a little recon before you head out and buy costume as a gift. That being said, if you know someone who's gearing up for the next comic con, or is ready to hit up the next big Marvel movie in full costume, then check out our best Iron Man costumes below.
Infinity War Iron Man Suit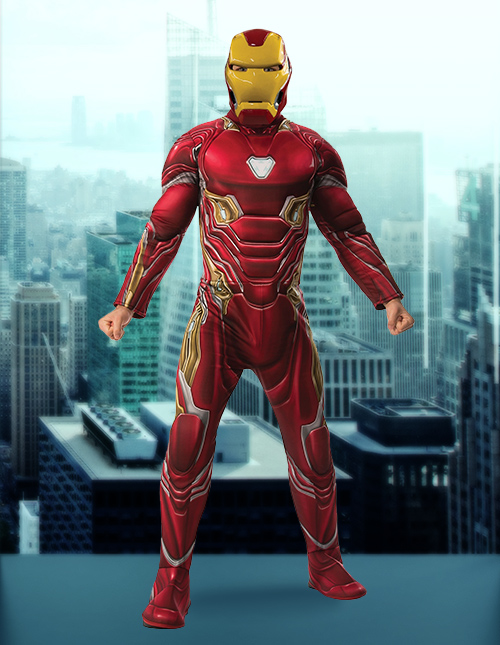 First up in our lineup of costumes is the Iron Man Infinity War Suit. In the movie, this suit is the pinnacle of Tony Stark's intellect and ingenuity. It's made from nanotechnology that can transform into his super-suit in a few seconds. This version might not be quite as impressive as the real deal (it's made from fabric and not nanotech), but it does do a pretty good job of recreating the look from Avengers: Infinity War.
Iron Man Civil War Suit
Iron Man's suit has gone through plenty of different iterations during his career as a superhero. After all, his technology keeps getting upgraded as Tony invents more amazing ways to fight against villainy…and other superheroes when the situation calls for it. Unfortunately, he was forced to fight his pal, Captain America, during the Civil War movie and this Iron Man Civil War Suit recreates the look from the movie.
Iron Man Cosplay Suit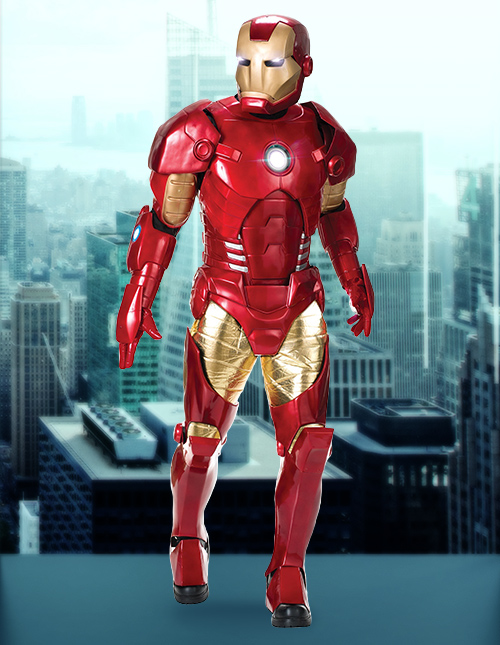 Tony Stark is a genius. Building a high-functioning suit capable of going toe to toe with Thanos is nothing for him. Of course, the rest of us might have a hard time just constructing a movie-accurate superhero costume. This Iron Man Cosplay suit is a supreme edition costume with all of the bells and whistles that will make any fan look like the real deal when they wear it to the next cosplay convention.
Kids Infinity War Iron Man Suit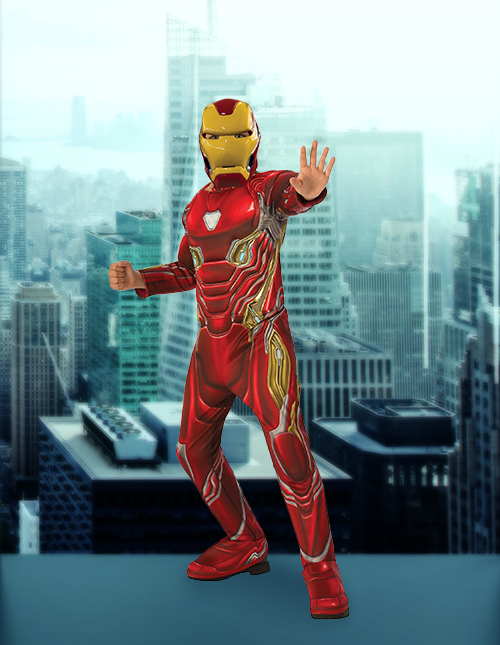 Like we mentioned earlier, kids love costumes. It's the reason why Halloween is such a huge event for children. They get to dress up as their favorite Marvel superheroes, scamper through the neighborhood, and collect a serious haul of candy. Why keep that awesome experience tied to Halloween? Your child can transform into their favorite superhero with this Kid's Infinity War Iron Man Suit. They'll want to wear it during playtime, and you may even have a hard time convincing them to take it off!
Iron Man Toys
We can't talk about gifts without talking about some Iron Man toys! Toys used to be just for kids, but these days, it's becoming more accepted for adults to keep a sizeable toy collection around. They're an excellent way for kids to explore their imagination and toys are also a great way for adults to rekindle their own sense of whimsical fun. We carry a ton of toys, including some cool action figures for kids and some neat collectibles for adults. Here are some of our favorite Iron Man themed picks!
Iron Man POP! Vinyl Figures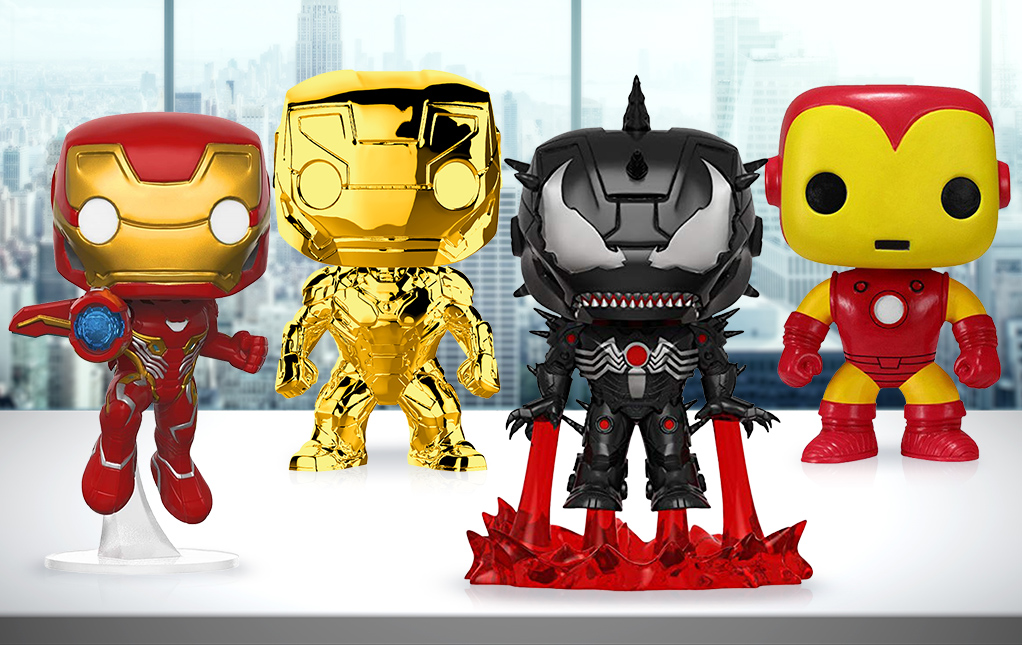 Funko really changed the game when it comes to collectible toys! Of course, the gem of their collection is the POP! Vinyl series, which showcases every relevant pop culture character around, including all of the Marvel superheroes. These Iron Man POP! vinyl Figures fit easily into any collection, making them a fantastic gift for any fan.
Iron Man Action Figures
Sometimes, you just can't beat a classic! Action figures have been around for decades now, and every kid has a few in their toy box. They're a great way for kids to act out their favorite movie scenes and they make for a great decoration for the office desk for adults. These are an easy choice for anyone who loves Iron Man movies.
Iron Man Collectibles
At some point, every fan needs to start a collection! It's a great way to show off your true passion for your favorite movies and characters. Starting one can be daunting, but sometimes all it takes is one great piece to act as a centerpiece. These Iron Man collectibles are the perfect way to start a collection, but they can also top off any collection.
Iron Man Helmet Replica
The most iconic part about Iron Man is his signature helmet. Tony's helmet comes with monitors, audio systems, communications systems, and a plethora of other technological wonders that we probably don't quite have the technology for just yet. This Iron Man replica helmet does a pretty stellar job of recreating the look of it, and it even features light up effects for an authentic, movie-style look. It might not be integrated with J.A.R.V.I.S., but it's the closest we'll be getting to Iron Man level technology!
Bob Layton Original Iron Man Statue
Tony Stark has really come a long way from his first Iron Man suit. It looked a little bit like a furnace that could move, but these days he's rocking a hot rod red suit that epitomizes his skill in technologies. This Bob Layton Original Iron Man Statue brings together both worlds. It comes from the age between the original suits and the new kind of tech that he wears today.
Iron Man Wood Bust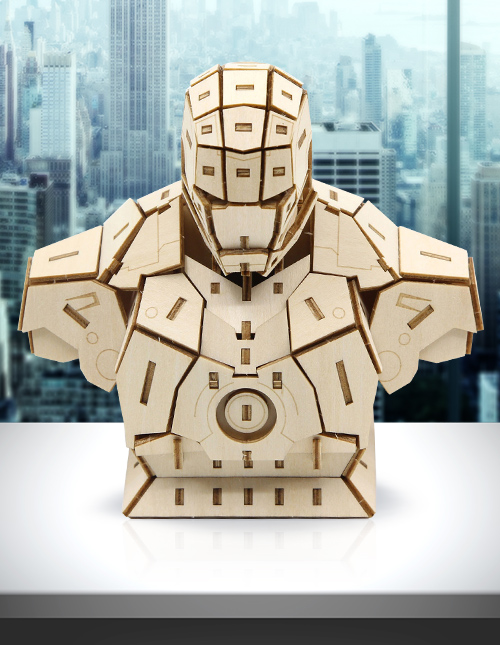 Can you imagine what an Iron Man suit would be like if it were made out of wood? It would probably be pretty awesome looking, but it wouldn't be that effective fighting bad guys like Thanos. The good news is that this Iron Man Wood Bust will never have to do battle with a baddie like Thanos. That means you can let it do its job of looking awesome on your mantel.
Metal Earth Iron Man Model Kit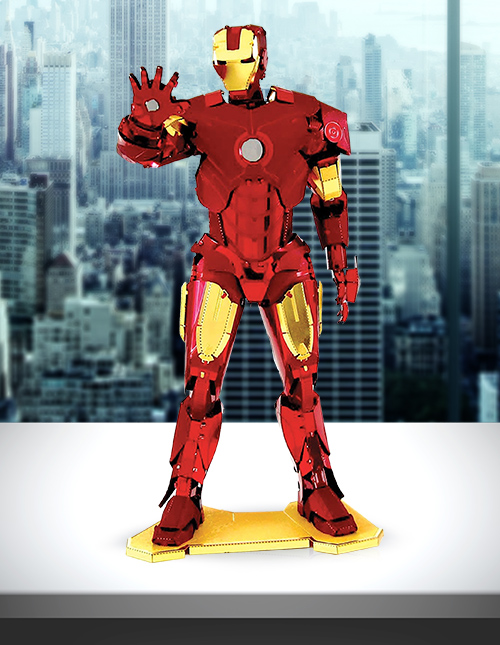 Tony Stark has to work with his hands a lot. Sure, he has a lot of robotic help to assist him when he's building new Iron Man suits, but sometimes he just needs to get his hands dirty! After all, the guy's a genius mechanic at heart. This Metal Earth Iron Man model kit is for fans who are like Tony and want to do a little work with their hands. You need to use your hands to put it together, but nothing feels more satisfying than having this model fully assembled on your desk.