Marvel Clothing
Calling all comic book fans! Are you sporting the latest gear? When it comes to Marvel Comics, you can be reading the best series, binging the newest streaming shows, and snagging up all of the best collectibles. But if you don't have Marvel clothing to show off your fandom, we can get you dialed in to superfan status! We've got the latest apparel and accessories in our selection of Marvel t-shirts and hoodies. If you're looking for a little help shopping for the coolest clothing, we got your back for that, too! We wanted to make sure our customers have all the info they need, so we assembled this shopping guide for Marvel clothes. Just read on to learn more about the latest items and top-selling selections.
Exclusive Marvel T-Shirts
We happen to be pretty huge Avengers fans here at FUN.com. Like, Hulkbuster-sized huge! We're obsessed with the franchise, and enamored with each and every amazing member of the team. We've been hooked since Iron Man first hit the big screen, and each subsequent Avengers blockbuster has only cemented our fandom even more. Don't even get us started on Phase 4 and the latest Marvel streaming series. It's all too good to be true!
If you feel the same way, then we're sure you have an eye for fan gear that matches our merchandising team. And if that's the case, we're sure you'll want to take a look at our exclusive Infinity Saga Marvel Shirts! Each of these t-shirts features a member of the Avengers team with slick graphic art that depicts the character's different looks over the years. Let's take a closer look at our top 4 exclusive Infinity Saga t-shirts to see if any (or all!) of them are something you need to buy.
Exclusive Captain America T-Shirt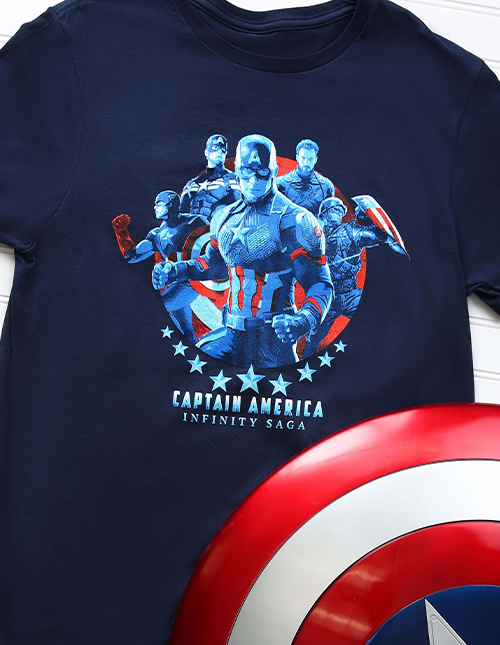 Captain America was the first Avenger, as noted in Captain America: The First Avenger, and he holds first place in many fan's hearts. He's always got that patriotic look, even though the Captain America costume evolved from WWII-vintage gear to the latest in Avengers tech. By the time of Avengers Infinity War, he was even rocking a beard to go along with his battle-distressed uniform! This Captain America Infinity Saga T-Shirt has graphic art that features his most memorable outfits from the Infinity Saga films. The tee's logo has a circular design, and in navy blue, it's a simple-yet-iconic Captain America t-shirt.
Iron Man Marvel Shirt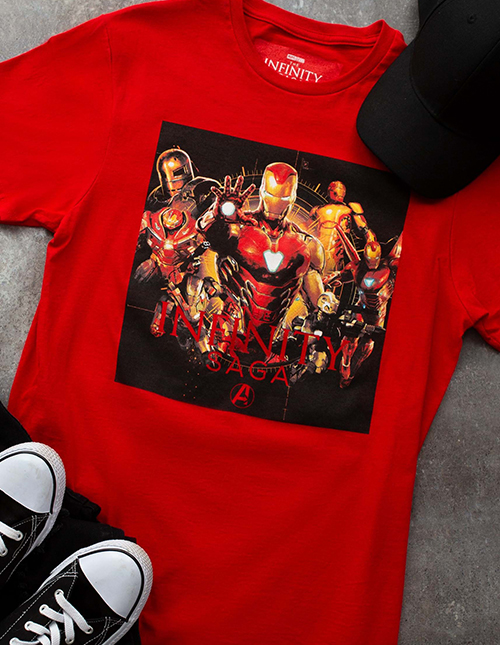 2008's Iron Man was, of course, the first movie of what soon be known as the Marvel Cinematic Universe. It was the film that put rocket fuel into the franchise by proving that a comic book movie could be successful. And the movie's smart writing sated the appetites of long-time Marvel fans while serving to onboard legions of new fans, too. If Iron Man is one of your top Avengers, then you definitely need this Iron Man Infinity Saga T-Shirt! The graphic art features a multitude of Iron Man suits on a schematic-like design of the Arc Reactor for a design that really pops on the shirt's red fabric.
Exclusive Black Widow Marvel T-Shirt
Black Widow is, at minimum, the most lethal member of the Avengers team. And, in many fans' eyes, she's the coolest, too! She first appeared in Iron Man 2 and worked her way up to her own solo movie (eventually!), which made her diehard fans even more enamored with the character. If you ever wish you had a way to exude some of that Black Widow swagger during your daily duties, then you definitely need to purchase this Black Widow Infinity Saga T-Shirt! In black and featuring a montage of Widow sporting her different outfits and hairdos across the movie saga, it's got the instant cool factor any fan will appreciate.
Marvel Thor T-Shirt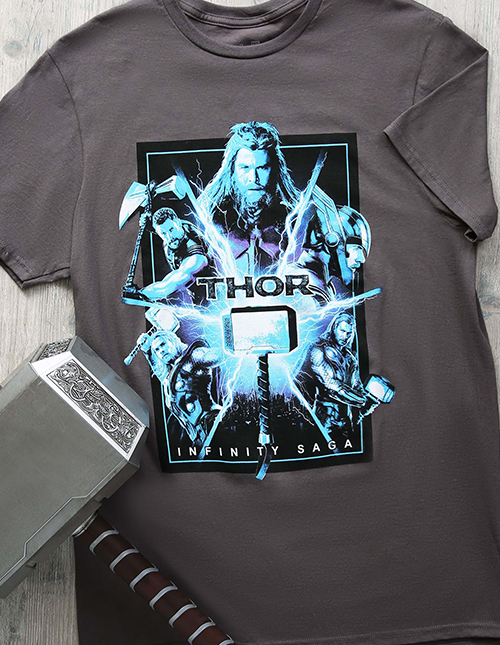 Thor has had, perhaps, the wildest ride of any of the Avengers across the Infinity Saga. Certainly the most miles traveled, considering all those trips on the Bifrost and intergalactic jaunts with the Guardians of the Galaxy. If you're a fan of those adventures and find yourself always rooting for the Asgardian Avenger, then there's a good chance you're going to adore this Thor Infinity Saga T-Shirt. In dark gray with blue and black graphic art, it's a tremendous looking Marvel shirt to wear with any outfit and for any occasion!
Marvel Clothing Ideas
If you're a Marvel fan shopping for new apparel, odds are you're looking for clothing staples that feature your favorite characters and franchises. And we're the top spot to pick up everyday items like t-shirts, hoodies, and footwear that feature the coolest Marvel characters! Our comics savvy merchandising team has combed the world, curating the greatest gear, and you can shop it all by browsing our site. But, if you're looking for a little more info before you make your purchase, just keep on reading. We've got the insider info you need with this essential rundown on the best Marvel clothing!
Marvel Hoodies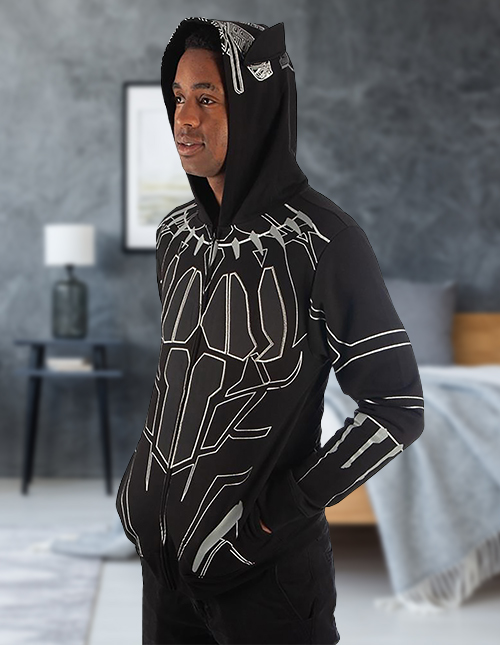 Hooded sweatshirts first became popular in the 1970s, but by the early 2000s they had become an essential fashion item. That trend only continued through the 2010s as pop culture fandoms went mainstream. As comic book and sci-fi franchises grew their fanbases worldwide, it became almost required to sport apparel featuring your favorite heroes and fandoms. With hoodies being at the top of the list for comfy clothing!
Few franchises were as popular as Marvel in the 2010s, a trend that looks to be holding steady well into the 2020s. So, it's as prime a time as ever to make sure you've got some top-shelf Marvel hoodies in your regular clothing rotation! We're happy to be a big-time Marvel merch retailer, and that means we have a great selection of Marvel hoodies for men and women. We have quite a few to choose from, so you'll want to think about what kind of fan fashion statement you're looking to make before you make your purchase. If you're looking for cool graphic art along with the comfy, laid-back look a hoodie affords, we've got the goods!
We have hoodies that feature heroes from the top superhero teams in the Marvel universe. If you're an X-Men fan, we're sure you'll look sharp in a Wolverine hoodie or a Deadpool hooded sweatshirt. Either of those popular characters definitely makes a bold statement! Spider-Man is a perennial Marvel star on the silver screen, so a cool Spider-Man hoodie that shows off some web-slinging action would always be a great choice. And, of course, we have sweatshirts that feature your favorite Avengers, too. Choices like our Black Panther Ballistic Hoodie feature designs based on the hero's uniform, so they can be worn for cosplay or even as a Halloween costume!
Marvel Shoes and Socks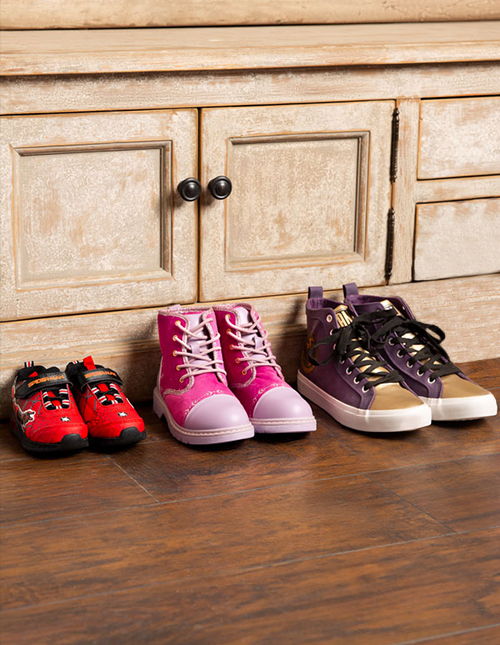 Once you're all stocked up on Marvel graphic tees and apparel, you'll want to think about picking up some accessories to complete your purchase. Whether shoes or socks or slippers or slides, footwear can be a great way to express yourself. They can complement your head-to-toe fan outfit or subtly show off your fandom when you're stuck in stuffy clothing. Either way, it goes without saying that Marvel fans are going to need the coolest kicks around. And we're happy to report that FUN.com is your top spot to buy Marvel footwear!
Shoe culture has reached epic proportions around the world, thanks to social media and internet culture. New shoes are seemingly always pushing the limits of footwear design, and some of those trendsetting shoes just happen to feature your favorite Marvel characters. A fashionable pair of Spider-Man shoes is sure to look sleek around town, even if you're not web-slinging from building to building. Or you could try Thanos Sneakers to get a taste of what it's like to have the infinite power of all 5 Infinity Stones right on your feet. Be sure to shop all of our Marvel shoes to see the latest sneaker styles we have available!
A great way to compliment your new Marvel kicks is to coordinate your socks to match your shoes. And we have stylish socks that feature all of your favorite Marvel heroes! Captain America or Iron Man socks would be excellent choices for the top Avengers around. Or you could slip into Captain Marvel socks to capture the style of the superhero who's purportedly the most powerful of them all. Spidey socks are always a fashionable choice, as are Groot socks to celebrate the Guardians of the Galaxy. Featuring bold colors and costume-inspired designs, any of our Marvel socks are sure to be a boon to your everyday fan fashion.
Marvel Clothing for Women
One of the best trends in the rise of fan culture is that female fans are front and center. Comic books and superhero shenanigans have catered mainly to boys and adult men. But as geekdom has gone mainstream and superheroes have become cultural icons thanks to blockbuster movies, women are finally gaining recognition in fan culture.
Marvel has been at the front of those trends, obviously, with the smash-hit movies of the Marvel Cinematic Universe. Female leads in Marvel movies and shows have increasingly taken the reins of some of the most popular superhero franchises, and female fans have responded in droves. If you count yourself among those many fans, then a great way to show off your fandom is by slipping into some select Marvel women's apparel. And we've got some great options!
We have classic fit Marvel t-shirts available for all of the most popular comic characters, from the X-Men to Spider-Gwen. They've got the straight fit that's always casual and comfortable and can be worn in situations from working out to kicking up your feet for binge mode. We also have women's Marvel shirts that can be worn as a geek chic fashion statement for a more refined fan look. These shirts feature a cut tailored for women for a flatter fit to go along with their stunning superhero graphic prints. Try a snarky Deadpool t-shirt to get some laughs out of your crew, or a Captain America women's shirt (pictured above) for a style that's heroic.
Marvel Backpacks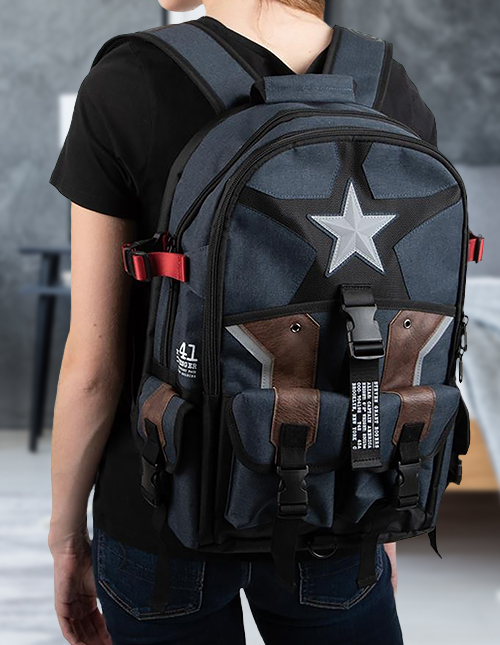 Backpacks are essential gear for any kid in school, as everybody knows. But most people also know that a backpack is a handy everyday item, no matter your age! When folks find themselves on the go, there's almost always a need to bring essentials along. And when you can sling your gear on your back, you've got all your goods stashed and ready for whatever your day throws at you. But, when you can have a backpack that matches your fandom, it's sure to make whatever you're up to even better!
Superhero fans have no shortage of awesome Marvel backpacks to choose from. And whether you're shopping for a pack that features functionality, coolness factor, or fashion, we have Marvel bags to suit your tastes. Fanboys and fangirls who love classic Marvel comics might find themselves looking for a pack that features old-school styling with their favorite characters. For that, start with taking a look at our Spider-Man and Punisher All Over Print backpacks. With a comic book-inspired design and cool all-over graphic art, either one is an excellent choice for a retro look.
Utility packs are another top option for backpack shoppers, simply because they're adaptable for any situation. Our Captain America Standard Issue Backpack (pictured above) is the ultimate tactical Marvel backpack. With a plethora of pockets and a Captain America uniform-inspired design, it's a versatile and sharp-looking backpack. We have options for Marvel fans who have high fashion as their top priority in a pack, too. Just look to our Loungefly mini backpacks as the geek chic choice. With brilliant character-inspired designs and exquisite patent leather details, they're essential items for the fashionable fan.