Black Widow Gift Ideas
Black Widow has been a huge part of the Marvel Cinematic Universe since the character first debuted in Iron Man 2. An integral member of the Avengers team, we saw her kick butt in each Avengers movie. The character finally got her own feature film, Black Widow, and the action-packed film made fans appreciate Natasha Romanoff even more! So, it shouldn't be much of a surprise that Marvel fans are snatching up Black Widow clothing, toys, and collectibles as fast as they can.
We love stocking the gear that fans are into, so you'll find lots of the cool Black Widow merch for sale here on our site! We have Black Widow action figures that are fun for play and display and all the Black Widow Funko POP! that collectors are searching for. We have Black Widow backpacks for toting around your superhero assassin essentials, and even Black Widow socks to stylishly show off your fandom! Check out these Black Widow gift ideas to learn more about the top options we have available.
Black Widow Action Figures
Marvel fans have plenty of premier choices when it comes to toys and collectibles. And that's true when it comes to Marvel Black Widow action figures! We sell figures that kids love to play with, and figures that have so much detail, serious fans just can't wait to add them to their collections. Collectible statues are another great option, and we offer an amazing resin Black Widow statue from Diamond Comics.
Black Widow Funko POP! Figures
Funko POP! figures are one of the top collectible items for superhero movie fans, and if you're a Black Widow fan you're going to want to check out our POP! vinyl figures from the Black Widow movie. We offer Black Widow POP! featuring her black and white outfits, as well as figures for her "family", Red Guardian, and Yelena Belova! They feature the bobblehead feature that's a trademark of Marvel POP! and are must-have collectibles.
Black Widow Clothing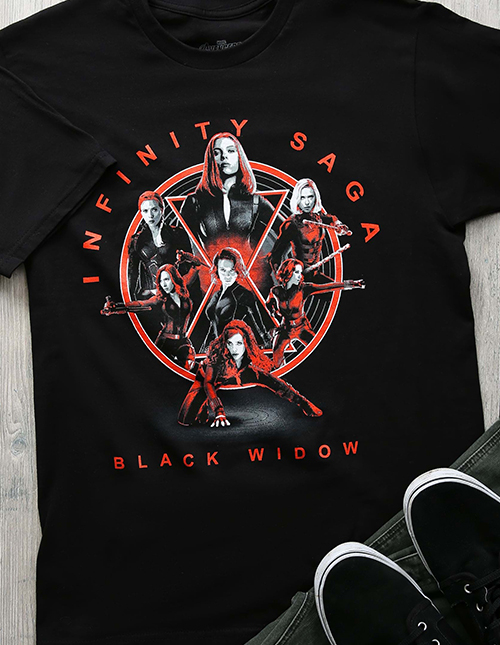 If you're the kind of fan who loves to show off your favorite characters with your daily wear, you'll love our selection of Black Widow apparel. We feature an exclusive Black Widow t-shirt as well as great apparel accessories like Black Widow socks. If you've ever felt like you could use some superhero strength to get through your day, having Natasha Romanoff's face on your ankles will have you feeling like a real Avenger!
Black Widow Backpacks
Backpacks and bags are one of the best ways to show off your fandom since you can wear a bag that features your favorite characters any place and anytime. And, if you're a Black Widow fan, you will find that we have some truly top-flight Black Widow backpacks for sale! We offer bags from premier brands like Loungefly, and each backpack features design details inspired by Natasha Romanoff's assassin outfits.