Hoodies and Sweatshirts
Face it. Hoodies are a big deal! Hooded sweatshirts have been around for decades, but eventually they moved from being athletic wear to a staple of everyday apparel. And along with that trend, licensed hoodie styles took the world by storm. Whether featuring graphic prints of your favorite animated characters or pop culture franchise, a hoodie became a super comfy way to let the world know what you care about. Well, we're all about that, which is why we're proud to offer a massive selection of trending licensed hoodies. We've got a considerable variety of sweatshirts, too, with classic crewnecks and zip-up hoodies that are sure to be suitable for a variety of occasions. With so many styles available, we whipped this quick How-To so that you can do your shopping with ease and confidence. Read on to see our staff picks and top-selling items to see if any of them are just what you stopped by for!
Cool Hoodies
When it comes to picking out a hoodie, there's one fact you'll inevitably face no matter what kind of situation you're dressing for: you need to look cool! That's right, whether you're slipping on a hoodie to go to class or if you work in a relaxed office environment where hoodies are the norm, you want to be sporting your sharpest look. Well, we got your back with cool hoodies for men, women, and kids. With cutting edge styles and hoodies that feature your fave pop culture icons, you'll feel cool and look cool when you pick out one of these excellent selections!
Cool Hoodies for Men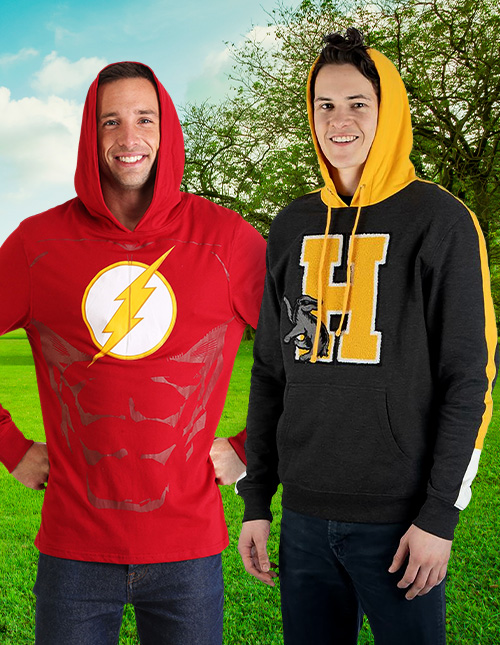 Everyone knows that guys look great with the classic "effortless" look, and there are few clothing staples more effortless than a licensed hoodie. Slip on our Flash Lightweight Hoodie for a sharp red top that shows off your DC Comics style. Or pick out our trendy Hufflepuff Sweater for a hoodie that pops with yellow! If you picture yourself as a speedster or a student at Hogwarts or anything in between, we've got a hoodie just for you!
Best Hoodies for Women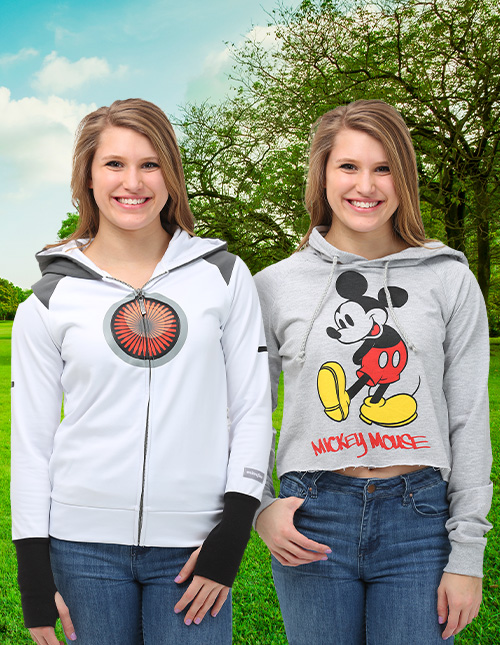 Women love to pick out a hoodie to feel casual and fun. Gamer girls know all about having fun, so if you count yourself among that crowd, you'll definitely want to grab our Women's Portal Hoodie. If you're not into video games, a fun character to spend an afternoon with is an all-time icon and everyone's favorite, Mickey Mouse. Grab our Mickey Mouse Hooded Sweatshirt for a hoodie that's perfect for watching your favorite Disney movies in!
Cool Sweatshirts for Boys and Girls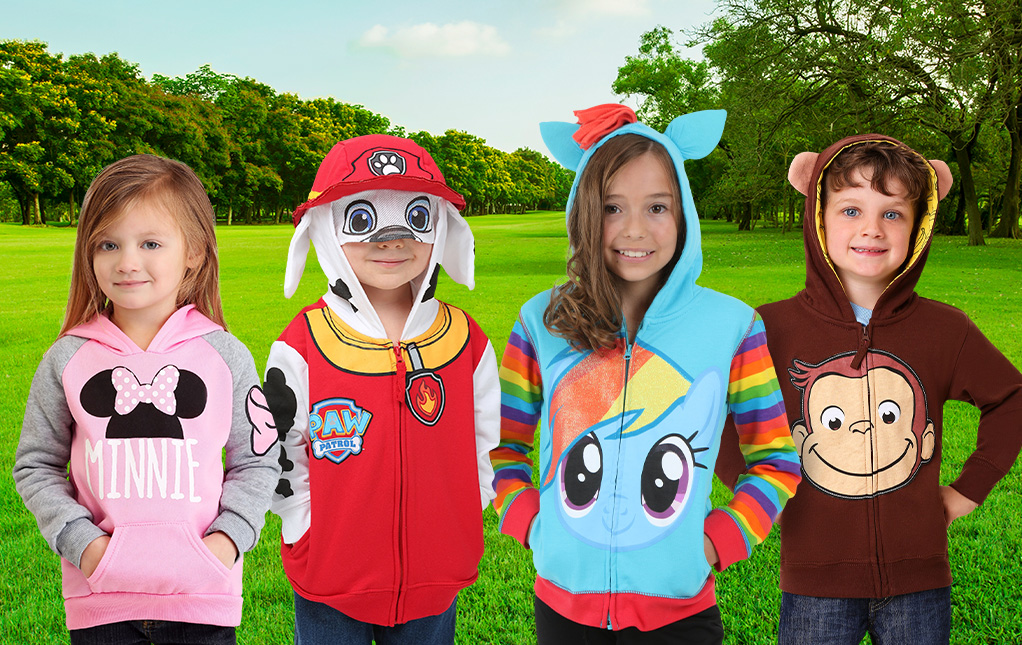 When dressing the kids up in hoodies, the choices should be hip, cool, and of course, feature their favorite characters! We've got hoodies with characters from all the trending shows right here at FUN.com, with styles featuring Paw Patrol, My Little Pony, Shimmer and Shine, and more. Of course, sometimes a classic is the perfect choice! When that's what's in order, just grab a Minnie Mouse hoodie two piece set for your girl or a Curious George hoodie for a young chap. Whether you pick modern or classic characters, we're sure your kids will really appreciate wearing their favorite characters on their comfy hoodie!
Unique Hoodies
Classic hoodies are great, comfy, and always stylish. As is! A drawstring hood, kangaroo pocket, and graphic print are all you need to make a hoodie great. But we're here to let you know that there's nothing wrong with upgrading your hoodie style, too. That's right, with hoodies getting more popular every year, there's no shortage of new fashion trends getting incorporated into our favorite clothing items. Check out some of these unique hoodie styles to see if any of them are just what you're looking for!
Harry Potter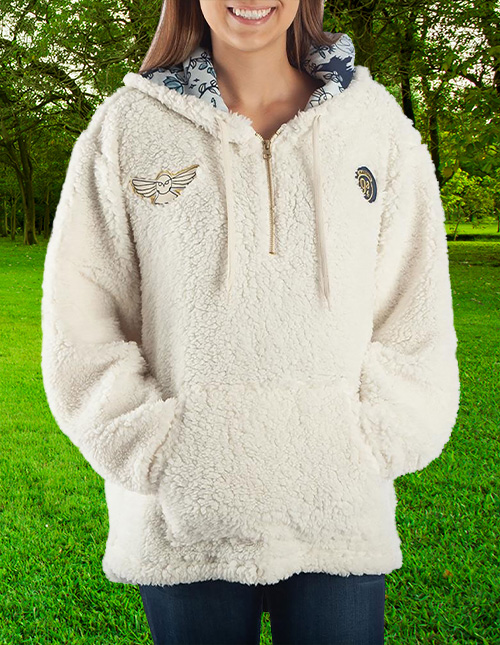 You need to wear a dress but don't want to get out of your comfy hoddies? You don't have to! This hoodie dress features plenty of classic Harry Potter details. Officially licensed, this Harry Potter hoodie dress is a must-have for any Harry Potter fan!
Care Bears Hoodies
The Care Bears are always good at putting smiles on faces! So if you're hunting for a unique hoodie, then you gotta get one of our exclusive Care Bears Costume hoodies. These officially licensed hoodies are Made By Us and crafted with extra attention to detail. Our Bedtime Bear Hoodie is an excellent choice for women with its light blue, comfy faux fur. And our kid's Cheer Bear hoodie is a great way for your girl to spread some smiles around!
Slugterra Hoodies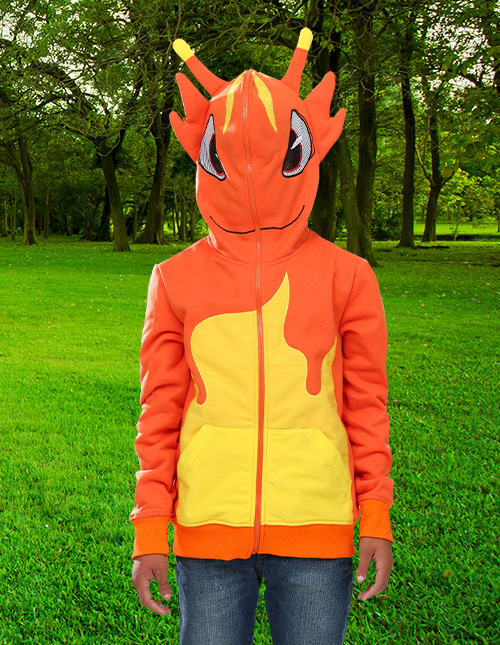 Your kid is probably privy to imagining themselves in the worlds of their favorite animated series, and we think that ought to be encouraged. So let's help expand their imaginations with this fantastic Slugterra Hoodie! Its colors and character hood is modeled after Burpy, the fire breathing slug from the show. With its unique design and full-zip hood that includes see-through mesh eyes, we're sure he'll love afternoon adventures wearing this hoodie!
Marvel Hoodies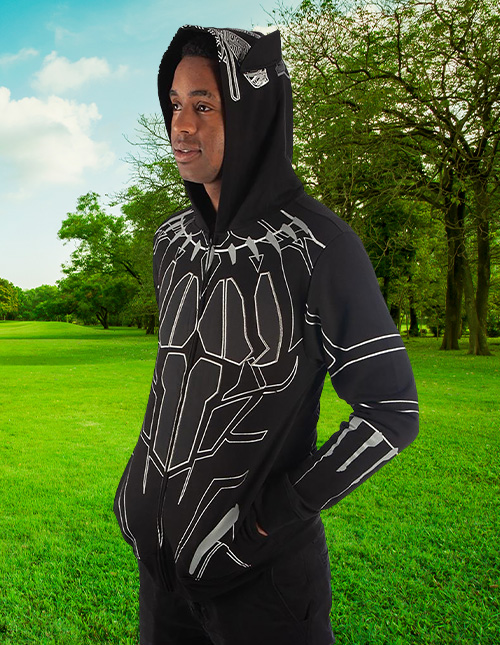 In Marvel's Black Panther, T'Challa has access to all kinds of high-tech apparel and gadgetry for his superhero missions. This Black Panther Ballistic Hoodie isn't from Wakanda itself, but it is the next best thing! The super-detailed graphic print recreates the appearance of Black Panther, complete with unique costume details on the front, back, and hood. Officially licensed by Marvel, we're sure you'll feel like a Wakanda insider whenever you wear it out!
Geek Hoodies
Geek culture is it! It's everywhere and all-encompassing, and we're all about it! After all, we've been on the pop culture beat since day one as curators of the world's best selections of gifts. But what about hoodies for your favorite anime, video game, and sci-fi franchises? Well take a look and you'll see that we've got it covered. Check out some of these top-selling selections to see if any of them are just what you're looking for in a fresh hoodie.
Dragon Ball Z Hoodie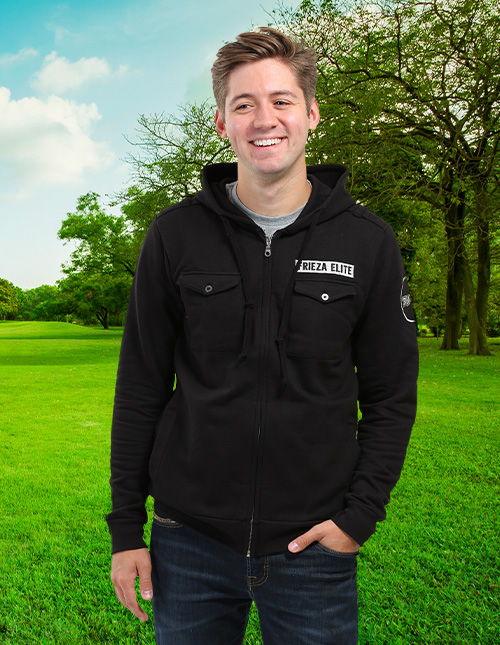 In Dragon Ball Z, Frieza's elite are the best of the best. And as it happens it's also the best of the best when it comes to hoodies! Graphic printed details, embroidered patches, and breast pockets all make this quality hoodie stand out in the quality department. The perfect choice for any Dragon Ball Z fan, grab this hoodie to make your own geek culture statement.
My Hero Academia Hoodies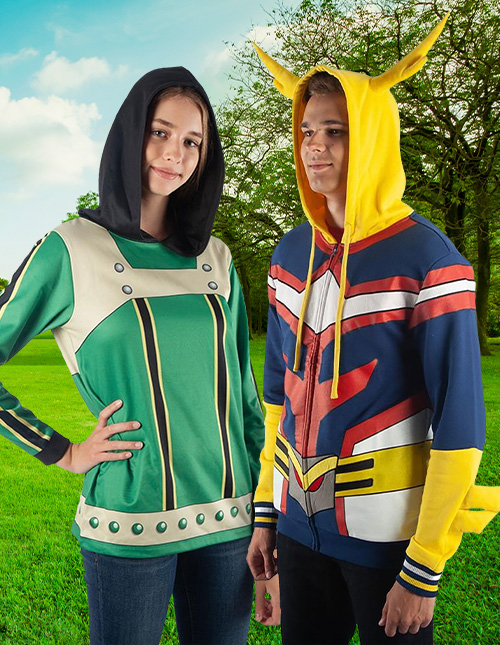 My Hero Academia is one of the most popular new anime series, so of course, we've got some fresh apparel choices inspired by the celebrated show. Two of the most popular characters would be a great place to start when shopping, so why not pick out a character hoodie for All Might or Tsuyu Asui? These hoodies feature vibrant printing and embellishments that bring their respective character's style to life.
One Punch Man Hoodie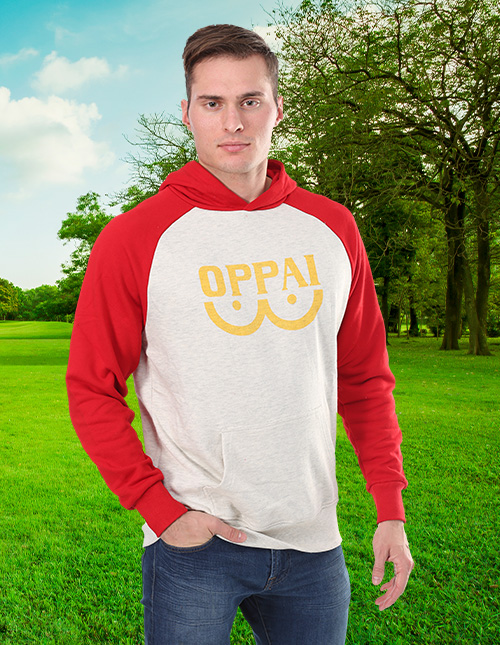 Have you been tuning into One-Punch Man? If you have, then surely you're familiar with Saitama, who's known to wear a classic raglan hoodie with "Oppai" written in the front. Well, if you're a fan, we've got a recreation of that animated hoodie just for you! This Oppai Hoodie is officially licensed and made with a comfy cotton/polyester blend.
The Witcher Hoodies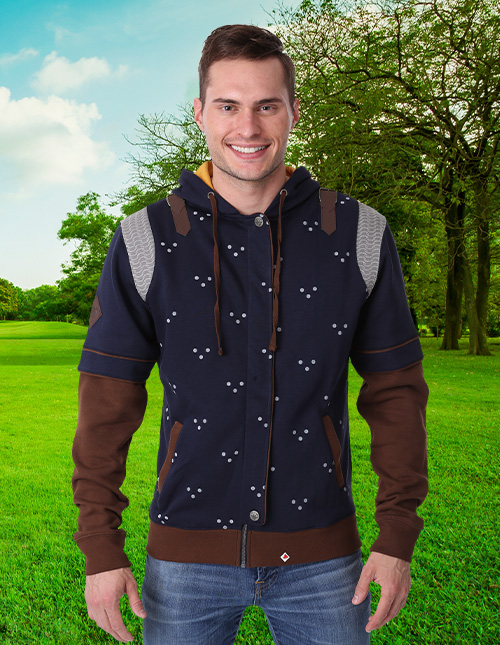 The Witcher is one of the most popular video game franchises of the 2010s, so it's no surprise that gamers are always clamoring for Witcher apparel. The Witcher Grandmaster Hoodie is one of our favorite pop culture selections. Designed to look just like Geralt's Grandmaster armor, it has printed details and embellishments that bring the videogame style to life. The perfect choice for any fan of the series, this hoodie makes a great gift for the gamer you know!
Overwatch Hoodies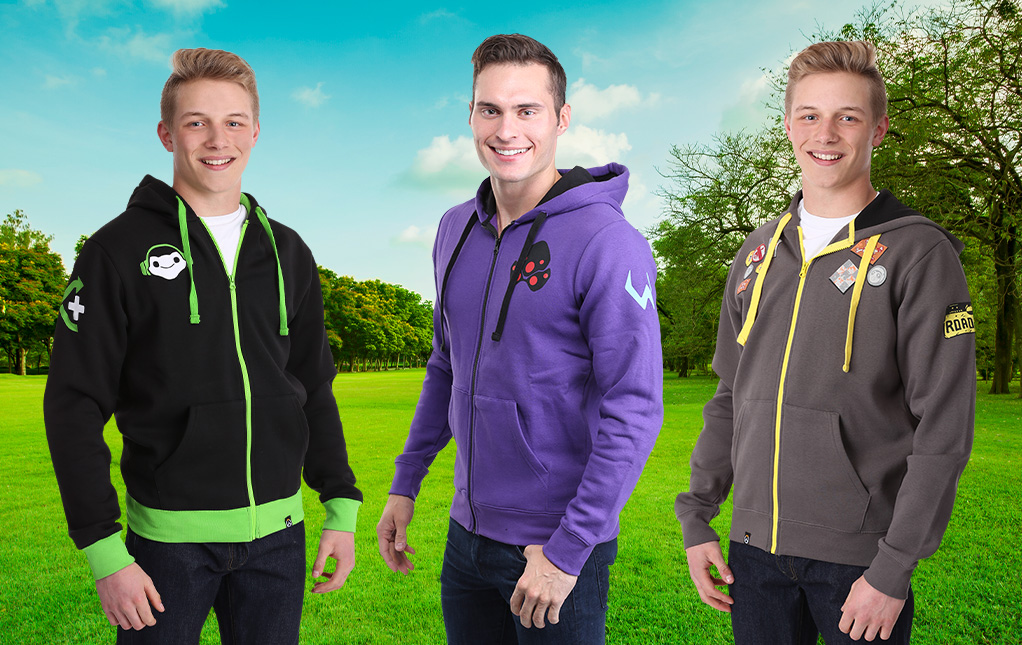 Spend a lot of time playing co-op in Overwatch? Yup, you're not alone! We're happy to carry some truly awesome Overwatch hoodies here at FUN, and they're perfect for gaming sessions or for partying with your pals. Try our Overwatch Ultimate Widow Maker Hoodie to channel the lethal Widowmaker, our Lucio Hoodie.
Star Wars Hoodies and Sweatshirts
Star Wars apparel is geek chic and mainstream, and also immensely popular. So it's safe to say if you're looking to fit in with the cool crowd, a Star Wars sweatshirt will be a great selection. Whether you prefer original trilogy, the prequels, or the sequels, we've got you covered with Star Wars selections from every era. Check out some of our favorites right here to see if our Star Wars hoodies are something you could see yourself in!
Star War Hoodies for Women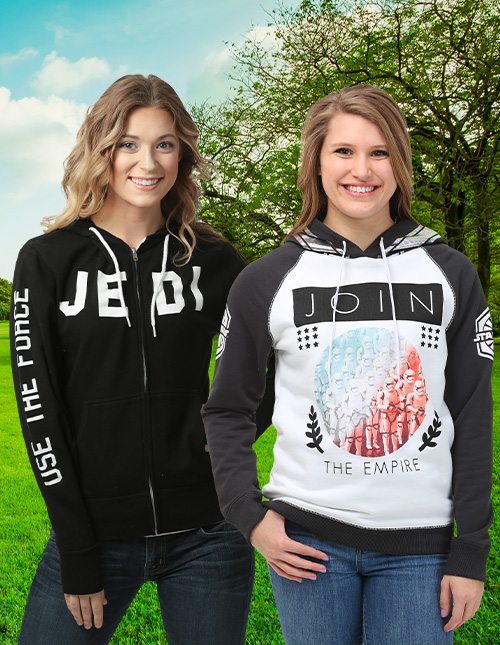 Women have plenty of icons in the Star Wars franchise, with Leia, Rey, and Jynn Erso leading the way as heroes fighting the Empire. Of course, you might just be inclined to side with the Empire itself, and that's just fine! Show your affinity for the Rebels or the Empire with one of our hoodies. Our Women's Jedi Poster Hoodie is a great way to show support for the Light Side, while our Join The Empire Sweatshirt is are choice if you support the Dark Side. All of our Star Wars merch is officially licensed so pick out your favorite styles and get ready for the Star Wars fun!
Star Wars Costume Sweatshirts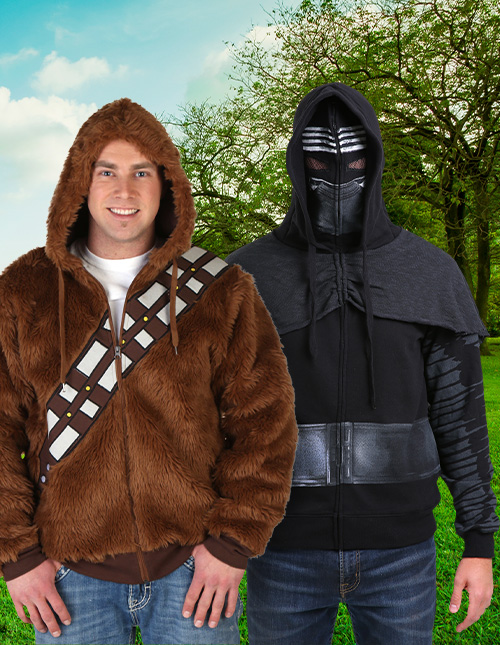 Would you prefer your Star Wars style to be a little more in character? Well, we've got you covered there as well with some awesome Star Wars hoodies inspired by costumes and cosplay! A Kylo Ren Hoodie has a full-zip hood that covers the face and transforms you into the dark leader of the Knights of Ren. Whether you like to daydream about yourself flying the Millennium Falcon or Kylo's Tie Silencer, we've got you covered with these awesome hoodies!
Star Wars Sweatshirts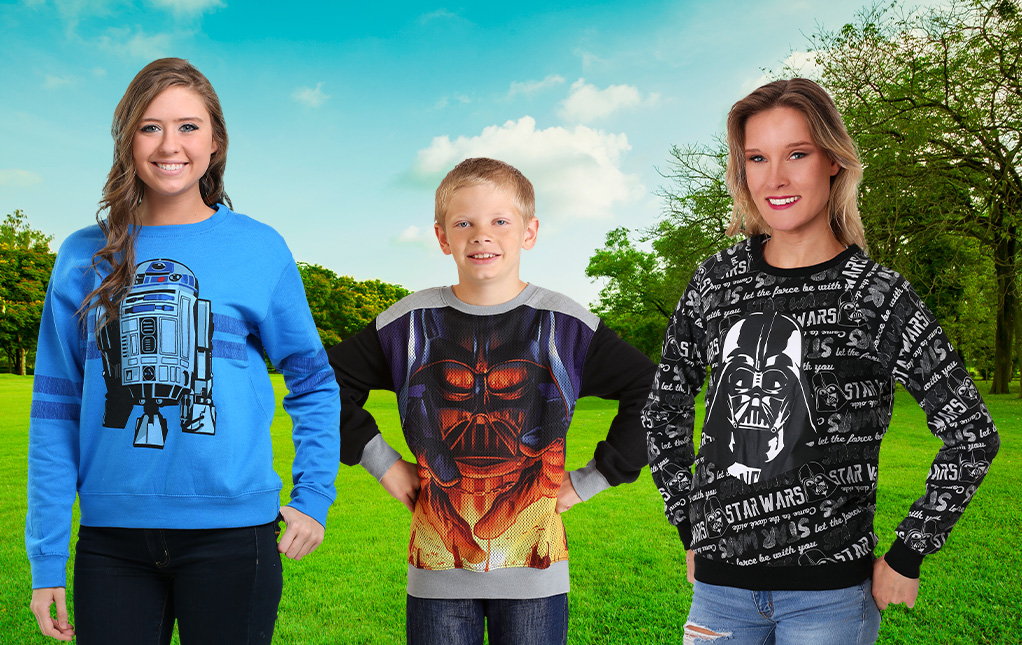 Pullover sweatshirts are a great way to show off your love of the galaxy far, far away! A great style for casual Fridays, you can wear them with a collared shirt or just slip them on for a night on the couch. Try on a classic raglan cut with our Star Wars Sweatshirt, or pick out a fashionable style like our ladies' Darth Vader Sweatshirt. Kids are sure to love our intense Darth Vader Sweatshirt!
Comfy Sweatshirts
Hoodies and sweatshirts are innately comfortable, but if you prioritize comfiness above all else, there are a few features to look for! We always recommend pullover sweatshirts for a comfy look and feel. The rib-knit collar feels great around the neck and gives you just the right amount of stretch. Fabric choice is also super-important when selecting for comfort, too. Terry fabric is the top choice for fit and feel, and choosing cotton/polyester blends will ensure your sweatshirt will both feel great and endure many wash cycles.
Pullover Sweatshirts for Women
Pullovers are a great choice when picking out a sweatshirt to relax in, and we've got some great options with some of your favorite pop culture characters. Our Mickey Mouse sweatshirt is an iconic choice for showing off your favorite Disney mouse, or our Harry Potter Drawcord Sweatshirt is a chic way to show off that you're a fan, and if you're looking for a comfy style to relax in, we're sure you'll love hanging with Snoopy in our Snoopy French Terry Sweatshirt.