Little Mermaid Family Costumes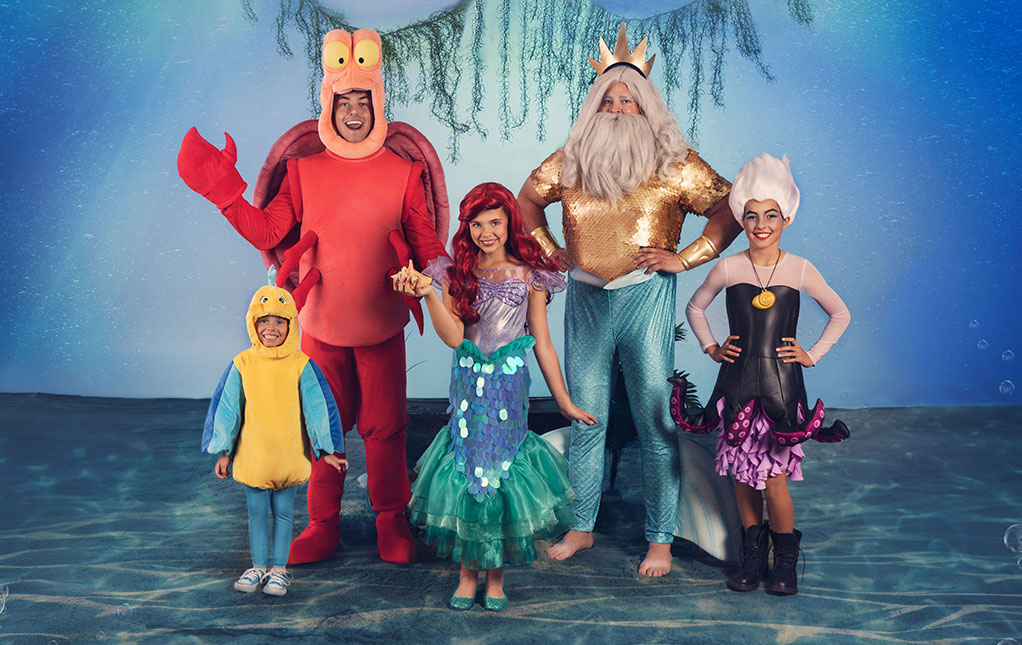 Have you ever dreamed of being a mermaid? As soon as we saw Disney's The Little Mermaid, we were wishing on every star we could see, hoping for a tail and an underwater adventure of our own! If you're also a fan of this classic movie, you should check out our collection of Little Mermaid costumes! They're inspired by our favorite characters from the film and come in a range of sizes so the whole family can join the fun.
You'll be able to build the ultimate group costume from our selection of characters. Kids and adults alike can enjoy dressing like Ursula, Prince Eric, Flounder, and of course, Ariel herself, with options in both her elegant blue dress and classic purple top and green tail. And don't forget to check out our accessories to complete your costume, create a cosplay look, or DIY your own outfit! Whatever you choose, we hope you'll be able to capture some of that Disney magic!
Adult Little Mermaid Costumes
What's better than wearing a princess costume? We'd probably say, "wearing a mermaid princess costume"! When you put on an adult Ariel mermaid costume, you'll get the best of both worlds. An outfit like this one that imitates Ariel's purple top and green tail will let you feel like a gorgeous mermaid and live out your princess dreams at the same time!
Kid's Little Mermaid Costumes
It's time to help your little one's dream come true! If your kiddo is a fan of this spirited Disney princess, then they'll love dressing like her with a girls Ariel costume! And don't worry, they won't have to make any deals with witches to achieve her look. All your little one needs to do is put on this green and purple outfit and they'll be ready to go!
Women's Ursula Costumes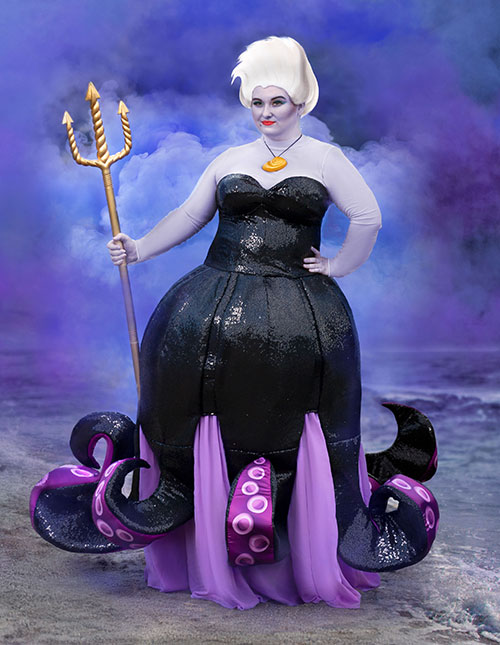 We see people dressed like all kinds of witches around Halloween time. But none of them are as impressive as the sea witch, Ursula! Her magic powers are something to behold, but so is her fashion sense! You'll feel amazing in an Ursula costume, complete with her flowing tentacles and bold style. Just don't use your newfound power to steal anyone's voice, please!
Adult Prince Eric Costumes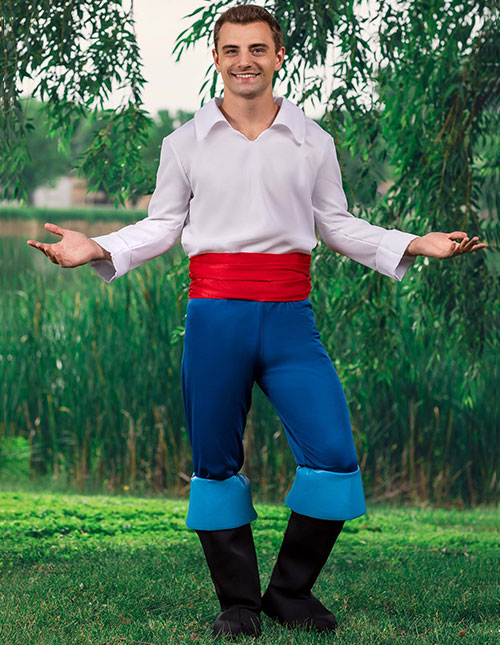 We've always admired Prince Eric's determination. He doesn't just sit around waiting to become king, but makes the most of every day! You'll be ready for your own amazing adventure when you put on a Prince Eric costume, whether it happens to be searching for your true love, sailing the seas, or having a great time at your next costume party!
Little Mermaid Costume Ideas
In Disney's The Little Mermaid, Princess Ariel isn't the only great character. One of our favorite things about this film is its fantastic cast, from Flounder to Flotsam. So, while some purple shells and a green tail might be quite recognizable, there are plenty of other unique costume options that will help you celebrate this beloved movie. Whether you're building the ultimate group costume or searching for cosplay ideas, we hope you'll find what you need in our selection. From animal friends to wicked witches and everything in between, you'll have more choices than you can count on one hand (or fin)!
Sebastian Costumes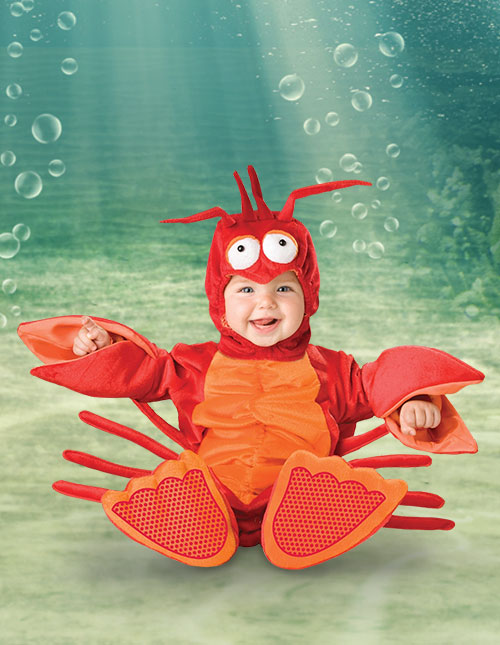 Sebastian the Crab is quite a delightful character. His musical talents and funny quips really make us love him. However, we have to admit, we've always thought that he looks a little bit more like a lobster than a crab! So if you want to dress up your little one to complement your Ariel cosplay, we think an infant lobster costume will do the trick just fine.
Flounder Dog Costumes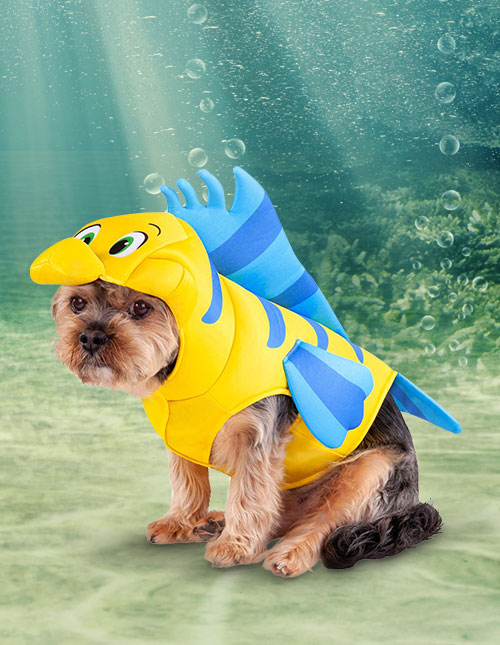 Pets are part of the family, too, and we think it's always fun to get your four-legged pal their very own costume for Halloween! If you're going with a Little Mermaid theme this time around, you can turn your furry friend into Ariel's fishy friend with a Flounder dog costume. It's the perfect companion piece for your Disney-inspired group outfit!
Little Mermaid Costume Accessories
Now that your costume is settled, you'll want to add some accessories! Of course, mermaids don't wear shoes, but if you're dressing like Ariel in her human form or another character with feet, you'll probably want a pair. And no matter who you want to look like, a bit of costume makeup always comes in handy! Take your Little Mermaid outfit from "ripple" to "wave" with our selection of awesome accessories.
Ariel Wigs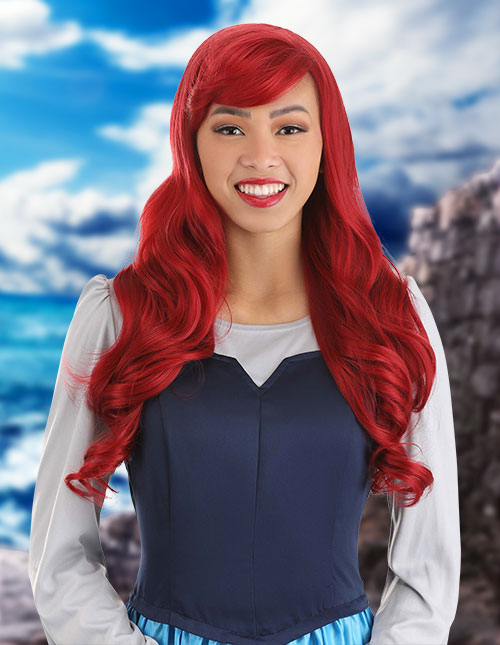 Princess Ariel is known for her signature purple top and green tail. However, any outfit that wants to imitate her style isn't quite complete without a flowing red wig! Ariel's long, red mermaid hair is a very important part of her look. So if you're dressing like this lovable princess, we'd highly recommend picking up an Ariel wig to finish off your costume!
Flotsam and Jetsam Scarves
Every good Disney villain needs a sidekick! After all, what's a bad guy without a little comic relief? We're especially entertained by a pair of mysterious minions, like Ursula's little "poopsies." If you're dressing up as Ursula for your next event, we'd recommend adding a Flotsam and Jetsam scarf to your costume! After all, they might help you keep an eye on things.
Flounder Bags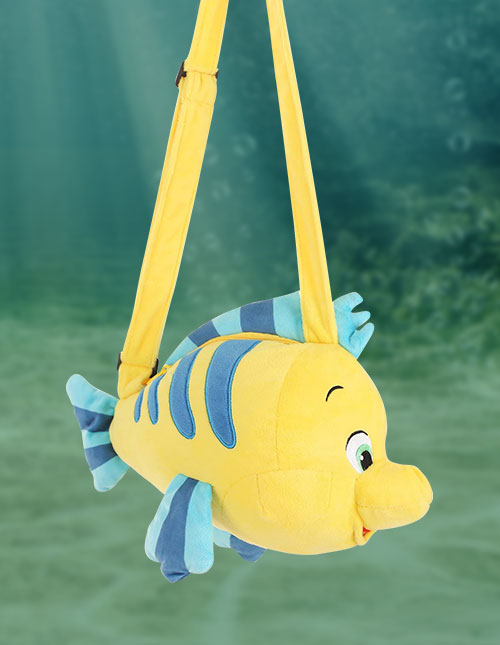 We think dressing up is always more fun when your friends are involved! If you're wearing a Little Mermaid costume and nobody in your group wants to be a fish (their loss), then you might enjoy this Flounder bag. When you add it to your outfit, you'll have a friend by your side and a useful pouch for your essentials all in one adorable accessory!
Ursula Masks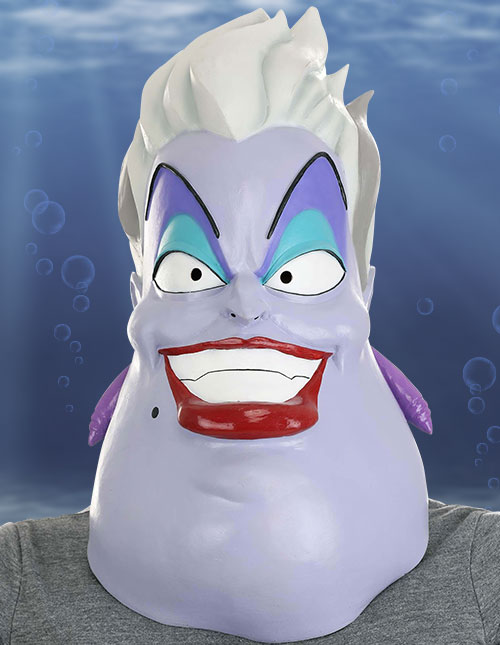 We have to admit, not all of us are makeup experts. In fact, when we need our faces to look just like our favorite character, we like to pick up a mask to help us quickly and easily transform! And even if you have the skill, perhaps you don't want to spend the time recreating Ursula's fabulous face. In that case, you should bring home an Ursula mask to perfect your sea witch outfit!