Nintendo Apparel
Nintendo does way more than provide us with high-quality games. They also have top-notch merch! If you need some Nintendo Apparel, you are in the right spot. Need a new pair of shoes, but are tired of the same ole athletic wear? Slip-on a pair of kicks with your favorite Nintendo character on them. And what's a fresh pair of shoes with a matching shirt? Well, it's still fantastic footwear, but that's not the point. We know that you'll be able to find Nintendo Apparel, whatever it may be, that suits your unique tastes.
Nintendo Shoes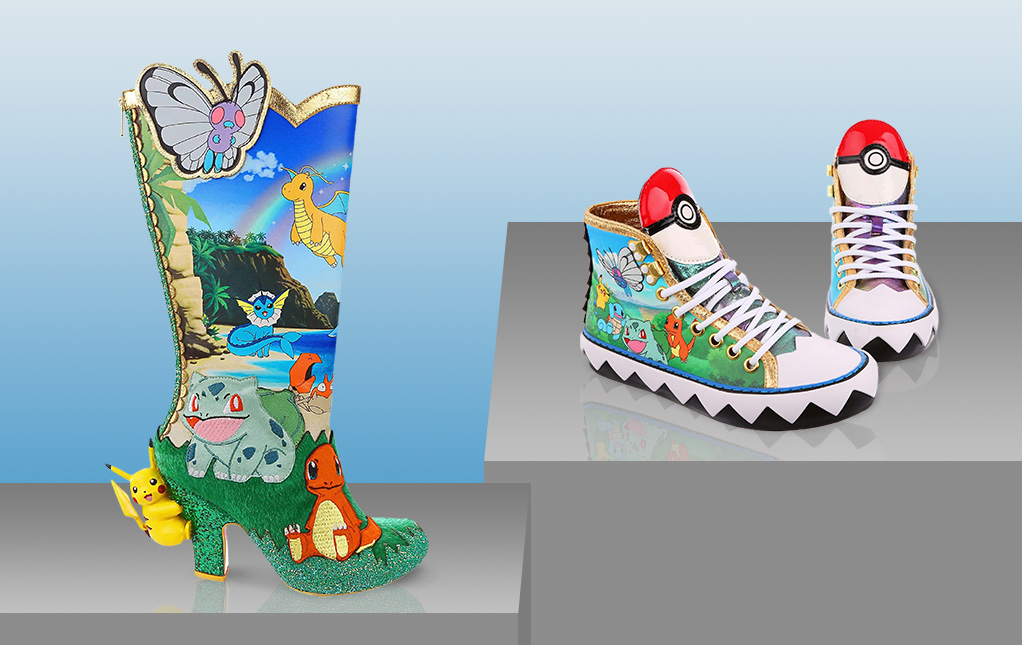 We all know how important shoes are. They keep your feet dry, protect your bare feet from debris, hazards, and make you feel absolutely fabulous. We tend to favor the fabulous part ourselves. You must check out our Nintendo Shoes if you don't believe us. We have multiple Pokémon shoes to choose from. Try to catch 'em all and be ready for every shoe battle (some even light up). If you like to keep things a bit retro, then check out our more traditional high-top Mario shoes. We know you'll get a kick out of them all.
Nintendo Shirts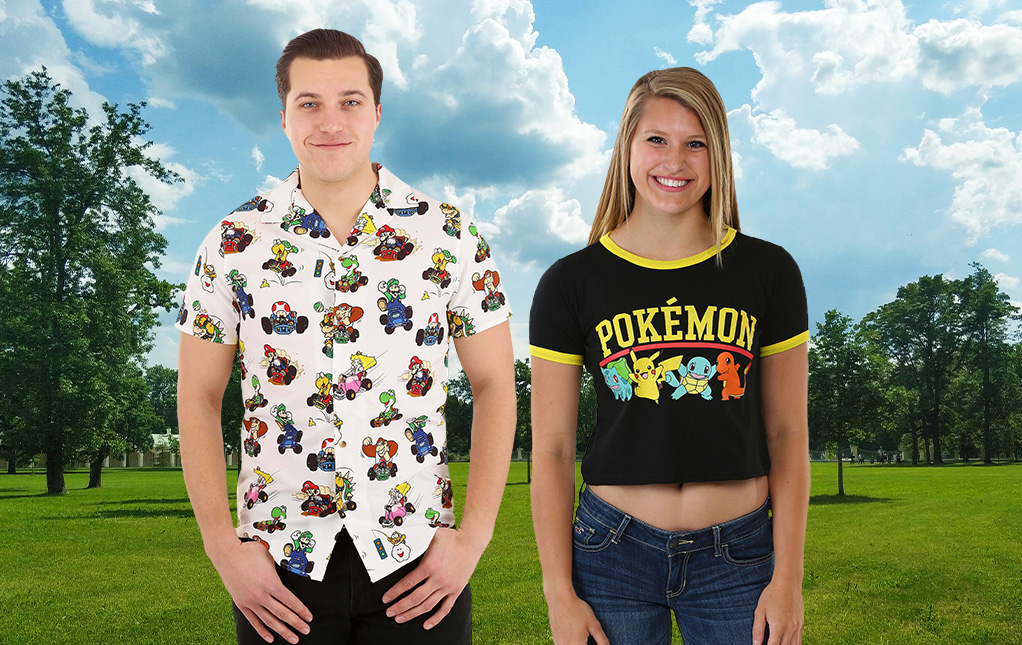 Favorite shirts are funny. You either wear them to the ground, or they barely see the light of day because you are trying to make them last as long as possible. If you are a gamer looking for a few (new) favorite shirts, you must check out our Nintendo Shirts. The best thing about these shirts is they allow you to switch up your outfit as easily as switching to a new game. These shirts come in all sorts of designs, some we exclusively made ourselves. We are very proud of our Nintendo merch. Pick up yours today and wear your gamer gear proudly.
Nintendo Backpacks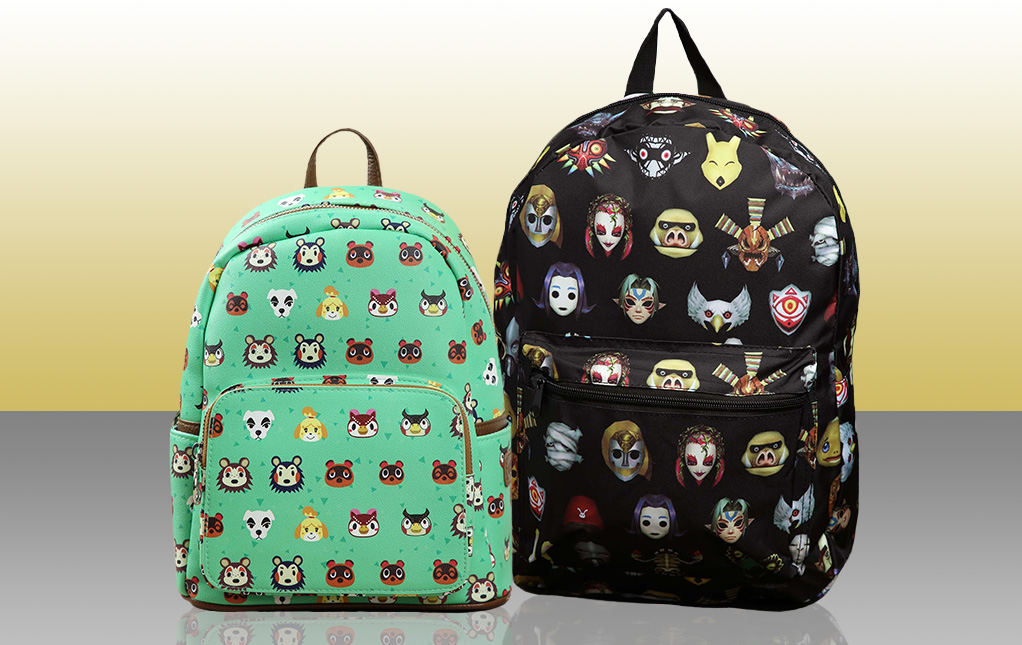 Bags are essential to everyday comfort. Think about it. We have so many things to do and so little time. How would society be fair if we didn't have any sort of reciprocal for our personal items? Since bags are a life staple, we think everyone should have one they absolutely love. Well, our Nintendo Backpacks are like no other. Not only are they officially licensed, but you will be amazed by the colors and designs. Some of our extensive backpack options include Zelda, Animal Crossing, and Mario. Pick up a Nintendo Backpack and ensure you have all you need!
Nintendo Collectibles
When you are a collector, you are made of unique stock. You have the patience of a nun and the analytical abilities of a private eye. You seek out your prizes, no matter the cost, and then display them for the world to see. Most people think you are showing off, but here at FUN.com, we know the truth. Who but gods amongst men and women can purchase a fantastic DK piece and not even open it up? That is some Green Lantern-level willpower right there. Whether you are a collector or not, if you are into Nintendo, we know you will adore our officially licensed Nintendo Collectibles.
Nintendo Action Figures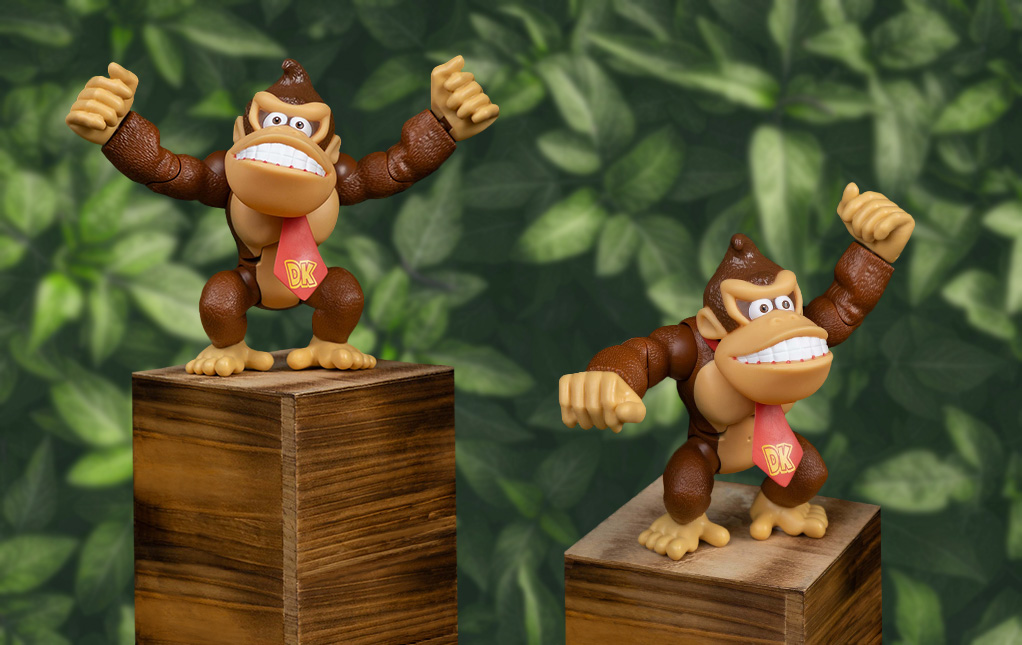 From the mouth of babes. Isn't that what they say when little kids say smart or inciteful things? What is it called when kids play with outstanding action figures in ways you never thought of? From the hands of babes? Check out our Nintendo Action Figures until we can figure out our little quandary. They are the best way to take a character you love and turn them into a character you can idolize. Position these characters with your kids and have a blast during playtime or place them in your office and add a little flair to your desk. Whatever you decide, pick up our Nintendo Action Figures and let your imagination run wild.
Nintendo Funko POPs
Funko POPs are really awesome. They are a great way to keep a piece of the characters we love close to us. Love Pikachu as much as Ash, but don't have enough room in your backpack for the giant plushies in your room? Grab a Pokémon Funko POP and bring them around with you wherever you go. Some even come in a metallic form (collectors, we're looking at you). If you are more of a casual fan, pick up Charmander and throw it on your desk for inspiration. Regardless of what you do, we know you'll have a great time with these Nintendo Funko POPs.
Nintendo Décor
Decorations allow us to take a space and make it our own through various pieces and aesthetics. Nothing is better than taking a bare home and turning it into the area of your dreams. Speaking of dreams, if you tend to spend a lot of time in the clouds like some of our favorite Nintendo characters, you probably will sprout a raccoon tail for our officially licensed Nintendo Décor. This décor is perfect for Nintendo heads looking to level up their game room. If you don't have a whole room to spare, these decorations make the perfect quirky talking piece for any living room or bedroom.
Nintendo Room Decor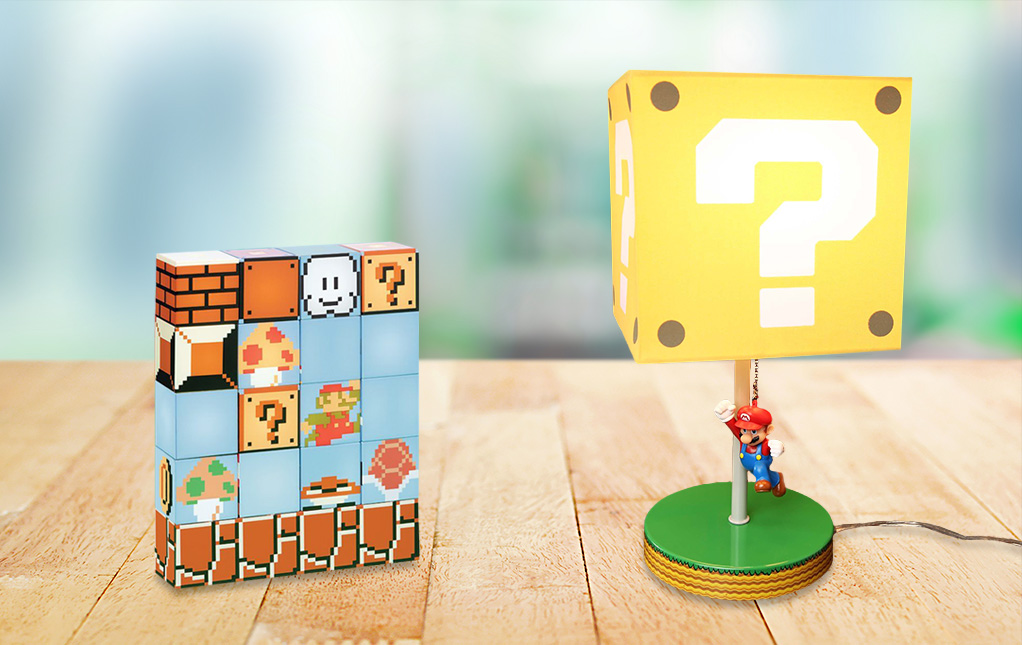 Gamers have quite a few options when it comes to decorating a room. They can go with a light touch and simply put a lamp here or a poster there. Or they can go hard and litter their room with officially licensed Nintendo merch (we tend to skew toward the latter). Regardless of your preference, we like to give our Nintendo fans the option to completely deck their rooms out with our officially licensed Nintendo Room Décor. We have a couple of excellent pieces that will literally light up any room. We even have Mario merch that doubles as a Bluetooth speaker!
Nintendo Home Decor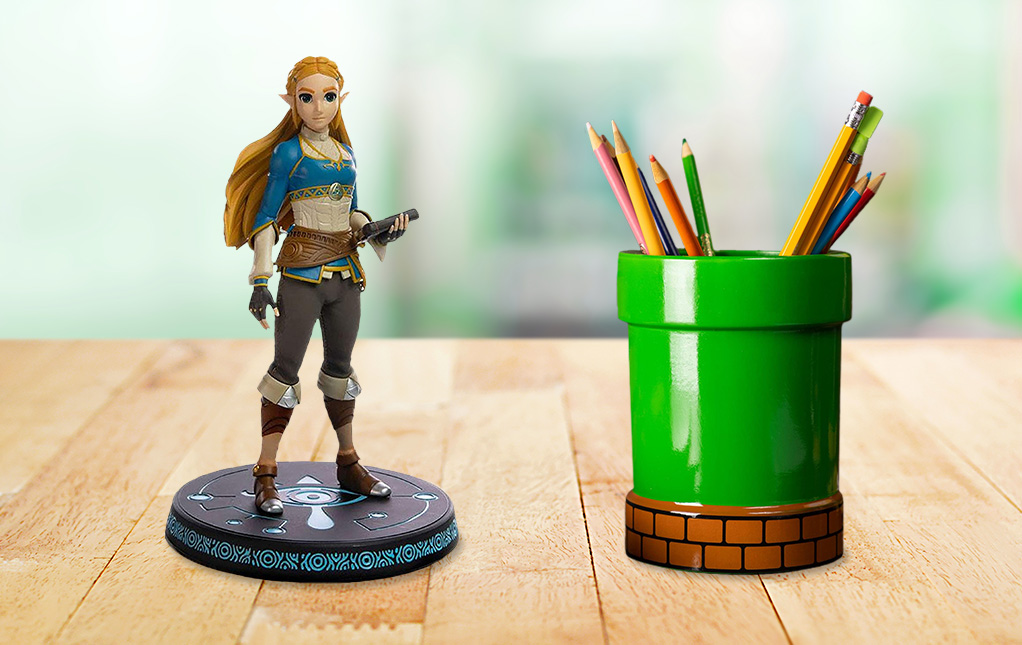 We all know that feeling. You just moved into a bare apartment. You are trying to visualize where you are trying to place all your stuff. Once you finally get all of your things put away and set accordingly, you realize that you are missing something. Don't worry—we have just the remedy for the annoying feeling—our officially licensed Nintendo Home Décor! If you are looking for a bit of color, pick up one of our many vibrant Nintendo Lamps. If you are more of a collector, pick up a Breath of the Wild or Kirby Statue and display them proudly like a high score.