Doctor Strange Costumes
Costumes are another great way to ramp up the imagination. Dare we say, it's like magic when you complete the perfect outfit. That feeling that you can actually cast the Crimson Bands of Cyttorak spell is one of a kind. Trust us when we say that putting on one of our Doctor Strange Costumes will have you thinking you cast a grade-A wardrobe spell. You could even pretend to be the Master of the Mystic Arts yourself, as he's constantly alternating outfits—from doctor to civilian to wizard. Just remember, without magic, it may take you a tad longer to change than it does Steven.
Doctor Strange Collectibles
What is it about toys that bring you to a magical place? The imagination is genuinely stimulated when you are holding a beloved character in your hands. You not only get to feel like these characters, but you get to recreate their harrowing adventures (or create fantastic epics all your own!). With a few Doctor Strange Toys, you can be the Sorcerer Supreme of not only Earth-616 but any universe or timeline you want. We believe in the power of toys as much as Doctor Strange believes in healing folks. If you are a fan of the wizard with the Time Stone, you have to check out our Doctor Strange Toys.
Doctor Strange Action Figures
Action figures are the best way to step into the shoes of your favorite character. Dr. Strange's boots have mystical properties and are comprised of materials you can't find on this earth, so the best way to emulate your favorite sorcerer is by checking out our Doctor Strange Action Figures. We cast a spell asking the great Agamotto to help multiply these figures and let them have the details of an ancient binding spell. He clearly heard us because these toys are not only crazy detailed but come in all shapes and sizes. Live the life of the Sorcerer Supreme and check out these Doctor Strange action figures.
Doctor Strange LEGO Set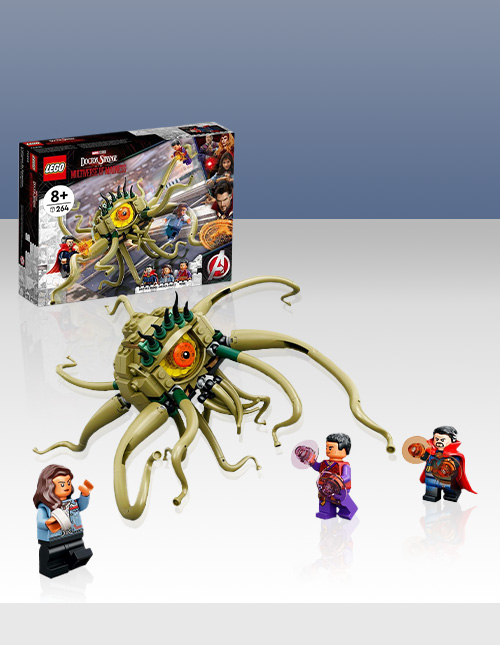 LEGOs are a great way to create worlds. They have come a long way since their creation in 1932—your imagination only limits you at this point, which is always a rare statement. We think that perfectly encapsulates being a sorcerer. Once you have all the parts and know how to get them to work together, you can essentially create whatever you want. If you are a fan of Doctor Strange movies, you will have a blast recreating and redoing epic scenes to your every whim. If you are a LEGO wiz who also is a fan of the good doctor, you have to check out our Doctor Strange Lego Sets.
Doctor Strange Eye of Agamotto Toys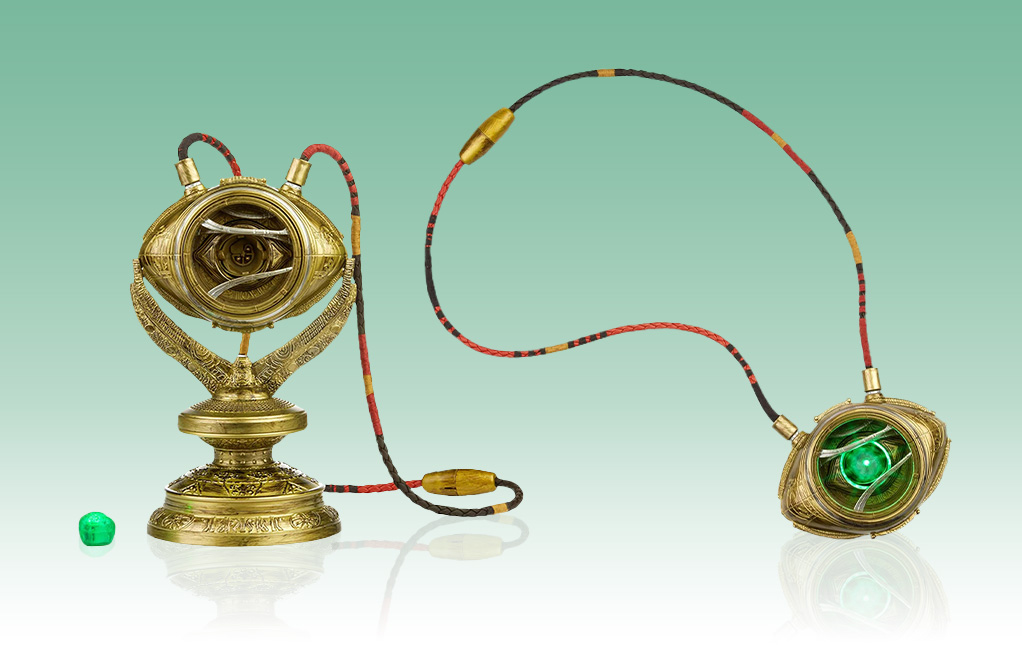 The Eye of Agamotto is Doctor Strange's most potent tool. In the comic books, it is not the Infinity Time Stone but a mystical relic capable of insane magical feats. The movies solidified the Eye of Agamotto and maybe made it more powerful by giving the Eye the power to control time. Some of the accomplishments Stephen pulled off with this thing are sheer insanity. Looking through 14,000,605 alternate timelines was something we haven't even seen him do in the comics. If you want to pay tribute to the current holder of the Eye or need a fantastic toy to sit on your desk, you have to open your 3rd Eye and check out this Doctor Strange Eye of Agamotto Toys.
Doctor Strange Merch
We see why our moms always wanted us to be doctors. Look at Steven Strange for the purist example. He was a renowned surgeon, not just because he was good, but because he studied his tail off. Then he takes a life-changing event and uses it not only to become a better man but one of the most accomplished sorcerers in Marvel history. He's a pretty cool guy for that. We can't pay for your medical school, but what we can provide is some officially licensed Doctor Strange Merch. It won't magically turn you into a doctor, but it'll definitely make you feel like one.
Doctor Strange Statue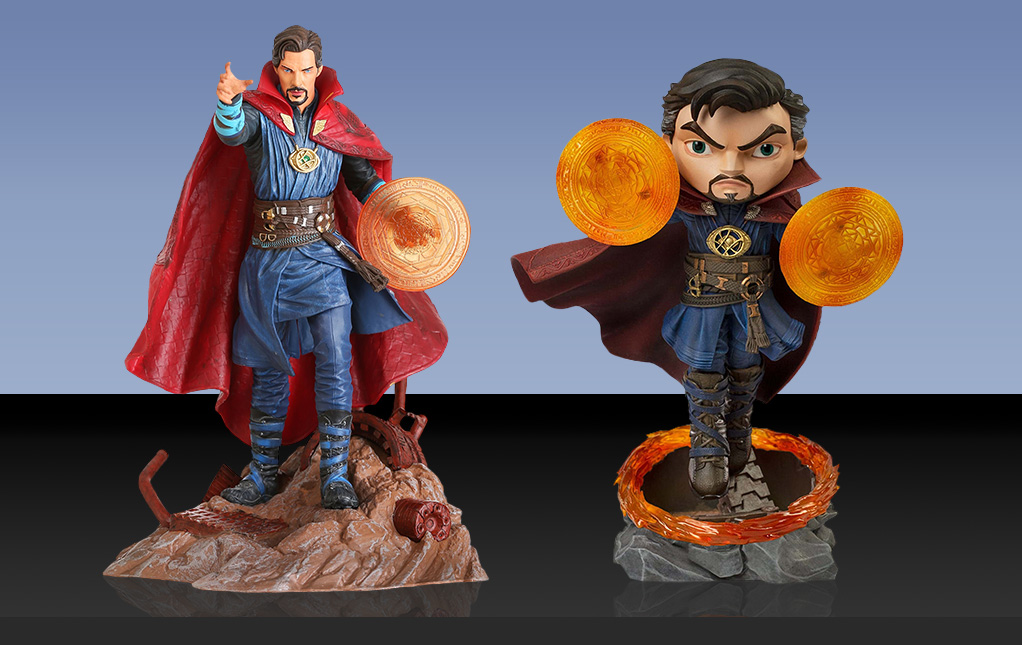 Steven has saved the universe more times than he can count. We think he deserves a Doctor Strange Statue in his honor. We can worry about who will design, build, and fund this endeavor later. Just think of a detailed statue in the middle of the city, displaying Steven Strange in all his glory. How cool would that be? Well, until we can get the statue plans underway, you should check our officially licensed Doctor Strange Statues. The figures look so close to the good doctor; you'll think the Ancient One conjured them. Pick one up today and give the Doc a little props.
Doctor Strange Hat
There is nothing like a good hat. They protect your head from harmful UV rays, help coordinate an outfit, and are handy on bad hair days. Doctor Strange has a few assortments of hats with various mystical properties. Some can help you sleep while others reveal hidden truths to you. Generally, Stephen likes to keep these powerful items locked up, but we were able to get our hands on a few. We have a guy on the inside who hooks us up (it's Wong). We made sure the hats we ordered were pretty harmless. At most, they'll make you look and feel good. At worse, you have a stylish Doctor Strange Hat. It's a win-win!
Doctor Strange Backpack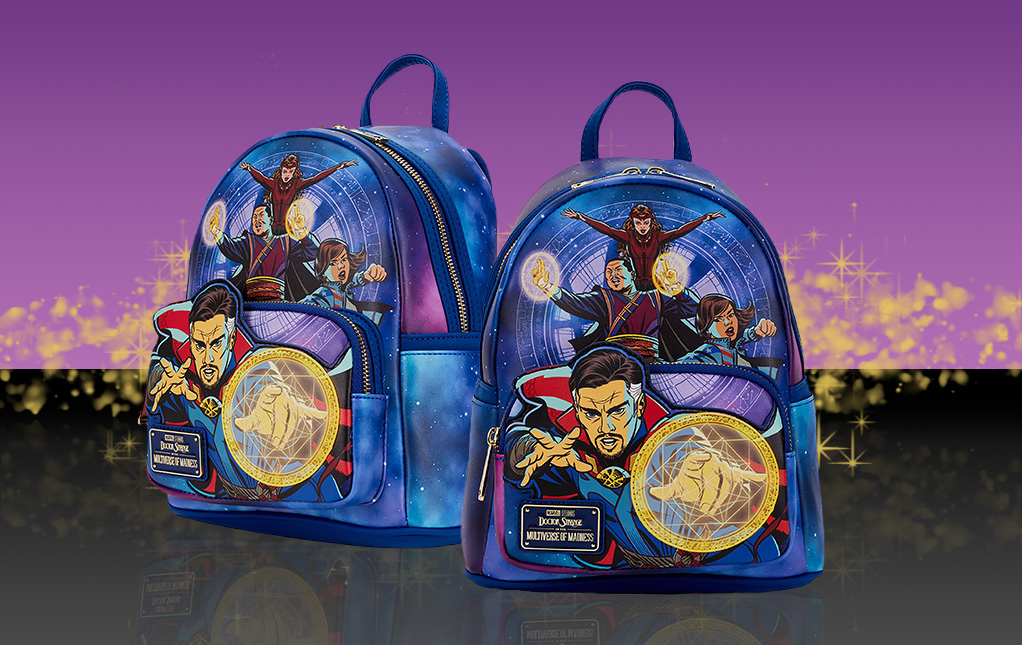 A good backpack can be the difference between being ready for anything to woefully unprepared for the unexpected. You don't want to be the person who forgot their gear along with all their essential personal items (or maybe a few health potions). Even Doctor Strange wears backpacks—he just has a fancy invisibility charm, so you never see them. If you want to be as prepared as Steven, you'll want to get your hands on our Doctor Strange Backpack. We are fresh out of invisibility spells, but after you put your eyes on these bags, you'll want everyone to see them. Pick one up today and be ready for anything!