Supergirl Halloween Costumes
Despite her name, Supergirl has been doing the superhero thing long before many of her older allies. That sentence doesn't make much sense once you break it down—but we'll try to do it anyway. Supergirl, aka Kara Zor-El, was born to parents Zor-El and Alura In-Ze in Argo City, one of the prime cities of Krypton, before its destruction.
The story varies on the medium, but after the explosion of Krypton, Kara was stuck in stasis for several years while Clark grew up to be the savior of planet Earth. That's how she is the younger older cousin of Superman. Hey, that's DC Comics for you. Show some love to the Last Daughter of Krypton with a Supergirl Halloween Costume.
Supergirl Costumes for Adults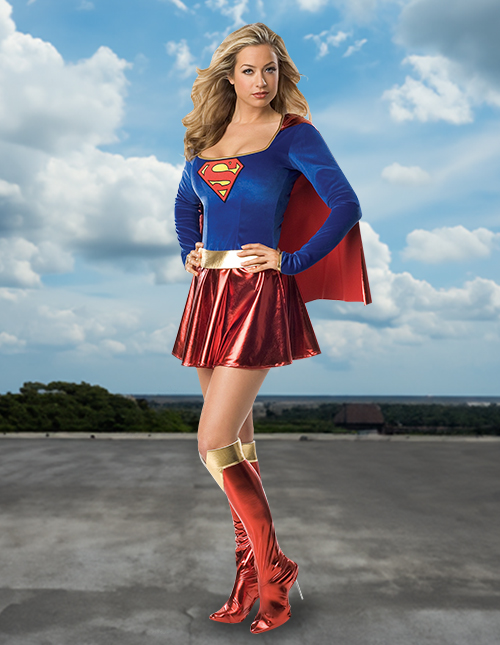 When you are a child, becoming an adult feels like it takes forever. We all remember being a toddler and wanting to be a big kid. Or a kid now wishing to become a teen. Regardless of age, you always wanted to skip the next phase. Now imagine what Kara had to go through as she floated aimlessly in space. She's been 16 for like 30-something years. Yikes! If you want to give Kara a chance to kick that Peter Pan vibe, check out a Supergirl Costume for Adults.
Plus Size Supergirl Costumes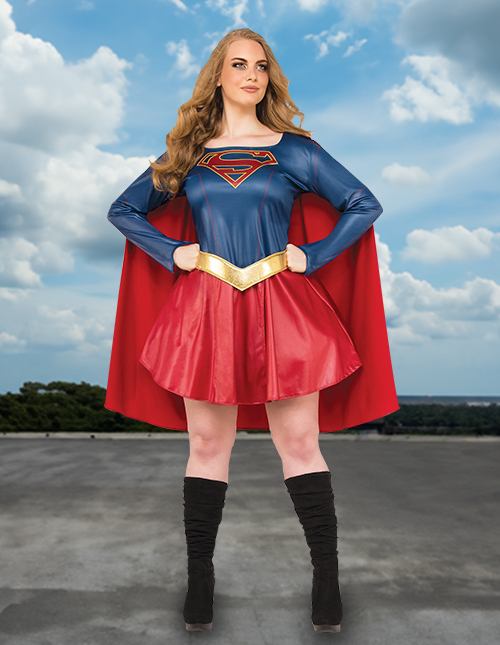 Did you know Lois Lane was technically the first to dawn the Supergirl title? To be specific, she was called Superwoman, but that was an alternate reality story that came out long before Kara's debut in Action Comics #252. Since then, she has had many of her adventures, whether alone or teaming up with friends like The Outsiders, or even the Teen Titans. If you want a flattering plus-size costume for the ages, check out this Plus Size Supergirl Costume.
Supergirl Costumes for Kids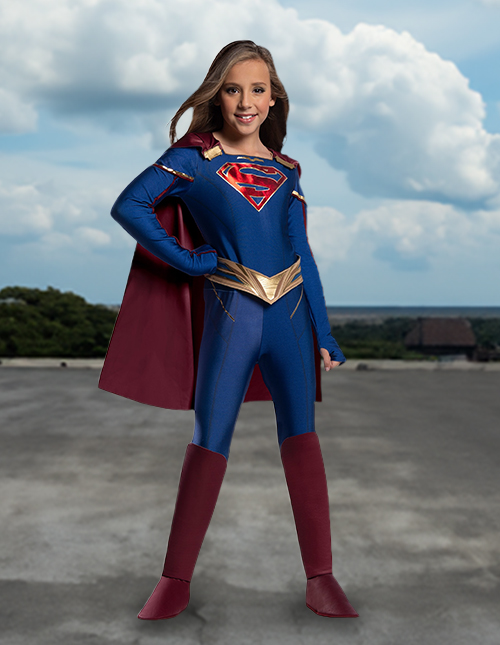 Every kid wants superpowers. Okay, maybe not every kid, but at least every kid that's into DC Comics. With the exploits of characters like Wonder Woman, Batman, and of course, Supergirl, it's hard not to find someone you love or relate to (or both!). A Supergirl Costume for Kids is an excellent way for your girl to let out her inner hero. This costume is also ideal when you are looking for group kid costumes akin to Justice League or some other sweet supergroup.
Supergirl Toddler Costumes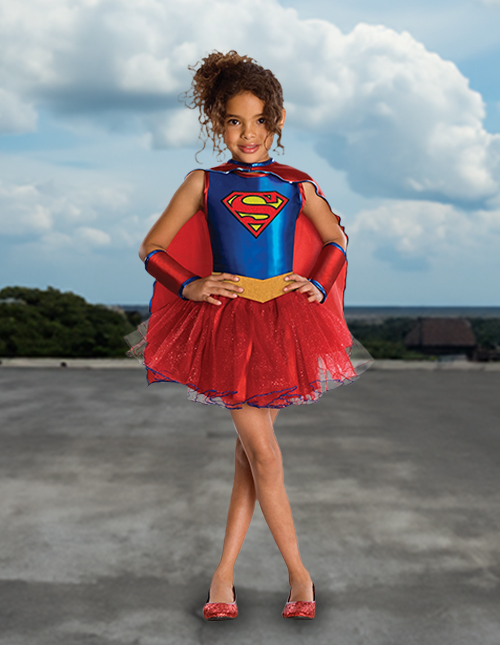 Kids are never too young to start their superhero journey. They may not have super speed like The Flash or be as unpredictable as Harley Quinn, but you know what they say about dressing for the job you want. With our Supergirl Toddler Costume, you can do just that. It is excellent for young heroes who are fans of the character or for grown kids who can't get enough of DC Comics. Try a Supergirl Toddler Costume and have a toddler that's out of this world.
Supergirl Costume Accessories
Like her big, younger cousin Clark, Kara never needs a lot of tools to get the job done. She can handle most problems by picking up heavy things and throwing them, whether it be at another person or thing. Well, since you don't have superpowers (we're working on it), we think we have the next best thing, our Supergirl Costume Accessories.
Well, not that we think about it; Supergirl has never been a stranger to cute footwear and a nice outfit. To hide her identity, she has even been known to rock a brunette wig now and then. But she can usually blend in a pair of glasses and a functional ponytail. Don't worry. We won't get into the logistics of using eyeglasses to hide.
Supergirl Capes
What is it about capes that make a superhero suit? Capes and cloaks are a no-no if we take any lessons from the Incredibles. But that's a different universe—so we won't count them until the crossover. Batgirl has donned a cape in her older iterations, and we all know about Supe's iconic "S" on the back of his cape. Supergirl comes from a long line of cape-wearing heroes. Ensure you keep with tradition and join the exclusive club this Halloween with a Supergirl Cape.
Supergirl Boots
Every hero needs a good pair of boots, and Supergirl is no exception. Even Aquaman wears boots, and he's swimming half of the time. Heck, even villains like Poison Ivy wear boots, and she's all about keeping her feet close to the soil. Explore the comic books, cartoons, television shows, and movies, and you'd be hard-pressed not to find as many boots as you do characters. It says something about having the proper footwear. If you agree, hop into these Supergirl Boots.