Pajamas
Stop. Pajama time! Of course, you already knew that, since you are shopping our wonderful collection of PJs for adults and kids. You've made it all the way down here to the bottom of the page, and if you've scrolled through some of the above options, you may be in need of a little advice on selecting the awesome-est pair of pajamas to be found. Well, friend, we've got your back! Welcome to our Pajama How-To, where we review popular pajama options, top sellers, and all of the trendiest items on the PJs scene. Keep on reading to find some of the latest trends in the always-exciting world of sleepwear, along with plenty of ideas for family pajamas, licensed pajamas, and holiday pajamas, too!
Family Pajamas
Ready for movie night? Alright, well, we all know what the first step is. We've got to get into our PJs! Of course, if the fam has PJs of the same theme or even a matching set, it's sure to be even more fun. And we can help you out there. Peruse some of our favorite family pajama ideas right here and see if any of them is just what you're looking for. We're sure your family movie crew will be looking sharp with any of these awesome selections!
Bear Cheeks Pajamas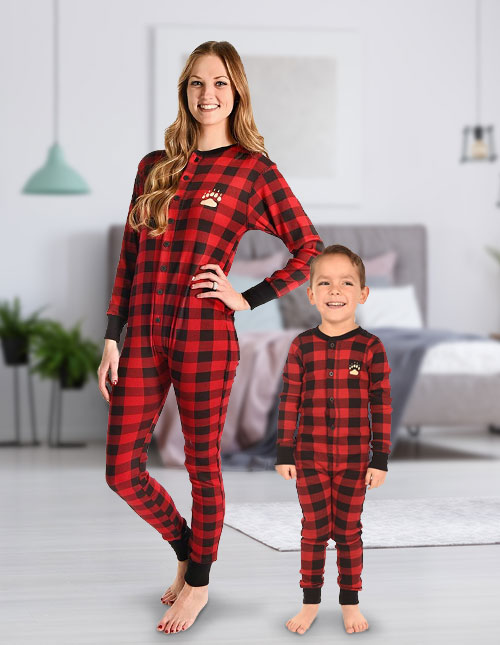 Shopping for matching family Pajamas? Oh yeah, we've totally got you covered there. With unisex designs for both adults and children, our Bear Cheeks Flapjack Pajamas can get your family all done up and super cozy in classic buffalo plaid. Each union suit comes with a button up front, an embroidered bear paw on the chest, and a trap door on the back. This pajama set is sure to liven up any family fun time!
Disney Pajamas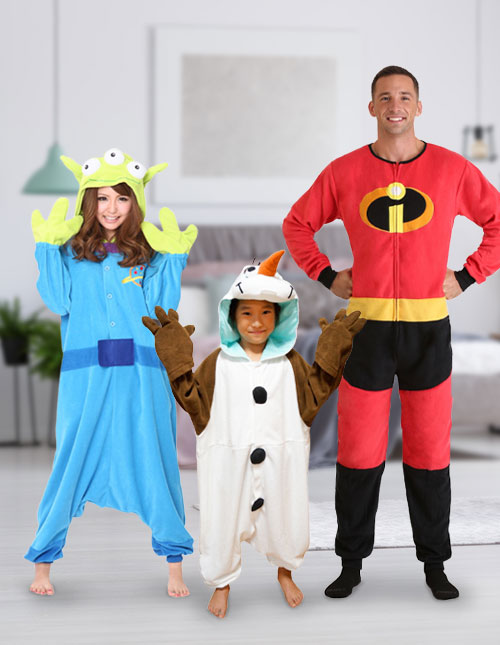 There are lots and lots of Disney movies to choose from, so we don't mind if you mix and match your heroes and characters when it comes time to pick out PJs. Dad can feel like a hero slipping into Mr. Incredible PJs, and maybe Mom can be a little mischievous in pajamas styled after the aliens in Toy Story. You can even get your little one into Olaf pajamas to spread around some warm hugs!
Rugrats Pajamas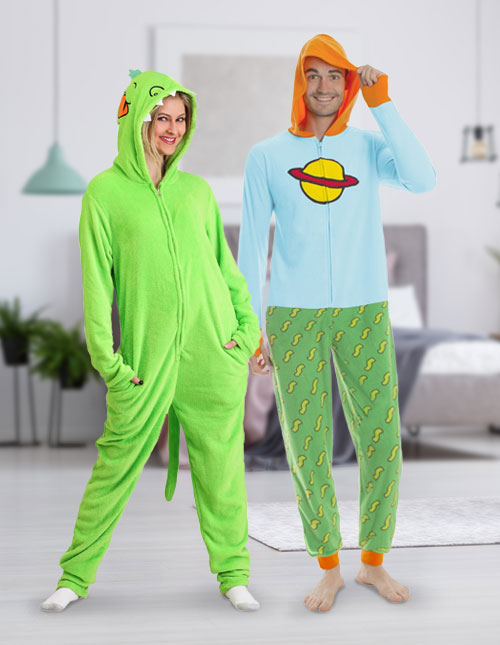 Just because the kiddos are into modern cartoons like Paw Patrol or Miraculous, doesn't mean Ma and Pa can't still relish in their enjoyment of one of their all-time favorites from when they were kids. You know we're talking about Rugrats, of course! We've got a Reptar Union Suit and a Chuckie Union Suit, both cut for unisex sizing, and they make terrific pajamas for after the little ones have gone to bed.
Matching Pajama Sets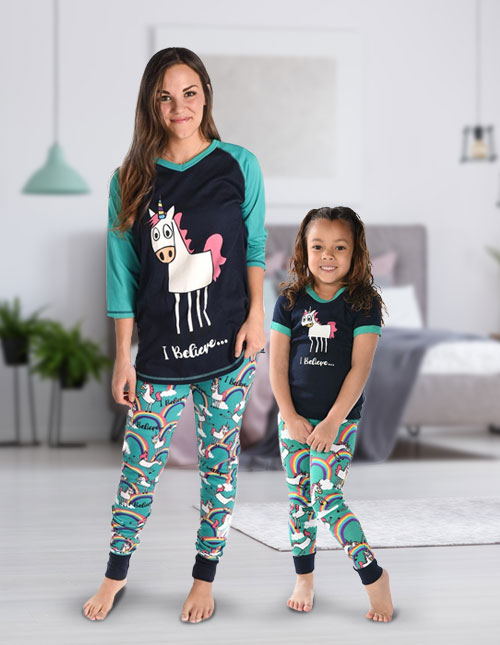 Mom and daughter can both dress in a matching pajama set, and profess their love of mythical creatures when they choose these Lazy One I Believe Pajamas! The women's unicorn pajama t-shirt is all cotton and sports 3/4 sleeves and the pajama pants sport an all-over print. The girls' set has the same theme and has short sleeves instead.
Family Christmas Pajamas
Well, the holiday season has finally arrived. So, Christmas is in the air! But that also means something else is in the air, too. You know, a little bit of a chill! Christmas comes in December, after all, which is prime season for wearing your PJs all day long to stay warm and toasty. So, you know exactly what to do next. We've gotta shop to get the whole family in warm and festive Christmas pajamas! Getting some X-Mas pajamas are sure to be the just the thing to put an extra special touch on the holiday season. Particularly if you're all wearing matching Christmas pajamas on Christmas morning!
Gingerbread Man Pajamas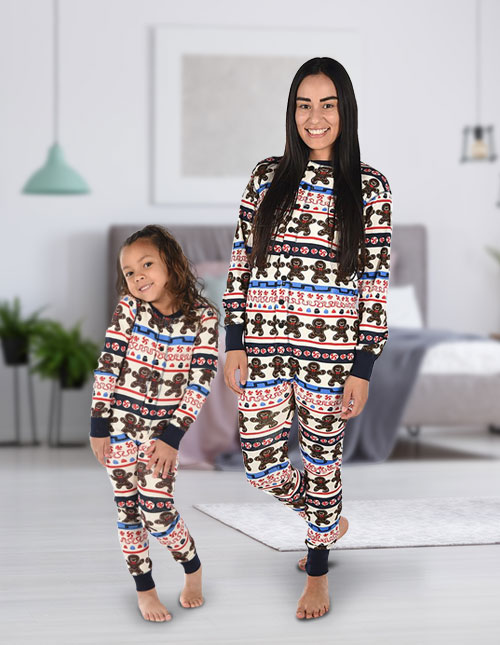 Food's a pretty important part of Christmas celebrations, and there's one particular type of food that's most important of all. Cookies, of course! Get your family into these Gingerbread Flapjack Pajamas from Lazy One, and you'll be able to enjoy a bedtime snack in style.
Reindeer Onesie Pajamas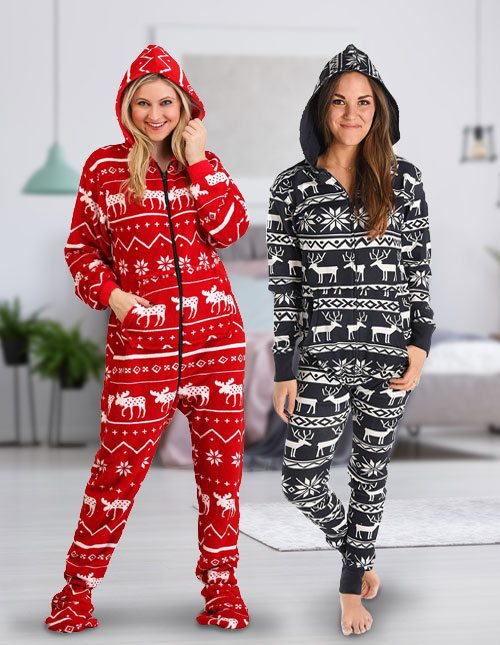 Moose and reindeer are indelibly a part of the winter decorating motif, so we say, make sure you have some reindeer pajamas ready for Christmas! These cute hooded onesies feature repeating patterns of our favorite ungulates, while taking inspiration from ugly sweater motifs, too. They'll be warm, stylish, and just the set of PJs for X-mas!
Pajamas for Women
Everybody loves pajamas! But women have perhaps the most pajama options available. Women can comfortably (and stylishly) sleep in anything from a sleep shirt to a onesie, and we've got plenty of options for those. Along with plenty of traditional and themed pajama sets, too! Check out some of these top sellers and see if any of them are something you'd like to add to your pajama selection.
Women's Pajamas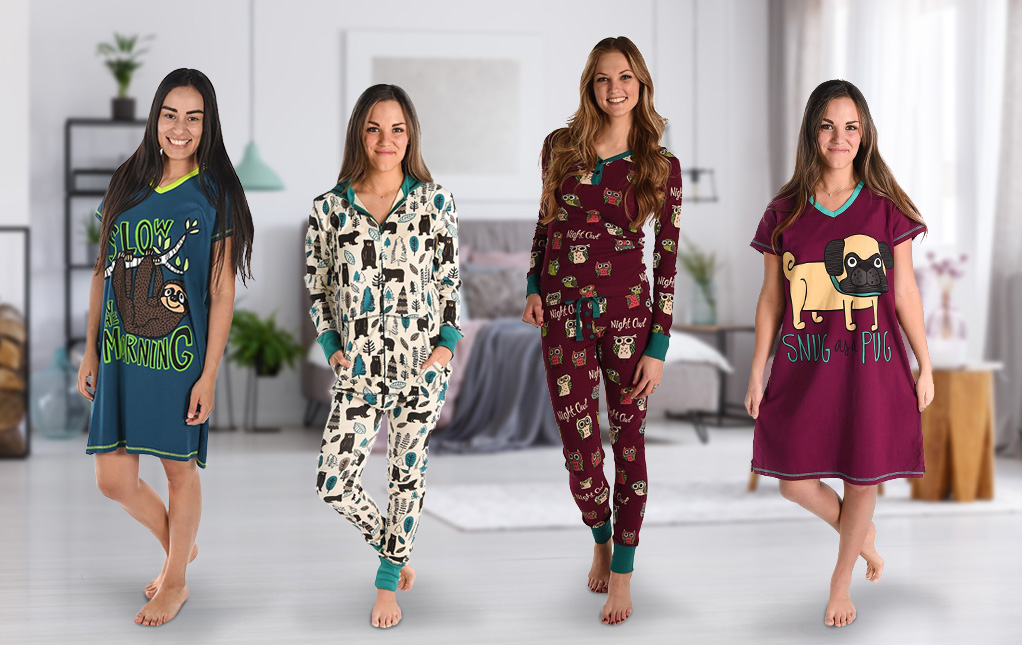 Pick your favorite animal, and then get it on a nightshirt! We have excellent quality oversized nightshirts from Lazy One, and our favorites would have to be the Pug shirt (snug as a pug!) and the Morning Sloth (just a little slow in the morning!). Pajama sets are always a cozy choice, too, and our Night Owl Thermeez set will be perfect for staying up past your bedtime to binge watch your favorite show. And when it's time for the total comfort offered by an adult onesie, our Bear Print Hooded Onesie is a super stylish choice to wear all morning long!
Licensed Women's Sleep Sets
Sleep sets make a great choice for pajamas in warmer weather. They're comfy and cut to keep you cool. But why keep it basic? We say, decide to dress as one of your heroes when you're picking out a sleep set! We've got some great options for that, too. Dress as Wonder Woman, and save the day in your dreams, or pick up our Batman Set if you'd rather set your sights on cleaning up Gotham City. Our Game of Thrones Sleep Set is great if you dream about being the Mother of Dragons, and you can channel Harry Potter himself by dozing off in a lace trim Hedwig cami and shorts set.
Kids' Pajamas
Girls' Pajamas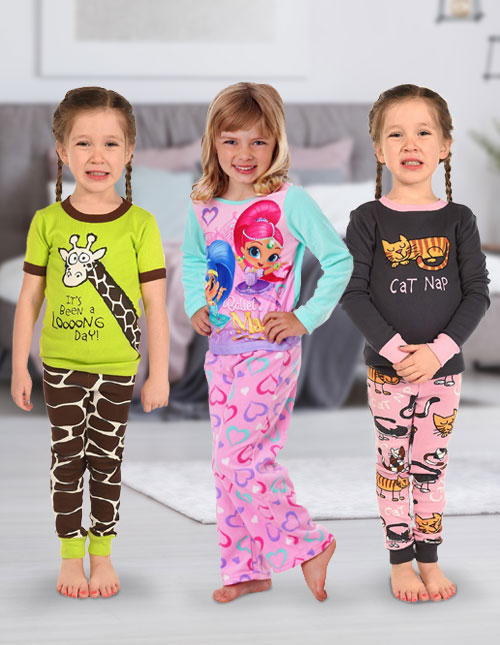 Any young girls are sure to love some extra cute PJs, and if you ask them what kind they'd like, we're sure they'd answer in the most obvious way. Their favorite themes! Everyone loves cats, kids included, so we're sure she'd adore our Cat Nap long sleeve set. Or, if she's more into princesses, there's no cooler way to show it off than with Shimmer and Shine pajamas. And, who wouldn't mind being extra tall? We can let them try that with our Giraffe short sleeve PJs!
Boys' Pajamas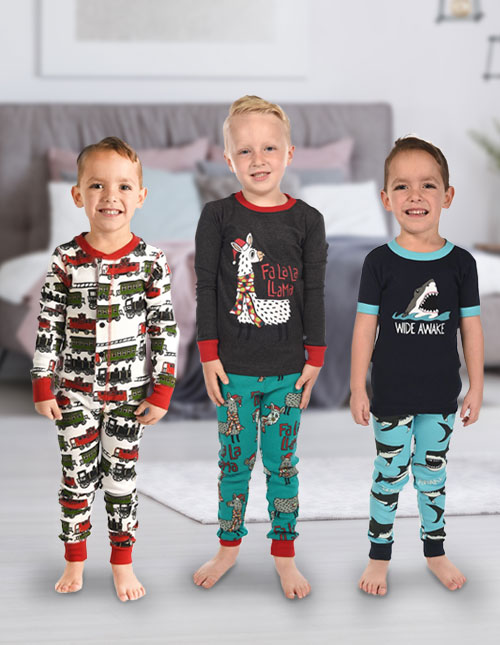 The same idea goes for pajamas for boys, too, we just have to think about what their favorite themes are when deciding which PJs to pick out. Boys always love trains and train sets, so our Trains Caboose Pajamas would be a great choice. Maybe they'd enjoy a Llama that goes "Fa La La Llama" and we've got that covered, too, with our Llama Long Sleeve PJ Set. And, to see perhaps the best choice of them all, just take a gander at our Shark Short Sleeve Pajamas. Because kids always love sharks!
Mickey and Minnie Disney Pajamas for Kids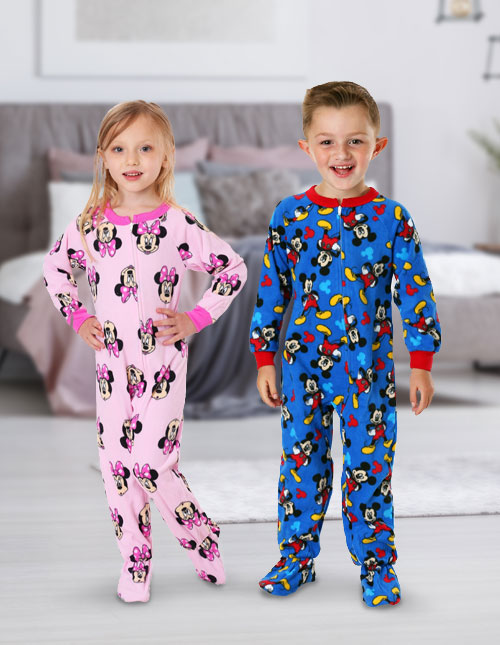 Mickey Mouse and Minnie Mouse are, obviously, at the mountain top when it comes to cartoon characters. And that means they're beloved by kids far and wide! We're sure any kid would thoroughly enjoy slipping off to slumber dressed in PJs that feature the famous cartoon duo. Our Boys' Mickey Mouse Sleeper and Girl's Minnie Sleeper is sure to get any kids excited to get into their PJs.
Nightgowns for Girls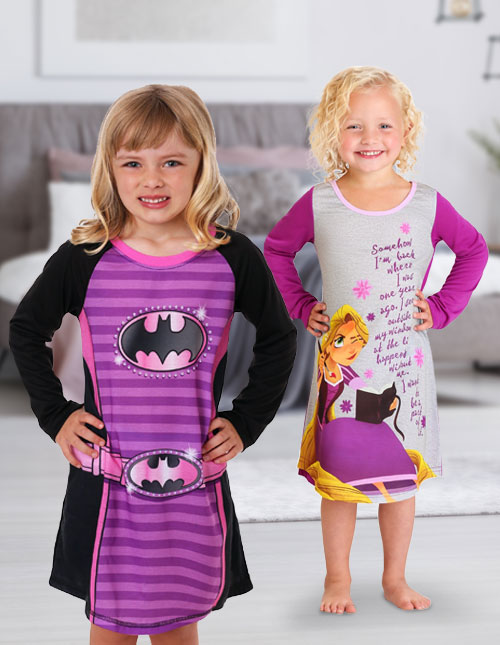 Sometimes, you just want the comfiest pajama option of them all. And that would be nightgowns, quite obviously! You can get your girl started with some adorable nightgown choices by getting our Girl's Rapunzel Nightgown or our Batgirl Nightgown. Either of them will have your girl feeling like a hero as she's dozing off to sleep!
Men's Pajamas
When it comes to picking out PJs for the guys, well, we have one big recommendation. A little geeky fandom fun! That's right, science fiction and fantasy are fun themes for pajamas for guys, but most of our costumes come with generous cuts so they're perfectly fine as unisex selections for women, too. No matter who the geek in your family is, we're sure they'll love suiting up in one of these licensed pajama sets!
Chewbacca Onesie
Rawrghwawggr! Let your guy doze off dreaming about Star Wars when he suits up in this Chewbacca Adult Onesie. Made with soft, polyester fleece, it's the perfect thing to inspire dreams about becoming the pilot of the Millennium Falcon! Men's Onesie Pajamas are perfect if pants just aren't in the mix for their day.
Star Trek Pajamas
Boldly go where no one has gone before when you suit up in these Captain Kirk pajamas. After all, who hasn't had dreams about commanding the USS Enterprise! This slick space onesie is styled just like the uniforms from Star Trek: The Original Series, complete with an embroidered Starfleet insignia and all!
Doctor Who Pajamas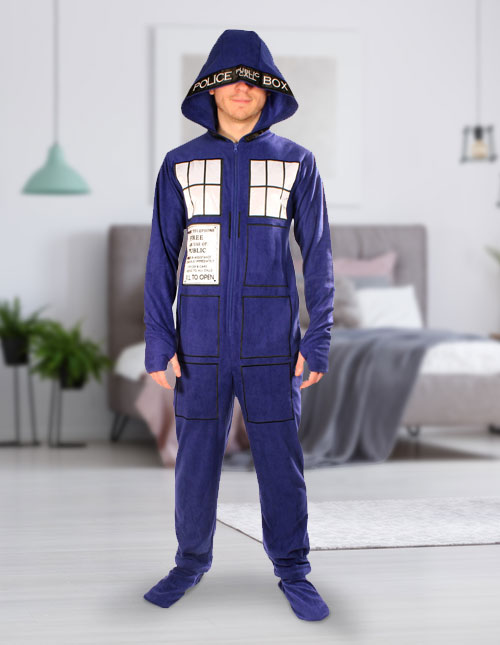 Doctor Who fans are sure to enjoy comfy pajamas when they're binging their favorite show. After all, there's 26 seasons and counting of episodes to watch! This hooded TARDIS onesie is sure to be supremely comfortable when settling in to watch multiple seasons.
Harry Potter Pajamas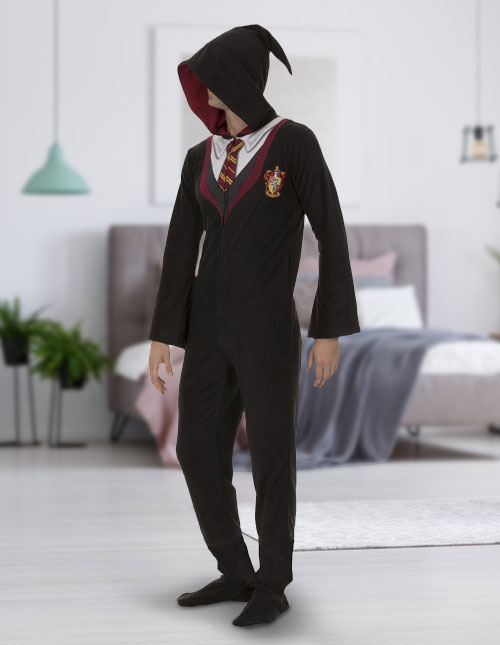 Harry Potter fans are sure to enjoy sneaking a little wizard magic into their daily lives, and what better way to do that than by slipping into some Harry Potter PJs! You can "join" House Gryffindor when you wear these Gryffindor Union Suit Pajamas. Or, you know what we mean, just binge watch all the movies again!