Ugly Christmas Sweater Ideas
Break out grandma's fruit cake and the classic Yule log because Christmas is right around the corner. That means you'll attend a lot of celebrations! There's a company holiday party, caroling get-togethers with friends, and of course you can't forget Aunt Tilly's annual white elephant gift exchange. With the upcoming holiday season approaching, it's a good idea to stock up on two things: gifts for loved ones and Christmas-themed apparel. Luckily, you can get both on Fun.com! In fact, our ugly Christmas sweaters double as excellent presents for friends and family and they also make a great early Christmas gift for you. Pick up one, two, or maybe a handful of different sweaters so you can wear something new to each impending party.
We sell tacky Christmas sweaters to amuse people of all ages, with all kinds of style preferences. Natural entertainers will be enthralled with our funny Christmas sweaters. Nothing says 'happy holidays' like a sweater featuring a knitted image of Santa Claus battling a Grizzly Bear! Browse over our favorite picks until you find the sweater that makes you feel merry and bright this Yuletide season.
Ugly Sweater Ideas
Still haven't locked down your ugly sweater choice yet? Don't sweat it! We have more ugly Christmas sweater ideas to check out. Any of these funny Christmas sweaters can be nestled under your tree as a present for a loved one, or get one for yourself for all your impending festivities. All these sweaters are unconventional, pop-culture related, and will become the hit topic of conversation at any holiday themed party. Is it possible that you'll become more popular than the big jolly guy in the red suit? We can't say for sure, but we believe Christmas miracles can happen.
Krampus Sweater
It's the perfect ugly Xmas sweater for those who have showed up on the naughty list year after year. Don't worry troublemakers, we have Christmas-themed apparel for you, too. This Krampus sweater is a great option for all you mischief-makers out there because the biggest holiday heel of all time is featured on front. Wiggling his long (and insanely creepy) tongue, Krampus looks menacing but in the coolest way possible. Dare to be even bolder? Accessorize this look with a Krampus mask.
Hanukkah Ugly Sweater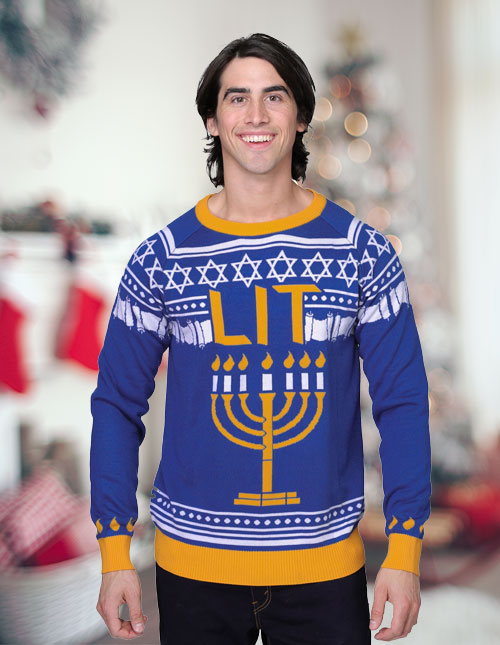 Spin the dreidel, cause 'tis the season to get "turnt!" Make the most out of Hanukkah by sporting our exclusive apparel which features a burning menorah, stitched images of the Star of David, and the slang-word-of-the-moment, "lit." (We don't get it either but all the kids are saying it.) This is a unisex sweater so both men and women can wear it while they sit down with their family to eat some delicious latkes. It's also the perfect Hanukkah ugly sweater to wear to any holiday party and gives you the chance to teach others some facts about your religion.
3D Ugly Christmas Sweaters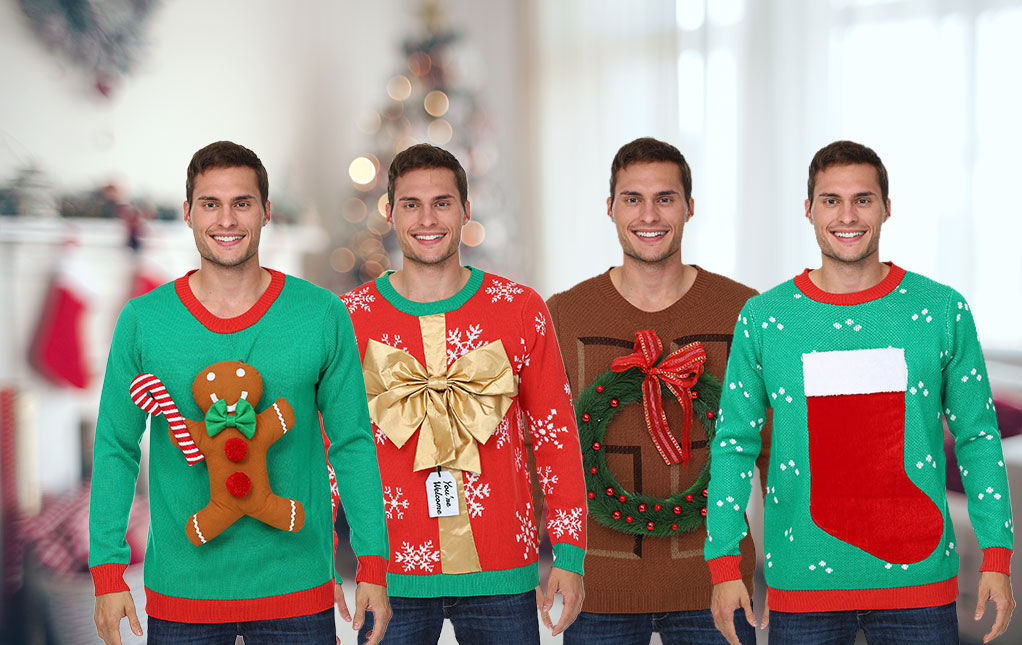 Want to make an eye-popping first impression on your blind date this holiday season? You'll find hard to forget apparel when you check out our selection of 3D ugly Christmas sweaters. They're off-the-wall and that's a good thing really. The stocking sweater is actually functional. Fill up the stocking with goodies for everyone to add your own personal touch. Your date will think: wow this guy/girl is fearless with their fashion choices and they're down with the holiday season. This is a really cool person! Just warning you, these joyful sweaters have been known to make Santa's elves jealous. (Hint to Santa: get your elf appreciation gifts right here.)