Ugly Christmas Sweaters
Ugly Christmas Sweaters
Break out grandma's fruit cake and the classic Yule log because Christmas is right around the corner. That means you'll attend a lot of celebrations! There's a company holiday party, caroling get-togethers with friends, and of course you can't forget Aunt Tilly's annual white elephant gift exchange. With the upcoming holiday season approaching, it's a good idea to stock up on two things: gifts for loved ones and Christmas-themed apparel. Luckily, you can get both on Fun.com! In fact, our ugly Christmas sweaters double as excellent presents for friends and family and they also make a great early Christmas gift for you. Pick up one, two, or maybe a handful of different sweaters so you can wear something new to each impending party.
We sell tacky Christmas sweaters to amuse people of all ages, with all kinds of style preferences. Natural entertainers will be enthralled with our funny Christmas sweaters. Nothing says 'happy holidays' like a sweater featuring a knitted image of Santa Claus battling a Grizzly Bear! Browse over our favorite picks until you find the sweater that makes you feel merry and bright this Yuletide season.
Funny Ugly Christmas Sweaters
It's time to become a Christmas party legend! You don't become legendary by bringing stocking-shaped sugar cookies to a party (even though everyone would be very grateful). Holiday party greatness can be achieved by simply wearing any of our funny ugly Christmas sweaters. Everyone will want to talk to the guy (or gal) sporting a Rick and Morty ugly Christmas sweater! We sell a variety of women's funny Christmas sweaters so ladies can make party guests chuckle, too. Take a peek at some of our favorite picks before you choose one for yourself!
Rick and Morty Ugly Christmas Sweater
There's no better way to celebrate "a happy human holiday" (perhaps the happiest of them all) than by wearing this eccentric Rick and Morty ugly Christmas sweater. This sweater has a lot going on so don't be surprised if others stop to examine it. It features the titular characters on front and an image of a detonated Santa on back. (Sorry, St. Nick.) After gulping down a few glasses of eggnog, you'll love screaming out a hardy, "wubba lubba dub dub!"
Star Wars Christmas Sweater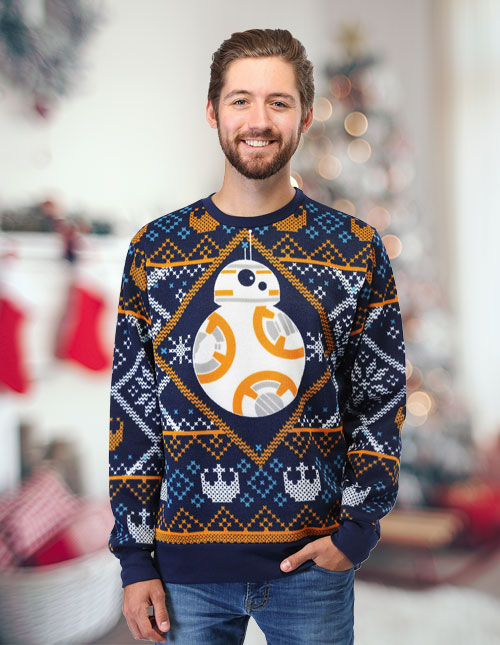 Imagine how cute BB-8 would look dressed up as a mini Christmas tree. Our hearts burst with happiness at the thought! We can't give you a droid dressed as a Douglas fir but we can wrap you in a BB-8 holiday sweater. This Star Wars Christmas sweater features Resistance symbols in 8-bit form as well as an image of BB-8 on the front and back. We recommend wearing it to the office holiday party while making chirpy little "beep boop" noises. It's a surefire way to amuse your co-workers!
Merry Christmas Ya Filthy Animal Sweater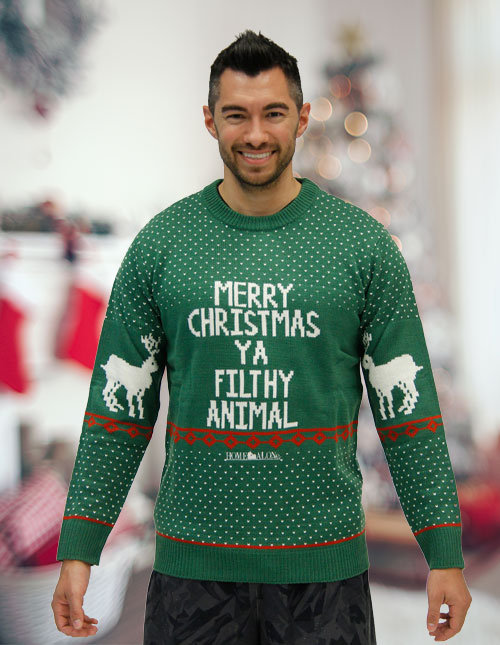 As children growing up, we idolized Kevin McCallister. We related to his affinity for cheese pizza and snooping in his brother's room, plus his tenacity inspired us. We secretly hoped a duo of inept criminals would attempt to break into our home so we'd have a chance to repel them with childish pranks. Now your adult-self can live out your childhood fantasies by sporting this Merry Christmas Ya Filthy Animal sweater. We wouldn't advise shooting one of your party guests in the forehead with a BB gun, though. That would be pushing things just a little too far.
Laser Cats Sweater
Cat owners know the damage that our feline friends are capable of, especially around the holidays. Pets think that every shiny round object is a toy for them. Naturally, some disasters have ensued. Our cat, Chester, brought the whole tree down back in '98! If a Christmas catastrophe transpired because of your cat and you love telling the story every holiday season, then this laser cats sweater is exactly what you need. Featuring an assortment of cats beaming green lasers into a heap of wrapped gifts, this unique ugly Xmas sweater is a great pick for animal lovers. Wear it to a Christmas potluck at the local animal shelter!
Best Ugly Christmas Sweaters
You may be thinking: What? We seriously haven't seen the best ugly Christmas sweaters yet? But all of them have been the perfect mix of humorous and hideous! That's right folks, the best ugly Christmas Sweaters are yet to come. In this next section, we'll show you groups of awesome sweaters that are tempting to wear even after the holidays have come and gone. It's not weird to wear a snowman sweater in February…right?
3D Ugly Christmas Sweaters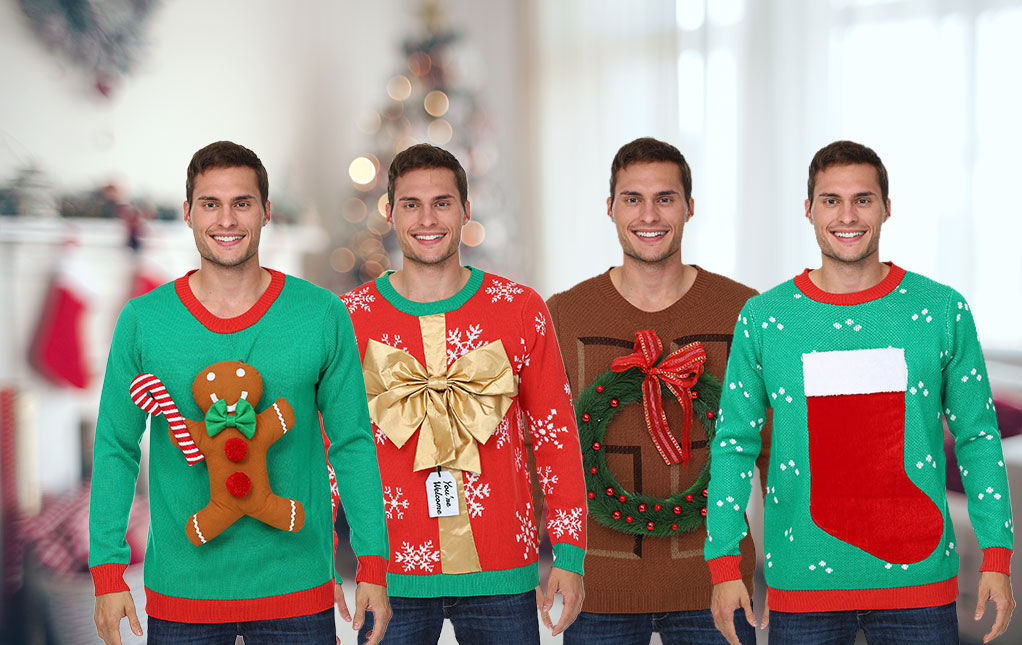 Want to make an eye-popping first impression on your blind date this holiday season? You'll find hard to forget apparel when you check out our selection of 3D ugly Christmas sweaters. They're off-the-wall and that's a good thing really. The stocking sweater is actually functional. Fill up the stocking with goodies for everyone to add your own personal touch. Your date will think: wow this guy/girl is fearless with their fashion choices and they're down with the holiday season. This is a really cool person! Just warning you, these joyful sweaters have been known to make Santa's elves jealous. (Hint to Santa: get your elf appreciation gifts right here.)
Funny Ugly Sweaters
Forget cracking jokes, that's too much work, just wear a Santa butt crack sweater instead. It's the best way to make a humorous statement without saying anything at all. All of the funny ugly sweaters that you see right here are some of the most popular options to wear to a holiday party. Images of cartoon cookies and KO'd sharks are not exactly typical Christmas figures but maybe they should be. We're a little tired of seeing decorated trees and wrapped presents and maybe everyone else is too. Whether you plan on giving one as a gift or you're going to wear one yourself, it will definitely bring the Christmas cheer.