Buy Golden Girls Merchandise
It was a special time in history. Sally Ride became the first woman to travel into space. The first commercially available cell phone hit the markets (and it was totally the size of a cinder block). Ghostbusters was lighting up the theaters and Live Aid brought together a crazy collection of the world's music artists together. But, if you ask us, the greatest gem that came out of the 80s happens to be a simple show about 4 elderly women full of sass! That's right, we're talking about The Golden Girls. We're going to go ahead and say it right now. The Golden Girls may just be the greatest TV show ever made. This is a hill that we're willing to die on.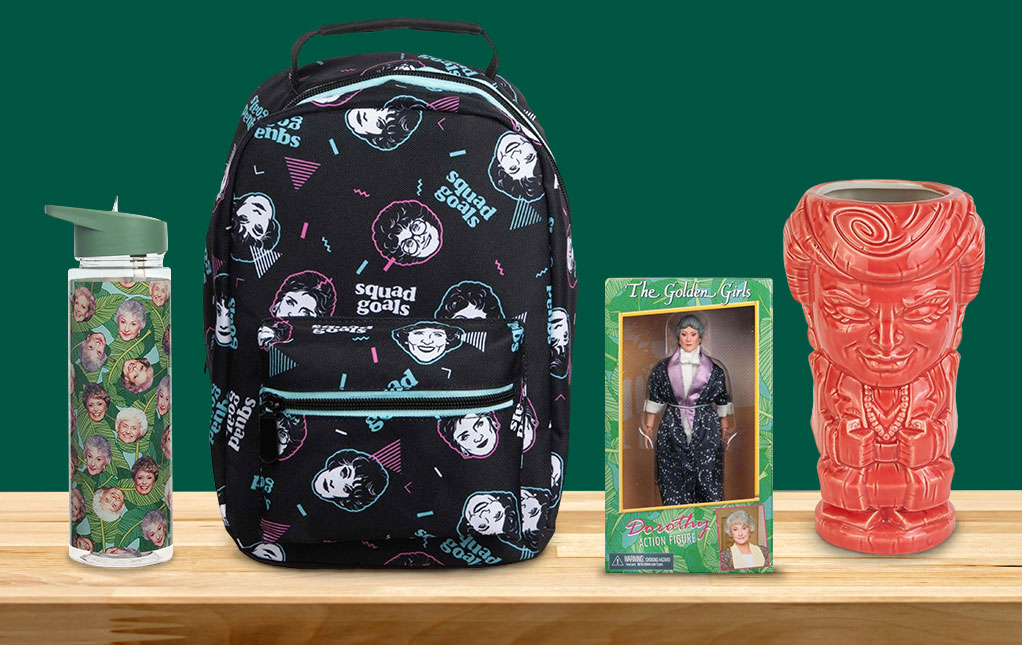 Starring the amazing cast of Bea Arthur, Betty White, Rue McClanahan, and Estelle Getty, those girls made us laugh. They made us cry. They even made us all wish that we could retire and call Miami our home! The series was nominated for countless awards, and each main actress received an Emmy Award for their performances! Some of those episodes have just stayed with us, even 30 years after the finale aired! Of course, we want to take a piece of the show with us everywhere we go, and that's exactly why we've brought together some of our favorite Golden Girls merchandise right here! If you're a fan of the show, or if you have a huge Golden Girls fan in your life, then you're going to love all of the Golden Girls gifts we have for sale.
Golden Girls Clothing
Clothes are a great gift for just about everyone, since… well, everyone wears clothes. From young fans who are rediscovering the show through streaming services to the old fans who were there watching the series from the start, you can find some Golden Girls apparel that will make any fan happy. Comfy shirts, hoodies and sweatshirts, and even some great accessories are just waiting within our collection. We'll walk you through the many different types of apparel we have, so you can choose the right one!
Golden Girls Shirts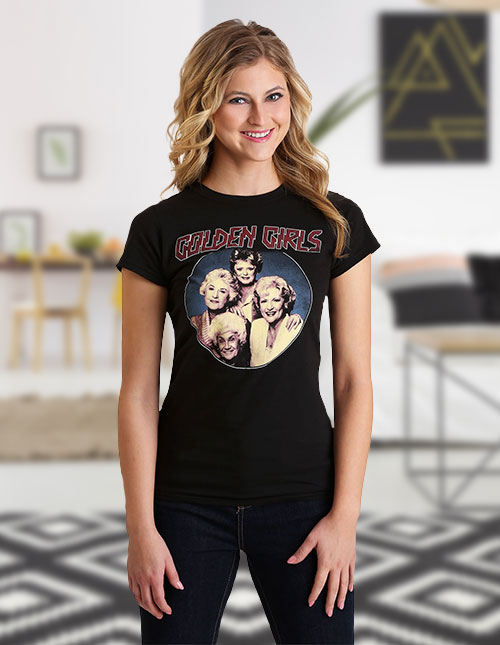 Who invented the t-shirt? We'd like to travel back in time and give them a big hug, because we can't imagine a world without them! They're cool during those warm summer days. They have a simple design that's easy to wear with a million different styles. And, last but not least, you can get ones with your favorite gal pals on them! A Golden Girls shirt is a simple gift that will show just how much you "get" that fan in your life. Or you could just get one for yourself and bring the sassy spirit of Sophia with you everywhere you go.
Comfy Golden Girls Socks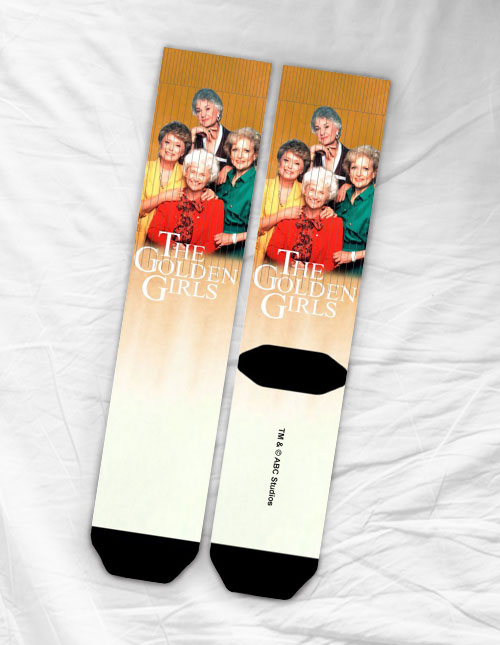 We can admit it. Socks are one of the best articles of clothing anyone can own! As much as we love a good t-shirt, a warm hoodie, or an accessory that just brings a whole outfit together, nothing feels better than slipping on a pair of cozy socks to start your day. And what better way to start your day than with Dorothy, Rose, Blanche, and Sophia? A pair of Golden Girls socks are a subtle way to infuse your favorite show into your everyday style, and it's a simple gift that's great for just about any fan's feet.
Stay Golden Sweatshirt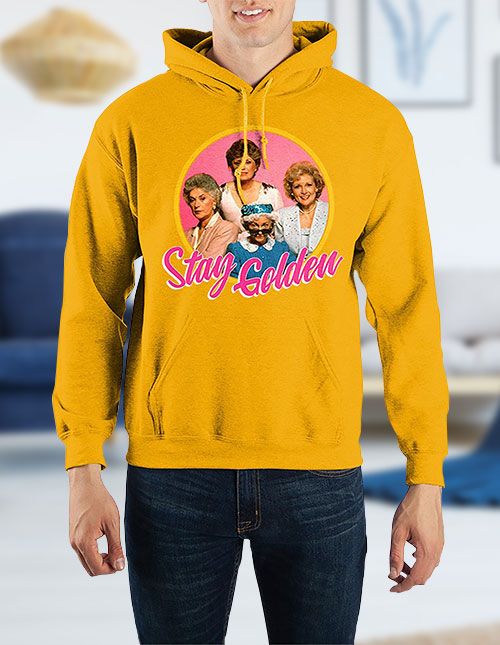 Heading into sweater weather? Even Miami has chilly days. We imagine the girls have some great sweater options to help them out on those sorts of days. Us? We like the tried-and-true sweatshirt. Grab one of our Golden Girls sweatshirts and you can stay nice and cozy with your favorite quartet of girls. Just imagine resting by the fireplace while wearing one of these, snuggling up with a cup of hot cocoa and a blanket… or maybe just wearing it while you binge watch the series again on the couch! Either way, a Golden Girls sweatshirt is going to set the mood!
Golden Girls Bags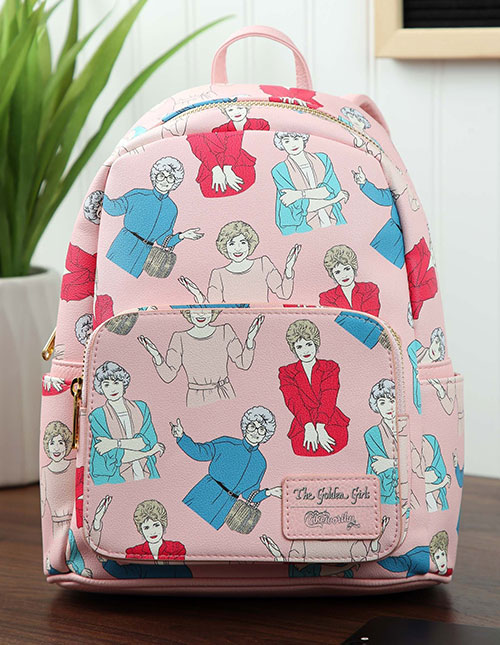 Heading out? Then you'd better grab your bag. Everyone has their own preference when it comes to bags, from the crossbody style to handbags. We carry a wide selection of them, but we really like the mini-backpack. They're cute, just the right size for a few necessities, and they can even be carried in hand if you don't feel like wearing them on your shoulders. We have a ton of them for sale, including brands like Loungefly and Cakeworthy. That means it's easy to find a Golden Girls bag that suits your style.
Collect Golden Girls Memorabilia
We specialize in finding some of the strange and rare merch out there, and you'd better believe that there's a wide selection of cool Golden Girls memorabilia to collect. Yep. We're talking Golden Girls action figures, games, and tons of stuff that will make any Golden Girls' fan heart melt. We'll just highlight a couple of our favorites, which are soon to be your favorites!
Golden Girls Funko POP!
As collectors ourselves, we just can't get enough of Funko POP! figures. The great thing about them is that they're cute, affordable, and they come in styles based on everything pop culture. From classic Disney characters to obscure characters from those movies that only a couple of people have ever heard of! Funko does it all. If you want to purchase a collectible toy to jumpstart your Golden Girls fan's collection, then one of these Golden Girls Funko POP! figures is a great way to do it!
Golden Girls Games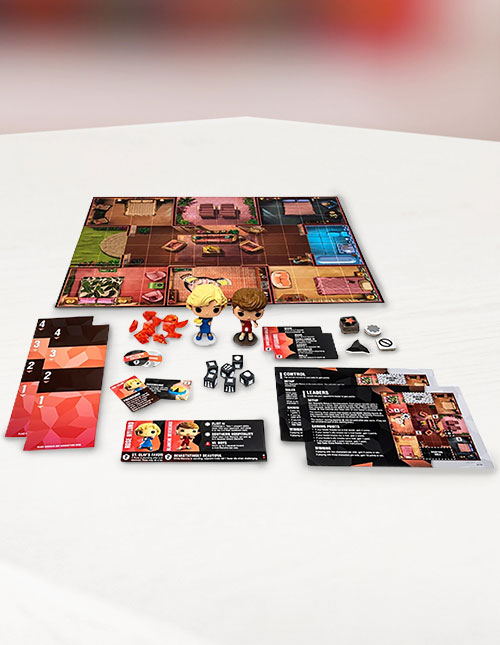 Do you and a friend have a lazy afternoon to spend together? How about a game. Board games have gotten a lot more complex since the days of Monopoly and Clue! We have things like Catan and Ticket to Ride becoming a lot more popular… but did you know that there are some dedicated Golden Girls games? Yep! That's right. Sometimes all you need to turn a humdrum afternoon into a blast is a game that features Rose, Blanch, Dorothy, and Sophia!
Blanche Chia Pet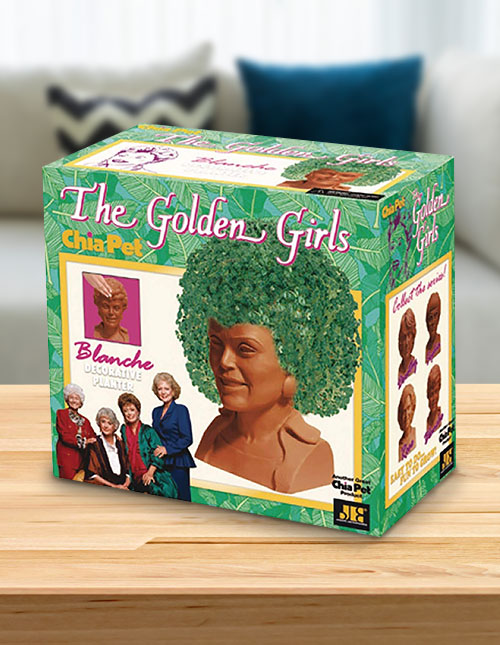 Chia Pets first gained popularity in the 1980s. In fact, the first ones hit the market back in 1981, just a couple of years before the first episodes of The Golden Girls hit the television. Originally, they just came in a couple of styles based on animals, but these days, you can find adorable version of popular characters, including the main cast of the classic series. Their curly, totally 80s hairstyles make for the perfect Chia Pet! If you have someone with a green thumb, or someone who wants to add a little greenery to their office, then one of these Golden Girls Chia Pets is definitely the answer.
Golden Girls Drinkware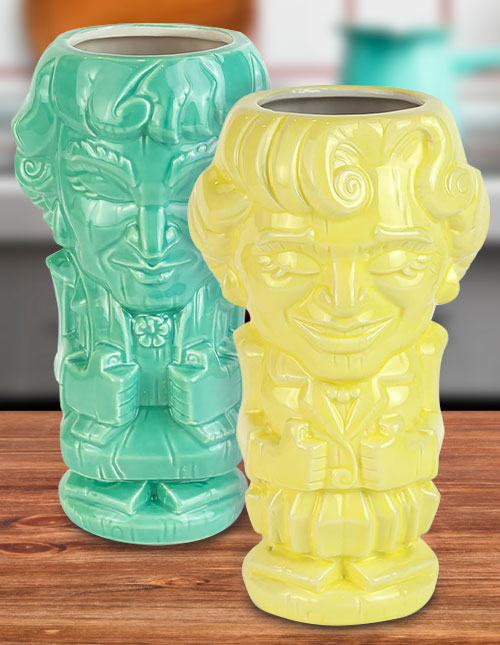 The girls have been known to kick back, relax, and smell the roses! Of course, the best way to do that is with a tasty drink by the beach. What if we told you that you could enjoy a relaxing drink by the beach with the girls? All you need is some of our Golden Girls drinkware, which include a wide variety of tiki mugs and pint glasses. Just fill them with your favorite adult beverage and let the good times roll! When you're done using them for your afternoon, then just display them on the shelf!