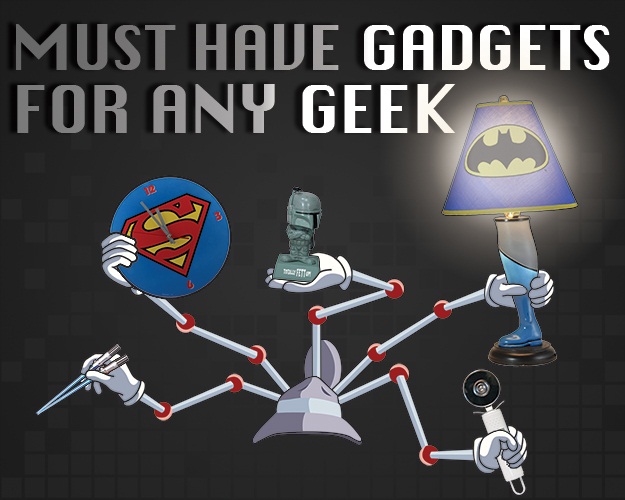 How do you geek out? Do you wear superhero t-shirts and thick, black glasses in order to pull off the geek chic look we've all been dying to perfect? Do you pride yourself on having the coolest collection of tech toys and geek memorabilia, your shelves full of Funko Pop Vinyl figures? Or do you just consider yourself a geek at heart? The good thing about being a geek is it can encompass anything; superheroes, Star Wars, Disney, anything goes! No matter which type of geek you might be, we wanted to share some of our geekiest gadgets that add the perfect amount of nerd and FUN to everything!
1. ELECTRIC SUPER MARIO KART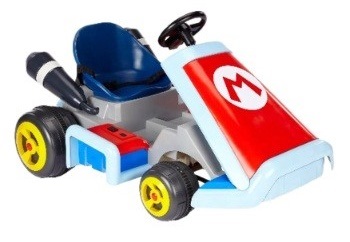 Life-Size Electronic Ride-On Mario Kart
Want to earn some cool points with your kids (or maybe just relive your childhood)? This life-size, driveable Mario Kart is the way to go. Tie some balloons on the back and pair the kart up with one of these awesome Nintendo costumes and your kid will have the best Halloween costume on the block, hands down!
2. BATMAN CUFFLINKS
DC Comics Batman 4GB USB Cufflinks
We totally get that most places of business might not take you seriously if you come to work dressed like Batman. (Except FUN.com, of course.) If your 9-5 job requires a suit, you can still get your geek fix by sporting some Batman cufflinks! Not only do they make a dull suit stunning, but when no one in the company meeting has a USB, Batman saves the day again!
3. DEATH STAR PLANETARIUM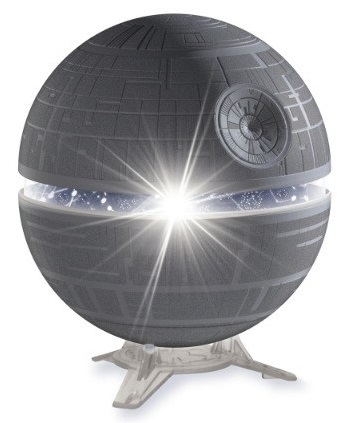 So you've got a date, and you want to show her your true geeky self, but still be romantic all at the same time. Is that even possible?! Yes! How about gazing at the stars? The Death Star that is! Anything is possible.
4. ELSA TALKING ROOM LIGHT
Elsa Wall Friends Talking Room Light
Is your child or someone you know (cough, cough, you…) afraid of the dark? Unfortunately, a fear of dark rooms is an anxiety many of us hold onto from childhood and it is hard to just, wait for it, Let it Go! Elsa can talk you through your worst fears and help a Frozen-obsessed friend embrace the dark.
5. THOR'S ELECTRONIC HAMMER
Thor Electronic Lightning Hammer
Chances are you aren't a god capable of brandishing such a powerful hammer, but no one said you can't pretend. Mjölnir, better known as Thor's hammer, has a name that roughly translates to "that which smashes," and the ability to crush mountains. You can take pretending to the next level with the thunder and lightning effects this hammer comes stocked with.
6. TRANS-TEMPORAL SONIC SCREWDRIVER
Doctor Who Trans-Temporal Sonic Screwdriver
This gadget can do everything for you. It can pick a lock, track alien life, conduct a medical scan, it can … okay, that's just in the show. You might not actually be able to fix the TARDIS with this Doctor Who Trans-Temporal Sonic Screwdriver replica, but it lights up and sure has some cool sound effects! It's definitely a great prop to take your cosplay to the next level.
7. DARTH VADER TOASTER
Vader finds your lack of breakfast disturbing. Sunday morning brunch has never been more exciting when Darth Vader brings the geek vibe to your kitchen and your breakfast table. Bacon, eggs, Star Wars toast, and a cup of your favorite dark (side) roast coffee – cheers!
8. R2-D2 TALKING PIZZA CUTTER
R2-D2 Talking Pizza Cutter
Boop-beep-be-bo-boop-beep! Pizza has got to be one of the best things ever invented, with Star Wars as a close second. Now we can combine our love for both and cut our pizza in pure Star Wars magestry. If only we could convince R2-D2 to serve the pizza himself, life would be complete.
9. COOKIE SHAPED CUP WARMER
USB Powered Cookie Shaped Cup Warmer
Have you ever spent your Saturday morning wrapped up in a blanket with your cup of coffee, and you get lost in a book, game, or an intense bout of online shopping? Cut to three hours later when your coffee is ice cold and you have to get up to reheat it. This USB cup warmer looks delicious and keeps your beverage warm while you are working (or playing)!
10. LIGHTSABER CHOPSTICKS
Star Wars Luke Skywalker Lightsaber Chopsticks
Sure, wooden chopsticks are fun to use, and they get that delicious Asian food in your belly just the same as any other utensil, but why would you risk getting a splinter when you can use The Force to enjoy your meal? So what if you get a few stares as you whip these chopsticks out of your pocket and sit to enjoy your cuisine? (#WORTHIT)
Which gadget is your favorite? Do you have any ideas for a nerd-inspired device of your own? Let us know in the comments! Don't forget to check out the rest of our geeky gadgets and electronics while you are racking your brain.