Creating Easter baskets filled with candy is a time-honored tradition, but even non-candy Easter gifts have been making their way into baskets for years. Whether you're trying to be health-conscious or you like the idea of Easter baskets containing candy and toys, we'll show you a variety of fun Easter gift ideas for all ages. Sure you're going to see plenty of bunny gift ideas, but little toys and trinkets from your giftee's favorite franchises go a long way, too. Of course, you can always add a larger gift or two if you'd like! Keep reading to find the perfect Easter gift for someone you love!
Easter Basket Ideas for Adults
Easter gifts often focus on the kids, but it can't hurt to sneak in a gift for an adult friend or family member. Whether or not you decide to create an adult Easter basket, Easter decor gifts are sure to be welcome additions to anyone's home—and pastel apparel for Easter is a must! Even giving a fun little pair of Easter socks with a handwritten card goes a long way. These thoughtful adult Easter gifts are sure to be appreciated.
Easter Basket Ideas for Kids
Kids love opening up plastic Easter eggs to find delicious goodies inside, so why not mimic the excitement with a few blind box toys? Funko's Mystery Minis carry a wide variety of toy surprises, while you can find other offerings such as Polly Pockets or LOL Surprise toys. However, there are plenty of other great Easter gift ideas for kids. If you have a child obsessed with LEGO toys, you can find a small set (or a bigger one if that's what you want)! We also have animal plush toys and pillows such as this adorable Sonic the Hedgehog plush.
Easter Basket Ideas for Toddlers
Toddlers can be a handful even without the added sugar boost, so why not add a few small toys to their Easter baskets? Popular children's book characters include a few bunnies such as Peter Rabbit and the family in Goodnight Moon, which make great gift ideas for toddlers on Easter. Stuffed animals also make amazing toys for toddlers as they're safe, soft and soothing, not to mention a new friend! If you're still planning on getting your tot a few Easter treats, why not add a silicone grip dish to help them keep the chocolate mess off the floor?
Easter Basket Ideas for Teens
Are teenagers too old for Easter gifts? Certainly not! Their tastes may have grown up, so their Easter gifts can, too. Health-conscious teens may not want an Easter basket full of candy, but a keychain for their house and car keys or some apparel with their favorite movie and TV show fandoms are sure to please. If your teen has any interests, such as crafting or collecting, why not feed into their hobbies with thoughtful gifts they will use? Also, don't let the idea of an "Easter basket" cramp their style. You can always put their Easter gifts into a reusable backpack or a cute tote bag for green teens!
Easter Basket Ideas for a Boyfriend
While your boyfriend may or may not be all about the cute chicks and bunnies that are part of the Easter scene, you can still find some practical gifts he'd enjoy. Feed into his fandom with a Funko Pop! vinyl figure if he's a collector, or there are several board games for two. You can also find a few practical gifts your boyfriend will love, from cozy loungewear to some nerdy-yet-practical home goods.
Easter Basket Ideas for a Girlfriend
A pretty pastel palette is often associated with Easter, so why not find a few pastel gifts? Your girlfriend may love some new apparel and accessories to help her show off her personal style! Or, does she have a love for pop culture or specific TV or movie characters? Collectibles, puzzles and other licensed items with her favorites are sure to make her smile.
Girl Easter Basket Ideas
Small toys and other items are easy ways to add non-candy Easter gifts to any basket. Your little girl will love a new plush, or perhaps a doll or mini speaker. If she has other interests, that's fine, too! We're sure you can find something she'll enjoy.
Easter Basket Ideas for Boys
Toys and games make great Easter basket fillers for boys. If the items are small enough, you can even hide them inside plastic Easter eggs along with the candy! No matter how you choose to present your boy's Easter basket, we're sure he'll have tons of fun.
Cute Easter Gifts
If you have your heart set on bunny-themed gifts, don't fret! The White Rabbit from Disney's Alice in Wonderland is adorable on this dress by Cakeworthy, and this cute Easter puzzle with cookies looks good enough to eat. There's also more to Easter than inexpensive little toys! Cute cups and blankets make wonderful gifts to find in baskets, too.
Easter Basket Ideas for Mom
Being a mom is hard work, so gifts that make her feel cute and comfy go a long way. Lounge leggings, cozy scarves and adorable wallets in pretty pastels remind us of spring! Mom can also snuggle up with a blanket and a beverage of choice after all the Easter festivities. It's a nice way to wind down at the end of the day!
Easter Basket Ideas for Dad
Dads also enjoy comfortable clothing when it's time to unwind. This nerdy yet casual apparel is great for around the house or when dad is on the go. (You might also want to slip him this little pocket notebook set, so he doesn't forget the milk while running errands again!) Packs of coasters and other useful items for around the house or his man cave are sure to be appreciated.
Easter Basket Ideas for Tweens
Being a tween can be complicated, but finding Easter gifts for tweens doesn't have to be! Encourage learning fun with STEM toys and puzzles, or let them kick back and relax with their favorite tunes on a personal speaker. Also, what could be more Easter than STEM toys featuring candy?
Easter Gifts for Grandchildren
As a grandparent, that puts you in the unique position to buy gifts for your grandchildren that make all the messes and noises that the kids want, with the luxury of being able to send them home. While this power may tempt you to simply fill them up with Easter candy, you can find plenty of wonderful gifts that are educational, messy, noisy and FUN. You might even be tempted to keep these toys at your place when the grandkids come to visit!
Arranging Themed Easter Baskets
If you're looking to take your Easter baskets to the next level, we'll be showing you how to create baskets with themes for your nerdiest giftees. Small plushes, t-shirts and figurines make great basket stuffers, but it's fun to add a larger or more expensive item or two for that "wow" factor. Also, you're more than welcome to stray from the plastic basket and grass if you're going green. Tote bags and backpacks are great items to fill with Easter goodies that can be used for a long time to come!
Gamer Easter Basket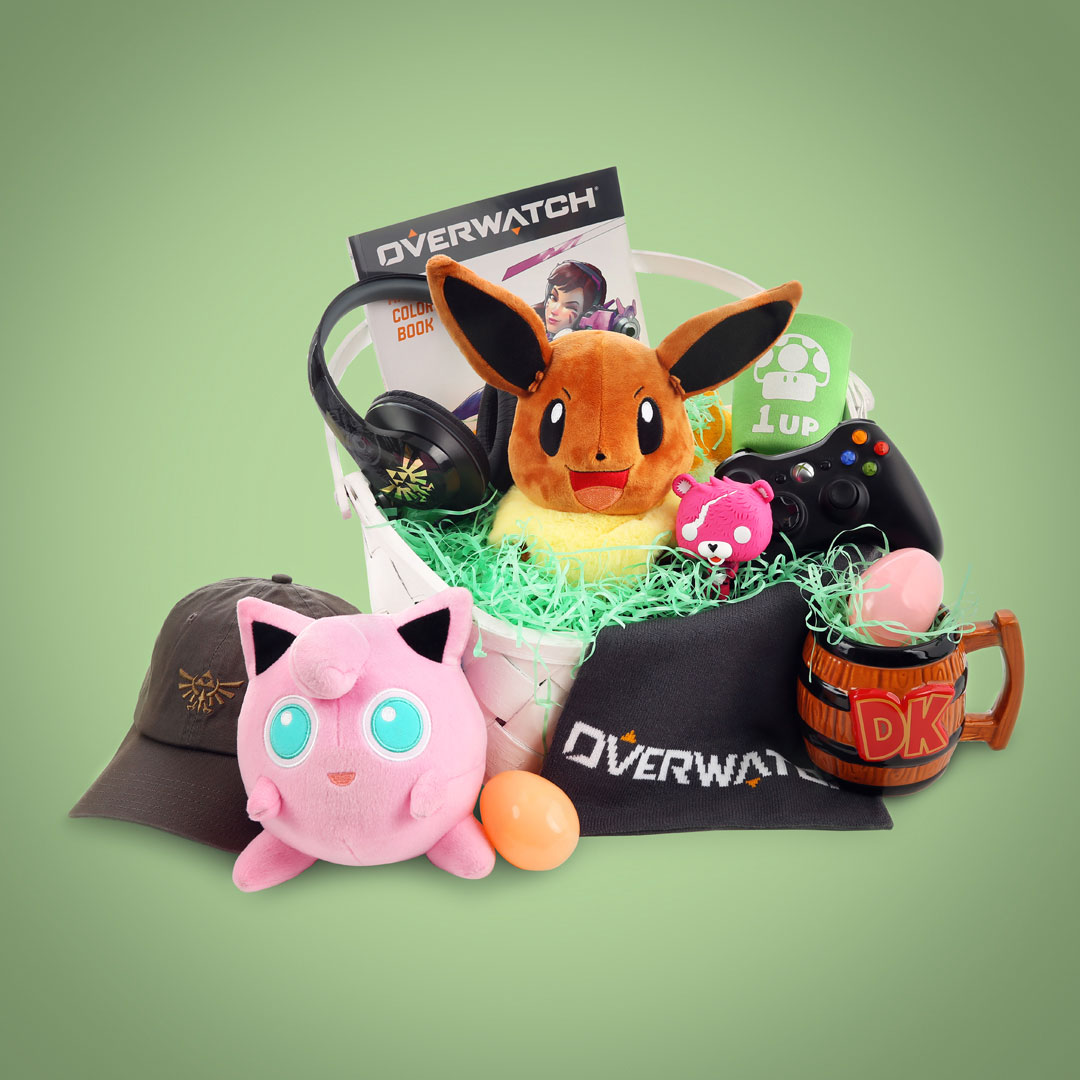 A gamer Easter basket is easy to assemble for any type of gamer, whether they prefer Nintendo, PlayStation or other platforms. Small basket fillers like hats, shirts and pop figures are available for a wide variety of video games. You can also get plush toys and collectible figurines, or more practical gifts like mugs and headphones. The sky is really the limit when you know which games your loved one prefers!
Game of Thrones Easter Basket
It should be of no surprise to anyone that a Game of Thrones Easter basket should include some form of themed drinkware. There are plenty of goblets, steins, pub glasses and mugs to ensure that your loved one can drink and know things while they watch their favorite television series! Other small but fun basket fillers include apparel and accessories, figurines, house banners and other collectibles. If you know that the giftee is going to continue to watch and re-watch Game of Thrones after Easter, you could give them a Game of Thrones watch party in a basket!
Star Wars Easter Basket
Star Wars has been around for decades, so you're in luck if you want to make a Star Wars Easter basket! Apparel, hats, toys and figurines, notebooks, drinkware—the list goes on for Easter basket filler ideas. You can even make an Easter basket featuring one of their favorite Star Wars characters such as R2-D2, Rey, Luke Skywalker or Chewbacca. Star Wars baskets can be made for children or adults because there are so many great gift ideas!
Marvel Easter Basket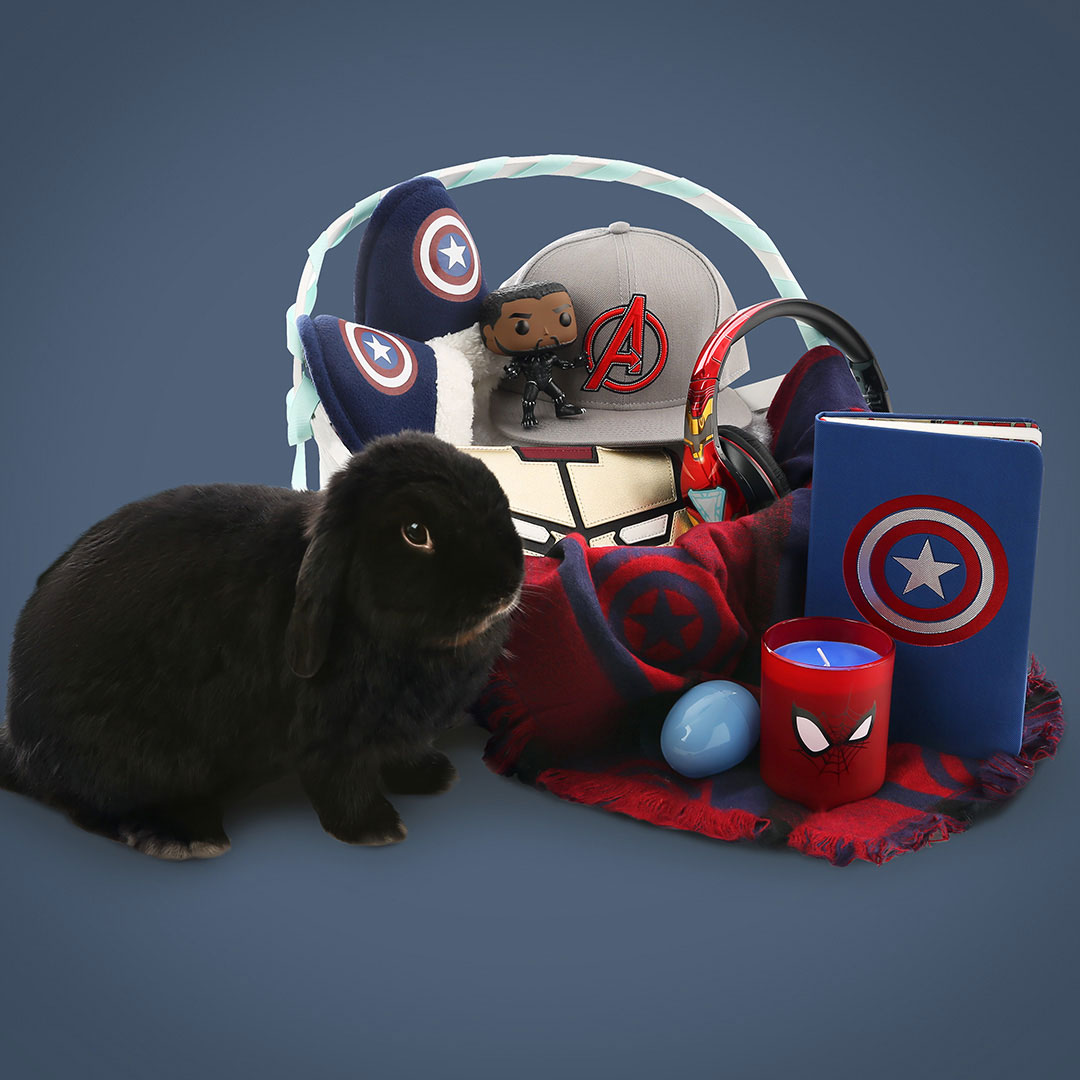 Due to the popularity of the MCU, there are tons of great Marvel Easter basket gifts for your loved ones. Whether your Easter basket is for kids or adults, there is no end to the available apparel, accessories, toys and collectibles to stuff in their Easter baskets. You can even create a themed Easter basket for some of their favorite characters such as Black Panther, Spider-Man or even Captain Marvel!
NFL Easter Basket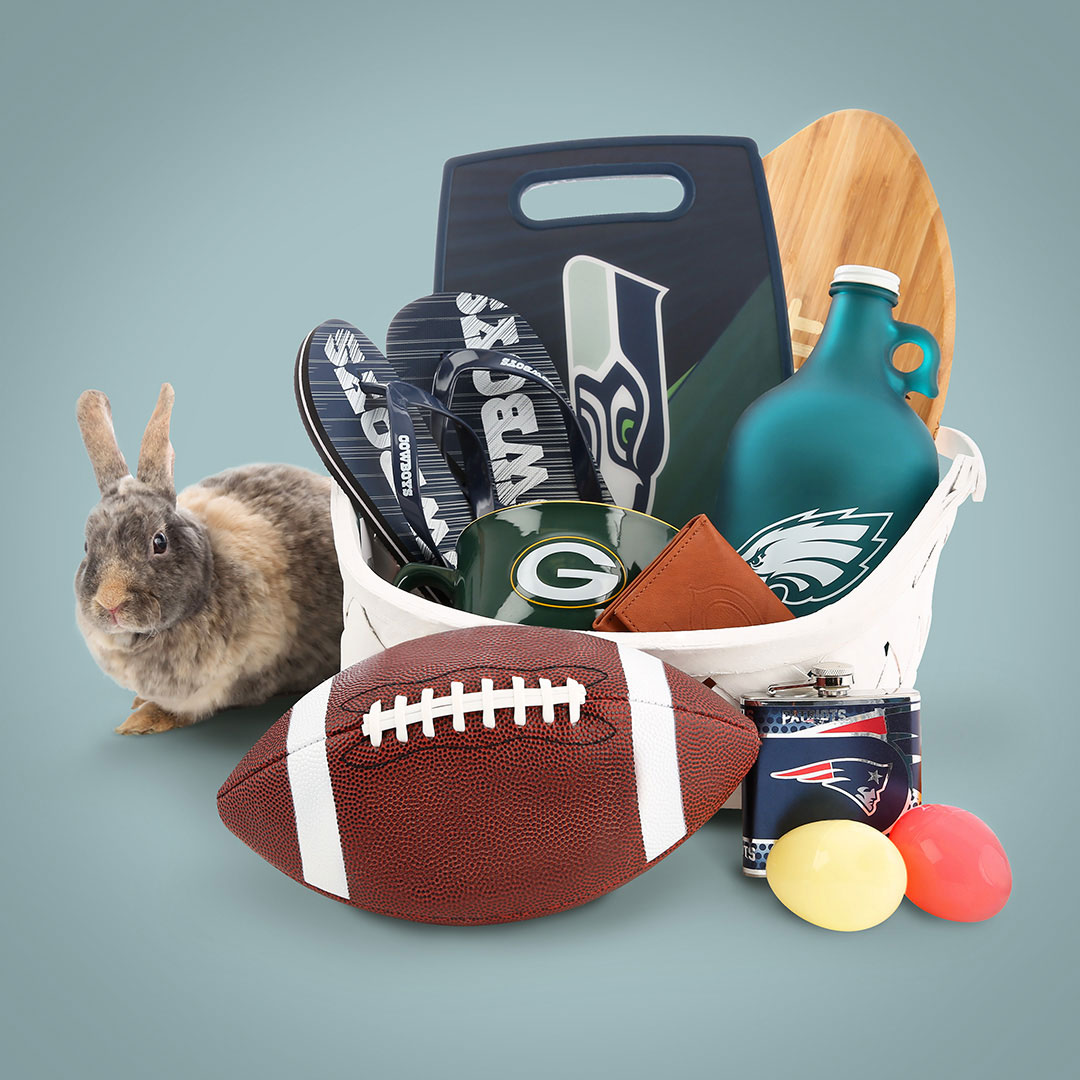 The NFL season may be over this Easter, but your loved one probably has their countdown calendar ready for the next season. You can always fill their Easter basket with summer training camp essentials like tailgating gifts, water bottles, t-shirts and caps for their favorite players to sign. (Don't forget to include a few permanent markers!)
Harry Potter Easter Basket
The world of Harry Potter is another giant franchise that has an abundance of gift basket ideas. Your giftee will be tickled pink if you create a basket customized to a Harry Potter house, whether they're a Slytherin, Ravenclaw, Hufflepuff or Gryffindor. There is no end to the amount of apparel and accessories, collectibles and other items you can stuff in their Easter basket.
Minnie and Mickey Mouse Easter Basket
Mickey and Minnie are the bread and butter of Disney, so Disney fans will absolutely be delighted to receive a Mickey and Minnie-themed Easter basket. These classic characters recently celebrated their 90th anniversary, so there are plenty of products to put into a Minnie and Mickey Easter basket. Clothing and accessories, home goods, collectibles, toys—you can find pretty much anything to fill your basket!
WWE Easter Basket
Ohhhhh yeah! There are plenty of Easter basket gift ideas for WWE fans. T-shirts and other apparel items are a must, but you can find a variety of other products like drinkware, wallets and collectible figurines or action figures. You can even make a themed Easter basket if your WWE fan has a favorite wrestler or two. If you're unsure which wrestler they prefer or they enjoy some of the more obscure characters, you can still choose from plenty of WWE products.
Hopefully, you have more than enough ideas for the best Easter basket fillers! Are you on the hunt for Easter toys and non-candy gifts? What are some of your favorite items to put in Easter baskets? Do you enjoy picking random gifts or are you more of a theme basket person? Let us know all about how you like to do your Easter below! If you're still on the hunt for the perfect Easter gifts or other holiday ideas, there's plenty to be found here!