When you look at the calendar on your phone or hanging on your wall, the upcoming holidays are printed there in black and white. Whether it is a holiday that you've already prepped for or one that snuck up on you, the excitement starts rising pretty quickly! Are you ready to let your neighbors and guests know that you're here for a festive time? Well, from the spooky days of Halloween and the holiday spirit of Christmas to the explosive fun of the Fourth of July and the bright colors of Easter, we're here to help you show all the year's fun. Check out some ideas to outdo everyone on the block with the ultimate in holiday & seasonal décor for the entire year!
Jump right to the holiday you're shopping for:
Valentine's Day Decorations
Not everyone decorates for Valentine's Day, and that's okay. (Most people will at least hand out a few Valentine's Day cards.) Whether you're keeping your Valentine's Day festivities low-key or not, you can find a few Valentine's Day décor items to place around your home. Heart ornaments in pink and red colors are cute to put on display, and you can always add a heart prop or even a cupid's bow and arrow if you're feeling extra-festive. There are also a few Valentine's Day Funko Pop! figures that make adorable statement pieces or gifts! You're going to love these cute heart decorations and ideas for Valentine's Day.
Mardi Gras Décor and Party Supplies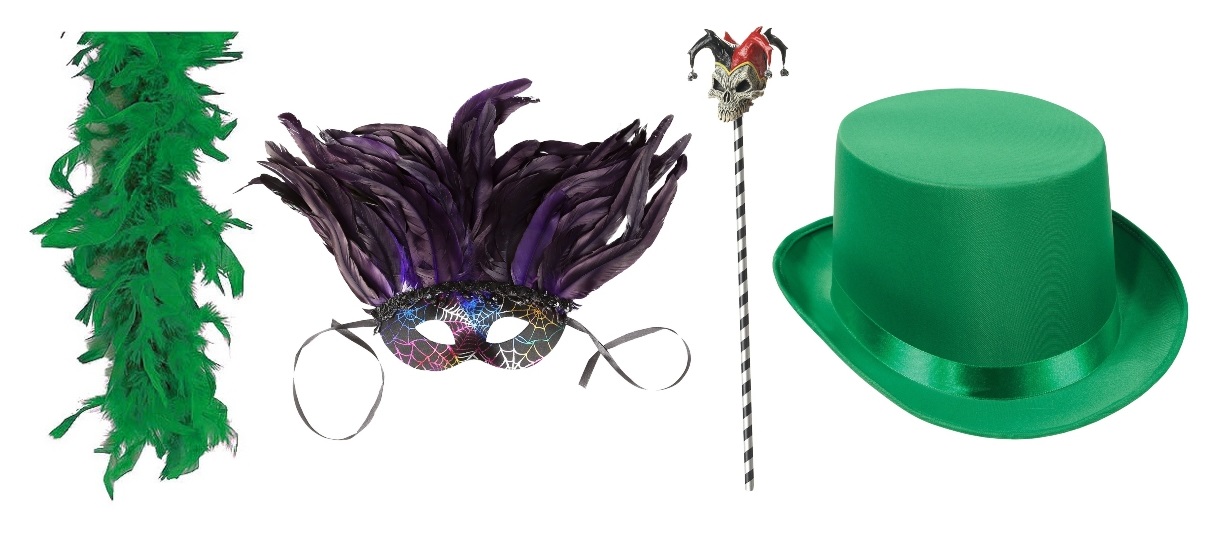 The name of the game here is green, purple and gold. You'll be seeing lots of brightly-colored outfits and beads in the iconic Mardi Gras colors. A Mardi Gras mask is always handy to have at the ready, and you're sure to see more than a few jester outfits. These Mardi Gras accessories work just as well as photo booth props or table decorations. However you choose to celebrate, we're sure you'll have a blast!
St. Patrick's Day Decorations
Add a wee bit of green to your home with these fun St. Patrick's Day decorations. (And let's not forget the rainbows too!) There are many ways to celebrate St. Patrick's Day, and of course, that includes adding a few shamrock decorations to spruce up your place. If you're feeling extra, you could even find a cheap black pot and add some chocolate coins for the kids to find, or maybe some rainbow decorations. We're sure you'll have lots of fun on St. Patrick's Day no matter how you choose to celebrate!
Easter Décor

When it comes to Easter, you're bound to spot a few bunny decorations. Whether they're cute carved figurines or ceramic bunny serving platters, Easter decorations are relatively laid back compared to other celebrations. Of course, don't forget the tradition of decorating Easter eggs! Adding some Easter grass and colorful egg decorations around the house is another great way to decorate for Easter. Don't forget to fill your Easter baskets!
Star Wars Day Decorations
May the 4th be with you! (You probably know that FUN.com is a pop culture gift store, so naturally, we're going all-in on geeky holidays like Star Wars Day!) Now, we know that some people like to have Star Wars home décor up year-round, but some people just want several pieces to put up on Star Wars Day when they watch a few movies—and that's perfectly fine as well! Roll out a Wampa rug, or place some Star Wars planters around your entertainment system. Don't forget to make a couple Star Wars snacks to pair with your movie-watching experience!
Fourth of July Décor
American Independence Day is pretty much synonymous with fireworks and summer fun. It is a blast, and those bright colors are bound to draw a lot of attention. Of course, if you've got the right kind of patriotic decorations around your home, you'll be able to get a few "oohs" and "aahs" at your decorative prowess, too! Try a ton of unique red, white, and blue décor that includes everything from flag decorations to a 4th of July wreath.
Outdoor Halloween Decorations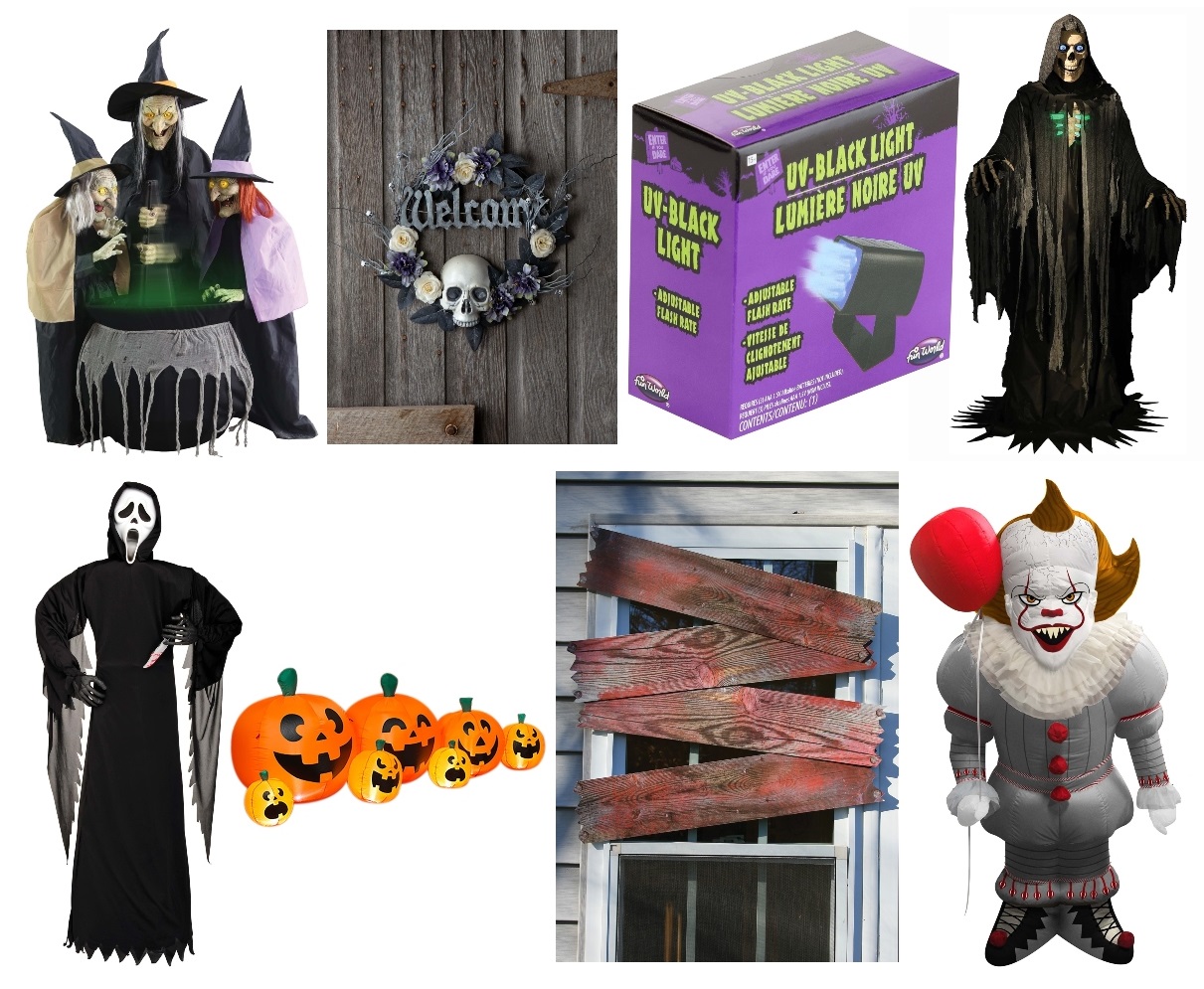 Halloween is one of the biggest holidays as far as holiday decorating goes, right up there with Christmas! There are so, so many Halloween decoration ideas that we decided to talk about outdoor Halloween decorations and indoor Halloween decorations separately. The first thing folks will see will be the Halloween decorations and outdoor lights that you put up on your lawn, porch, or just outside your apartment. If you're looking for witch Halloween decorations, Halloween pumpkin outdoor decorations or even graveyard decorations to set the stage for your lawn, you'll find there are tons of options to unearth! Keep an eye out for more than just Halloween yard decorations—there are plenty of outdoor Halloween lights, Halloween window decorations and Halloween wreaths for sale to give the outside of your home those Halloween vibes.
Indoor Halloween Décor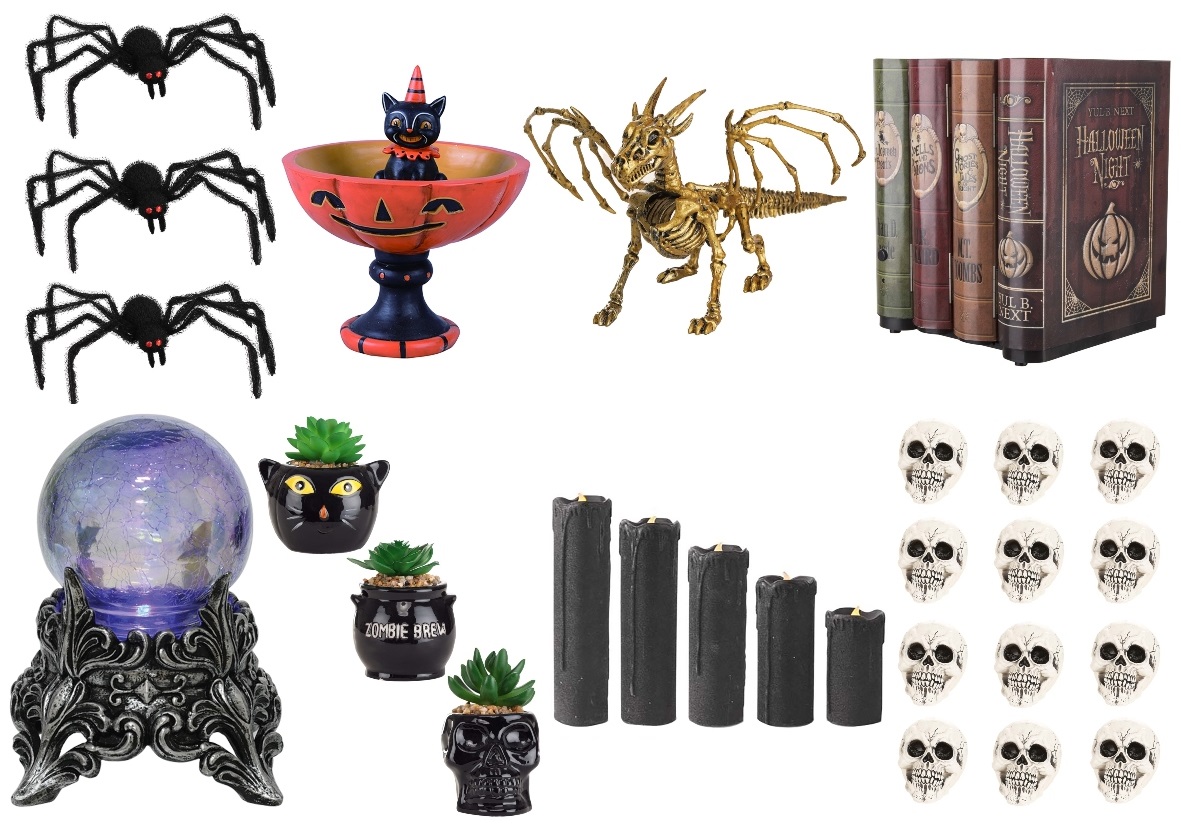 Spooky on the outside, party on the inside! When it is time to host a Halloween party, you'll want to use a variety of indoor Halloween lights, scary wall décor and Halloween table decorations to create a scene. Start with a wicked welcome mat and some creepy lighting, and your guests will be grinning like a ghost before they get through the door. Skeletons are an obvious choice for classic Halloween decorations, but you can get really unique with skeletons of unexpected creatures hanging out next to your Halloween serving dishes like this gold dragon skeleton!
Hanukkah Decorations
You'll often see menorahs and the Star of David as part of someone's Hanukkah celebration. If you're interested in adding a few Hanukkah decorations to your own home, we have a collection of lights, ornaments and other items in beautiful blue, white and silver colors. If you like decorating a Chanukah tree, you'll love these Star of David tree toppers and ornaments! You can always add some extra pizazz with strings of colored ribbons and lights for a Hanukkah tree that's uniquely yours. Hanukkah Sameach!
Outdoor Christmas Decorations
When the holidays are here, you want to show your Christmas spirit for all the world to see. Fortunately, you can find several bright and shining holiday decorations that are easy to arrange outside your home. Perhaps you're hoping for an early visit from Santa Claus himself? Well, some of our outdoor Christmas wreaths in your entryway will make him feel welcome! Pick your favorite festive home décor ideas! From cheerful light sets and sensational snow machines, start here to deck your home in Christmas cheer!
Indoor Christmas Decorations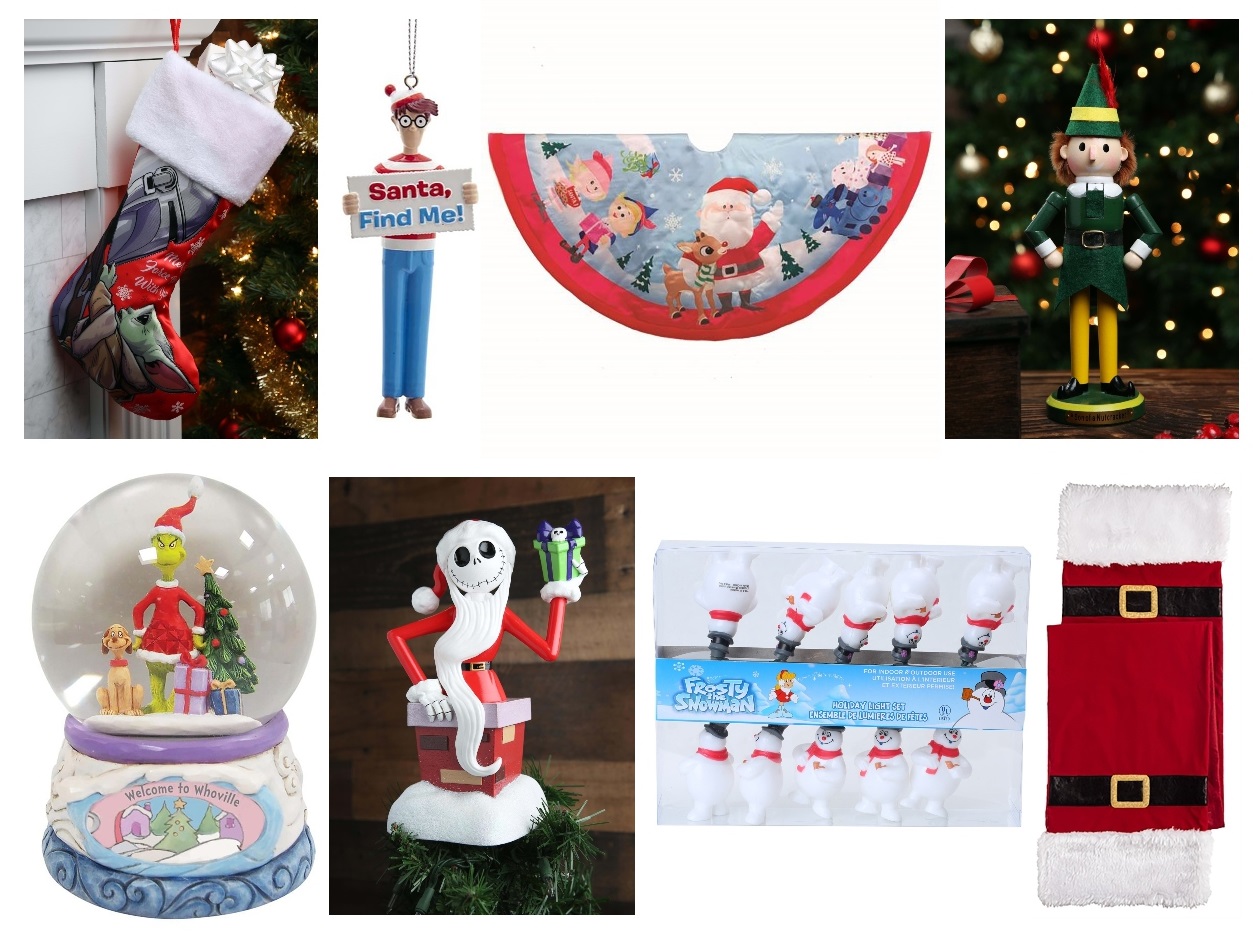 There are a lot of conventions out there for how to decorate for the holidays. That doesn't mean you have to go the traditional route, though! If you have some fandoms that you just can't get enough of, you've probably seen a holiday special or two. Well, you can hop right on that kind of fun by surrounding yourself with all of your favorite characters wearing Santa hats and dishing out their own holiday cheer! Bring some magic with Star Wars Christmas decorations or start with The Nightmare Before Christmas decorations in October and keep Jack around all year!
New Year's Eve Decorations and Party Supplies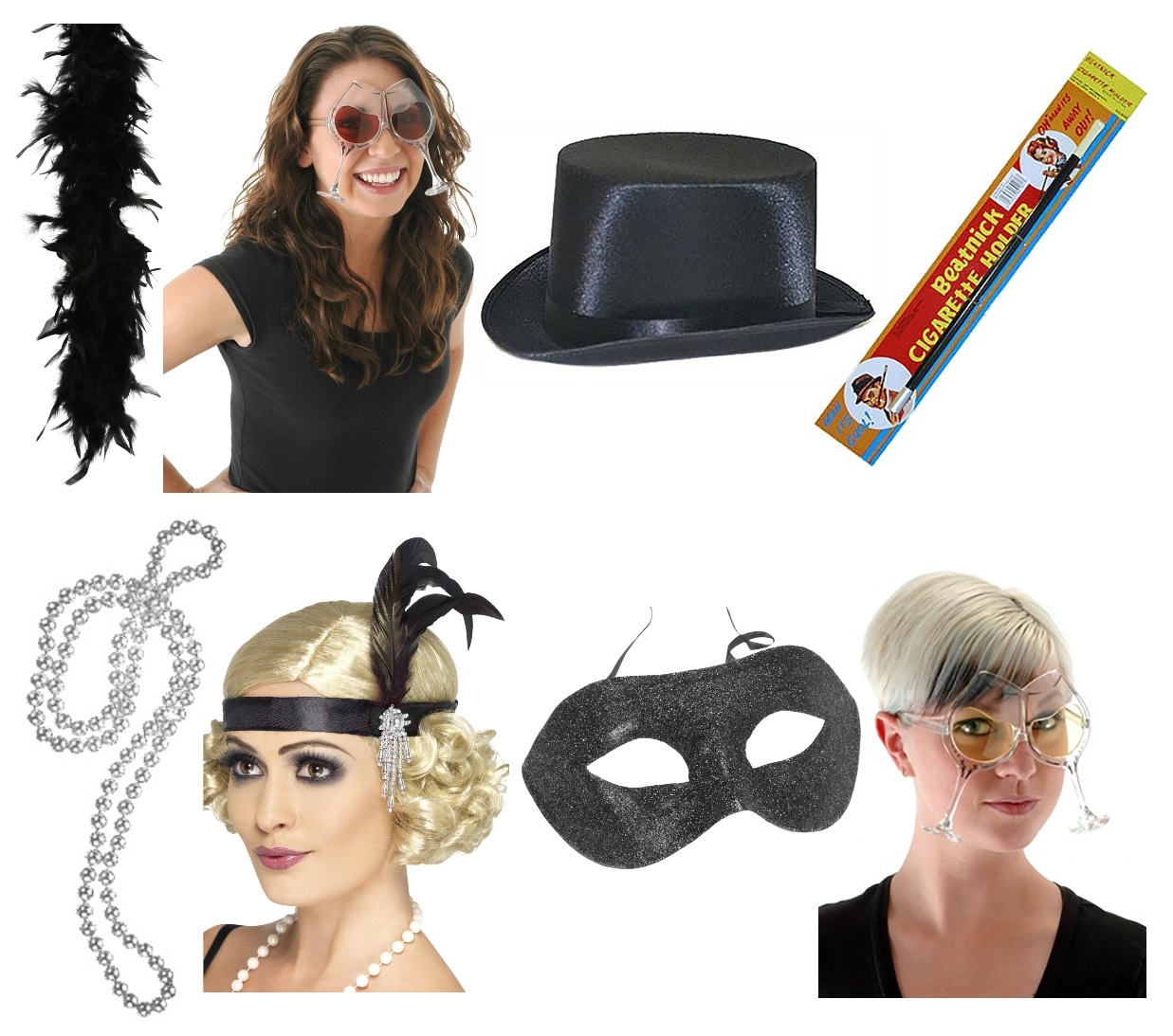 Tonight we're going to party like it's 1920! Decade-themed parties and masquerade parties are extremely popular for New Year's Eve, especially when it comes to the 1920s. We picked a selection of New Year's decorations and party favors that would be great as table decorations and photo booth props. Of course, we couldn't resist goofy wine glasses and some feather boas to set the scene!
When you're getting ready to celebrate all of the best holidays out there, be sure to choose the best holiday decorations out there to match! Use some of these suggestions to get yourself started or mix and match to create DIY holiday decor that will leave your guests feeling the holiday spirit, whether that's a haunted Halloween or a genuine visit from Santa Claus! And, just remember: holidays can be a year-round lifestyle, so don't let anyone be a grinch about your year 'round holiday décor!
If you happen to be shopping by pop culture franchise or theme instead of holiday, we have a gift guide to nerdy decor!