There are so many ways to decorate, but not everyone wants a modern, minimalist-style home. Some of us want to let our fandom flags fly! Sure, you might be decorating a Batman kid's room, which is fine—but that doesn't mean that you can't make a nerdy man cave, entertainment area, or simply theme your entire house! So let's look at some of the best nerd decor out there! Here are some of our favorite geeky home decorations, from nerdy wall art to geeky doormats and more. You're more than welcome to take this geek aesthetic elsewhere, such as your office or cubicle at work!
Nerdy Bookends
If you have a lot of books, you know that you'll want to have them out for display. (As well as handy reading!) While you could simply fill your shelves from one end to another, some people take pleasure in aesthetically pleasing arrangements that break up their wall of words with plants, small statues and decorative bookends. Maybe you have the entire Witcher book series arranged between some Witcher-themed wolf medallion bookends. What about the Harry Potter hardcover collection in one of these Harry Potter bookends? Add a few more trinkets to your bookshelf, and you suddenly have a fantastic, themed bookshelf that will make your fellow bookworms jealous.
Nerdy Wall Art
Nothing is more boring than a room with blank walls, right? If you're in an apartment, you may have to compromise with some command hooks, but putting pictures on the walls really adds some life to your space. You can even find peel-and-stick wall decals that make great man cave gifts if you don't want to go through the trouble of hanging a picture! Put a few of your favorite Star Wars prints on the wall in your entertainment center, or bring a pop of color with some comic book wall art. By matching your other decorations to your nerdy wall décor, you can easily create a themed room in no time!
Nerdy Candles
There are so many good reasons to love candles—they can be decorative, make a room smell nice and even set some mood lighting if you wish. Of course, when you're on the hunt for Marvel decorations for your nerdy living room or geeking out your game room, you can find a nerdy candle to fit the theme. We love these decorative pillar candles, but it's hard to choose when you could also select a geeky votive candle in a licensed glass. Even a little tin candle can make a statement, plus you get to keep the container when your candle burns down!
Nerdy Planters
Plants are all the rage, to the point that some plant people even give them names! (Some of our office plants have names, too, so you're not alone.) Succulents and Chia Pets are fun in small spaces like shelves and desks, but don't overlook larger planters for more variety. Find a spiky plant to give SpongeBob's pineapple house a nice top, or perhaps a creepy spider plant would do nicely in a horror-themed planter. These fun planters would look great on various shelves, tables and other spots in your home! (Not to mention they also make funny housewarming gifts!)
Nerdy Lamps
Everyone needs a little something to bring light into their room, but why use a boring light fixture when you can pick something cool like one of these fun lamps? Get the best of both form and function! You can find variations on traditional table lamps, but you can also choose a fun light that's more for setting the mood than giving off light. These lights are perfect for a game room, child's bedroom, or anywhere, really. No one will be able to call you a dull decorator!
Nerdy Rugs

A good rug ties the room together. Whether you're looking to decorate or simply protecting your floor, maybe try one of these geeky rugs. A Wampa rug always looks great displayed with your lightsabers and Star Wars DVDs, and who wouldn't love a cheery Care Bears playroom? Your space is sure to be memorable when friends and family come to visit.
Geeky String Lights
You're likely familiar with the outdoor string lights everyone uses around Halloween and Christmas, but did you know that you can find some seriously nerdy indoor string lights too? These fun lights are great for kids' rooms, but college students love them for dorm rooms. However, don't let that stop you from bringing your vision to life! Do you want a string of lights to hang around your bathroom mirror? Maybe your gaming computer could use a little mood lighting. We're sure you can think of a way to make your string lights pop!
Nerdy Curtains
How many kinds of room decorations are there? Well, we're still just scratching the surface! Cute patterned curtains look great in a child's room, but feel free to use them in whatever way your heart desires. These Minecraft and Harry Potter curtains with more subtle patterns would look great in a themed bathroom or kitchen. Of course, Disney fans may put their Disney decorations all over the house! You'd certainly have a house of mouse once you're done!
Geeky Blankets
Were you hoping for some homey touches that can serve more than one purpose? We love throw blankets for just this reason! Some tapestry blankets are so decorative that they'd look just as great hung on a wall as they would over the back of your couch. But their usefulness doesn't stop there! Naturally, we love throw blankets for movie night, children's sleepovers, or any other time you need something warm and snuggly on your lap. Can we also say that any one of these blankets would help you make the coolest blanket fort?
Nerdy Doormats

What's a great way to make a first impression? Well, any one of these doormats will let anyone stepping into your home know that you're not like every other house on the block. (And if they don't get it, you might have to find a different topic of conversation for the night!) Can we say ice breaker? In any case, don't let the versatility of a good doormat fool you. Not only are they good to have around home entrances, but you can also use them for your office space or cubicle at work! Maybe even for your dorm room! Honestly, the sky's the limit.
Nerdy Statues
Remember when we talked earlier about geeky bookends and using other items to make your shelves look cool? These collectible statues are sure to turn some heads as man cave gift ideas. As much as we love Funko Pop!s, these highly-detailed statues are statement pieces just screaming to be looked at and admired. Do you own the complete, extended set of The Lord of the Rings movies? You can find a matching LOTR statue to show it off. What about that floating shelf between your action movie posters? Prime real estate for Bruce Lee. (We think you get the idea!)
Geeky Clocks
We know that your primary clock is probably your phone or smartwatch, but that's not to say that you can't find a decorative clock to grace your walls. Or even a cool alarm clock that's simply there for your geeky aesthetic. Count down the minutes with Miss Minutes from Loki, or check in for your regular 9-5 with the Dunder Mifflin Paper Company. Your space is bound to look great with any one of these nerdy clocks on your walls. This is the way.
Nerdy Bedding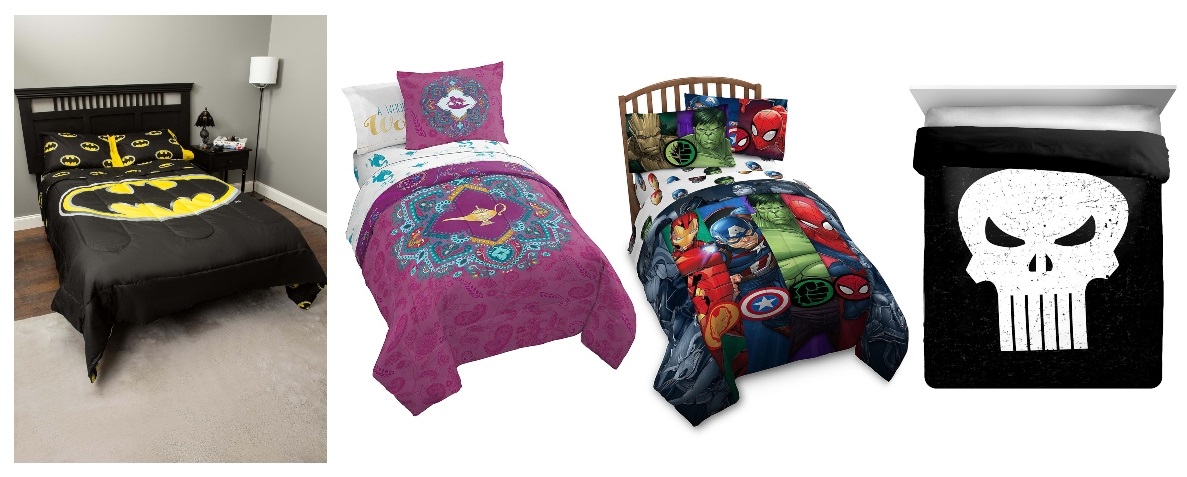 Okay, so these décor items are meant to spruce up a bedroom, but it's totally up to you whether you're decorating a child's bedroom or an adult's. Find cool superhero bedding with your favorite Marvel and DC heroes, or you can even find some Disney bedding for the perfect fandom room. With cool comforters and pillows like these, your bed is bound to be a statement piece!
Nerdy Coin Banks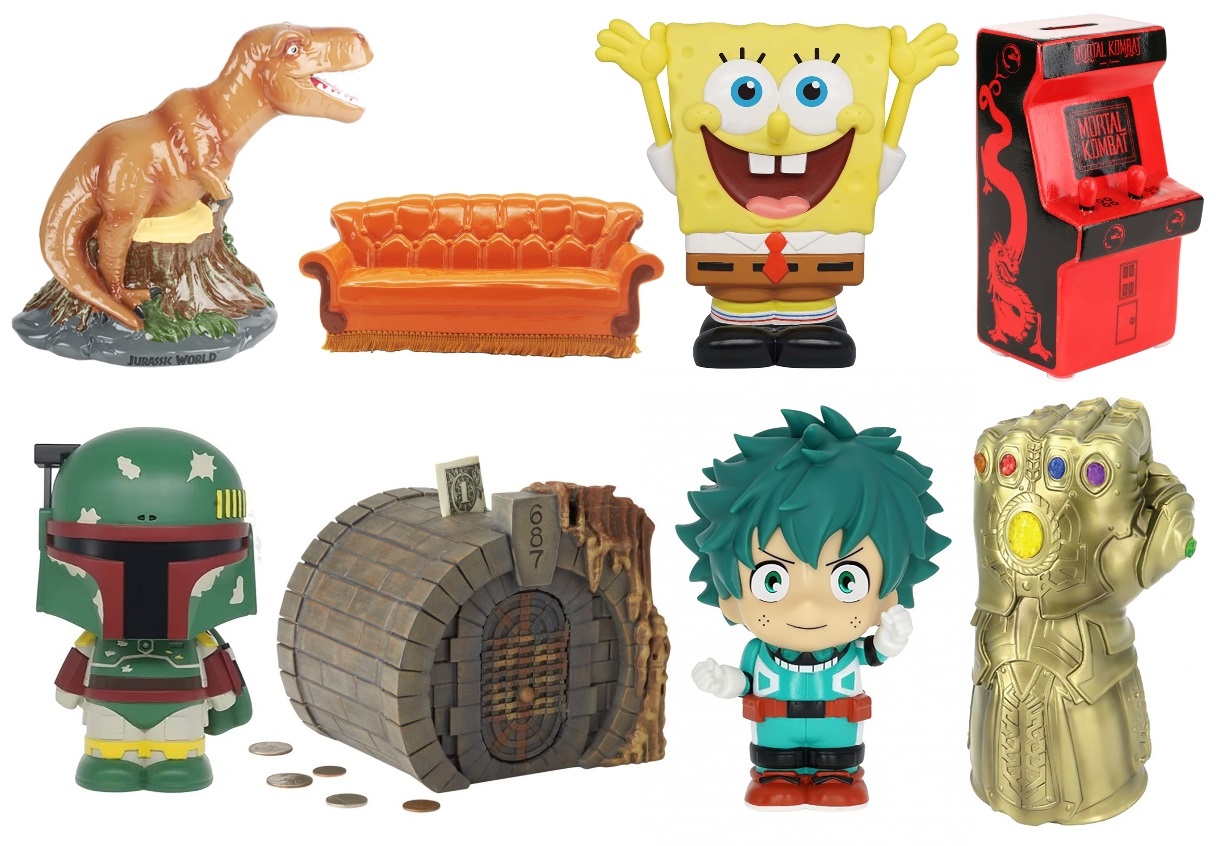 How are coin banks decorative items? Well, give us a moment and we think you'll agree. After all, we're not talking about regular old coin banks here—we're talking about geeky banks! Add one of these character banks with your other figures and create a fun scene while also saving up your spare change. Or, simply collect them if you're all about everything Star Wars. Or anime. You do you!
Geeky Pillows
We love pillows because you can put them in so many places to add a little style and comfort to your space. Couches, chairs, beds, need we say more? These character pillows are so much fun, plus they're great for naps or when you need something to hug. Feeling blue? Grumpy Bear is there for you. Your gaming chair could use a little love? Add a Pokéball pillow! We're sure you have plenty of ideas brewing right now.
Are you ready to decorate? Whether it's your dorm, den or office, you know just what you need for that pop of whimsy. Of course, we have tons of other great home and office decorations waiting to go to a good home. If you need decorations for a specific event or holiday, check out our guide to holiday and seasonal décor!