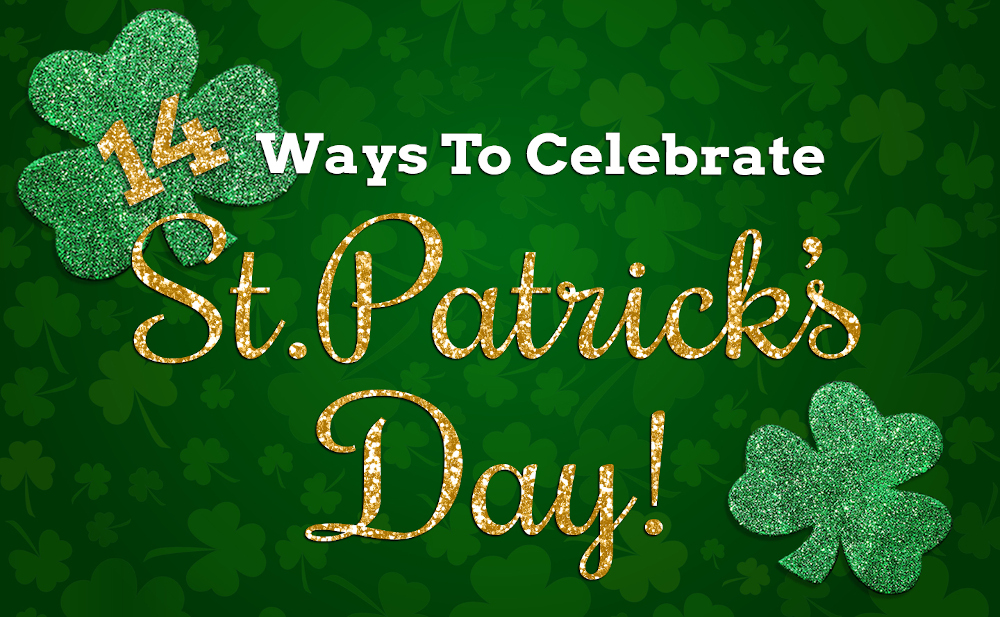 Almost everyone has heard of St. Patrick's Day, but how do you celebrate it? Some of us aren't bar-hopping college students anymore! There are plenty of ways for individuals and families to enjoy the holiday. And while it's mostly celebrated in the United States, people outside the US celebrate St. Patrick's Day, too. (It's called Lá Fhéile Phádraig in Irish and Día de San Patricio in Spanish.) We're going to show you 14 different ways for just about anyone to enjoy St. Paddy's Day. Some of these activities won't even last for a full day, so you can choose to do a few of them if you'd like to! If you manage to do all 14 activities in one day, you're either superhuman or part leprechaun!
What day is St. Patrick's Day this year?
2022: Thursday, March 17
2023: Friday, March 17
2024: Sunday, March 17
2025: Monday, March 17
What to do on St. Patrick's Day:
1. Watch the St. Patrick's Day Parade
[Source: Pioneer Press/Scott Takushi/TwinCities.com]
Many cities hold their own St. Patrick's Day parades. This is certainly one of the most family-friendly options (honestly, what kid doesn't want to go to a parade to get free candy)? You're also bound to see plenty of bagpipes, Irish Riverdance and people in costume, which will keep everyone entertained from start to finish. It's also a wonderful opportunity to teach your child a thing or two about Irish traditions, especially if you have a little bit of Irish ancestry. If there aren't any parades in your area, fear not! You can also catch a live stream of one of the bigger parades, such as the NYC Saint Patrick's Day Parade.
St. Patrick's Day Costumes for Parades
If you happen to be part of a local club or committee, there's a good chance that you might not be watching the parade—because you'll be in it! Many of the parade-goers will be decked out in green, but you might also be planning on wearing leprechaun costumes of your own. There are quite a few options to choose from, whether you're looking for a four-leaf clover costume or a leprechaun costume for kids. Once the parade is over, you'll have a costume that you can save and use again for Halloween, too!
2. Run a 5K St. Patrick's Day Race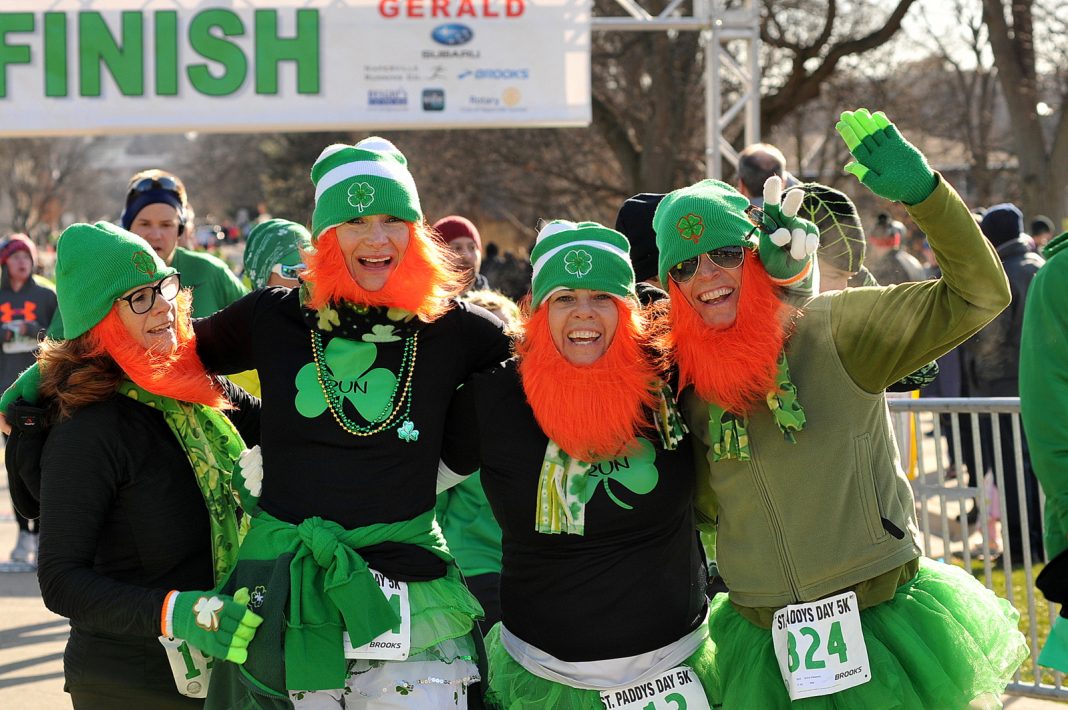 [Source: MyChicagoAthlete.com]
There are plenty of themed 5K races throughout the year, so if you like running, there's nothing better than running around with a pack of other people dressed in ridiculous costumes! Whether your St. Patrick's Day race is known as a Shamrock Run, a Leprechaun Run or it goes by some other name, there are tons of these races all across the United States. (Check local publications to find St. Paddy's Day races near you.) The great part about this particular race is the fact that it's in March so you can practically wear whatever you want! The weather is still cool enough that you're probably not going to roast in pants and long sleeves.
St. Patrick's Day Apparel for Your Race
While some people go all-out in a leprechaun costume, you can expect most people at the St. Patrick's Day race to be wearing their running gear and some accompanying shamrock green accessories. Easy St. Patrick's Day accessory choices include crazy green socks and shirts. While the Tipsy Elves St. Patrick's Day clover fanny pack was originally created with beer in mind, this is a great St. Patrick's Day-themed running accessory and perfect for holding water during your race! If you're planning on running in a team, you can add to the fun by choosing a matching green accessory for everyone.
3. Host or Attend a St. Patrick's Day Party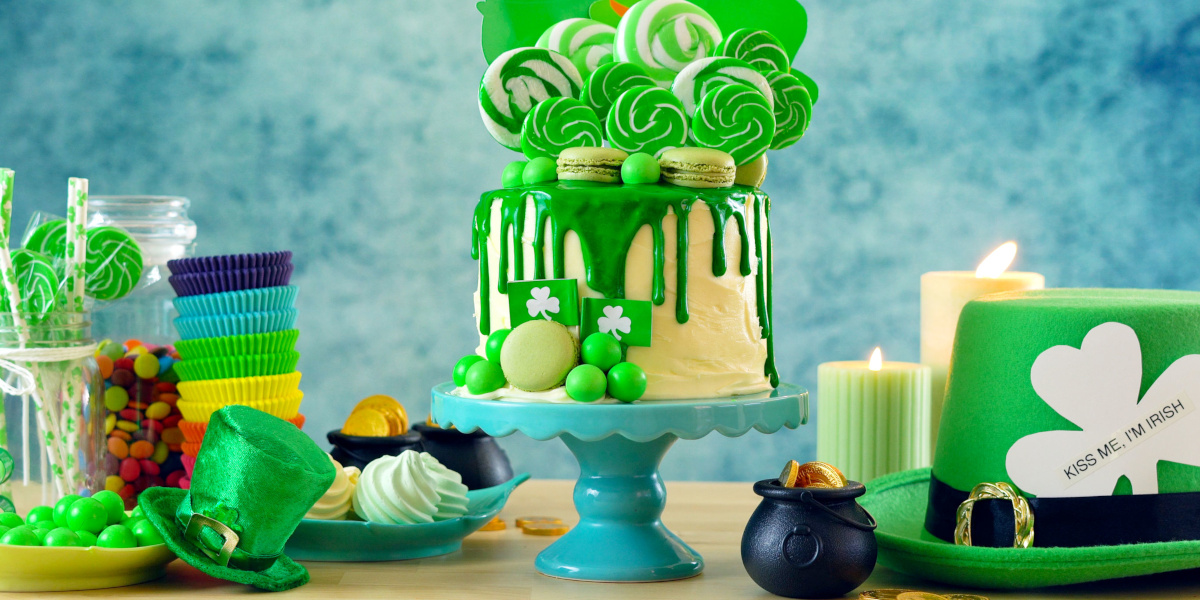 Not every St. Patrick's Day party has to be centered around Guinness and green beer. In fact, you can host a perfectly acceptable St. Paddy's Day party without a drop of alcohol, just don't skimp on the green! You don't have to go all-out making a traditional Irish meal, although if you're up for it, the folks at Mashed assembled a lovely list of traditional Irish food and recipes fit for St. Patrick's Day. If you know that you'll be serving a lot of kids and picky eaters, you can always serve green juice and use plenty of green tablecloths, plates, and cups. Feel free to have some Guinness on hand for the adults!
St. Patrick's Day Apparel for Parties
Just because you're hosting or attending a St. Patrick's Day house party doesn't mean that you shouldn't dress up. (But you might want to keep it classier than the bar parties—leave your Irish beer hats and drunk tees at home if kids will be present!) A green suit is a fun and classier way to celebrate St. Paddy's Day for the dudes. There are plenty of ways for ladies to wear green accessories in a slightly more stylish fashion, too! However, we're certainly not ones to discourage wearing costumes. If you enjoy costume parties, feel free to wear all-green costumes even if it's not exactly a leprechaun.
4. Learn About the Clover and Other Symbols of Luck
Learning about the holiday and the clover symbol is great if you have kids. (Or if you're that curious person that wants to know a little bit about everything—never stop learning, friend!) There are plenty of people in countries other than Ireland that like to celebrate St. Paddy's Day, but being so far removed from the source of the festivities, many people don't know the "why". Check out this St. Patrick's Day article by National Geographic, and you can finally answer some of those burning questions. Due to the fact that St. Patrick's Day and the clover symbol are closely tied with luck, you can dive right in and learn about different tokens of luck around the world.
5. Participate in St. Patrick's Day Bar Crawls
There's nothing quite like hitting up your favorite bar (or bars) on St. Patrick's Day. Sure, they're going to be much more crowded than on a typical business day, but the drink and grub specials can be enough to make it worthwhile. Part of the fun of going out to a pub on St. Patrick's Day is looking at all the wacky green accessories sported by other patrons. Some bars even have contests or activities where you can earn some free drinks or food! If you're planning on going out with your friends, you might want to ask local bars about their specials so you know where the good stuff is going to be.
Accessories for St. Patrick's Day Bar Hopping
If you want to be green and classy, that's fine, but it's probably better to leave your nice stuff at home if you plan to be in the bars for an extended period of time. A St. Patrick's Day-themed purse is a great idea because it works as a costume piece and a necessity! If going all-out leprechaun is not your style, you can always don some green and gold accessories from hats and wigs to suspenders and shoes for a casual leprechaun costume. If you're at your most comfortable in a St. Patrick's Day t-shirt and jeans, make sure that it's green and you're ready to go!
6. Make St. Patrick's Day Crafts
Whether you're looking to keep your kiddos distracted while partying with your friends, or looking for something to do as a family, St. Patrick's Day crafts are a great way to celebrate the holiday. Creating paper shamrock leaves, paper potted shamrocks, and St. Patrick's Day party hats are just some of the ideas you can attempt on St. Paddy's Day. Check out Country Living's awesome list that includes 30 easy, family-friendly St. Patrick Day crafts for more inspiration.
7. Make St. Patrick's Day Snacks
What better way to celebrate St. Patrick's Day than eating copious amounts of food? After all, food is one of the most guaranteed ways to bring people together. For anyone with a sweet tooth, Good Housekeeping has a great roundup of 40+ St. Patrick's Day desserts. If you're looking for more of a full-meal recipe, Food Network has a hefty list of ones to try. Have a recipe you whip out each St. Patrick's Day? Feel free to share it in the comments! After all, food makes the world go round.
8. Check Out St. Patrick's Day Events
When in doubt, use search engines! If you're out of ideas or need some inspiration for what to do, Google is your best friend. Anything from, "St. Patrick's Day events near me" or "St. Patrick's Day bar crawl" should be able to find you some. We do suggest you plan ahead as some of these events require tickets for entry and may sell out in advance.
9. Watch St. Patrick's Day Movies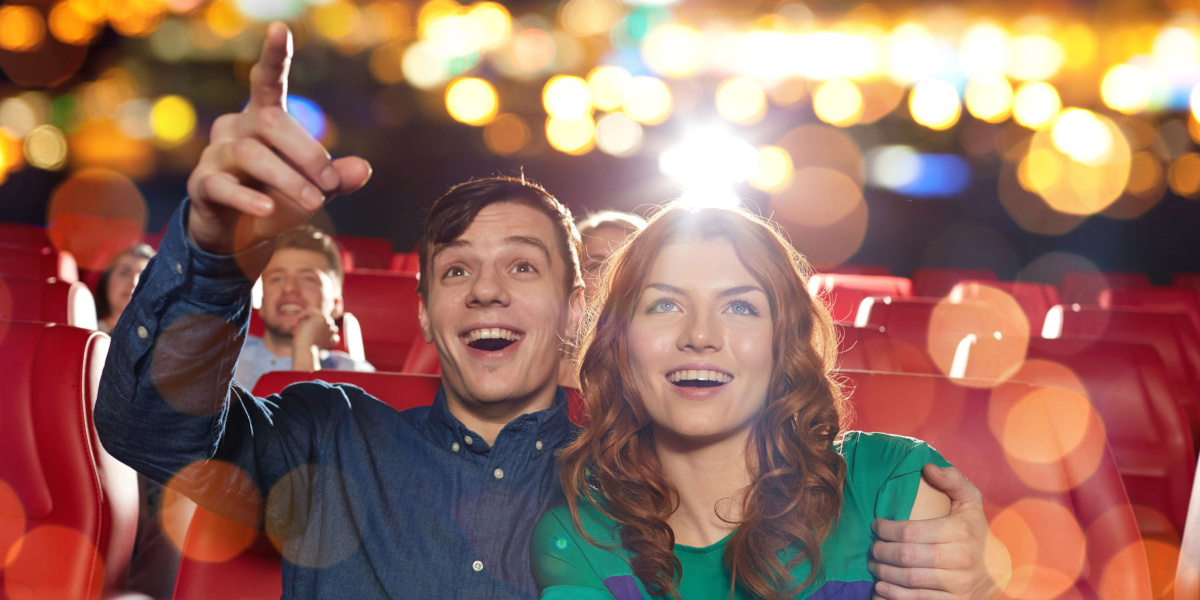 If you're more of a homebody and don't want to leave the house to celebrate, movies are another great option. Who doesn't love snuggling up with a blanket and having a movie marathon with friends? Bring on the green-colored drinks and snacks and let's get watching! While there aren't a ton of mainstream St. Patrick's Day movies, Irish films are another great way to still honor the holiday while in the comfort of your own home. The Luck of the Irish, Leap Year, Brooklyn, and Once are just a few examples of some movies to watch. Check out Good Housekeeping's guide featuring 25 movies to watch on St. Patrick's Day.
10. Get Together for St. Patrick's Day Games
St. Patrick's Day is the perfect excuse to whip out the beer glasses and drink some green beer. If you're having a soirée at your place, St. Patrick's Day drinking games are a great way to keep your guests occupied and entertained. Here are just a few ideas:
Irish Poker
Similar to Ride the Bus, but even simpler. All you need is a deck of cards! Players will take turns guessing which color the card they're turning is, red or black. Guess wrong and you have to drink. You can continue to play until everyone is too drunk or you just want to try a different game.
Sip Sip Shot
If the name already reminds you of Duck Duck Goose (or Duck Duck Grey Duck), you already have the basic concept down. Gather all of your friends in a circle and pick one person to be the 'tapper' first. The tapper will walk around in a circle tapping people's heads while saying 'sip' or 'shot'. If they tap your head while saying 'sip', take a sip of your beer. If you get 'shot', stand up and chase the tapper and attempt to tag them before they get back to your spot. If you do tag them, they have to take your shot. If not, you have to!
St. Patrick's Day Drunken Scavenger Hunt
This is a great way to get your friends out of the house (and get those steps in)! Put together a list of some St. Patrick's Day-related things to look for throughout the city (someone wearing green, someone wearing a St. Patrick's Day hat, someone drinking Guinness, etc.). Drink and mark as 'complete' for each task completed. Add a fun touch and require contestants to take a picture at each stop. Not only will this work as proof that teams actually completed each task, but also ensure the day will be one they won't forget!
Irish Roulette
If you're a fan of simple games with simple rules, Irish Roulette is the game for you. All you need is a pair of dice and some shots. Players take turns rolling the dice. Whichever player rolls the lowest number has to take a shot. The game ends when a player has taken five shots (or you can play until you can't see the numbers on the dice anymore).
Irish Quarters
So you know the game 'Quarters'? Either way, doesn't matter, this game is nowhere near the same. Irish Quarters is a great game if you're looking to start the party right away. In this game, all players will be equipped with a drink in hand. One player will spin a quarter on the table and once the spinning begins, everyone has to chug their drinks. Whoever chugs the most before the quarter stops spinning is declared the winner.
11. Learn to Irish Stepdance
TikTok challenges are more popular than ever this year. Why not start one of your own by posting an Irish Step challenge? If you're looking for inspiration, Howcast has a great video featuring a routine for beginners. If those end up being too easy, they have plenty of other levels for you to learn as well! Even if you aren't on TikTok, learning a dance with your friends can be a great way to bond, even better with some green beer in hand!
12. Learn About the History of St. Patrick's Day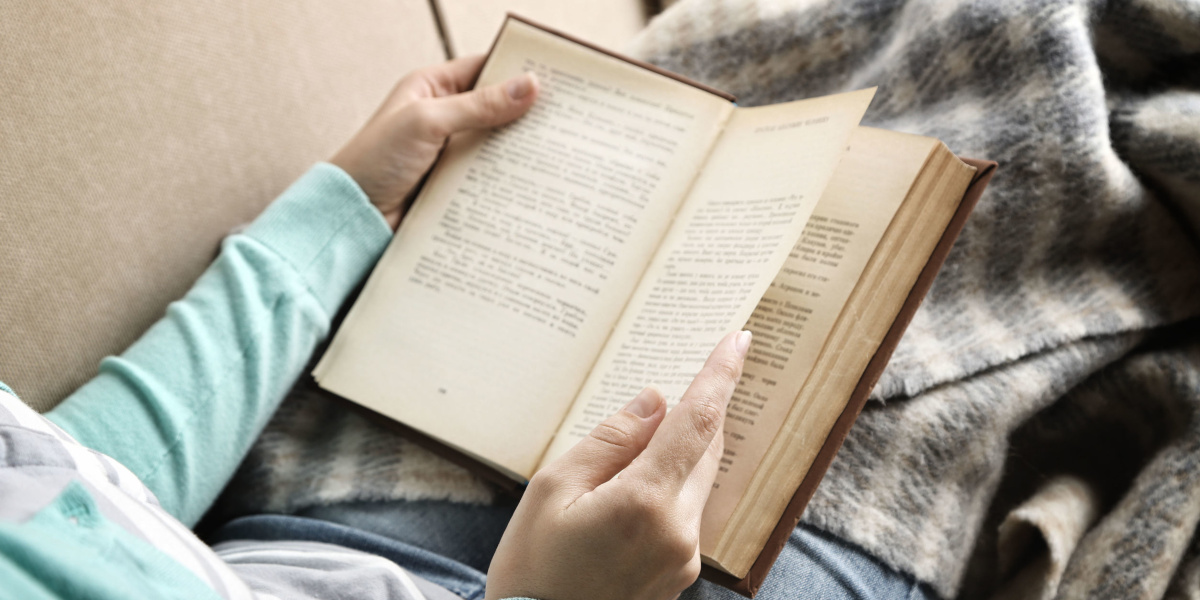 Many of us celebrate St. Patrick's Day without knowing much about the history of the holiday. If you have kids, it's a great opportunity to take them on a trip to a museum or create an interactive way for them to learn about the history that's dated back more than two centuries. History.com has a very thorough history of St. Patrick's day, including a very interesting section highlighting the beginning of the celebration in America (hint: it's not as jolly as you might expect it to be).
13. Pinch Someone Who's Not Wearing Green
Every St. Patrick's Day, it's common knowledge that you must wear green to avoid being pinched. We tend to just go along with it, but many of us still wonder why we pinch people who aren't wearing green for St. Patrick's Day? The answer could be answered in a couple of ways. People were originally supposed to wear green to show their remembrance and honor for Ireland. If you're not wearing green, being pinched is a form of shame for not participating. Another reason is a little bit more on the mythical side of things and dates back to the 1700s. Since leprechauns are so small they can't be seen, people pinch others to remind them if they aren't wearing green, they'll get pinched by a leprechaun.
14. Set Leprechaun Traps
Similar to leaving cookies out for Santa, setting leprechaun traps the night before St. Patrick's Day is another common family tradition. The idea is that whoever sets the trap must believe leprechauns are real in order to trap one. You might wonder what to tell your kid if they ask why we're trapping them. Legend says, leprechauns love gold and trickery, and trapping them is the only way to ensure they'll stop their mischievous acts. Once trapped, leprechauns can also grant three wishes. When children awake the next day, they'll come to find the trap with signs of a leprechaun visiting. Usually, parents will leave chocolate coins and other 'treasure'.
What is your favorite thing to do on St. Paddy's Day? A night-in with your family? Playing games and watching Irish movies? Day drinking with your friends and doing a St. Patrick's bar crawl? Please feel free to let us know in the comments! We wish you the best of luck with your leprechaun catching and please, whatever you do, don't forget to wear green. Happy St. Patrick's Day!