Christmas is coming, and the goose is getting fat! It's just that time again, right before the holidays, when we can finally start hanging lights, stockings, tinsel, and mistletoe. Of course, there's plenty of normal Christmas decorations like snow globes, strings of colored lights and Christmas ornaments with Santa and Rudolph, but we're focusing on our pop culture favorites! If you're hosting Christmas parties, dinners, or even if you're having a low-key holiday season, you'll want to take advantage of these poppin' novelty Christmas decorations before they're gone!
Disney Christmas Decorations
There's so much to love about Disney, from the abundance of family-friendly movies to their wonderful characters and theme parks! As you might expect, there are tons of Disney Christmas decorations, from Disney ornaments and tree skirts to Disney nutcrackers and Christmas lights. You can even find some high-end Department 56 Disney statues to spruce up your house!
Harry Potter Christmas Decorations
The Hogwarts crew really knows how to handle Christmas! Enchanting lights everywhere, giant Christmas trees and Christmas feasts fit for kings. If you're looking to bring some of the magic of Harry Potter's Christmas extravaganzas into your home, what better way is there than with Harry Potter Christmas decorations? Hang Harry Potter stockings up filled with treats and stocking stuffers, and count down the days until Christmas with Funko's Harry Potter Advent calendar. Now it only you could figure out a way to deliver presents by owl.
Harry Potter Christmas Decoration Ideas
Now your living room may not be as grand as the Great Hall, but You can still bring a cozy Hogwarts feeling to your home with some Harry Potter decorations and home goods. Harry Potter stockings look great filled with candy and small Harry Potter gifts, while cozy throws and pillows can be part of your decor theme. Add some candles, wall hangings and even a Harry Potter plush or two, and your Harry Potter-themed decorations will have us thinking of Hogwarts in no time!
Star Wars Christmas Decorations
You might have a love/hate relationship with the infamous Star Wars Christmas special, but there are plenty of Star Wars Christmas decorations so you can celebrate in your own fashion. Hang Star Wars stockings filled with galactic goodies and set out a few character nutcrackers in prominent locations in your house. You can even find Star Wars tree toppers to finish off your Star Wars Christmas tree. Anyone who visits has to know that you're all about Star Wars, after all!
Star Wars Christmas Decoration Ideas
Nothing says Christmas cheer like having Darth Vader with a lightsaber on top of your Christmas tree. We know this may sound ridiculous, but if you think about it, the only thing that brought him back from the dark side was spending time with his son, even though it was a lightsaber battle. May the Force Be With You as you decorate for your Star Wars-themed Christmas.
Batman Christmas Decorations
Some people love having cute little Christmas village sets with skating ponds, toy trains and snow-covered little shops. And then, there are people like you who would prefer a cozy, lit Batcave with a three-piece set of Wayne manor. Add a little bit of that fake snow cotton fluff stuff and it's beginning to look a lot like Christmas! If that's still not enough Batman decorations for you, add in a Batman nutcracker and some fairy lights. Your guests will be singing, "jingle bells, Batman smells" before you know it!
Doctor Who Christmas Decorations
Don't blink—you might miss out on these amazing Doctor Who Christmas decorations! You can find a lovely assortment of Doctor Who ornaments and Christmas stockings, and even a weeping angel tree topper. With so many Doctor Who Christmas specials, it only makes sense that you can find so many Doctor Who Christmas items. (Just make sure to keep an eye on the Daleks so they don't exterminate your tree.)
Doctor Who Christmas Decoration Ideas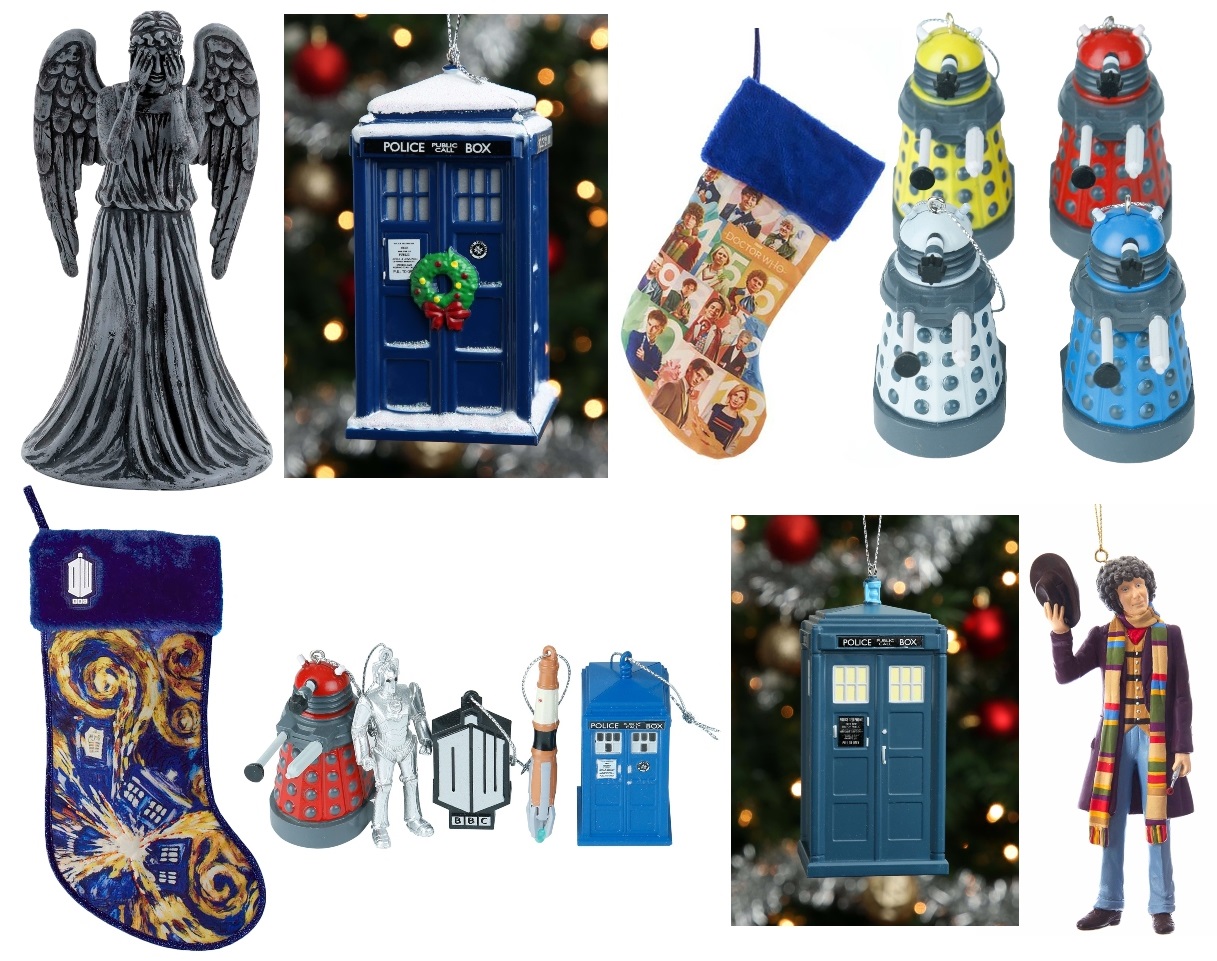 Considering that there is often a Doctor Who Christmas Special airing on Christmas day, having a Doctor Who-themed Christmas tree has never been more fitting! From the Dalek ornaments to the TARDIS stockings, this holiday arrangement has everything a Doctor Who fan needs. Can't you see yourself wrapped up in your TARDIS blanket on Christmas night, watching Jodie Whittaker take on her newest role as the Thirteenth Doctor? But let's not forget about the best part! Add a Weeping Angel decoration and you won't need to worry about people ignoring your Christmas tree. Because if they stop looking at the Weeping Angel...well, let's just hope that doesn't happen.
Horror Christmas Decorations
We have been focusing a lot on indoor Christmas decorations here. But for those who want to let the neighborhood know they don't do normal Christmas, we do some sone unique outdoor Christmas decorations. Sick of seeing cute, chubby Santas on everyone's lawn? Get an inflatable Krampus the Christmas Demon for a change of pace. There are also plenty of horror movie ornaments and even a line of horrornaments to ensure that you have a spooky holiday season.
Bands and Artists Christmas Decorations
How could you possibly rock around the Christmas tree without some rock and roll Christmas decorations? We have never seen a nutcracker as cool as this Gene Simmons Demon one, and AC/DC's Angus Young really lights up an otherwise boring Christmas tree. Stick out a Grateful Dead stocking in the hopes of watching it get filled with CDs, and perhaps pop in a couple of your favorite rock and roll Christmas tunes. You deserve to hear The Beach Boys play He's The Man with All the Toys after hearing Baby It's Cold Outside in every retail store.
Christmas Movie Decorations
There are those people who like Christmas, and then there are sometimes those who love Christmas. If you're in the latter category and have a yearly tradition of watching all the Christmas movies, perhaps you'd enjoy these Christmas movie Christmas decorations. They go above and beyond normal Christmas decor by their sheer and utter dedication to Christmas pop culture. Boring Christmas lights? Spice it up with goofy Christmas lights from the movies. Tired of the same old nutcracker? Find some movie character nutcrackers! Even snow globes and Christmas village arrangements can get the ultimate Christmas movie treatment.
Quirky Christmas Decorations
While these unique Christmas decorations aren't from any movies or TV shows, they're certainly anything but ordinary. Many of these funny Christmas ornaments and decorations will likely end up as white elephant gifts, but nothing is stopping you from hanging up a stick of butter ornament or placing a Santa pigeon tree topper on your Christmas tree. You can find these and other bizarre Christmas decorations here at FUN.com!
We hope you found the cool Christmas decorations you were looking for! Of course, there are always more Christmas decorations if you're still hoping to find the right one. Feel free to chat with us in the comments if there's a particular item or fandom that you'd love to see! Also, hop on over to take a peek at our other holiday decorations. You just might spot a few of your pop culture favorites!