Decorating the Christmas tree is one of the best Christmas season traditions. We love sipping a warm cup of hot chocolate or egg nog while placing tinsel, lights, and ornaments from years of Christmas past on the beautiful evergreen. But if those same decorations have been used for decades, it might be time to give your tree a bit of a makeover—a geeky one, that is! With so many fun fandoms, a nerdy Christmas tree is just what you need!
Mickey Mouse Christmas Tree
Oh boy! Mickey Mouse is a festive Disney character who's been celebrating the holidays for the better part of a century. This means that there's a plethora of Mickey Mouse Christmas ornaments and other Christmas decorations to spruce up your home! We added a Mickey Mouse tree skirt and plenty of Mickey and Minnie Christmas tree ornaments in our festive Disney tree. Pair it with some festive lights, tinsel and baubles, and you have the perfect Mickey Mouse-themed Christmas tree!
Mickey Mouse Christmas Decorations
There are so many cute Mickey Mouse decorations that are just perfect for Christmas! Top off your tree with a Mickey Mouse tree topper, or place a few Mickey Mouse nutcrackers on your mantle. Don't forget to hang up some Mickey Mouse Christmas stockings, and there's even a Mickey-themed stocking holder! You'll definitely feel like your home is filled with a little bit of Disney magic.
Harry Potter Christmas Tree
If you're a Harry Potter fan, you'll know that Hogwarts threw some of the most lavish Christmas parties for their students. (And of course, you were always waiting for that invitation to Hogwarts!) While you may not have a magical letter coming to whisk you away, you can bring a touch of Hogwarts into your home with these Harry Potter Christmas decorations and accessories. We wrapped a Harry Potter house banner around our Christmas tree and topped it off with a Sorting Hat. Then we scattered other Hogwarts items to give it that Harry Potter feel. Licensed blankets, pillows, stockings and themed wall decor around your tree will help pull it all together!
Harry Potter Christmas Decorations
It's time to board the Hogwarts Express and take a trip into the world of Harry Potter Christmas decorations! There are plenty of nerdy Christmas stockings to hang by the chimney with care, as well as some Harry Potter snow globes so you can have a white Christmas. You can also find fun string lights and geeky garlands to hang on the tree or around your home to represent the four Hogwarts houses. Don't forget to find a few candles, blankets, pillows and other Harry Potter home décor items if you want your room to match your Harry Potter Christmas tree!
Star Wars Christmas Tree
Unless you've been living under a rock...or a Christmas tree, you probably know that Star Wars has a huge fan base. We definitely don't shy away from being Star Wars fans, so it was obvious that we needed to show off a Star Wars Christmas tree. We decorated with BB-8 scarves, plush figures, lightsabers, and transformed some R2-D2 skater dresses into tree skirts to make the Force strong with this tree. We're sure you can also find plenty of Star Wars ornaments and other Christmas decorations, but sometimes it's fun to think outside the box for a uniquely geeky Christmas tree!
Star Wars Christmas Decorations
While some may argue that Star Wars isn't "Christmasy" enough of a theme for holiday decorating, you know better. There was a Star Wars Holiday Special, after all! You like Star Wars, and there are plenty of Star Wars Christmas decorations to deck out your halls. Feel the power of the dark side emanating throughout the room when you finish off your tree with a Darth Vader tree topper, and hang your stockings up with Baby Yoda in his iconic pram. If you're seeking some balance in the Force, you can add a Yoda table piece to represent the light side. This is the way.
Frozen Christmas Tree
Frozen was a hit when it debuted in 2014, and it's still plenty popular years later! Disney fans will find that its icy landscape makes it the perfect theme for a chilly white Christmas tree. We brought in a blue motif with the help of some turquoise feather boas, and accented the tree with Pop! vinyl figurines from the movie's most famous characters. You'll also see large wall decals, a throw blanket tree skirt, and a pair of long Elsa gloves.
Frozen Christmas Decorations
If you're a Frozen family, the kids will absolutely love to hang a few Frozen Christmas stockings in the hopes of getting some stocking stuffers. The Disney Frozen light dance game also doubles as a really cool wall decoration, with an Elsa wall decal and light-up snowflakes! If you're feeling innovative, you could also use a Frozen throw blanket as a tree skirt. When it comes time to take down your Frozen Christmas decorations, you won't want to let them go!
Disney Princess Christmas Tree
Elegance and beauty, this tree's got it! Disney princesses have been classic icons for decades. Whether their popularity shines through on Halloween, at birthday parties, or just playing dress-up, these princesses are everywhere! With how much we love Disney princesses, it was only fitting that we made a Disney-themed Christmas tree just for them because we simply cannot choose a favorite. Now this tree, this is the fairest of them all!
Disney Princess Christmas Decorations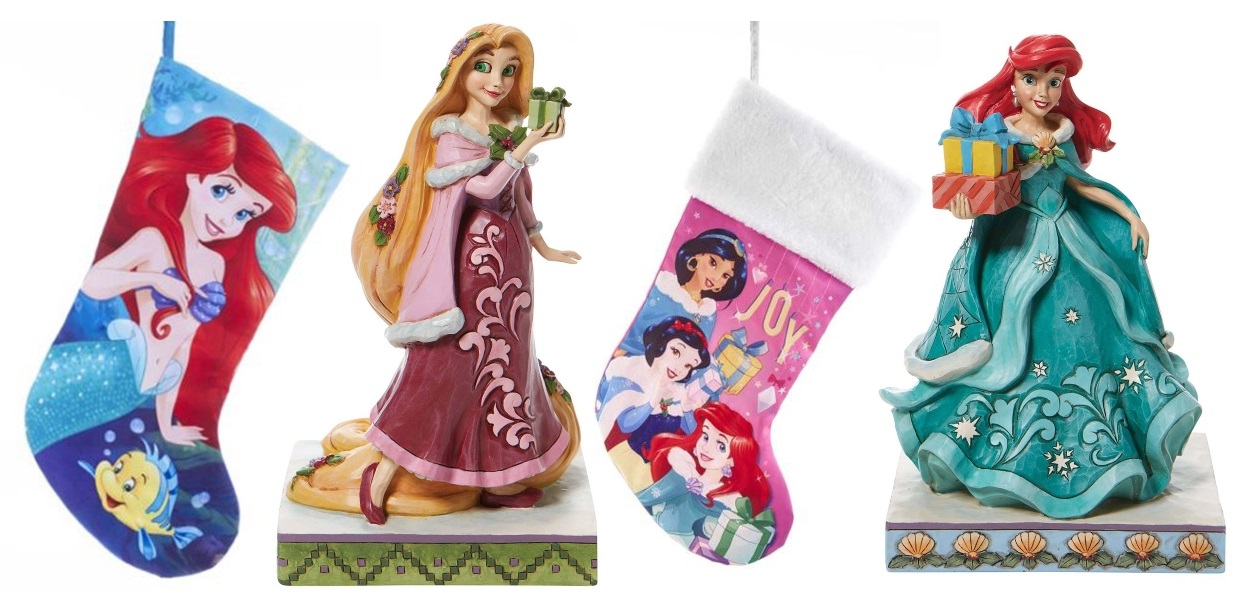 There are so many themes great for Disney Christmas trees that we just had to include the Disney princesses. (Any excuse to have a pink Christmas tree is a great excuse, you know!) If you want your room decorations to match your Christmas tree, we have a few Christmas stockings and Disney Jim Shore statues that would make wonderful additions to your Disney décor.
Classic Christmas Tree
We know we said that this was a nerdy Christmas tree blog, but leaning into time-honored Christmas decorations can be its own kind of nerdy. Maybe you collect snow globes or nutcrackers. Perhaps you have little gnomes or snowmen all over the house, or you like to share pictures of your latest adventures with Elf on the Shelf. There are so many ways to arrange your favorite Christmas decorations, but we'll be sure to share a few of our favorites.
Classic Christmas Decorations

Traditional Christmas decorations are pretty cute, but you can also find some wonderful oddities as well. Santa drinking Coca-Cola is a bit of a weird Christmas icon steeped in commercialization, and llamas dressed in Christmas sweaters are cute yet bizarre. Still, you can find more common items such as a Santa tree topper and 12 Days of Christmas ornaments. We're sure you'll find plenty of holiday decorations to fit your Christmas aesthetic.
Doctor Who Christmas Tree
So what if this Doctor Who-inspired Christmas tree doesn't have the ability to travel in time and space? Doctor Who sure knows how to spruce up an ordinary Christmas tree! (If your feet get cold, don't act like you won't borrow a pair of TARDIS slippers from the skirt.) Grab some Dalek lights and ornaments, a Sonic Screwdriver, the Fourth Doctor's scarf and you'll be part of the Whovian crowd. Don't forget your ugly holiday sweater, too!
Doctor Who Christmas Decorations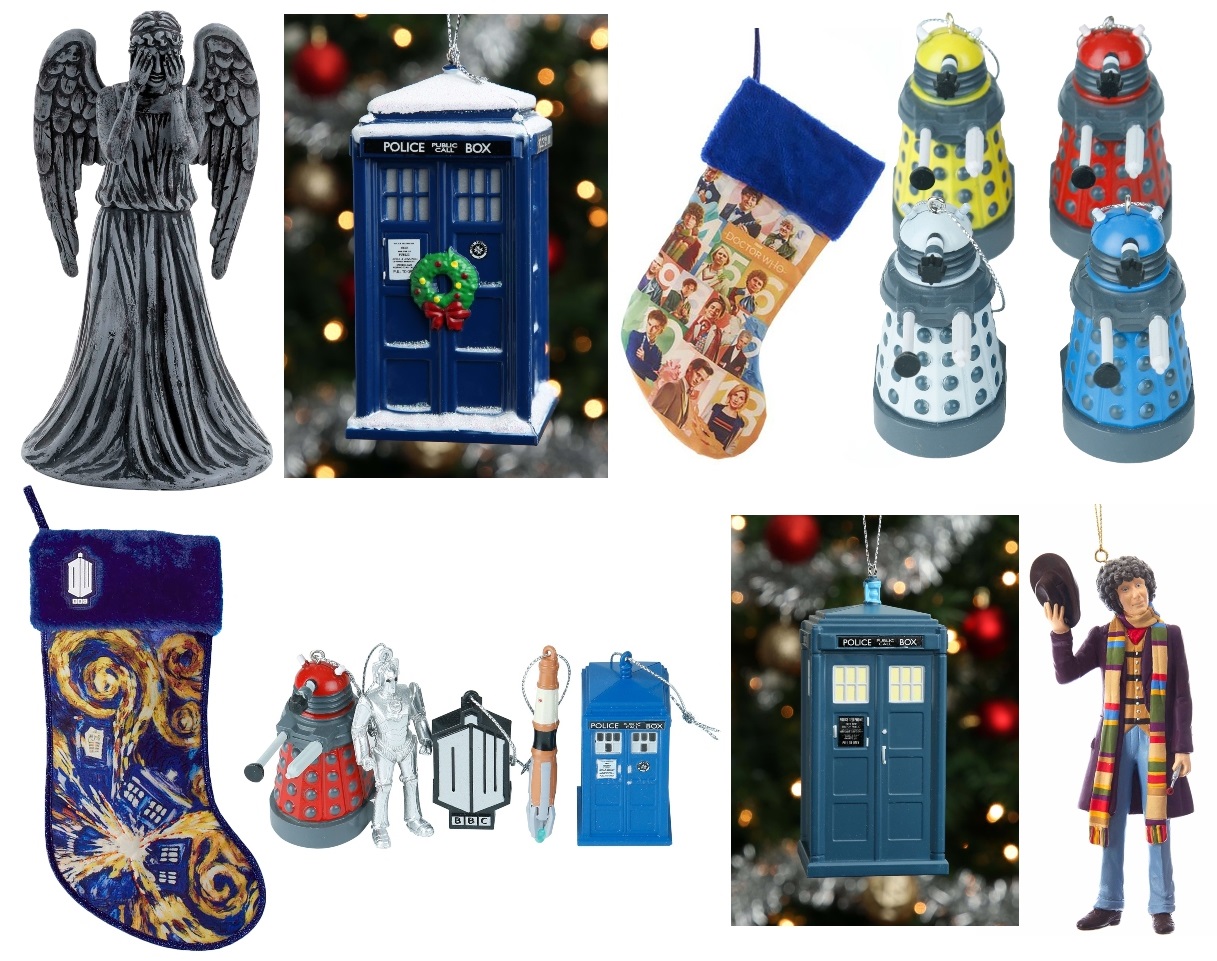 Doctor Who has a tradition of Christmas specials, so you should come to expect a bunch of Doctor Who Christmas decorations! There are plenty of Dalek ornaments and TARDIS decorations to make sure your home looks appropriately Whovian. Of course, who could leave out a Weeping Angel tree topper? Equal parts funny and scary, make sure you don't blink near the Christmas tree.
DC Comics Christmas Decorations
If you're a DC Comics fan, you probably know the lyrics to "Jingle Bells, Batman Smells" by heart. So naturally, you'd like to deck your halls with Batman Christmas decorations and other DC Comics characters—because that's Christmasy enough, right? Hang up geeky Christmas stockings with Wonder Woman and Superman, and find fun snow globes and nerdy nutcrackers with Batman and other DC Comics characters. You can even find a Batman doormat perfect for letting guests wipe snow and debris off their feet!
Nightmare Before Christmas Decorations
Is The Nightmare Before Christmas a Halloween movie? Yes. Can it be a Christmas movie as well? Also yes! While The Nightmare Before Christmas rides a strange balance between Halloween and Christmas, that just means that you get to enjoy Nightmare Before Christmas decorations for two holidays! Some of the more Christmas-themed decorations include stockings, nutcrackers and tree toppers, but we love a variety of Department 56 decorations too.
Grinch Christmas Decorations
If you're a holiday movie nut, there's a good chance that you love at least one of the Grinch Who Stole Christmas movies. (If not more!) Naturally, it translates very well into novelty Christmas decorations. You can find plenty of decorative pieces by the likes of Jim Shore and Department 56, as well as some unique nutcrackers and tea towels. Ironically, if you're decorating with any of these Grinch Christmas decorations, you're probably not a Christmas grinch.
A Christmas Story Decorations
Speaking of famous holiday movies, it's hard to beat the iconic leg lamp from A Christmas Story. Naturally, A Christmas Story Christmas decorations usually feature the infamous lamp in some form. (We even sell a leg lamp on FUN.com! It's glorious.) Still, there are plenty of novelty nutcrackers, snow globes and Christmas stockings to keep your home feeling festive.
Bob Ross Christmas Decorations
Deck your halls in happy little trees with these Bob Ross Christmas decorations! The famous painter has become so much of a pop culture icon that you can find themed Christmas stockings and even Bob Ross nutcrackers. (These items also make great white elephant gifts too!) Whether you never settle for normal or you're looking to make someone else's holiday a little weirder, you'll love these Bob Ross holiday decorations.
Peanuts Christmas Decorations
Christmas time is here! Happiness and cheer! A Charlie Brown Christmas is frequently a holiday favorite as well, so why not add some Peanuts Christmas decorations to your holiday setup? You can find Snoopy snowglobes and even a tree topper! However, nothing beats the simplicity of one of our favorite scenes—when Charlie Brown finds a small Christmas tree in need of a little love.
Other Nerdy Christmas Decorations

While we can't mention all of our novelty Christmas decorations in one post, we can tell you that there's so much more to find! Do you have a favorite movie or TV show? Perhaps you're a fan of a particular genre, such as horror or animation. Even if you're looking for one or two unusual Christmas decorations to have in your otherwise normal collection, we're sure that you'll find something unique online at FUN.com!
Does your tree also have a non-traditional theme? Geeky or not, we would love to see them! Feel free to share your ideas with us in the comment section. For additional nerdy tree décor items or to start shopping for presents to put under the tree, be sure to check out our large selection of gifts for everyone on your list. Happy Holidays!