Christmas Decorations
What do you know, it's the most wonderful time of the year! Well, that's up for some debate. Some people prefer a time when you can exit the house without wearing five layers of clothing. But perhaps you can blame that controversial opinion on our company's northern location. Officially, we still think this is the best time of the year. What other holiday has songs that are just about decorating for the season? We can't think of any. Trimming the trees, decking the halls, it just doesn't get any better! Whether you're looking to add lights and cheer to your home, office, or even your dorm room, we're here to help!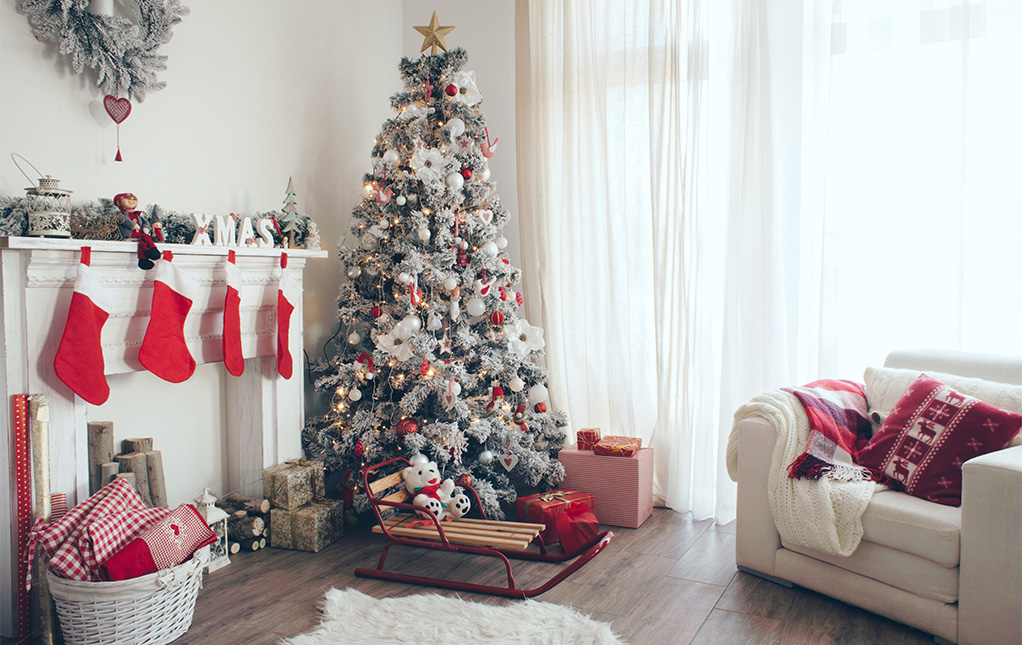 If you don't detect a distinct aura of peppermint and gingerbread rolling off your screen, just wait. Scroll on through this collection of unique Christmas decoration ideas and you're sure to feel the holiday season! Play your Christmas cards right and your guests will get the holly jolly vibes as soon as they see your sparkling front door Christmas wreath. And they'll stay in that same spirit after the last eggnog toast!
Outdoor Christmas Decoration Ideas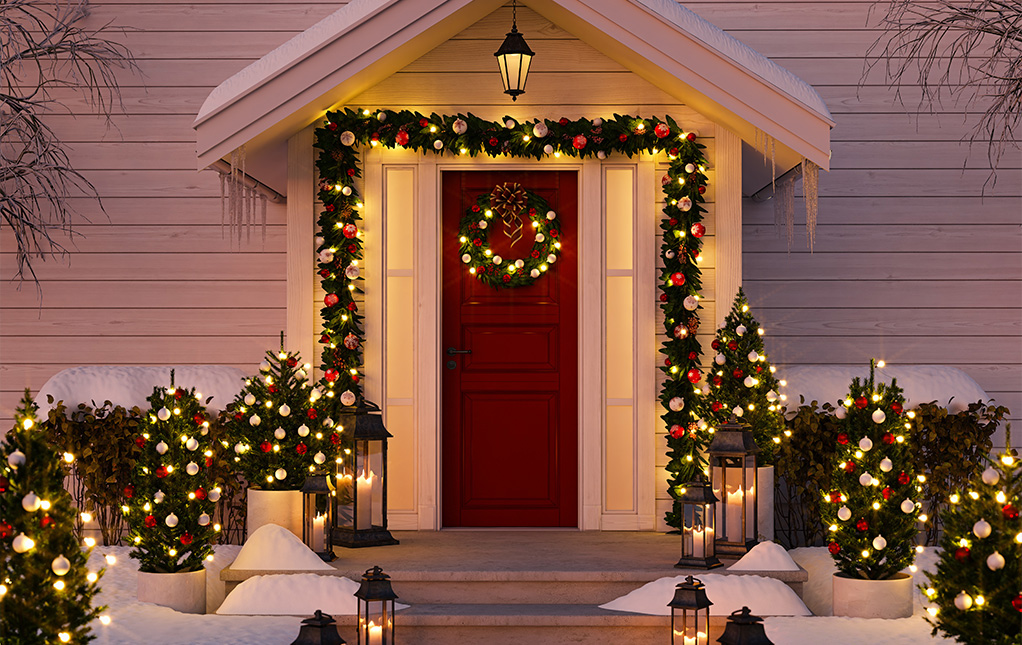 Do you remember driving to take in the Christmas decorations when you were a kid? You'd sit in the back seat while Christmas music played over the radio, taking in the twinkling lights and the scenes of Santa Claus and his reindeer. Now you get to spread that particular brand of magic yourself! People really have a lot of fun with their yards these days. So when you're thinking of how to decorate your home for Christmas, you can have a lot of fun with it! Show your true Christmas spirit with an outdoor inflatable. Accent your house's façade with sparkly lights. Add your favorite Disney characters, a modern Christmas ornaments wreath, and you'll be ready to uphold that wintery wonder that we all treasured as kiddos.
Front Door Christmas Wreath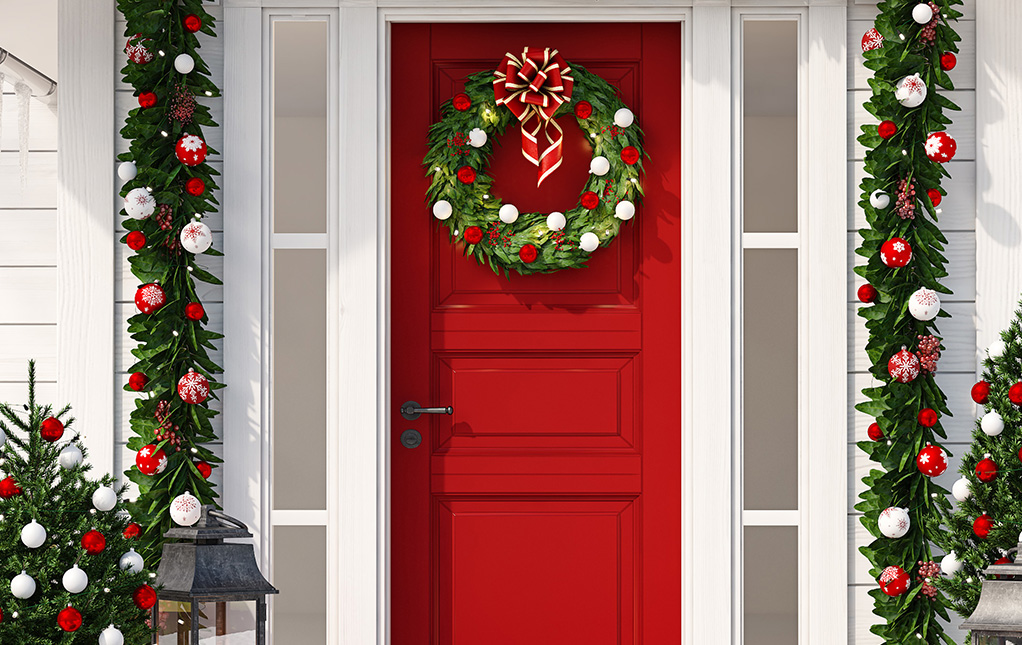 If you look up Christmas wreath decorating ideas, you'll have so many ideas that you'll end up in a Pinterest loop until the holidays are all wrapped up. It's nice to know when you can easily create a DIY look and when you just get a beautiful, unique wreath that comes ready to hang. Either way, you don't have to get wrapped into how-to videos and start a new time-sucking Pinterest board when you choose a welcoming holiday wreath from our selection!
Christmas Lawn Decorations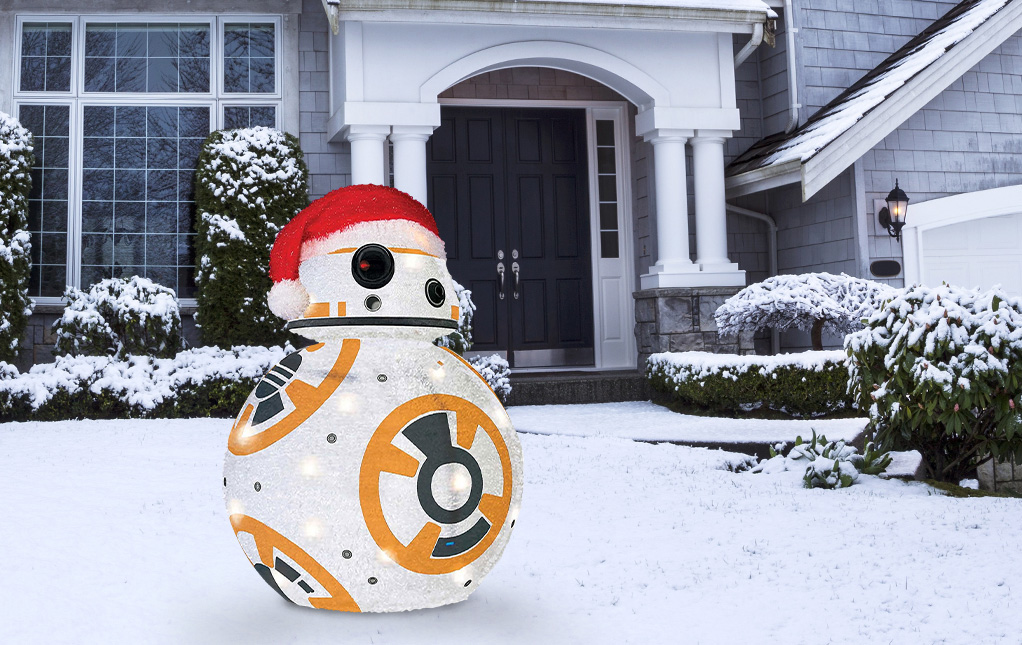 Christmas cheer isn't only for those people who live in cold climates. Anyone can enjoy festive holiday decorations. And we're reasonably sure that decorating your front lawn in a holly jolly fashion would be a lot more fun while wearing jeans and a t-shirt rather than shivering in a parka. Whether you're decorating on a green lawn or you're trudging through the snow, fun centerpieces for the lawn like this wild inflatable BB-8 decoration will remind anyone that passes that it's the most wonderful time of the year!
Christmas Figurines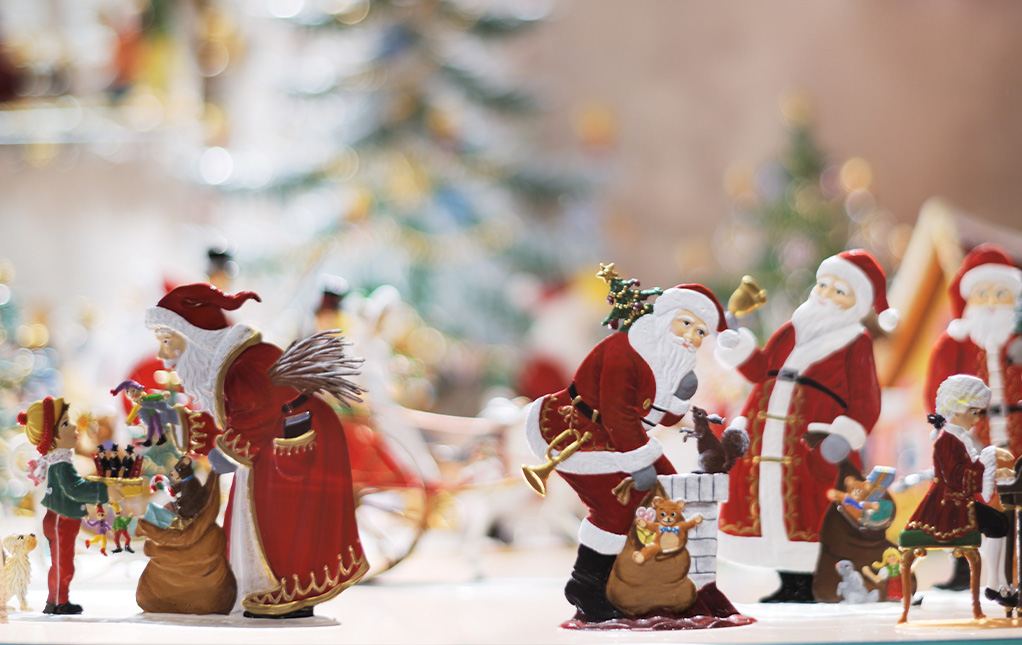 Setting the holiday scene is all about the little details that we get to revisit year after year. You might remember closely examining the little reindeer grazing around your Grandma's side table. Or discovering the secrets of Christmas village that you and the family set up each year. This is all to say that the right Christmas miniature has the power to spark magic in your home. Now, whether you're looking for unique pieces for your very own mini Christmas village or the perfect Santa Claus for your desk at work, you'll find sweet little details among this catalog of Christmas décor ideas!
Nightmare Before Christmas Figurines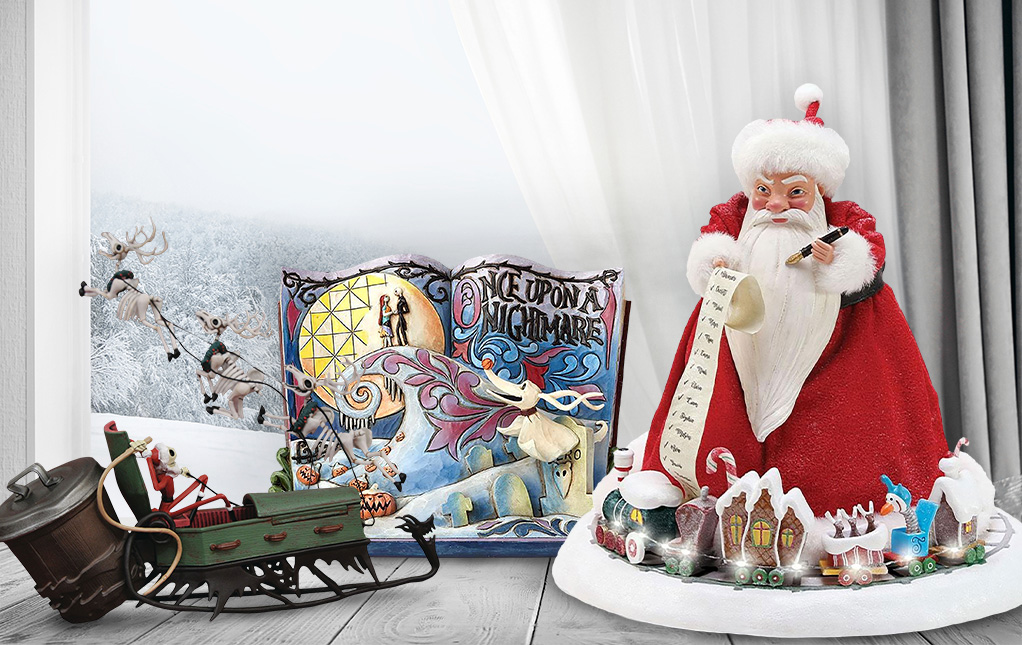 If you're great at understanding the holiday spirit, then you probably love the idea of décor that spans the gap from Halloween to Christmas. The charm of a Nightmare Before Christmas mini-village captures that idea perfectly. All the wonder of Christmas is balanced with the whimsy of Burton's Halloween Town when you arrange the mini, macabre houses and towers. All you need to do is sprinkle a little fake snow over the scene to make this dark little Halloween Town Christmas ready!