PJ Masks Toys
So, your child is all about PJ Masks and you're busy shopping for some gifts. That's great! The TV show that features Catboy, Owlette, and Gekko saving the world at night is loved by little boys and girls around the world. And if one of those kiddos is on your shopping list, you've found a great spot to buy PJ Masks clothes and gifts. We feature PJ Masks pajamas, headphones, and even PJ Masks bedroom furniture. But, perhaps most importantly of all, we sell PJ Masks toys!
The show is geared towards preschoolers, and we feature toys for ages 3 and up that are designed for the fun and engaging play that little ones love. With action figures for Catboy and Gekko, and Owlette toys that swoop down from the sky, there are many options to choose from. So, when it comes to that what's what in the world of PJ Masks play, we want you to have all the info you'll need to make a smart purchase. Just check out these top toy ideas to help you decide which item to pick out for your child!
PJ Masks Car Toys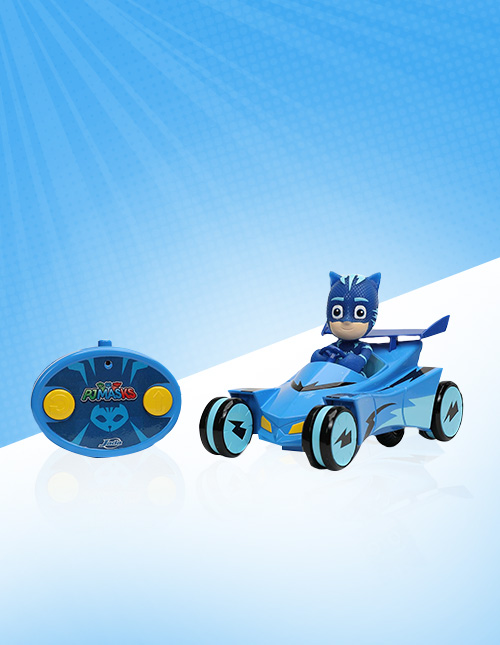 It pretty much goes without saying, kids love car toys. And, when a kiddo can drive around a toy car with R/C radio control, it's even more fun. So, when the R/C car features one of their favorite heroes like Catboy? Well, that's a toy that just can't be beat! The Catboy RC Cat Car features remote driving so your preschooler can pilot Catboy around the house or driveway. With a range of up to 80 feet, your child is going to love recreating the amazing action from the TV show!
PJ Masks Headquarters Playset
On the show, the PJ Masks team has an undercover Headquarters where they make their superhero plans. And, with this PJ Masks Battle HQ Playset from Hasbro, your kiddo can recreate the HQ and play out an important battle! With a Romeo and Catboy action figures included, kids will love that each figure activates lights and sounds with the playset's Hasbro Hero ID technology. It's also compatible with the other Hero ID 3-inch PJ Masks figures, sold separately, to expand the scene!
Catboy Toys
Catboy is the oldest member of the PJ Masks team and the leader of the group. So, it's a safe bet that Catboy toys are usually the first choice of preschoolers when choosing a PJ Masks action figure. We sell one of the coolest figures available with the PJ Masks Robo Catboy Action Figure. This battle-ready robo suit reacts to the Hasbro Hero ID technology when a figure is put into the suit. Put in Catboy and the suit plays hero sounds and phrases. If you put a villain into the suit, though, it reacts with an alarm!
PJ Masks Vehicles
When the PJ Masks superhero team needs to fly, they have a souped-up jet that helps them on the mission. And all they need to do to take to the air is combine the Cat-Car, the Owl-Glider, and the Gekko-Mobile to create the PJ Jet! This PJ Masks Combiner Jet toy brings the action from the show to life. The playset includes a figure and a PJ Masks vehicle for each of the heroes, and the vehicles easily connect to form the PJ Airjet with sounds and lights activated by the Hero ID tech!