Fun and Unique Shoes
Shoes have always been a way to express yourself, just like your various shelves of collectible figures and props have. You can use your footwear as a basic, and sometimes subtle, representation of your sense of fashion. Or you can utilize a pair of canvas high tops to show off your pop culture interests. Either way, shoes really can foot the bill!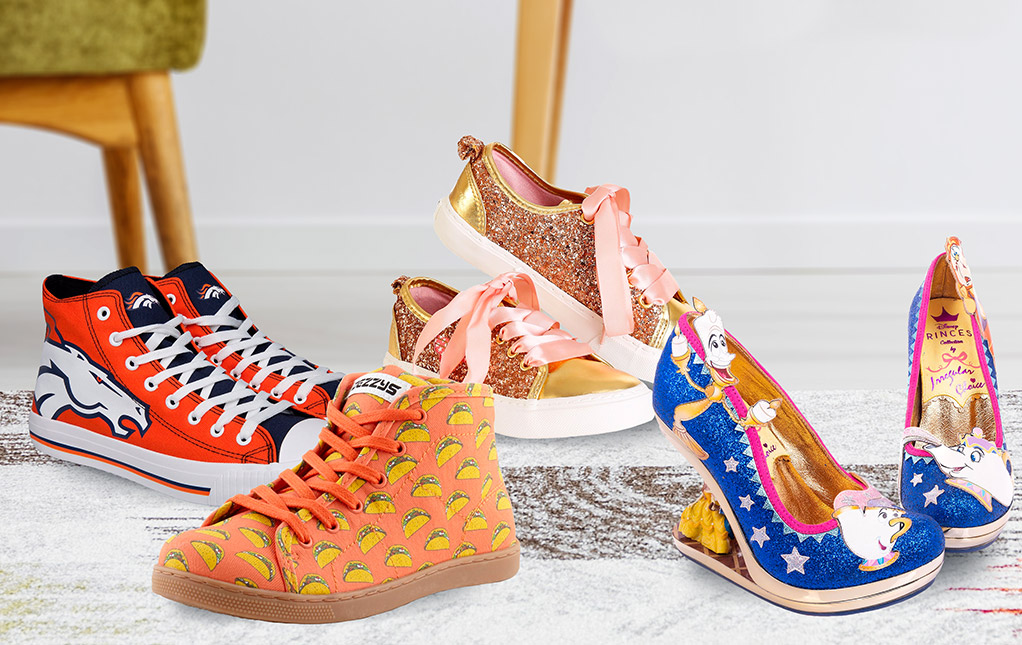 When you shop our selection of clothing accessories, you'll find everything you need to boost your wardrobe, including a wide range of shoes and slippers. Search our collection for a pair of funky heels that perfectly complement your fantasy costume. Or stock up on some unique sneakers to get your kid ready to head back to class. With us, you'll always find something fun!
Unique Shoes for Adults
Let's face it; sometimes, it just doesn't seem like we can fully strut our stuff as adults. We're told we need to wear a professional business wardrobe for work instead of our favorite band t-shirt. We need to look pulled together—always. But here's the thing: that doesn't need to be boring!
Need an outfit for the office? Check our FUN Suit options. Then match all your outfits with shoes that are just as unique as you! Attend your company holiday party in a pair of flats for which Mrs. Claus would go crazy. Get nostalgic with shoes that your kid-self would be jealous of, like these Nightmare Before Christmas high tops. Make a statement on your next grocery-run with these fuzzy pink sneakers paired with a new print t-shirt. Responsibilities or not, your personal style can flourish when you shop with us!
Canvas Shoes for Women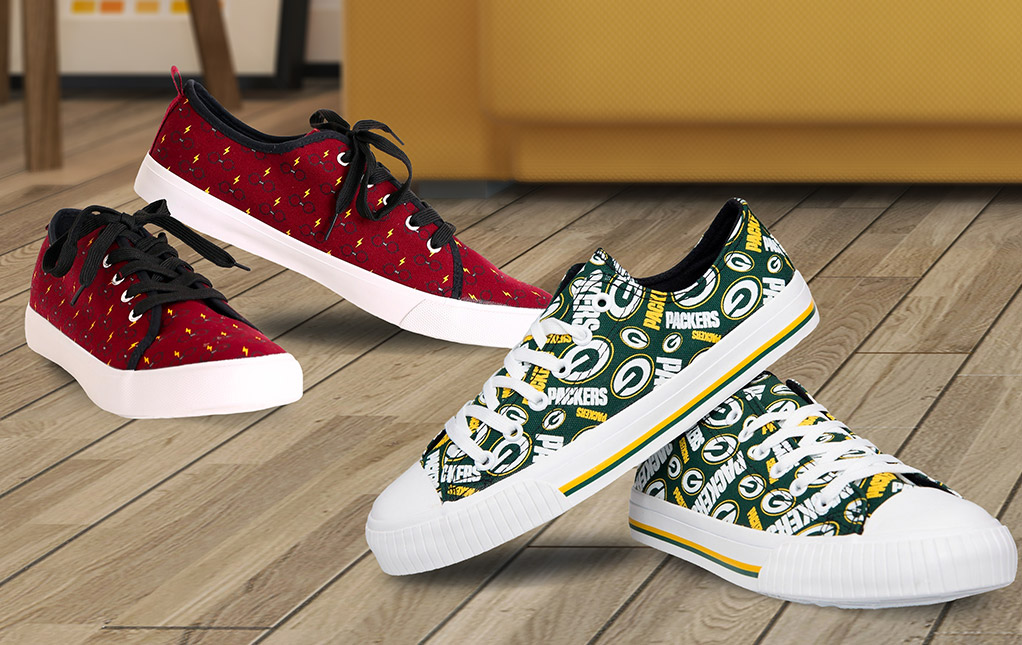 In high school, your favorite pair of sneakers were canvas high tops that you scribbled song lyrics all over. You wore them every day, even after the sole separated from the rest of the shoe. They're probably gone now, or you've displayed them like a museum piece. But, it's never too late to fall for another pair of trusty canvas shoes!
Our selection of women's canvas sneakers will save you on customization this time around. A pair of Harry Potter Oxfords would look great for any casual occasion and with your Hogwarts wardrobe. For game day, you'll be geared up to cheer on your team with logo-printed sneakers. All you might need is a fabulous pair of socks that complements your unique style!
Men's Slide Sandals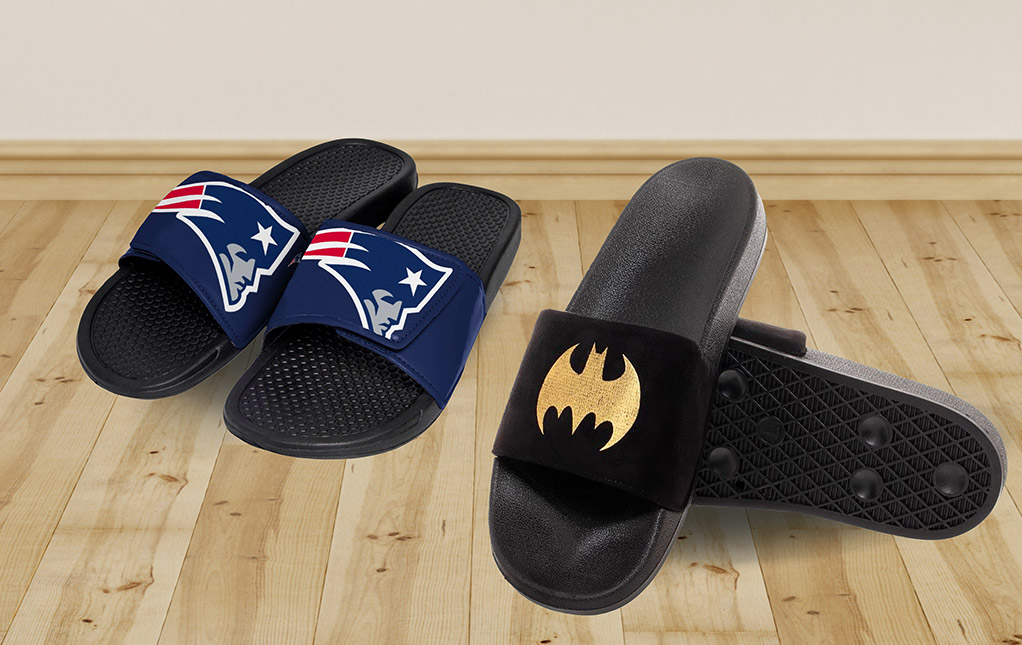 Occasionally your situation doesn't call for full coverage shoes. You'll need something that's quick and easy to wear, a pair of shoes that is more for utility than fashion. Of course, that doesn't mean they can't be cool!
When you're heading outside to let the dog take care of business, skip the laces and opt into a pair of slide sandals! You'll even find pairs like these Batman logo slides that you can match to your pet's accessories. If you're hosting a grill-out, don't just decorate the yard, decorate your feet with a pair of slides to match all your NFL gear. Whatever reason you're stepping out the door, make sure you have the flips that won't flop!
Star Wars Shoes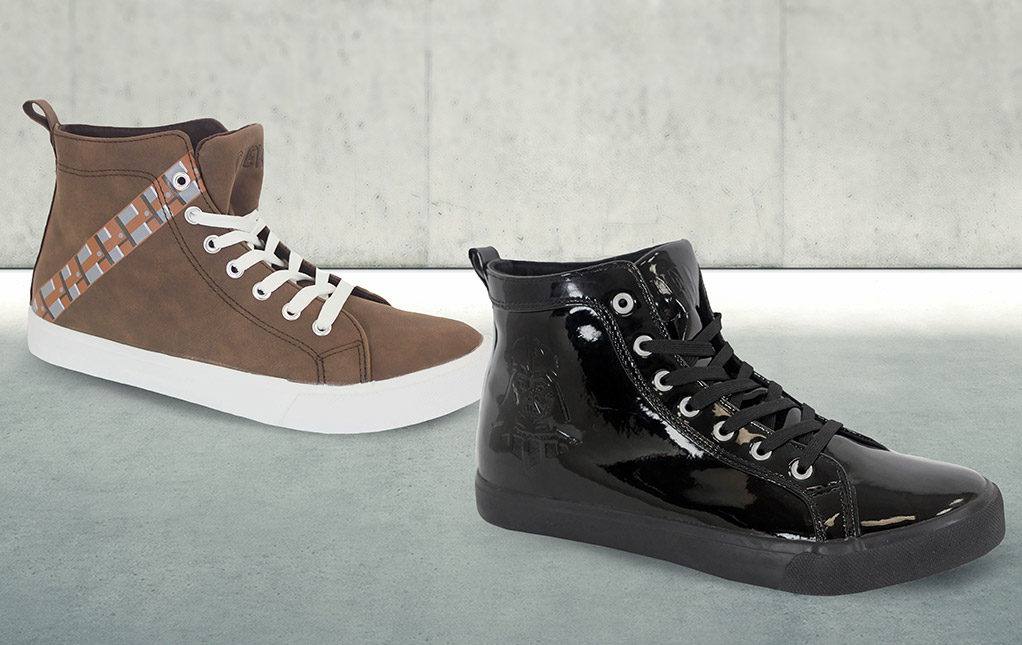 When you can't wear your full Star Wars costume (because it's a black-tie wedding not a costume party), you can still sport your favorite nerdom for the event. These high gloss Vader sneakers look just as stylish with a modern suit as a pair of polished brogues. Whether you're dressing for your daily routine or stepping it up for a special occasion, you'll find a pair of pop culture kicks that fit your needs!
Shop our selection to find everything from these stylish Chewbacca sneakers to a pair of cozy Mario moccasins that shout, "let's-a go"! With a wide range of unique boots, shoes, and slippers to choose from, we have something for everyone!
Irregular Choice Shoes
If you're looking for funky high heels or showstopping flats, look no further than our selection of Irregular Choice shoes! Their one-of-a-kind, high-quality designs are some of the most eye-catching looks available. Step out in a pair of glittery red heels that are just as passionate about fashion as you are. Or get wild with your style and try these hula girl heels for your next tropical escape!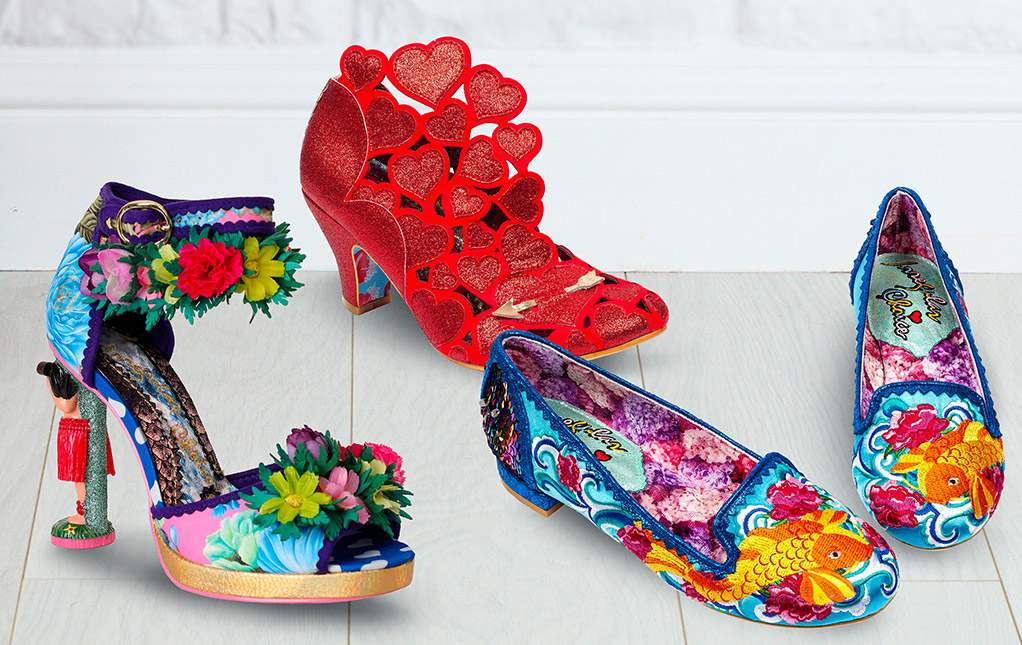 Don't stop with a pair of these special shoes; get your entire wardrobe in on the act with all our Irregular Choice accessories! Pair your holiday sweater with any of Irregular Choice's leggings. Love your koi flats? Emphasize their flashy look with a matching handbag. Whether you're heading into the office or out for a night with the gals, a pair of Irregular Choice shoes is sure to make an impression!
Irregular Choice Heels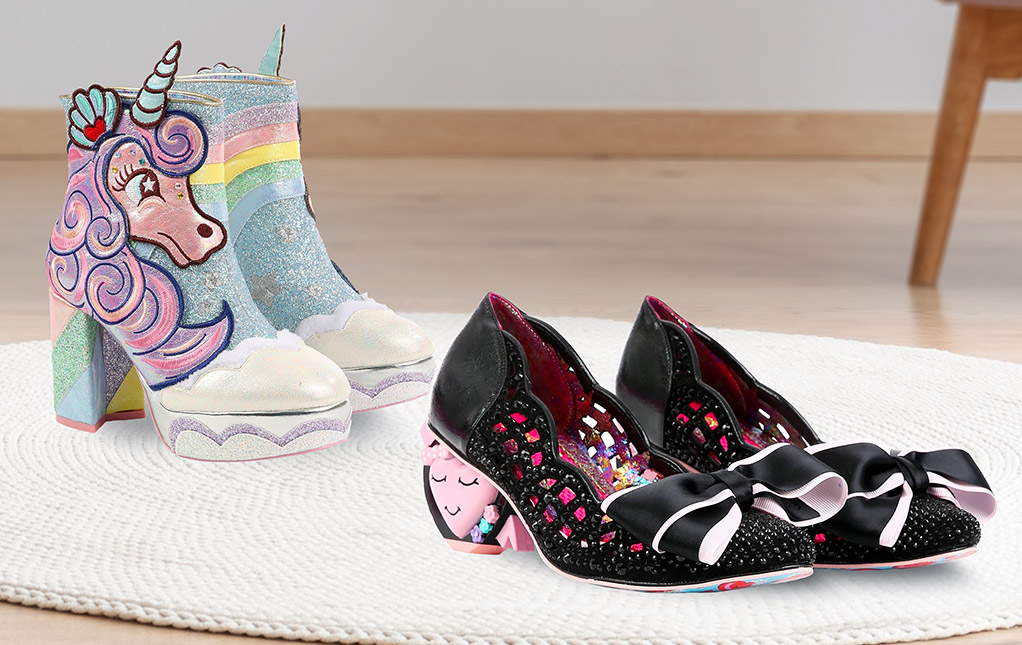 Everything about your style reveals a little about you. You may accent all your casual work ensembles with a playful piece of jewelry. Or, perhaps, you wear nothing but unique dresses for every occasion. Maybe you're looking for a way to jazz up every outfit even more. If you want to add pizazz to your wardrobe, you've found the answer with Irregular Choice heels!
A pair of dreamy unicorn boots would add interest to your simple jeans and t-shirt combo. Meanwhile, something more classic like these black heart heels could become your everyday go-to. Don't hide your unique personality behind plain footwear; make a statement and shop our Irregular Choice collection!
Disney Shoes for Adults
You've seen countless Disney shoes for kids. They're great. You love them, but let's be honest, you're becoming a bit jealous. You grew up on Disney. Every present you received or bought yourself was a Disney gift. So, where are your Disney shoes?
Right here! Irregular Choice has all the Disney styles for which your heart could wish. We promise this isn't a dream. You'll find everything from Little Mermaid sneakers to Aladdin heels that will have you gliding across the floor like you're on a magic carpet. Accessorize all your Disney costumes and casual ensembles with these Disney shoes for adults!
Superhero Shoes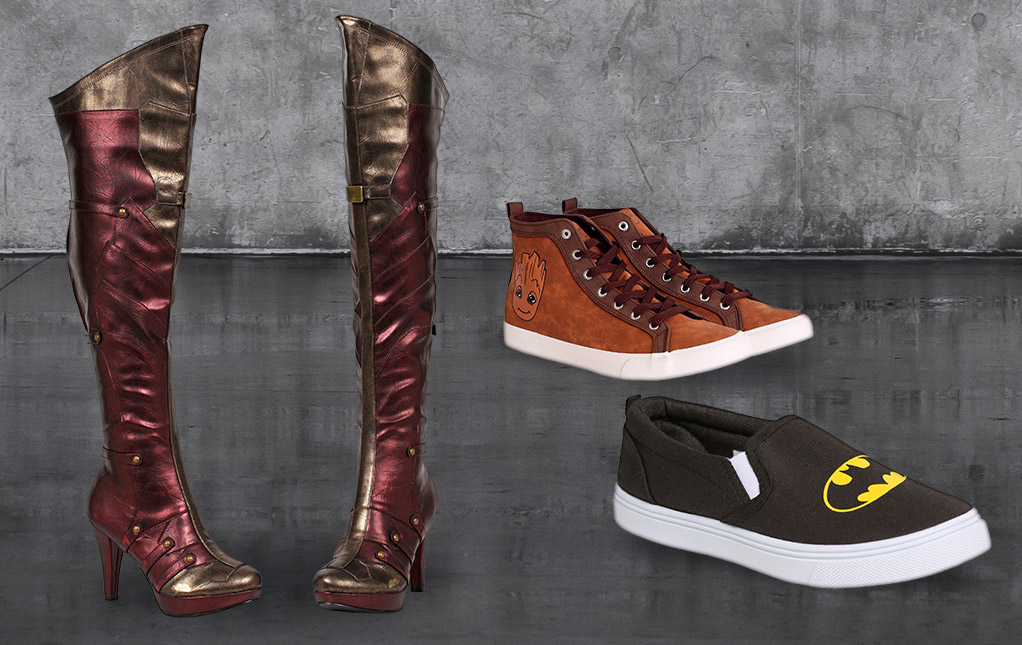 Superheroes have a wide range of powers. From super-strength and flight to invisibility and cat-like reflexes, there's a dream ability to inspire every fan. And while we can't imbue you with superpowers (like the sun likes to do), we can offer you a few nifty gadgets that will help your feet feel as super as your favorite hero.
Maybe you need a pair of boots to complement your Wonder Woman costume. Or perhaps you've chosen Batman as your role model and want to channel your inner Bruce Wayne with Batman-themed clothing? We can help with both! We'll even give you a few ideas on how to harness your Iron Man-like confidence with Marvel clothing and matching kicks. Make super-fashion your extraordinary power or give super-speed a try with flashy sneakers. Though, when you shop our selection of superhero shoes, you'll find it easier to choose both!
DC Comics Shoes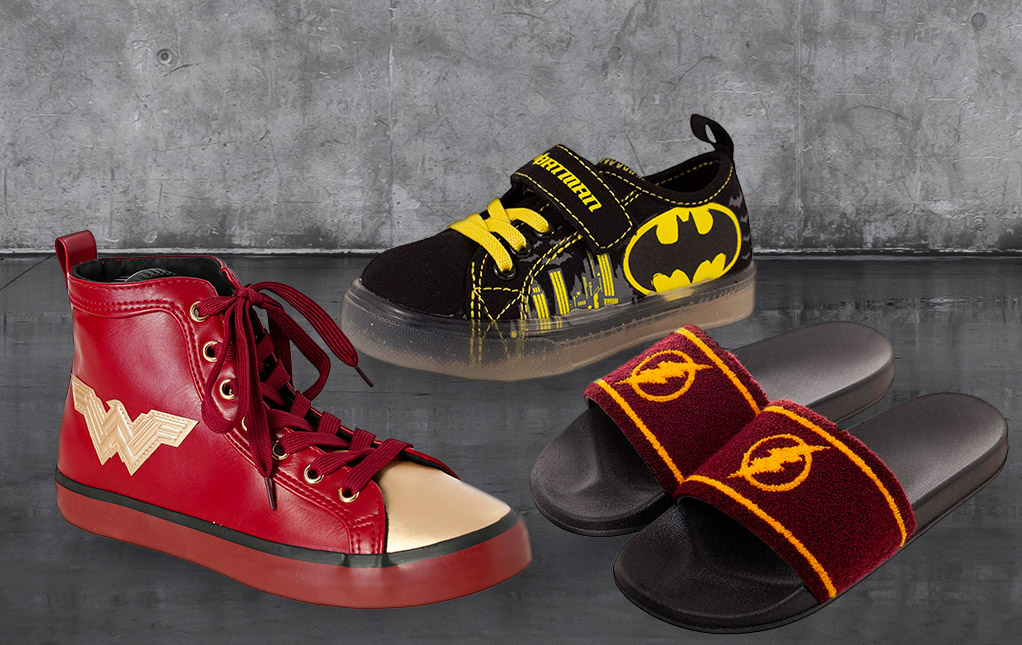 Is your household a strong group of DC fans? Have you filled every shelf with DC comics collectibles and every closet with DC clothing? It's time to fill the shoe racks too! When it comes time to argue if Batman or Iron Man has the better tech gear, you and yours can put your foot down and declare Batman the winner.
Reward your dedication to the DC team with a Justice League gift. Then check our DC shoes selection for something unique, because whether you're making a speedy dash to the mailbox in Flash slides or boosting your kiddo's confidence with light-up Batman shoes, our selection is a sure fit!
Marvel Comics Shoes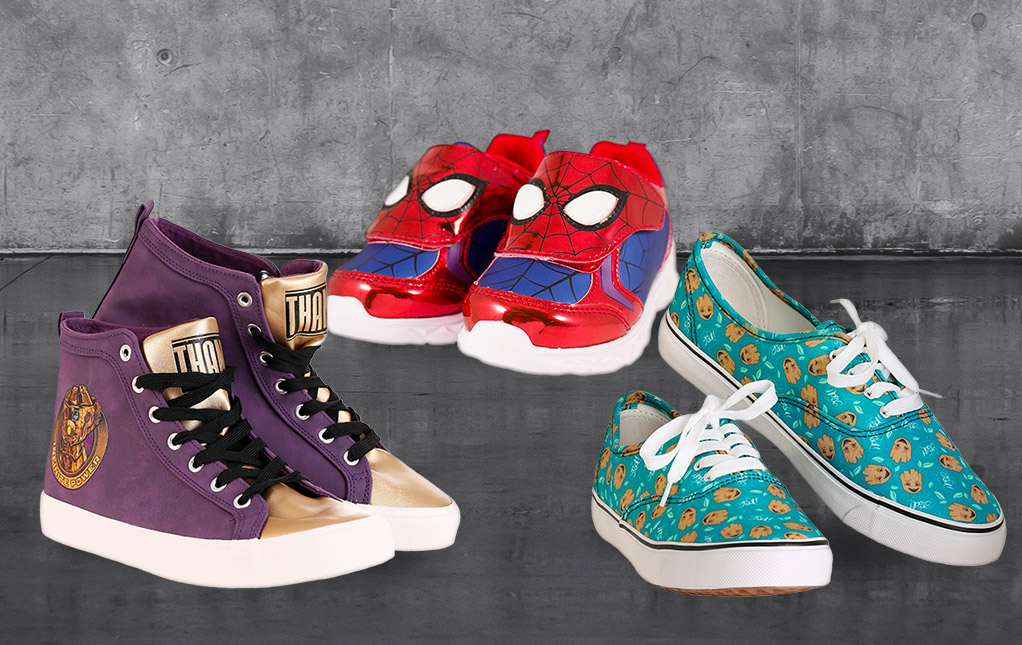 Living in a home that's Marvel-obsessed? Is your kid's room full of Marvel toys? We bet you've been waiting to expand your Marvel collection to include more than a shelf full of static Marvel collectibles. And here's your chance!
You don't need to wear an Avengers costume (though we highly recommend giving that a try) to assemble your Marvel wardrobe! Simply shop our selection of Marvel clothing and accessories to find everything from backpacks and hats to socks and shoes! Stir things up with these Thanos high tops or get in touch with nature with a pair of Groot sneakers. No matter which pair of Marvel comics shoes you pick, you'll love them 3,000!