WWE Wrestling Costumes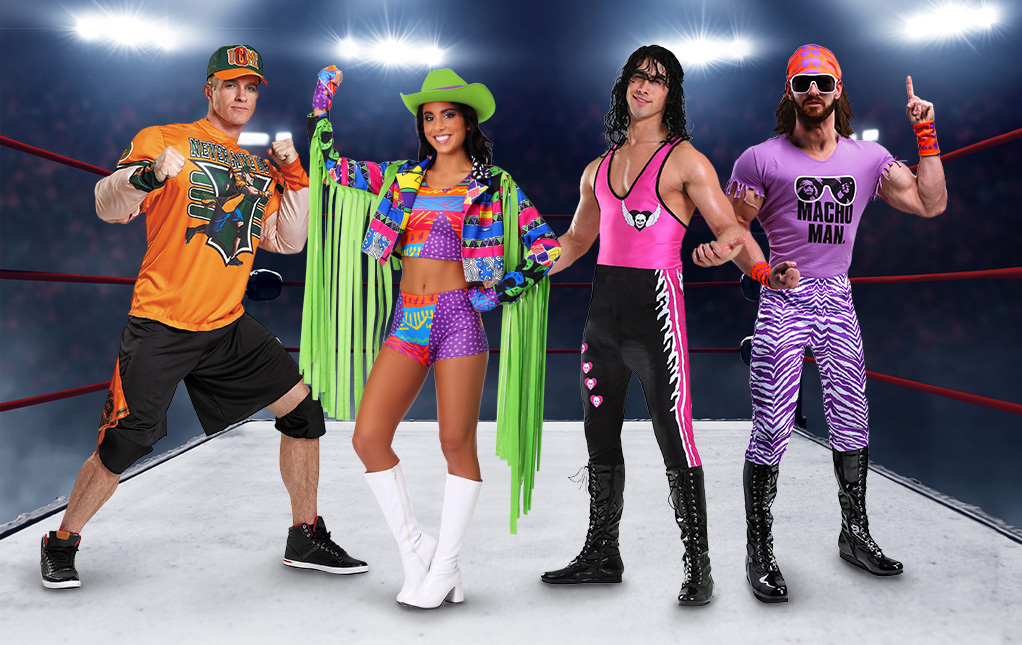 Alright, so you're a top WWE fan, and you've made your way here to FUN.com. You've shopped our massive selection of WWE gifts, but now you've got your eyes set on the next costume party. Well, we've got you covered there, too, with our awesome selection of WWE Costumes! We have a great selection of WWE Halloween costumes, and that's because we teamed up with World Wrestling Entertainment to produce our own line of Made By Us Costumes. That's right, our line of WWE costumes are officially licensed and feature authentic character details from the apparel worn by their most famous performers. We have plenty of WWE styles for men, women and kids, to get everyone in on the fun. No matter who you're shopping for and which character you have in mind, we have a costume ready to go. Check out all of these top selections for extra info and detail in this FUN.com How-To!
Women's Wrestler Costumes
A woman wrestling in the WWE ring is still a relatively new phenomenon, so there's not quite the same legacy of performers when it comes to superstars. But that doesn't mean we can't go back to 80s to let women portray some of the all-time classics of the rings. That's right, we've taken some of the signature styles of all-time great WWE stars and created costumes just for women so that everyone can get in on the old-school fun. See if our exclusive women's costumes for Ultimate Warrior and Macho Man are just what you're looking for!
Women's Ultimate Warrior Costume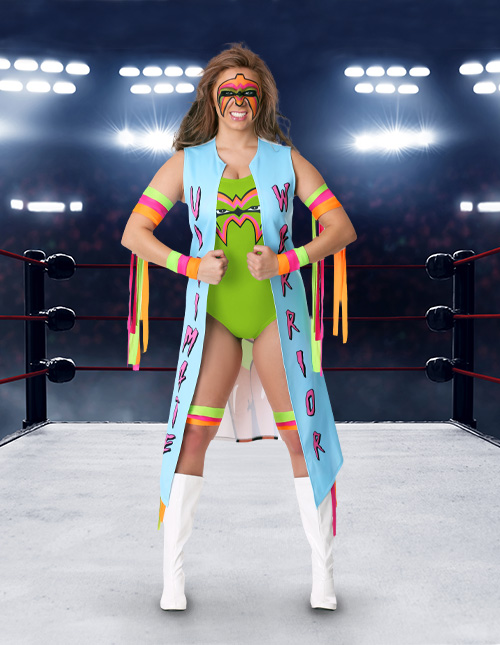 Our top request for a women's WWE Costume? That's easy. The incomparable Ultimate Warrior! The Warrior ruled the wrestling scene in the early 90s and many fans today grew up watching his antics. That included plenty of young girls, of course, so we're very proud to present this Made By Us Women's Ultimate Warrior Costume! Styled for ladies, it comes with a bodysuit and a vest that hits below the knee. Each piece features printed details, and it comes with multicolored bands that fit on the arms, wrists, and thighs. You'll have to do the face paint on your own, of course, but with one of our makeup kits it will be easy to recreate his iconic style!
Women's Macho Man Outfit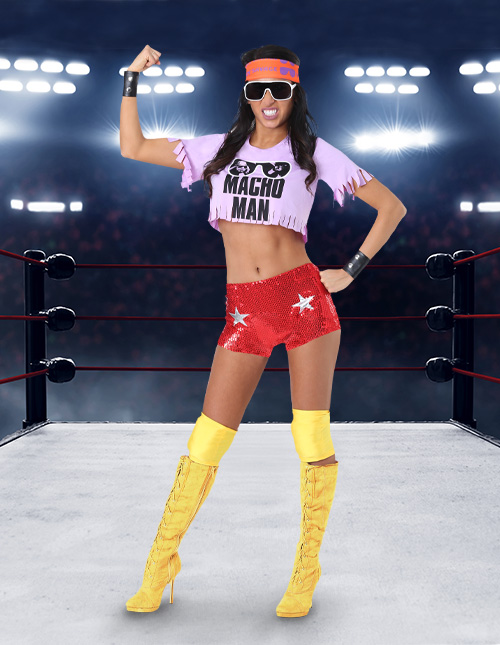 Got a little bit of Macho Madness? Well ladies, now you can do your own burly "Oh Yeah!" when you slip into this Women's Macho Man Madness Costume. This costume is derivative of the Macho Man's classic ring apparel, but styled just for women. It comes with sequin star shorts to do the job of wrestling trunks, and a mid-riff shirt featuring fringe cuts and a graphic print of his sunglasses logo. Accessories complete the theme, with a headband, wristbands, and knee pads included. Create your own persona as the Macho Woman and we're sure you're going to have an epic Halloween!
WWE Costumes for Kids
Kids are perhaps the biggest wrestling fans of all, with the over-the-top and imaginative storylines being perfectly suited to filling up their budding imaginations. Of course, the modern era of wrestling has featured plenty of awesome performers to look up to, so it's no surprise we have some great costume choices to let kiddos suit up as the wrestlers they see on TV each week. Check out these WWE Costumes for boys and girls and see if they're the characters your kid is looking for this Halloween!
The Rock Costumes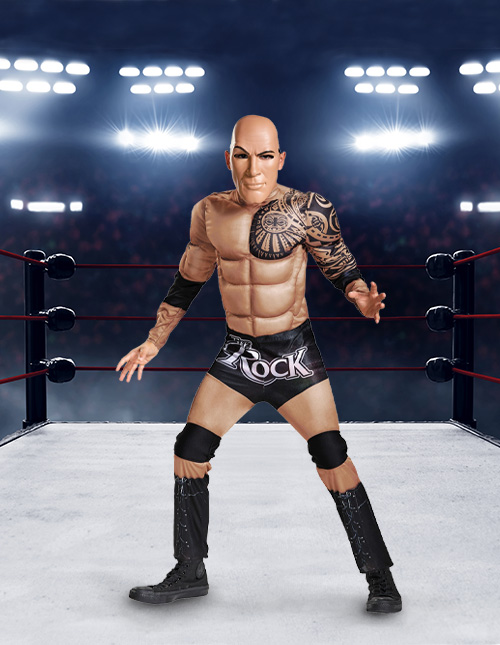 Your kid probably knows the Rock for his appearances in Fast & Furious or Jumanji. But if they're wise to their WWE History, they know that the Rock first got famous as one of the most popular wrestlers of the late 90s and early 2000s. The Brahma Bull left a big impression on fans as he "layeth the smacketh down" so it'd be no surprise to use if your kid wants to suit up in his classic wresting duds for Halloween! They can do just that in this Kids' Rock Muscle Costume. Complete with a plastic half mask (with an eyebrow raised!) they'll have his signature style with this costume.
John Cena WWE Costume for Kids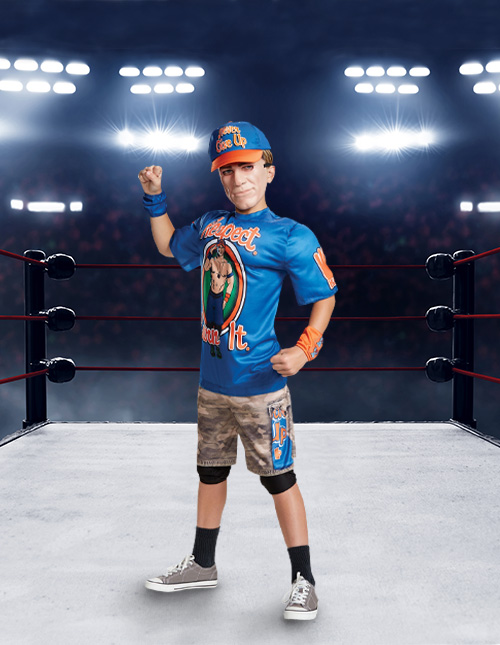 Never Give Up. Some great words to live by, and when spoken by WWE Superstar John Cena, something to really look up to! We're sure if you're kid has been tuned into the WWE, they know all about John Cena. One of the most popular wrestlers and top performers of the modern era, not to mention a record holding champion, we're sure your kid would be ecstatic to suit up as him. And with this detailed John Cena Muscle Costume, they can do just that. The suit and accessories are printed with mottos, and it includes a plastic character mask to complete the effect!
Bayley WWE Costume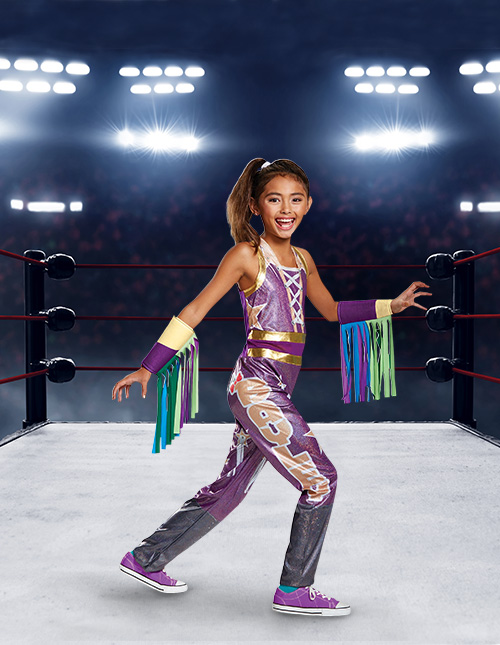 Girls have plenty of modern wrestlers to look up to, and one of the most popular is Bayley. When she's not making side ponytails and hugs popular, she's kicking butt in the ring and winning titles. So, it should be no surprise that your kiddo would like to suit up like her for Halloween, and she can do it with this WWE Bayley Girl's Costume! The purple metallic jumpsuit has plenty of printed details, and it comes complete with wrist cuffs that feature long fringe.
Sasha Banks WWE Outfit
The other top women's wrestler in the WWE, of course, would be the one and only Sasha Banks. If your girl would like to be "the Legit Boss" all she needs to do is to suit up in this Sasha Banks Costume! It comes with a printed romper suit along with armbands and shin guards for a ring-ready look. It even has pink hair extensions so she can get her character style just right. With this costume, she'll be calling herself a boss in no time!