Harley Quinn Halloween Costumes
Step into the chaotic world of Harley Quinn with the perfect costume that captures her vibrant and mischievous personality. Known for her unpredictable nature and playful sense of style, Harley Quinn has become an iconic character in the DC universe, captivating fans across various mediums. Whether you're gearing up for Halloween, a cosplay event, or simply want some cool Harley Quinn apparel and accessories, we've got you covered!
From her classic harlequin-inspired costume to the edgy and colorful outfits seen in movies like Suicide Squad and Birds of Prey, we sell many great options you'll want to consider. Whether you're a die-hard fan or a newcomer to the Harley Quinn fandom, these costumes are sure to make a bold and unforgettable statement. Get ready to embrace your inner anti-hero and embark on a wild adventure as the charmingly deranged Harley Quinn!
Harley Quinn Costumes for Adults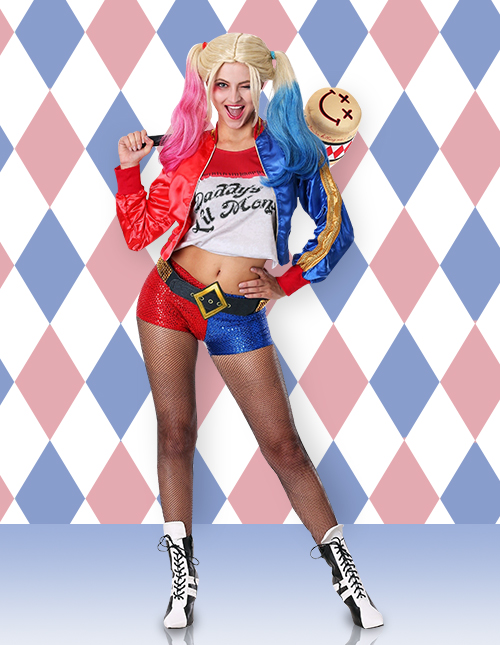 Ready to unleash some crazy fun? Get ready to rock the Harley Quinn Suicide Squad Costume! This iconic outfit has become an instant classic that captures the rebellious and unpredictable spirit of the character. The always edgy ensemble features a striking mix of red, blue, and white colors, along with signature details like "Daddy's Lil Monster" written across the front.
Equally suited for a mild-mannered costume party or a wild night out, this costume lets you channel your inner anti-heroine and turn heads wherever you go. Get your dip-dyed pigtails and baseball bat ready – it's time to embrace your zany side with this DC-licensed costume!
Plus Size Harley Quinn Costumes
Get ready to unleash your inner queen of mischief with the Plus Size Harley Quinn Costume! This classic jumpsuit, inspired by your favorite DC comic books, is designed to fit all body types. The harlequin patterned outfit and matching hat add a touch of playful charm to your villainous transformation.
Whether you want to plan a caper for Halloween or simply want to embrace your love for Harley Quinn, this plus size costume ensures that any fan can rock the beloved character's style with confidence and attitude. With a big dose of Harley-inspired spirit, you will be able to leave a trail of playful mischief wherever you go.
Harley Quinn Kids Costumes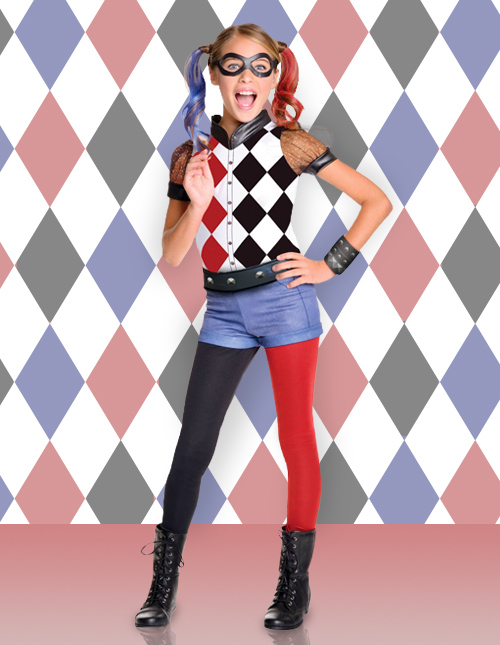 Calling all young superheroes! Let your little one's imagination soar with the kid's Harley Quinn costume inspired by the beloved DC Super Hero Girls franchise. This vibrant and empowering outfit brings together the iconic elements of Harley Quinn's signature style, featuring playful colors, a mischievous attitude, and a whole lot of fun.
Whether your kiddo wants to trick-or-treat alongside the other girls from Super Hero High or engage in some imaginative play at home, this costume will help your kiddo create some unforgettable adventures. Buy this costume and watch your child become a bona fide DC Super Hero Girl in no time!
Harley Quinn and Joker Costumes
A Harley Quinn and Joker costume is the perfect choice for couples or friends who want to unleash some serious mischief! This wickedly fun duo will let you and your costume partner capture the essence of their twisted love story and criminal partnership. After all, we're talking about Harley Quinn, the mischievous and unpredictable villainess, alongside Joker, the cunning and chaotic mastermind!
Our Arkham City Harley Quinn Costume and Joker Costume feature vibrant colors and devilish charm for a look that's sure to raise eyebrows at any costume party or comic convention. Whichever pair of Joker and Harley costumes you choose, as this infamous pair you'll be in for a night of mayhem you won't soon forget!