Pool Floats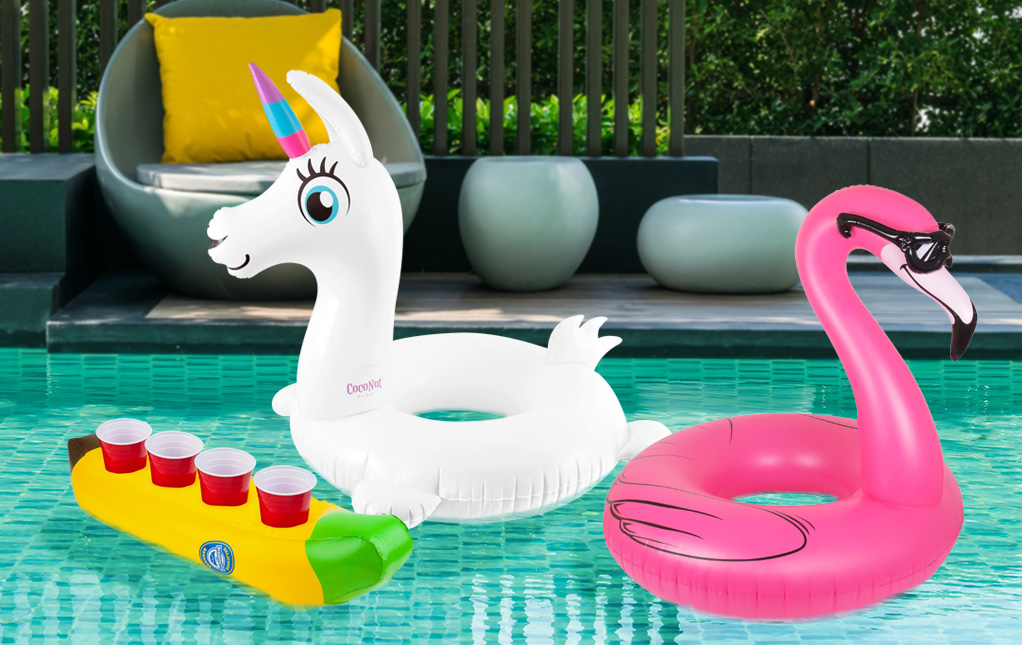 Time to have yourself a pool day? Awesome! You're all prepared, right? If you don't quite have all the gear needed to max out the fun at the pool, then right now is the most excellent time to prepare for summer fun. And we're here for it! That's because, as purveyors of all things fun, we know that a cool swim under the hot sun is one of the best ways to spend a summer day. So if you're stocking up on gear for a fun-packed summer, we can take care of all your shopping needs right here with our impressive choice of pool floats and other pool accessories! We have quite a few licensed pool accessories, so be sure to pick up your favorite licensed beach gear, too. We've got swim trunks, toys, towels, and more! See if these curated choices are just what you're looking for, and be sure to shop our entire selection of pool toys for kids and adults to see all of the newest items, too!
Best Pool Floats
Funny Inflatable Pool Toys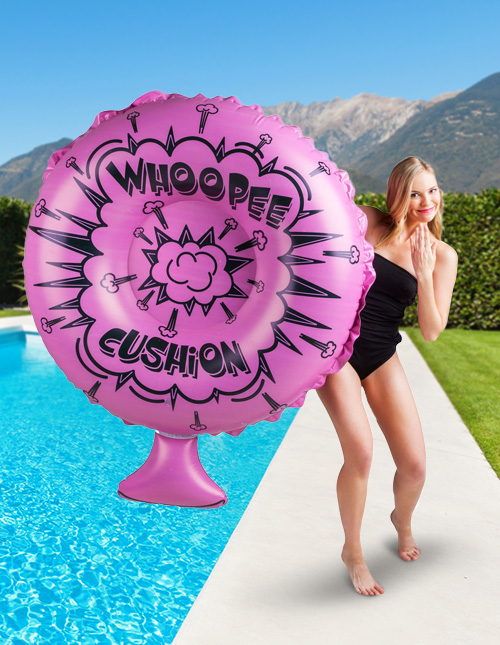 Whoopee! Few gags are funnier and more iconic than the Whoopee Cushion. So, let's bring the fun on down to the beach! Everyone's going to know that you're a jokester when they see you floating on this inflatable Whoopie Cushion pool float. Of course, you could also take your hijinks to the next level by putting some real whoopee cushions on the beach chairs before you hit the water. There's a move that is sure to make you a legend!
Giant Beach Floats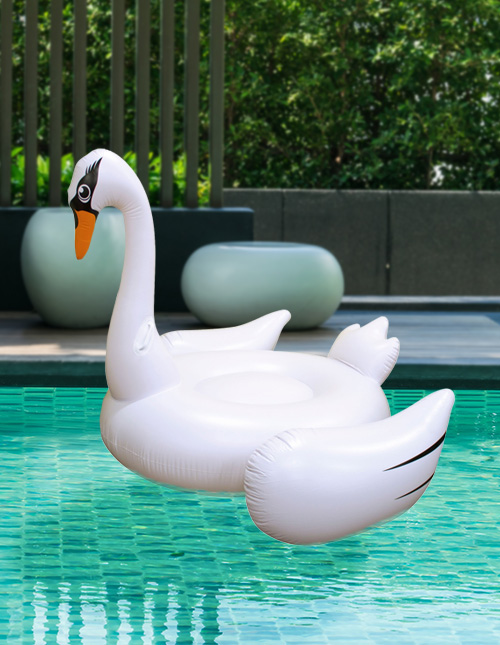 Our recommendation for making a big impression at the pool party? Go huge! Like gigantic!! We can help you do just that with some of our favorite giant pool floats! Use this flamingo pool float to gently relax on a gorgeous day or use it to attract some deserved attention by really showing off its supreme swan style. We're sure everyone's going to chat with you when they see you on this giant flamingo!
Fun Pool Floats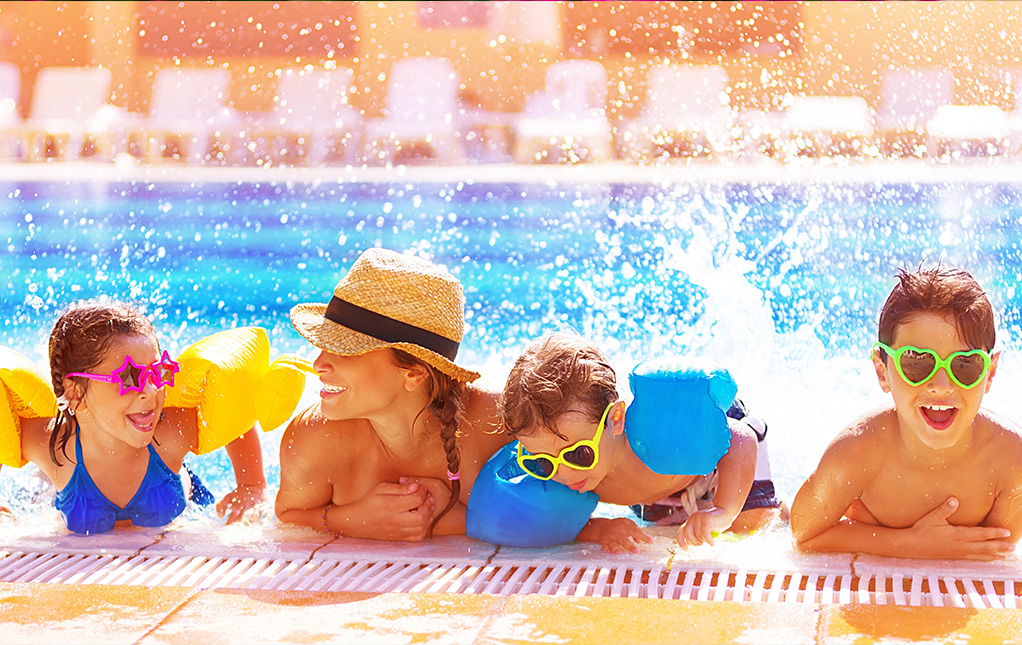 Kids love to bring their favorite characters along with them into the pool! Make sure to grab our Paw Patrol Swim Ring or Paw Patrol Swim Set so that their favorite rescue pups can entertain them while they're swimming. Or if all their favorites are Disney characters, they can get a Mickey and the Roadster Racers Kickboard or a Minnie Mouse Swim Ring for some fun with Mickey and Minnie Mouse. No matter if the fun's provided by Nickelodeon or Disney, we're sure the kids will love playing with their favorite character pool toys in the water.
Pool Floats for Adults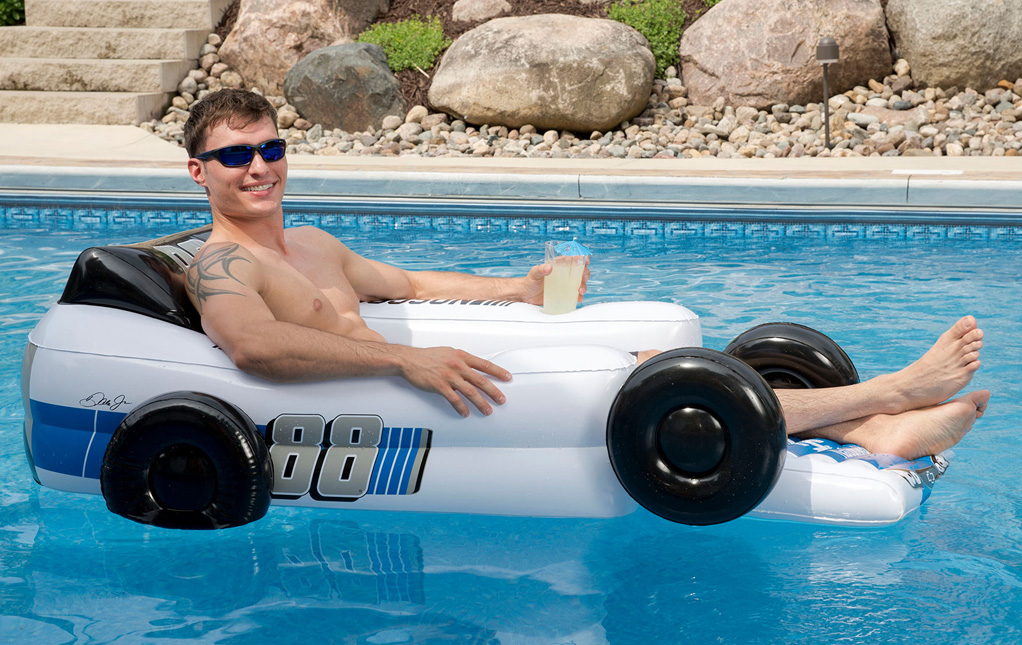 Kids love to use their imagination when playing in the pool. Our advice for adults? Well, you oughta use your imagination, too! Feel like a NASCAR driver when you're lounging on this Dale Earnhardt Jr Pool Float. It's designed just like his Nationwide 88 car, so you can feel like a racing champion anytime you're having a pool day!
Pool Toys
Inflatables for Kids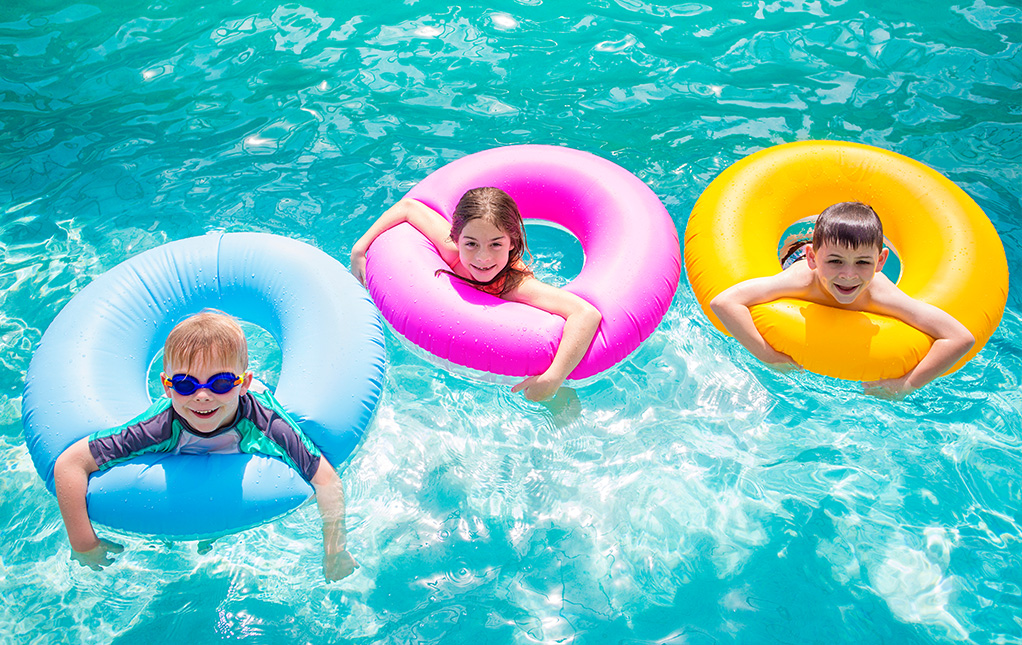 Inflatable toys are sure to make the pool experience more fun when we take the kids to the pool. Little ones are sure to love using a Spider-Man pool backpack to experience the adventures of their favorite web-slinging superhero in the water. Fans of Star Wars might like an extra friend to hop into the pool with them, and they can get their favorite droid to do just that with our BB-8 Inflatable Pool Toy. While there are no beeps and whistles from this cool pool toy, we're sure he'll still be a welcome swimming companion!
Pool Inflatables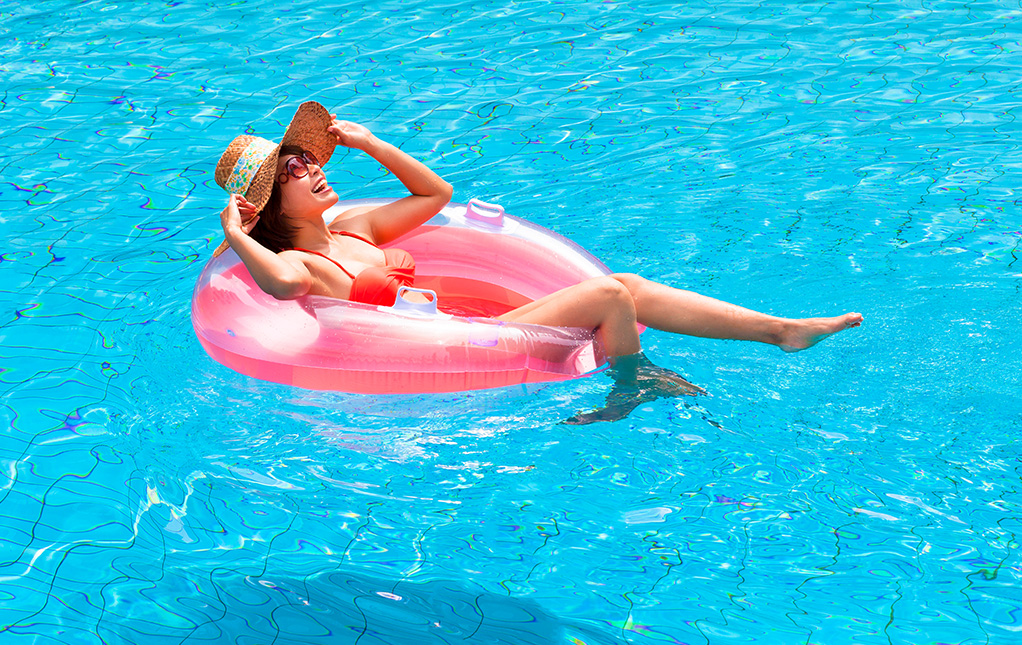 Adults still want to have fun on a pool day, too, and we've got gear to play pool games and have a blast at an adult pool party. Grab our 12 Pack of Beach Balls to entertain the entire party and have some fun. Or grab our Chuck-O Splash set to get a classic game of bag toss going right in the pool. No matter if your pool party is based around toys and games or socializing and letting loose, we're sure you'll have fun with our swimming pool accessories. Shop our whole selection to make sure you see the coolest items!
Beach Towels
Licensed Beach Towels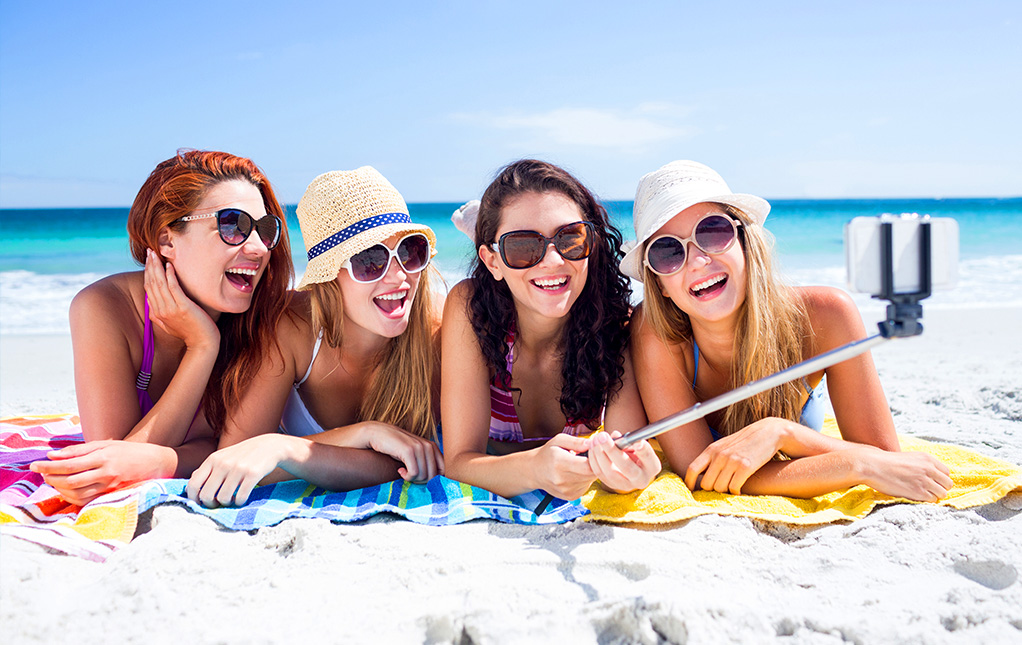 Towels are super important for a pool day, for drying off after swimming and for laying out under the sun in between your swimming sessions! You can enjoy and show off some of your favorite pop culture selections when you get our licensed beach towels. Snap a selfie laying on your Harry Potter beach towel or Batman beach towel to show off your favorite fandom. Grab an NFL beach towel to show off your home team, or bring along a Disney towel to hang out with your favorite characters!
Round Beach Towels
Round towels are a trendy item in the world of beach accessories and we've got some of the coolest printed styles to be found. As in, funny beach towels that feature your favorite food items! Grab our Pizza Towel or Donut Towel to show off your mood via food. Or try a Dragon Ball towel to show off your love for anime! No matter which of these themed towels you select, we're sure you'll be attracting lots of attention at the beach. And probably some rumbling tummies, too!
Bathing Suits
Swimwear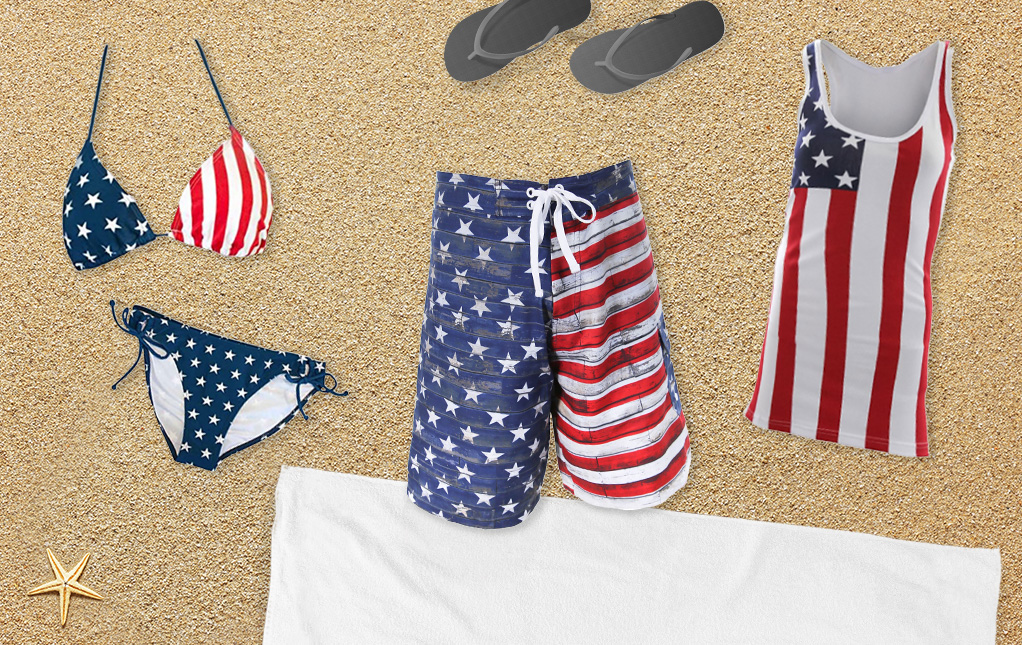 You can't get on your pool float without your suit on, of course, so be sure to shop our excellent selection of swimwear. USA-themed suits are always a favorite swimsuit idea, and we've got USA Flag board shorts for men and a tie-side bikini for women. Of course, we've got suits for swimmers in other countries covered, too. Canada Flag Suits and UK Suits will be a great choice if you live north of the border or across the pond!
One Piece Bathing Suits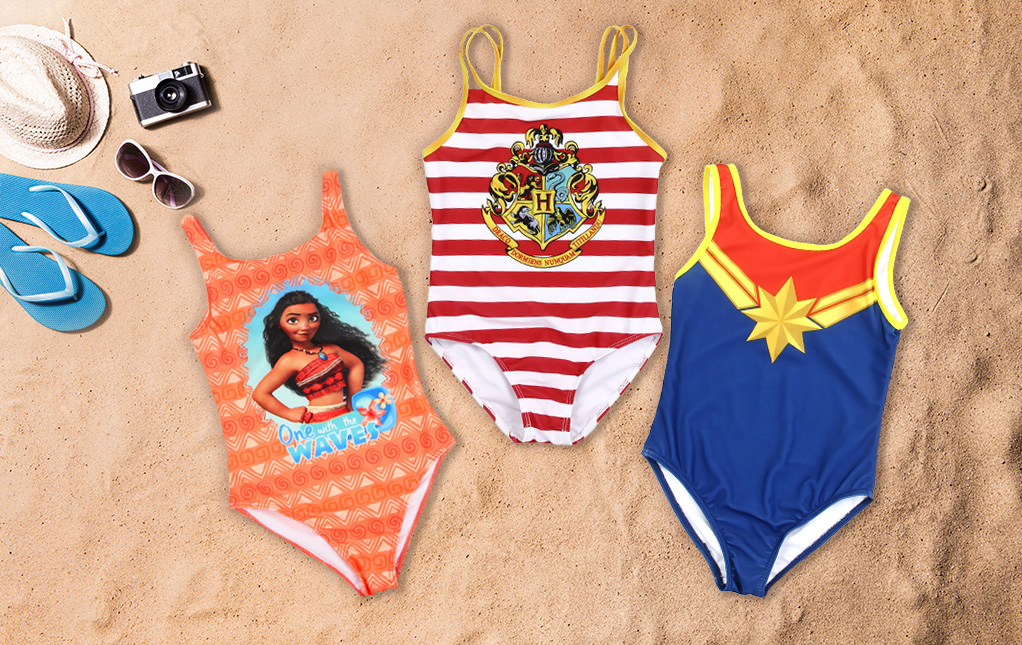 Young girls are sure to enjoy one-piece bathing suits, so shop some of our licensed swimwear selections to see the latest one-piece styles. If she's a fan of action and adventure, she's sure to love diving into the pool in a Captain Marvel Swimsuit. A Moana one-piece suit is great to inspire her Disney imagination, and if her imagination really gets going when she's active she can picture herself swimming all the way to Hogwarts in our Harry Potter swimsuit for girls!
Men's Swim Trunks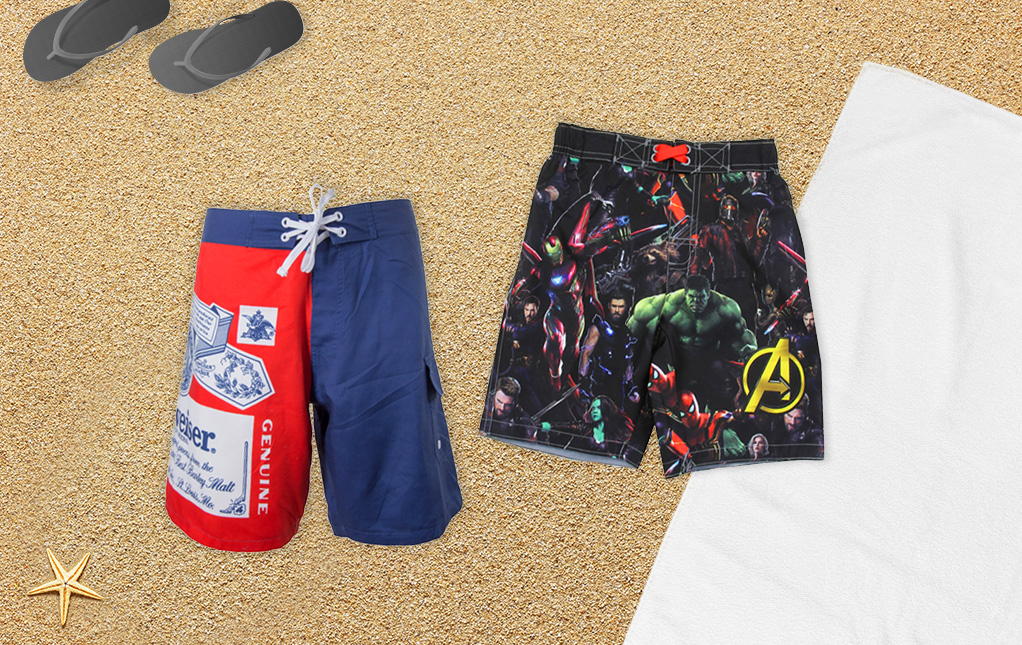 Guys can get dressed up for the pool with simple style, just grab a pair of board shorts and maybe a tank top, then you're good to go! We've got licensed men's swimming trunks from your favorite fandoms, as well as swim trunks that feature flags from around the world. And, of course, men's swimsuits that feature your favorite beverage. Corona swim shorts or Budweiser trunks will pair great with the beers you're packing in the cooler!
Girls' Swimwear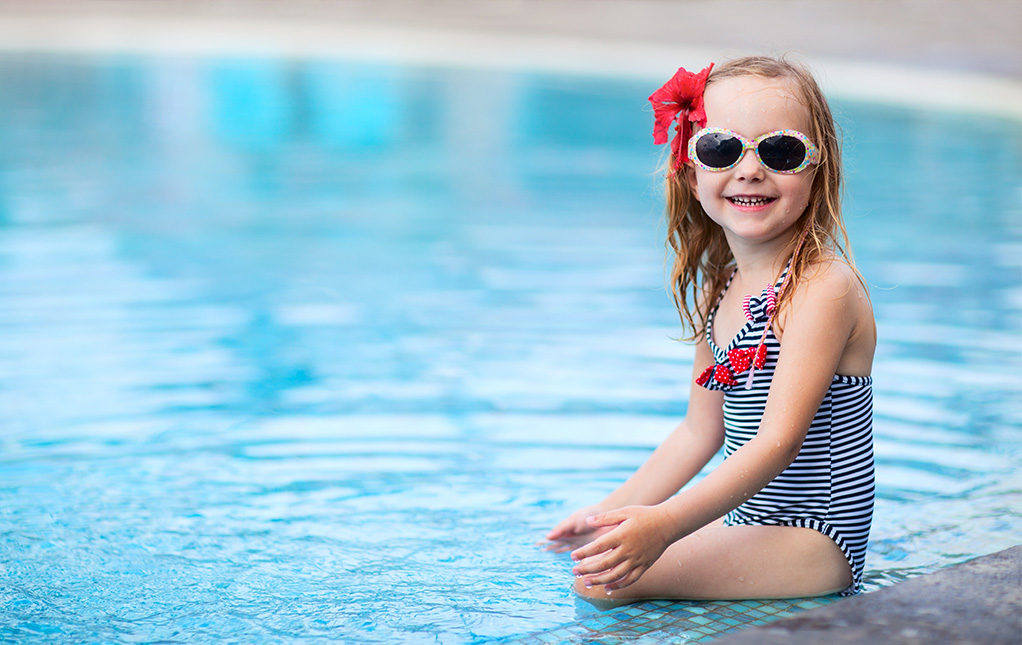 Our top-selling girl's swimsuits? Well, that'd be their favorite superheroes, princesses, and other animated characters! Ariel's obviously the top choice when it comes to Disney Princesses since she's already inclined to take to the water. We have Ariel swimsuits for girls and toddler girls. Or maybe she likes superheroes? If that's the case, we've got a Wonder Woman suit just for that! Stick with fun characters like Paw Patrol and My Little Pony for toddlers and action heroes for older girls, and they'll be ready to have fun in the sun at any age!
Kids' Swimwear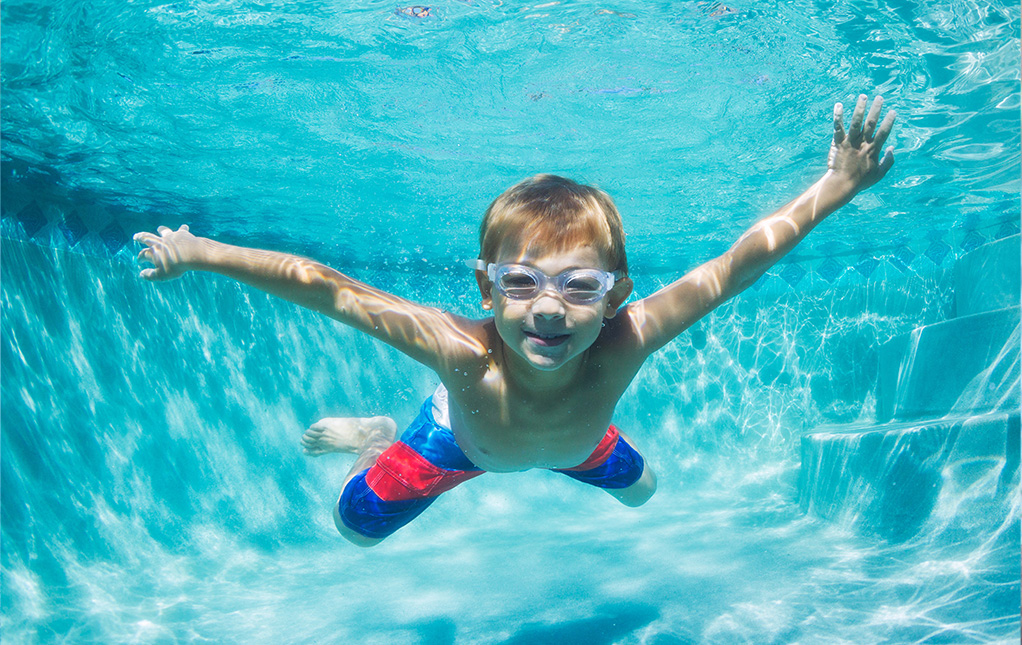 Kids love action and adventure when they're playing at the pool, so naturally, we've got fun swimming trunks and suits for all of their favorite superheroes. From Batman to the Avengers, our licensed boy's swim trunks are colorful and vibrant with printed graphics of their favorite heroes. That's sure to put some extra adventure and excitement into the day! Or if they like intergalactic fun, we're sure they might like swimming with Star Wars. We've got Darth Vader trunks for boys and a Star Wars swimsuit for girls so all of your kids can have some splish-splashing Star Wars fun.
Pool Floats FAQ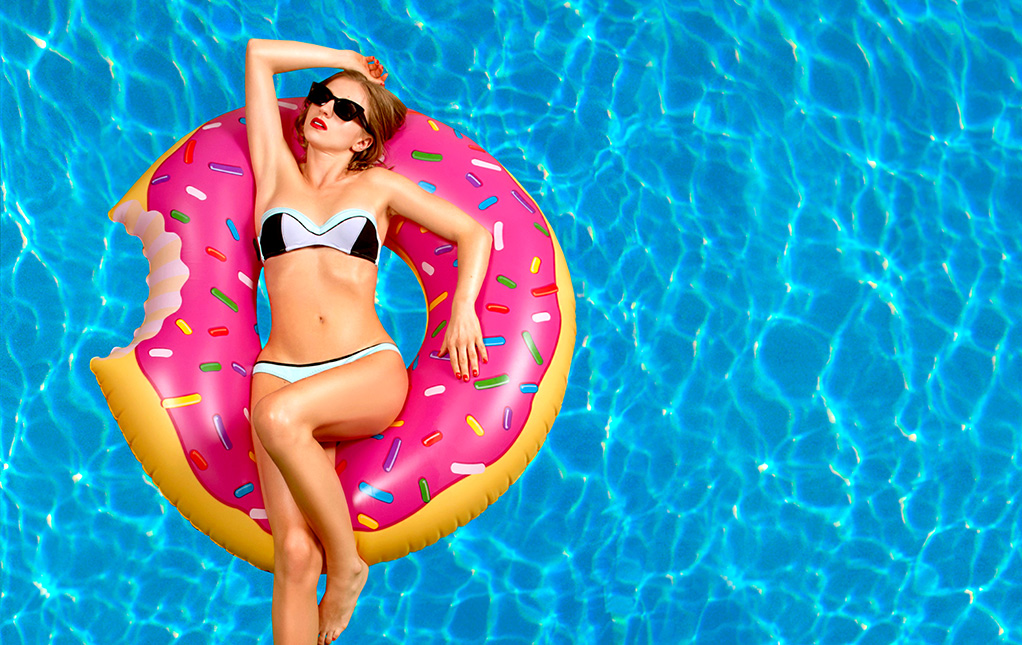 Do you sell exclusive pool floats?
Ding ding ding. We sure do! We really wanted to make a splash into the world of pool accessories, so we teamed up with one of our favorite properties to design our very own pool floats. Meaning we teamed up with NASCAR, of course! NASCAR races provide weekend entertainment to millions, but you can enjoy our Made By Us pool floats any day of the week. Show off your favorite car and driver with one of our exclusive floats. Be sure to check out the kid-sized versions so your little one can have their own race right in the pool!
What's the best way to inflate a pool float?
With a pump, of course! There's nothing wrong with using your lungs, since the old fashioned method is tried and true. But you can save the extra huffing and puffing (not to mention your precious time) by picking up our electric air pump. A handy dandy accessory for the beach, you'll just need to find an outlet safely away from the water to do your inflating. For an easy and off-the-grid solution, we've got a manual air pump as well. Pick one of them up to make sure your pool day is a blast!
What are the most common pool rules?
Good question! Rules vary from pool to pool, but here are some mainstay rules that are found posted at most swimming pools:
No food, drink, or gum in or around the pool! Concession stands are a mainstay at pool centers, but there's usually a designated area for food and drink that's separate from the swimming area.

Shower before entering the pool! The best way to avoid the risk of waterborne illnesses is for all users to shower before entering the water.

No Diving! Most pools either have a designated diving area, a separate diving pool, or no diving at all. Diving into a pool that's not a proper depth is extremely dangerous.

No running! Obviously, with thousands of gallons of water in the area, there are going to be some slippery surfaces. Not running is the easiest way to avoid injury.

No Roughhousing! People want to enjoy the pool for relaxation, recreation, and exercise. There's no reason for disrupting other's use with roughhousing. And, of course, to avoid potentially dangerous injuries.
What are the best things to pack for a beach day?
First and foremost, we want to make sure that you have sunscreen packed for your pool adventure. It's essential to protect your skin from harmful UV rays, after all! Other necessary items to cover all your beach bases include beach towels, snacks or lunch, and water! You'll definitely want that water bottle to stay hydrated, since you won't want to sip pool water. Shop our licensed water bottles right here. Snacks and/or packing a lunch are a great way to extend the day for more fun. We've got lunch boxes and totes available here. Another helpful item: you might want to consider packing a first aid kit, too, and make sure your phone battery is fully charged in case of emergency. Tick off all of those boxes, and your adventure at the pool is sure to be safe and a ton of fun!