Minions Toys
Alright, Minions maniacs! Whether you've been along for the ride since 2010's Despicable Me or if you hopped on board the Minion express with the hilarious Minions movies, there's no doubt about it. You can't get enough of the little yellow guys! Maybe it's the bee-doo, bee-doo's, or their unrepentant love of bananas, but whatever the reason it's time to face up to the facts. You need to get some Minions stuff into your life! We've got the hookup because we sell officially licensed gear that features your favorite mini henchmen. Check out this product guide for more info on Minions toys, Minions clothes, and Minions gift ideas!
Kids have loved playing with Minions toys for as long as Despicable Me has had little ones laughing! There are lots of great toy options to consider with Minions figures, plush toys, and Minions Lego sets usually acknowledged as some of the top playthings for kiddos. We sell several of those items here at FUN, like a plush Bob Minion toy or the cool Minions plane Lego set!
Minions Plush Toy
Kids can't get enough of plush figures because they're cute and cuddly toys to play with. And adults love plushies because they're super collectible! Whether for a kiddo or a grown-up, one of our plush Minions figures is going to be a great choice. Be sure to shop our entire selection to find a plush for all of your favorite Minion characters. There are toys for each of the most famous yellow guys, like Bob, Stu, Kevin, and new to the scene, Otto!
LEGO Minions Set
Lego is offering several sets based on Minions: The Rise of Gru, and one of our favorites is the Minion Pilot in Training Playset. This set lets little ones build the plane from the movie and then they get to pilot Stuart and Bob figures around for playtime! The set includes lots of accessories to make sure the roleplaying is imaginative and fun; it includes a banana, a hotdog, a peanut bag, a suitcase, and even a fart blaster!
Minions Funko POP! Figures
Funko Minion figures have been the most popular collectibles from the Despicable Me franchise. Fans of the series enjoy setting up elaborate displays with the yellow henchmen set up in hilarious poses. And serious Funko collectors can't resist adding the funny figures to their impressive Pop! lineups, either. We feature the latest Minions figures available with our selection of Funko Pops based on Minions: The Rise of Gru.
Rise of Gru Minions Funko POP! Figures
When you look at the Funko Minions from Minions: The Rise of Gru you're going to love that the figures are based on some of the most memorable moments from the movie! Whether you want to grab a Pop! vinyl of your favorite Minion or you want to collect each one you'll find all of the hilarious collectibles for sale right here. We offer Bob dressed in his pajamas and Young Gru!
Minions Merchandise
If you have a little one with a birthday coming up or are taking care of back-to-school shopping, Minions clothes and merch is a great theme for any kiddo. If they've seen any or all of the movies, they're going to adore getting awesome Minions stuff! Some of the top gift ideas you should consider for kids include Minions pajamas and Minions backpacks.
Minions PJs
When your little one goes to bed in a pair of Minions PJs, they're sure to have lots of hilarious dreams about the little yellow guys! We have several sets available like the 4-piece Minions Sleep Set seen here. Each pair of pajamas features graphics based on the Minions henchmen. The yellow set features a great "Better Together" graphic, and the white pair features an all-over print of the hilarious characters. Available in toddler sizes, any little boy or girl is going to love snoozing in these sweet PJs!
Minions Backpack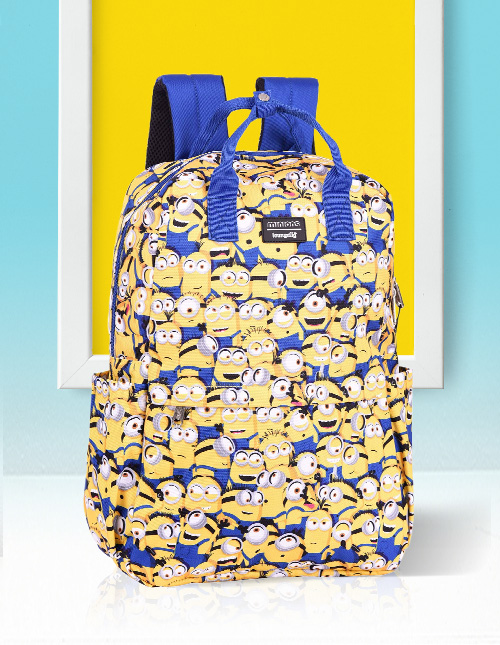 A Minion backpack is a gift that any little Despicable Me fan is going to love showing off at school! We offer several backpacks that feature vivid graphics of the yellow henchman. When your kiddo has a pack slung over their shoulders that show off their favorite Minions, they might even start feeling villainous just like Gru. Maybe it will even give them extra motivation to study hard, so they'll be sharp when they start plotting their first heist!