Best LEGO Sets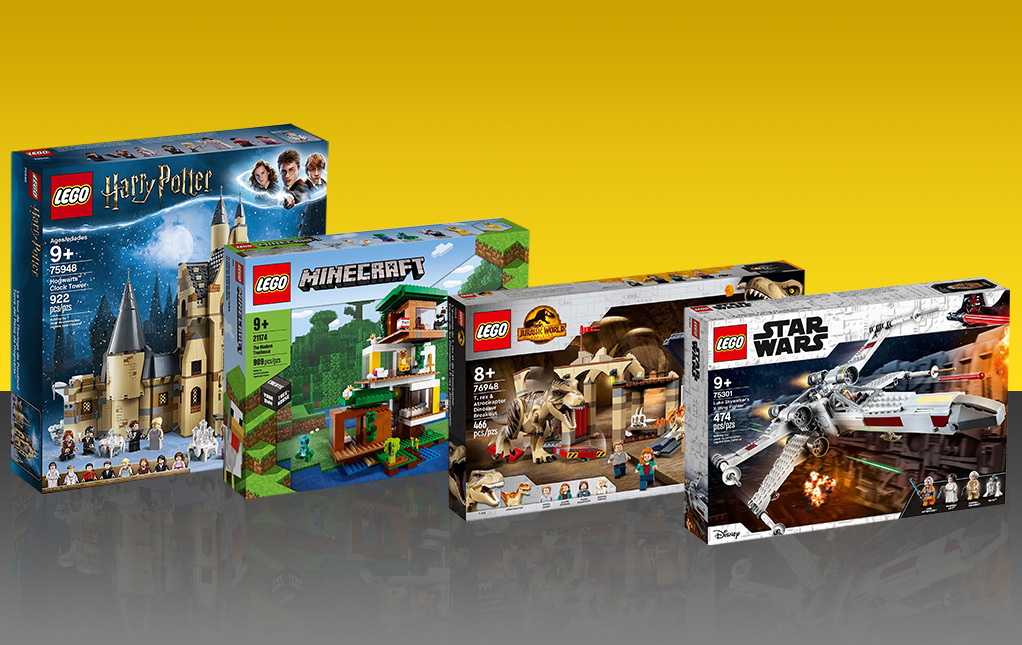 If you're shopping our selection of LEGO building sets, we can likely guess the first question that pops into your head: What are the best LEGO sets to buy? Well, that's easy to answer! The most popular LEGO sets come from the biggest movie and video game franchises. Kids and adult collectors love getting building block toys that feature their favorite characters. And we sell all of the top options from Minecraft bricks to Star Wars LEGO sets to LEGO Harry Potter!
Star Wars LEGO Sets
LEGO Star Wars sets have been one of the top-selling items since the day LEGO started making licensed toys from films and tv. And it's easy to see why! With a galaxy full of cool ships, intimidating villains, and heroes that may or may not be total scoundrels, the Star Wars galaxy offers no shortage of ideas for sets and scenes. The top playsets on our site include Luke's X-Wing Fighter and sets from The Mandalorian. But any of them make a great entry point into the world of Star Wars LEGO!
Minecraft LEGO Sets
The sandbox world of Minecraft and the brick building prowess of LEGO is a team-up that's hard to beat. So, it's no surprise that Minecraft LEGO sets are some of the most popular kids LEGO toys available! They let children export their imaginative play from the video game into the tactile real world, and we feature many of them here on our site. Check out The Ice Castle LEGO Set, The Rabbit Ranch, and The Training Grounds to see some of the latest releases from LEGO.
Harry Potter LEGO Sets
The grand success of the Wizarding World has translated to the brick world so well you could say that the match has been a perfect fit. Not only are Harry Potter LEGOs fun and engaging, but they are also educational. With each playset, children can bring to life scenes from the beloved Harry Potter series while learning critical thinking and developing their creativity. We sell sets that include iconic characters and settings, including Hogwarts Castle scenes and the Hogwarts Express Set, which will excite fans of all ages.
Jurassic World LEGO Sets
Jurassic World LEGO toys bring the prehistoric world to life with realistic details and figures like dinosaurs, lab equipment, and human characters from the movie. And not only do they offer dinosaur adventures, but they also let kids explore science, engineering, and problem-solving skills. Shop our selection of popular Jurassic World sets to buy building toys that feature rugged vehicles and exciting dinosaurs in all shapes and sizes. With LEGO Jurassic World, your child can look forward to hours of creative play!
DC And Marvel LEGO Sets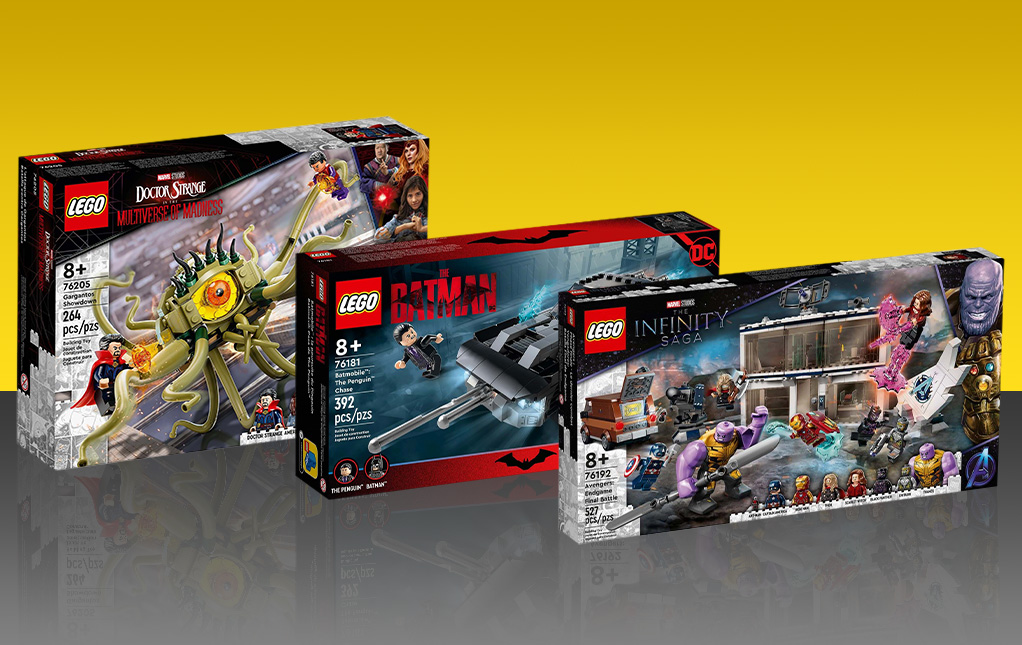 If you want to find more of LEGO's super sellers, all you have to do is look for some superheroes. Because LEGO Marvel and LEGO DC Comics sets are some of the most popular toys offered by the company! LEGO Batman sets come with cool vehicles while Marvel LEGOs feature amazing scenes from the MCU franchise roster. Check out these amazing comic book-inspired LEGO playsets to see the latest in action-packed brick adventures!
LEGO Batman Sets
Batman LEGO sets tap into the DC Universe for all of the new vehicles, gadgets, and gear from the movies to let kids recreate scenes from the comics and films right at home. We sell sets that feature the Batmobile and minifigures of iconic characters like Batman, Penguin, and The Joker. They will let young builders bring the world of Gotham City to life as they explore crime fighting and justice while having a blast!
Spider-Man LEGO Sets
Spider-Man has a long history of being one of the top heroes to be available in LEGO form. And, thanks to his team-up with Doctor Strange, Spiderman No Way Home LEGO sets have made Spidey LEGOs as popular as ever! You can look to the LEGO Spider-Man at the Sanctum Workshop to bring the action home. With minifigures for Spider-Man, Strange, MJ, and Wong, it's the perfect way to safely experience the wild stories of the Marvel multiverse.
LEGO Avengers Sets
The Avengers are more or less the biggest and best action team ever seen at the movies, so it makes perfect sense that fans want to have these heroes at home as LEGOs. And we have some epic playsets that bring the movie action to life brick by brick! Take the Avengers Endgame Final Battle Set, for example. With minifigures for Thanos and all of the Avengers as well as multiple levels and plenty of accessories, it offers exciting and engaging play for fans of any age.
LEGO Infinity Gauntlet
Adult collectors target just about any and every LEGO playset they're interested in. But for Marvel fans, one stands out as a must-have collectible. Because The LEGO Infinity Gauntlet Set is an elite collector's item! This 590-piece set features a golden brick recreation of Thanos's Infinity Gauntlet, complete with colorful Infinity Stones and a sturdy display stand. It's recommended for ages 18 and up and is a great display piece when completed, as it stands over 12.5" tall!
LEGO Toy Sets
There's also a whole world of LEGOs beyond the licensed sets that get lots of attention. The broad range of themes that LEGO offers make for endless playtime possibilities. And whether we're talking about LEGO City Sets, the LEGO Creator series, or LEGO Friends, one thing's for sure. There will be a lot of brick building to do! Take a closer look at the prominent LEGO series we sell to see if any of them are just what you're shopping for.
LEGO City Sets
LEGO City sets have a lot more variety than just police stations, gas stations, and construction crews. The series also features vehicles and scenes that take you far out of the city—like deep sea exploration scenes, the Airplane LEGO City Set, and even a space shuttle! These playsets are incredibly fun for kids of all ages. They allow children to create their own bustling cities and action-packed adventure scenes all with the help of realistic minifigures and accessories.
LEGO Friends Sets
The LEGO Friends series offers a new style of building and roleplaying as it follows five best friends, Mia, Emma, Andrea, Stephanie, and Olivia, as they explore the world around them. Centered in Heartlake City, kids can build the City School Building, the characters' homes, pet stores, research centers and more while learning important values such as friendship and teamwork. Along the way they'll learn problem-solving skills and gain the confidence needed to take on any challenge!
LEGO Technic Sets
A LEGO Technic set is a great choice for kids and teens who want to explore the world of engineering and create incredibly detailed models. They let the builder assemble functional working machines such like a Technic Tow Truck, planes, and race cars that feature realistic gears, levers, and more. While these toys may be considered advanced for the challenge they present, they come with easy-to-follow building instructions so even young builders can get started right away!
LEGO Sets for Adults
As most folks know, LEGO toys aren't just for kids. For many, it's a lifelong obsession! While any playset might be desired by an adult LEGO set collector, for the truly sophisticated builder the LEGO Architecture scenes are a great buy. They feature highly detailed models of iconic monuments, buildings like the Taj Mahal, and architectural landmarks from around the world. Adults are sure to enjoy exploring their creative side by building a miniature version of some of the world's most famous places.