Harry Potter Halloween Costumes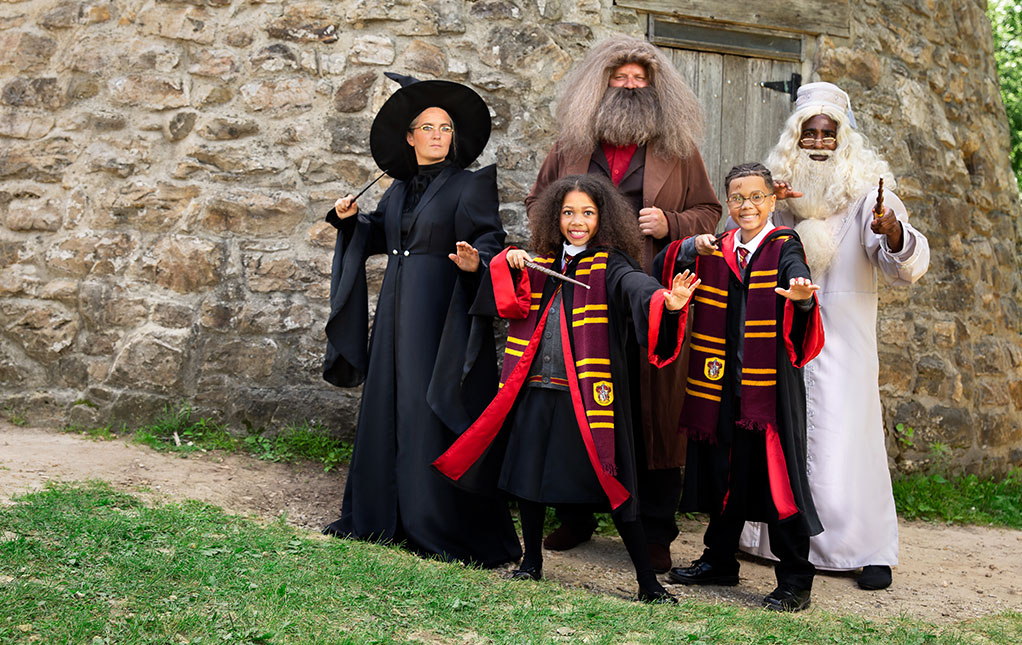 We have yet to meet a fan that hasn't cast themselves as a character in the Harry Potter franchise. They may be an extra, happily strolling Hogwarts' halls unaware of Harry and Dumbledore's shenanigans and heroics. Then again, they may imagine themselves as Harry or Dumbledore playing it differently or following the characters' exact steps. Either way, the transformation can be made more magical with Harry Potter costumes!
Luckily, whether looking for Hogwarts robes or a Luna Lovegood ensemble to perfect your family Halloween costume, our selection has you covered!
Harry Potter Costumes
Whether planning a Harry Potter costume or a Harry Potter-themed costume, you'll want to start with a robe! Gryffindor robes are a must for a DIY Harry, then it's up to you whether licensed accessories finish the look or a cosplay develops at home. Keep it simpler with deluxe costumes that have everything fans need to become the Boy Who Lived. Or mix and match Harry Potter robes with wands, scarves, and ties to become a unique Hogwarts student!
Hermione Granger Costumes
The differences between Hermione and Harry costumes are accessories. Luckily, we've got what's needed to distinguish Hermione from other Gryffindor students. Fans easily recognize Hermione with her wand, a Time Turner, or her magical handbag part of the ensemble. But Hermione in a Ravenclaw robe breathes life into fanfiction and catty features add Polyjuice to the mix. See, here, there are no limits on the brilliant witch!
Bellatrix Lestrange Costumes
Assembling a Harry Potter group costume? Fascinated by the Wizarding World's darker characters? Maybe a meta cosplay of Hermione playing Bellatrix is the goal. Whatever way, if you want to dress as Lord Voldemort's most devoted supporter, our Bellatrix costumes are a must! The complete ensembles are better than Polyjuice. But you can be a precocious Hogwarts Bellatrix in a Slytherin robe with all the Death Eater-worthy accessories too! Just don't forget the wild hair!
Hagrid Costumes
Want to transform into the exact opposite of Bellatrix Lestrange? Then grab an umbrella and our exclusive Hagrid costume! Becoming half-giant has never been easier than with this licensed ensemble. Though, unless your mane is already as shaggy as the lovable gamekeeper's, you'll want to invest time growing or applying some facial hair. And while we can't magic fans as tall as Hagrid, we do sell platform boots!