As October nears, people really start to think about their Halloween costumes. There are so many choices that it can be difficult to choose. Do you want to wear the same old black cat Halloween costume, or do you want to wear a trendy Halloween costume that has grabbed the public eye this year? Did this question even need to be asked? Of course, you'd prefer a fun, trendy costume that you can get online! We know that witch costumes, astronaut costumes, pirate costumes, and the like are perennially popular, so instead, we're looking at the most popular character costumes at FUN.com. Keep reading to see our picks for the hottest Halloween costumes for 2022!
Popular Halloween Costumes for Women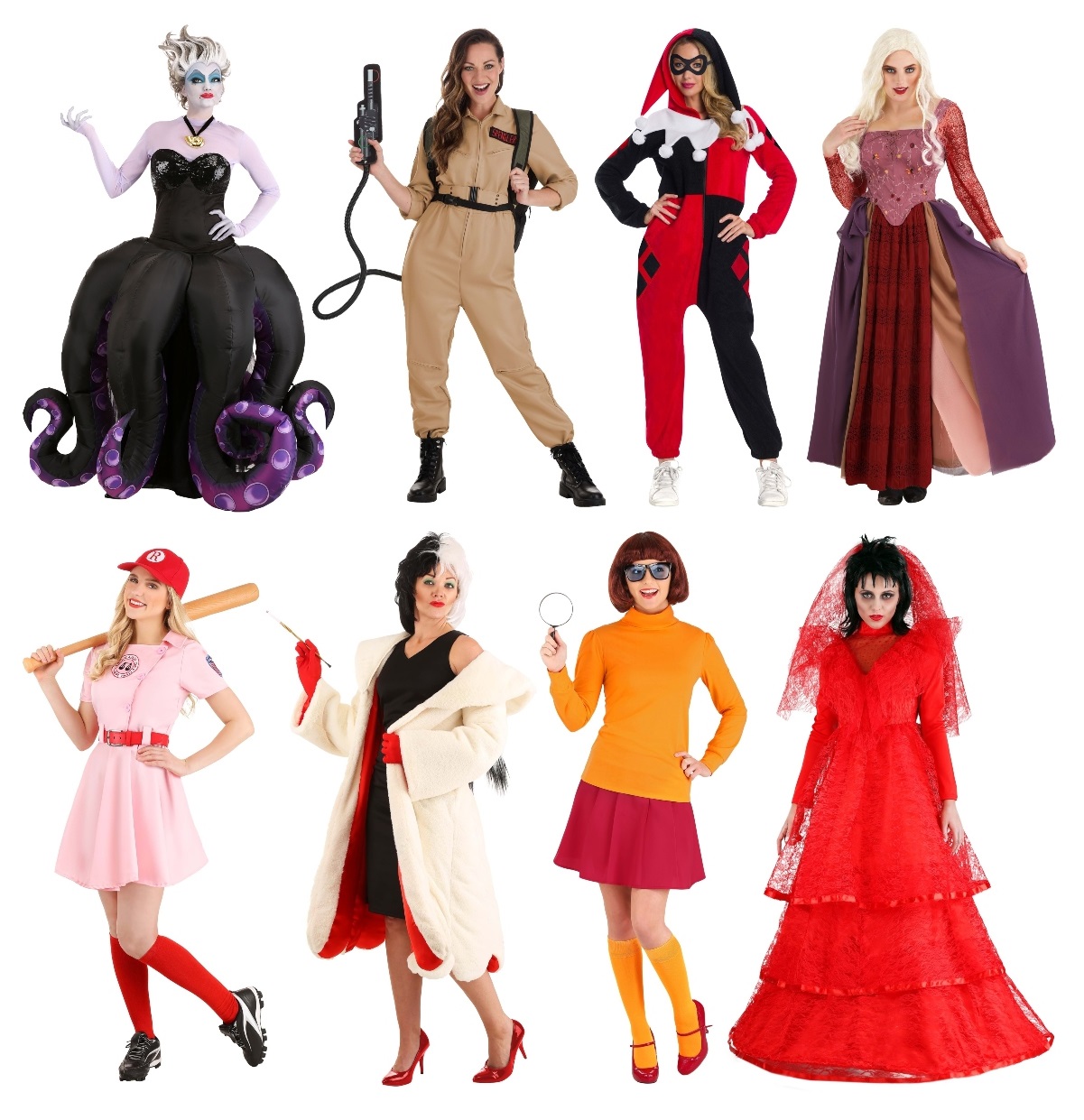 Superheroes have been the name of the game, and Marvel and DC Comics costumes are super popular for women! Wonder Woman costumes have been trendy for years, and that's only increased because of recent movies. Films like The Suicide Squad and Birds of Prey have also brought Harley Quinn costumes for women back to the top! But, don't count out the Avengers just yet, because character costumes like Black Widow are trending for women too. Nostalgia for Disney is always running high, so Disney costumes like the Princesses along with Ursula and other villains are quite popular. However, don't exclude other nostalgic costumes such as Ghostbusters, Scooby-Doo, A League of Their Own, and Hocus Pocus. And finally, expect to see some Star Wars costumes because they never go out of style with a constant stream of new movies and shows!
Popular Halloween Costumes for Men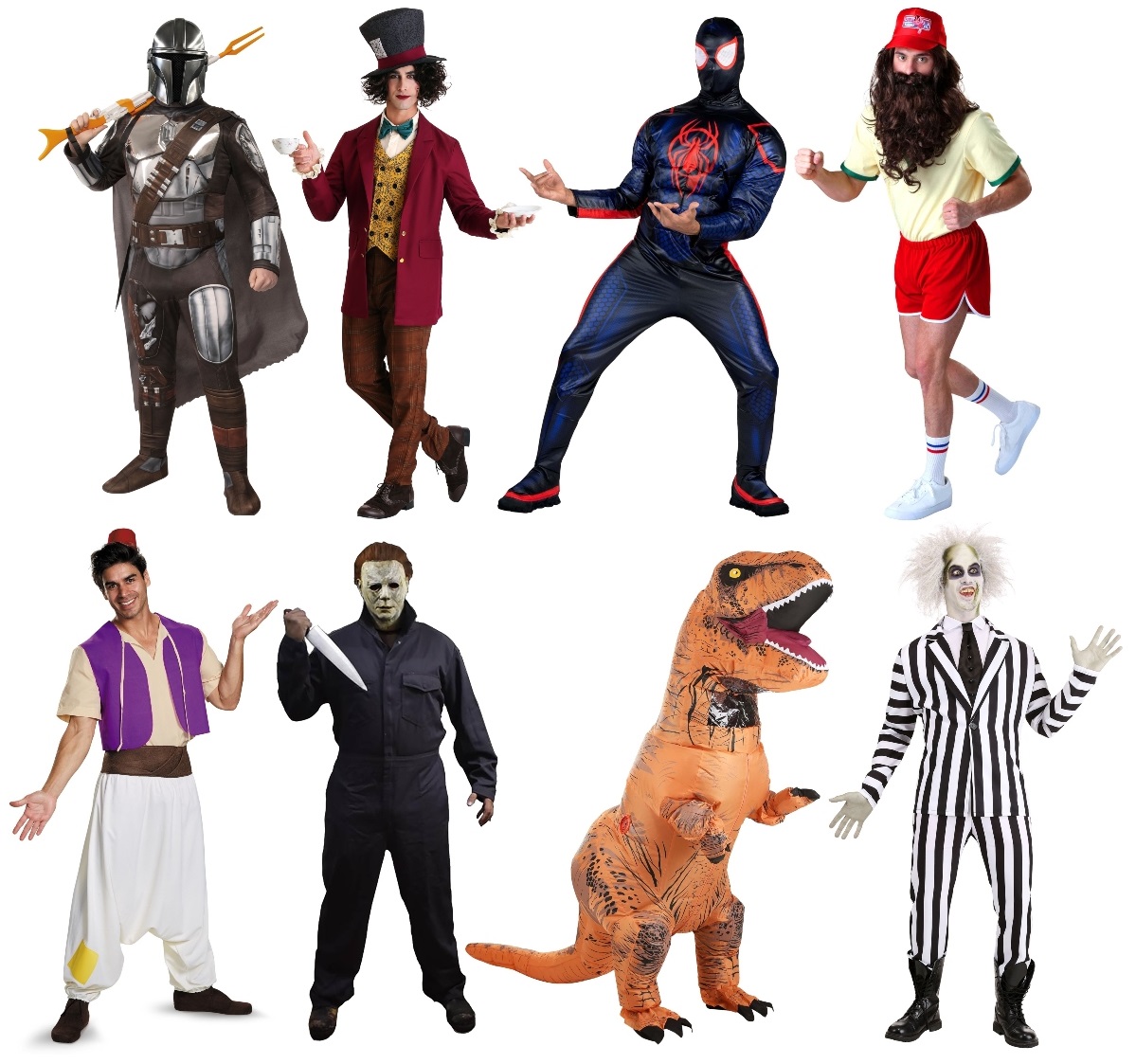 There have been so many excellent superhero movies in recent years that it's not surprising superhero costumes for men are trending! Whether you're looking for a Deadpool costume, Spider-Man, or something nostalgic like Wolverine, we've got you covered. Even the supervillains are popular, so don't forget characters like the Joker or Thanos if you'd like to represent the baddies. Now, if you're into 80s nostalgia, consider suiting up in a Ghostbusters costume, or perhaps this running Forrest Gump outfit. It's also a great time to choose an Aladdin costume or anything else Disney, especially if you're looking for a cute couple's costume. In fact, all of our Disney costumes are hot, thanks to the popularity of Disney+! And like the women's costumes, men can't go wrong with Star Wars. Dress up one of the kids as Grogu, and you have a men's costume combo that can't be topped!
Popular Halloween Costumes for Girls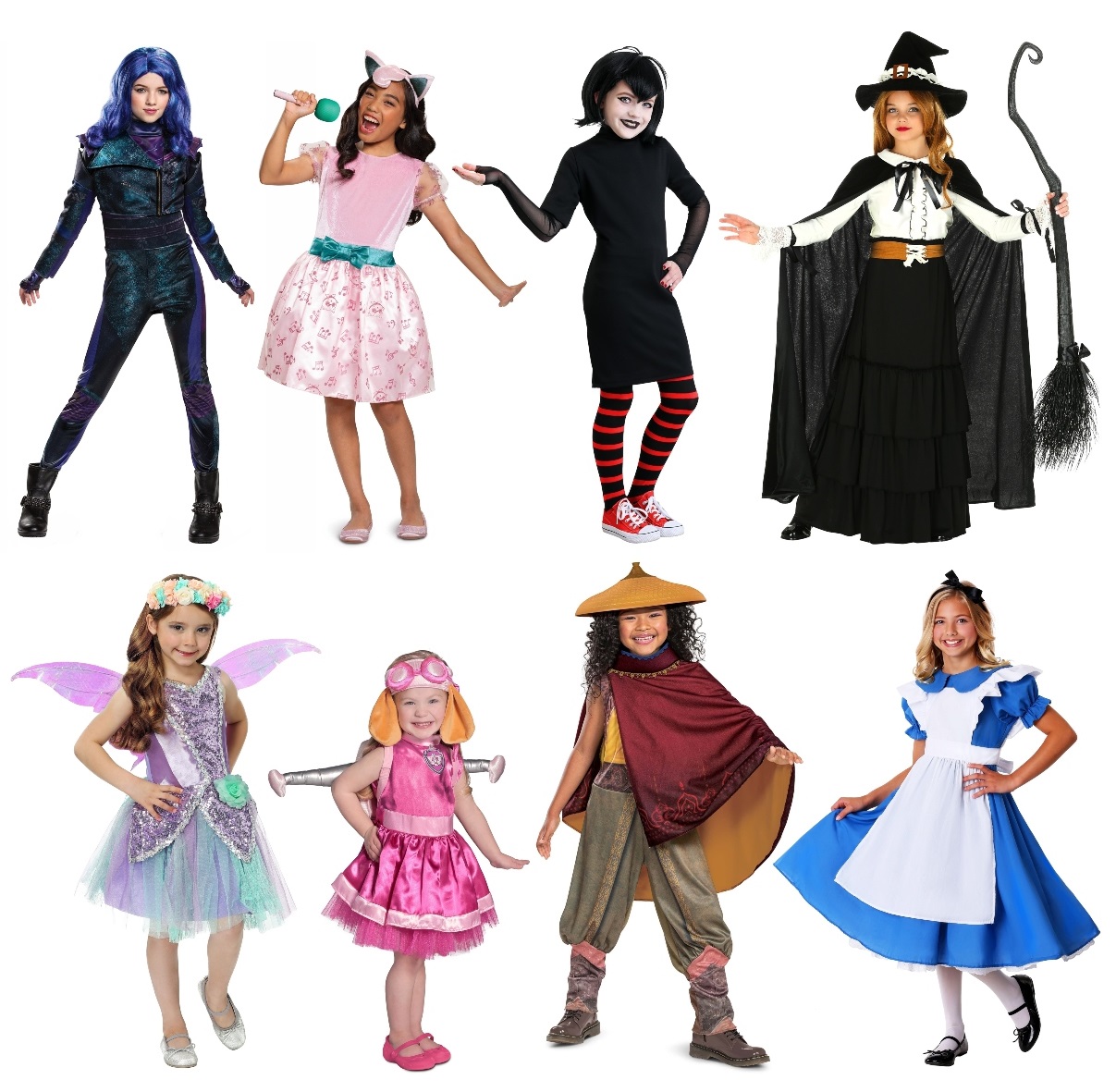 When it comes to Halloween costumes for girls, Disney is in. Expect to see plenty of Elsa costumes along with other Disney princesses, but don't forget Mal costumes from the hit Descendants series! Superheroes are a hit with girls too, and Wonder Woman costumes get more popular every year. And speaking of heroes, there's always a Hermione costume from the Harry Potter series, or Paw Patrol's Skye for little girls. Other popular costumes with girls include general fantasy costumes like fairies and mermaids, witches, and video game favorites. Animal Crossing and Pokémon characters are so cute, you shouldn't be surprised if your little girl wants to be a Jigglypuff for Halloween!
Popular Halloween Costumes for Boys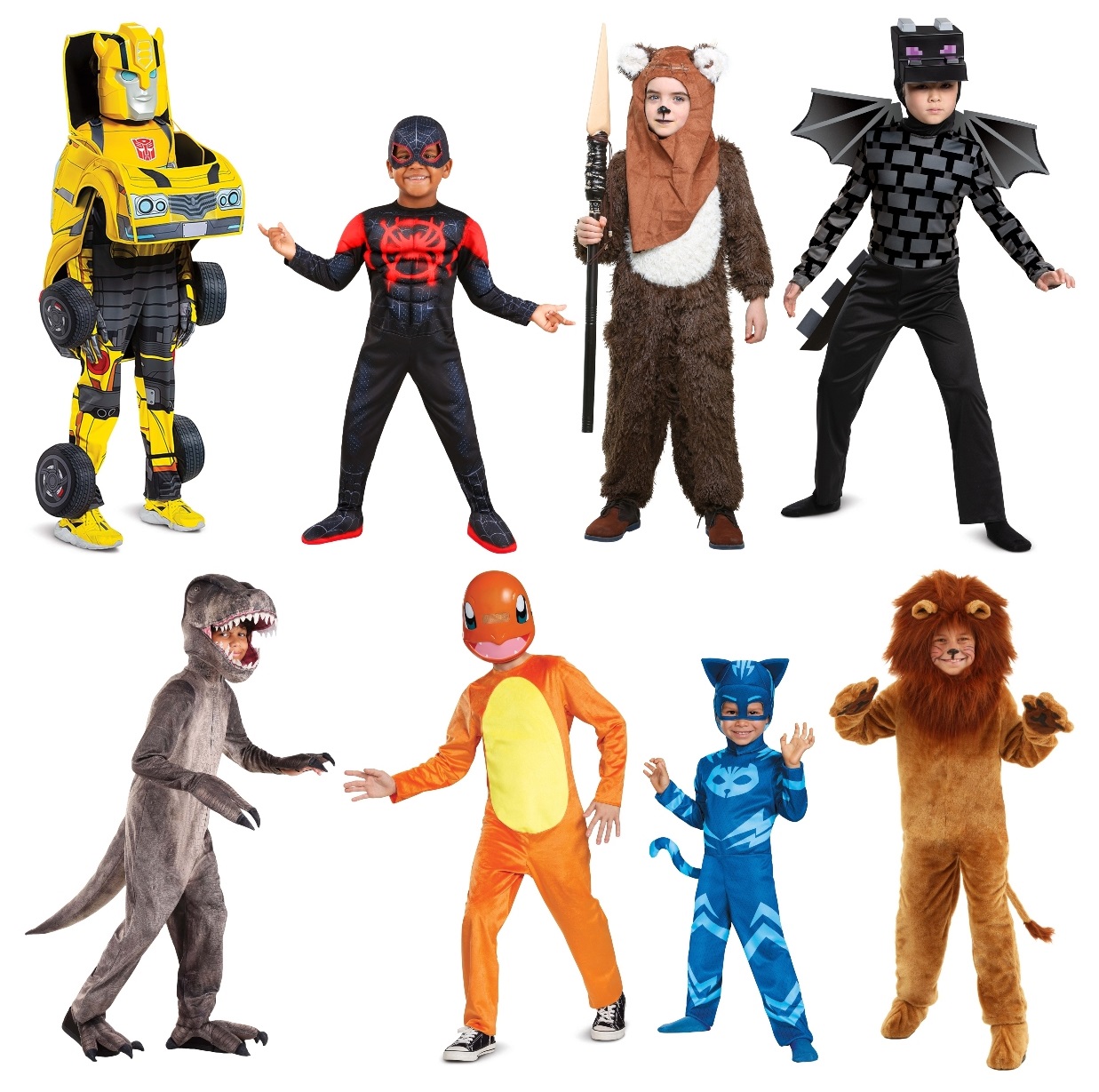 As expected, superhero Halloween costumes are some of the favorite boys' Halloween costumes. If your little hero prefers Marvel superheroes, he'll probably enjoy a Spider-Man costume. But if he's into DC Comics instead, consider a Batman costume. Both are super popular with boys! If the kiddo is a Star Wars fan, then you're in luck. We've got Mandalorian costumes with that cool Beskar armor look. Even cuter is the "Baby Yoda" Grogu costume, or perhaps a classic Ewok! Dinosaur costumes are also popular with boys, and we've got plenty to choose from. This T-Rex costume is one of our faves! And finally, if your kid loves to run around the house (or in video games) for hours on end, then he might enjoy this Minecraft costume. It's way past cool!
Popular Halloween Costumes for Babies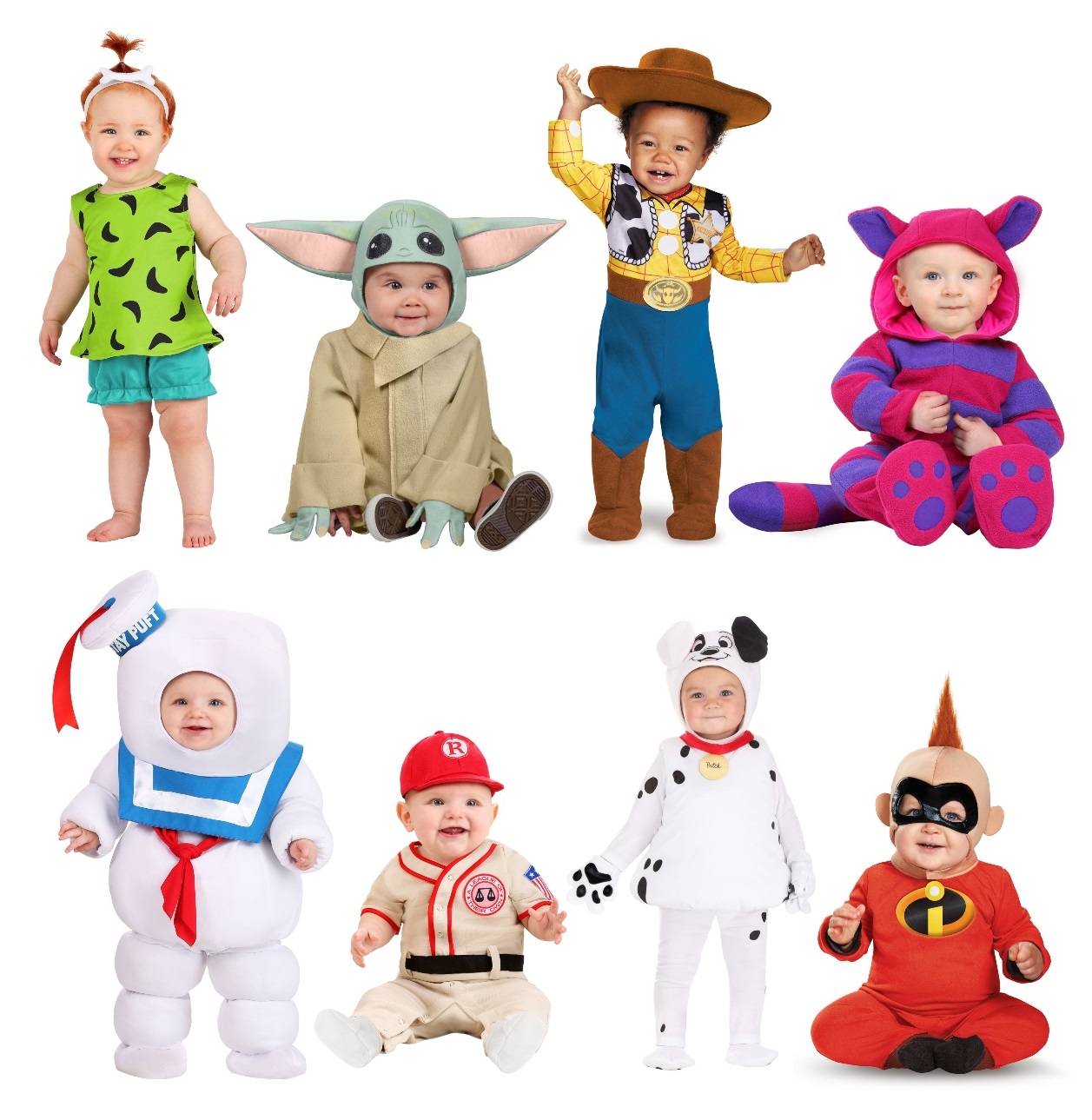 Babies in costumes are always cute, but what's actually popular for babies? Well, most of the time, baby Halloween costumes follow similar trends to adult costumes. The Mandalorian is popular? Baby gets to be Grogu. Do you want to be a Disney villain? Dress your baby as a Dalmatian while you dress as Cruella de Vil. You can create some of the most adorable mommy and me costumes, or perhaps even a Daddy and Me pair. They only get to be this little for a short time, so make sure to take plenty of pictures so you can cherish the moment for years to come!
Popular Halloween Costumes for Pets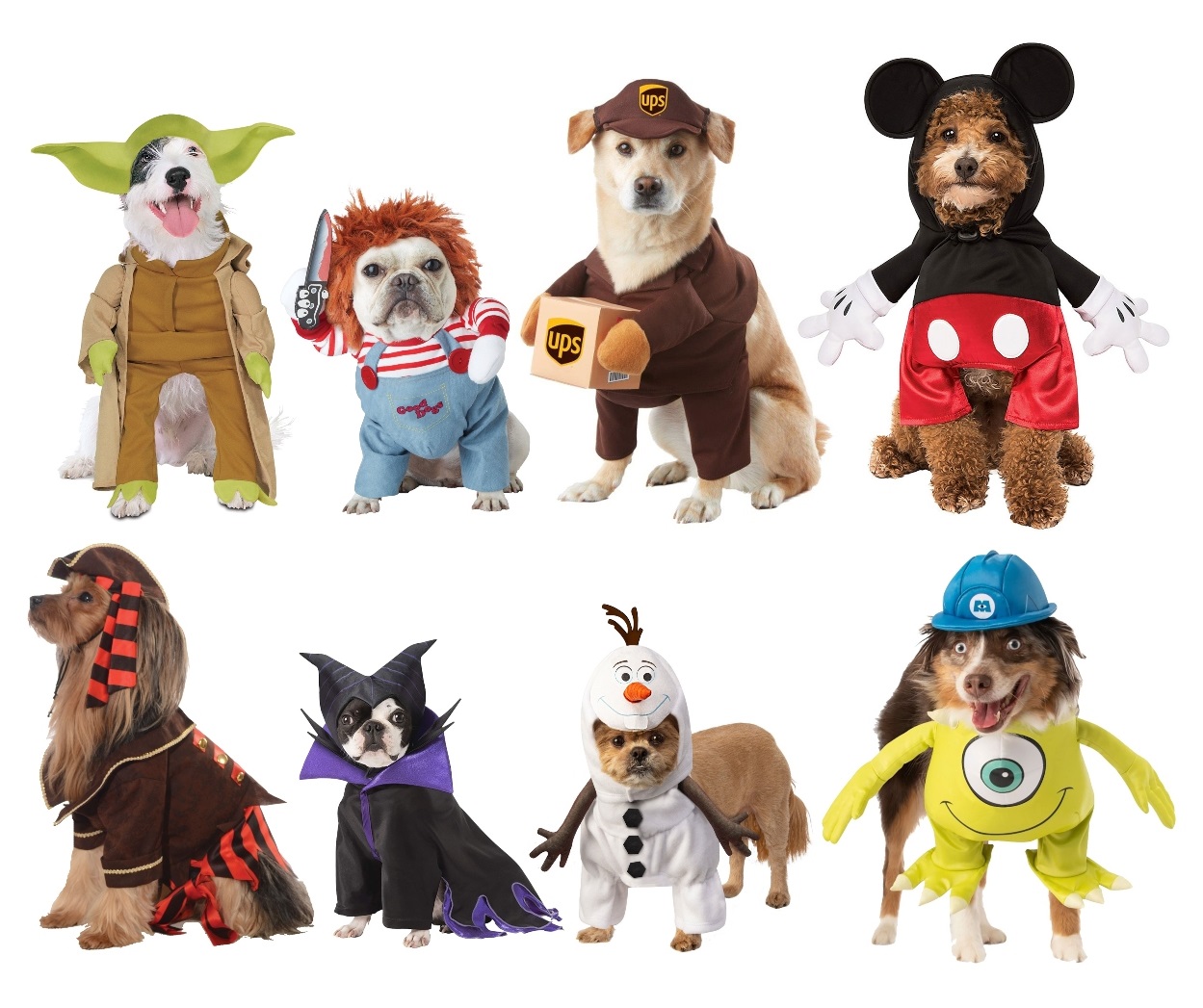 We can't forget about pet costumes! They're a great way to coordinate with your own costume or just bundle up the doggo in something adorable. UPS and USPS dog costumes are trending right now, which makes sense because they're stinkin' cute! You can also dress your pet up as a bunch of other goofy animals, such as a triceratops, a lion, or even a spider! And then there's our Yoda dog costume, which has always been a hit, but it's even more popular thanks to "Baby Yoda" in The Mandalorian.
Popular Costume Props for Halloween
How do you take an already great Halloween costume and make it even better? (Don't worry. This isn't a trick question.) We do it with costume props and accessories, of course! Give your Harley Quinn costume the edge it needs with a Suicide Squad bat prop, or make sure your Disney Princess costume has the jewelry or crown she wears in the movie. What about a useful costume prop that pulls double-duty? Suit up as a Ghostbuster and wear this proton pack backpack to haul all that candy! You can even find costume purses to ensure you have all your necessities without taking anything away from your costume. Get ready to rule Halloween your way!
We hope you enjoyed our guide to the most popular costumes ideas for the entire family! Were you planning on wearing any of these Halloween costumes this year? What is your favorite Halloween costume from years past? Share your thoughts with us in the comments section below. (We don't bite, honestly. That would be the dinosaurs.) Feel free to check out our other cool Halloween costumes if you're looking for a different costume.