Star Wars Clothing
The Star Wars universe and the stories that come from it wouldn't be at all convincing if it were just a galaxy far, far away. It wouldn't work if it were just a long time ago, either. It is the blend of both that makes the Force real and breathes life into the strange alien lifeforms and exotic planets. And, while the Force may be strong with you in your mind, sometimes it can help both you and others to wear it more plainly on your sleeve. What better way to do that than with some of our Star Wars clothing lines that will give you everything from vintage Star Wars shirts and Star Wars baby clothes to both geeky and sexy Star Wars outfits! Our combined galaxies have only gotten better thanks to these Star Wars clothes!
Star Wars Outfits
Our world isn't always as temperate and welcoming as we'd like. That's why it is crucial to dress in layers. And, why shouldn't each layer be just as awesome as the next!? It might seem impossible, but so did lifting up a little ship out of the bogs of Dagobah and if Luke Skywalker can whine a ship into the air, you can certainly pair the right sexy Star Wars clothing to make a look that is inter-stellar! All you need is a cute little monster to help you out. Well, look no further!
Star Wars Outfit Ideas
Imagine heading out for a great movie night or visiting your choice of illustrious restaurants available throughout the galaxy. You've got to look the part! You need a dose of fun, something cool and warm (since you never know if you're going to get a seat in the Hoth or Tatooine section), and everything needs to pair up well, too! Picture showing off all your favorite Star Wars characters with a black logo hoodie and then revealing a splash of color with this muscle tank. Something that great can only be improved by this bright ombre shaded tank dress accented by a Boba Fett bomber jacket. If you think those are great, start really channeling the Force with the following unique looks!
Star Wars Clothes for Women
There are nearly as many looks for the gals of the galaxy as there are different species that populate it. It might not always seem to be true when you see Jabba forcing his many enslaved ladies to wear the same creative-limiting garb, but there are tons of options for women of both galaxies, whether human, twi'lek, rakata, or wookiee to enjoy and still show off just as much love for the series as they like! Give the world a look at your individuality when you choose which of these Star Wars looks for women best displays your knowledge and wisdom in the Force... or your passion to claim the power of the galaxy!
Star Wars Dresses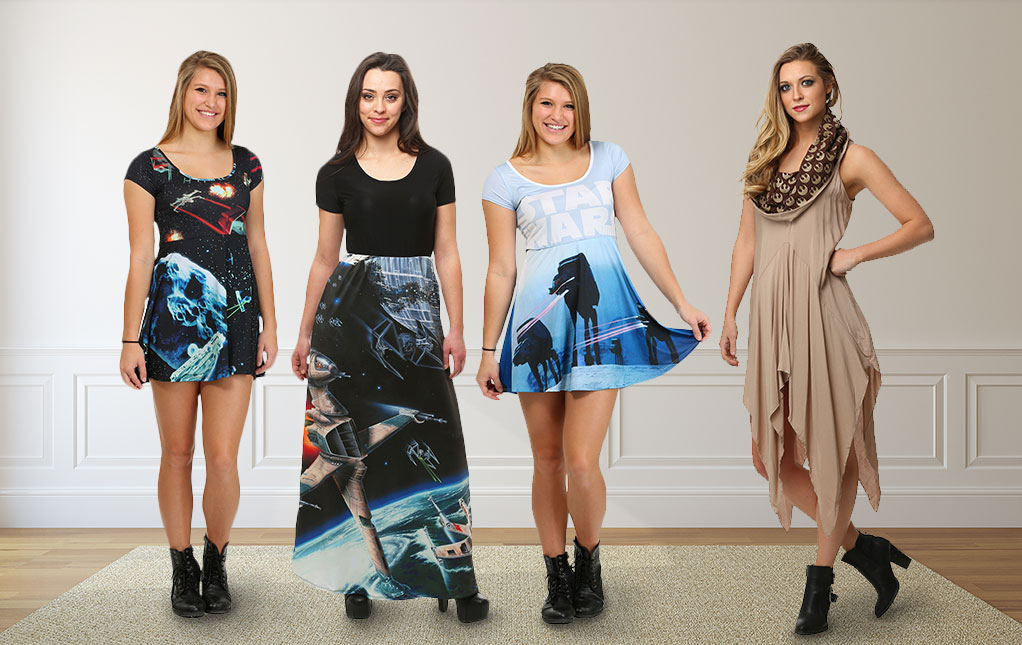 Are you too cool for Jakku? Do the twin suns of Tatooine hardly compare? Well, if you need to get your twirl on and enjoy even the heat of just one sun, you're in need of a look that will keep you comfy while letting you stay active enough to keep the Empire on its toes. Maybe you'd like to channel a little of the stomping Imperial power an AT-AT-themed dress or take off to the stars by combining an ankle-length sublimated skirt and matching celestial skater dress. Or just show the whole Empire where it can go when you garb up with Rey's iconic hooded look. Either way, you'll be making history when you show up in any of our Star Wars looks for ladies.
Star Wars Skater Dresses
Looking for a light and airy style for your galactic travels? Well, if you're going to actually go into space, you probably want something with solid cuffs and secure hems, since things can get a little too drifty. But, if you've got your feet firmly planted on terra firma but want to feel just a bit floaty, a Star Wars skater dress is just the ticket to hyperspace. Whether you want to go with an R2D2 look, one of the many other great characters, or even take a spin on your favorite interstellar ship, we've got the right dress for your needs!
Star Wars Tank Tops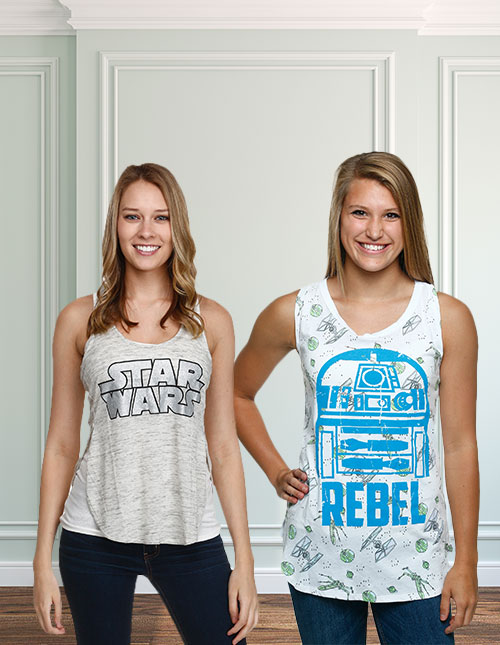 It can't always be show time, even if you long for the glitz of the stars. Sometimes, you've just got to get things done. Fortunately, productivity doesn't mean you have to give up the freedom of galactic travel for the prison that is sleeves. With your choice of any of our tank options, you can show off your love for Star Wars with a logo tank or even go further. Take to space with a pal! Announce your allegiance to the Rebels! Cheer on your favorite would-be Jedi Knight or even flex your Force-Sensitive might. These tanks are just the start of summer fun!
Star Wars Hoodies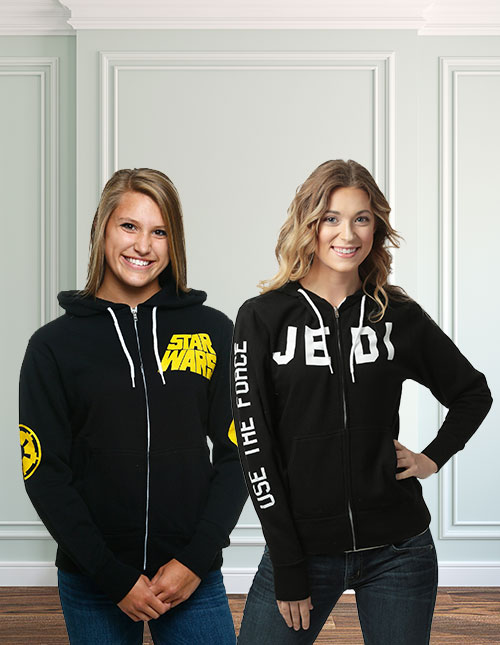 Not all planetary layers are as inviting as Naboo with its lush forest and underground water world. (Of course, even that one demanded a little extra protection!) So, be sure to live out a blend of survivalist and fashionista by dressing in Star Wars layers, too! Finish off your perfect look with the warmth of a hoodie. Spare your life with one that shows you're an Imperial (or a Rebel on the other arm). Delight as the movie posters that might have decorated your bedroom wall are transformed into a classic film poster hoodie! So many choices, collect them all!
Star Wars Pullovers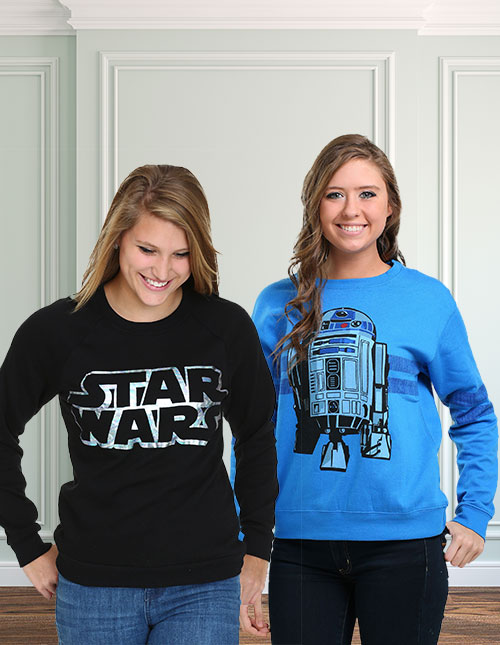 Jumping to hyperspace has never been easier. Once, you needed to have all the right fuel and be sure to chart the right path (unless you wanted to end up halfway through a planet's core). But, now, you can transform your look from business casual to galactic comfort as easy as flipping your arms up and pulling these Star Wars fashions over! Give yourself a little glitz with a foil logo of your favorite space opera all in a cotton fit that's way better than a wampa! Maybe you've lost a droid? Well, R2D2 has never been closer to your heart than with this R2D2 shirt!
Star Wars Clothing for Kids
It is never too late to bring your kids on the adventure of a life time. And what better one is there than in a galaxy where they can find Jedi Knights, adorable droids, mysterious Sith, and exotic worlds and moons all scattered throughout the stars where the Force binds all things!? C'mon, even half those things are giving you the itch to hop on an X-Fighter and jump to hyperspace. So if you get that excited, think of how much fun they will have when you give them some of these Star Wars clothes for kids!
Girls' Star Wars Clothing
Galactic explorations aren't just a boy's game! Let your little lass lead the charge with our collection of dresses and t-shirts all inspired from the epic films and with a feminine flair! Yoda may be the perfect guide through hyperspace, but maybe she'd love to bring BB-8 on her adventures whether she wants a bright and cheery dress or a darkly shining shirt! Perhaps your girl is the type who wants a look that blurs the line between the Dark and Light side? Well, a black and gold Stormtrooper skater dress is right on the mark. It's time for your gal to shine!
Boys' Star Wars Clothing
Your lad is likely one who tries to push the boundaries and that's perfect for anyone who is destined to sail the stars through hyperspace. You don't think that Han Solo helped to save the galaxy by going the route everyone else took, right!? Nope! He had to figure out all those secret things on the Dark Side to make that Kessel Run. Help your kiddo express himself with one of our great Star Wars looks and make sure he's set for his own divine journey, whether he's looking to be a Dark Lord or a Jedi Knight!
Star Wars Accessories
Making the perfect Star Wars look isn't all about suits and shirts. There are a ton of unique nuances that our favorite characters used to make their look perfect. Imagine a Chewbacca without his cross-body belt! That's just a regular wookiee! The Dark Side is always in the details and that is why these choice Star Wars accessories are the perfect way to accentuate your life. Get ready to relax in style, to tip your hat to fellow fans, and smuggle all your favorite Star Wars stuff with our wide variety of galactic gear!
Star Wars Robes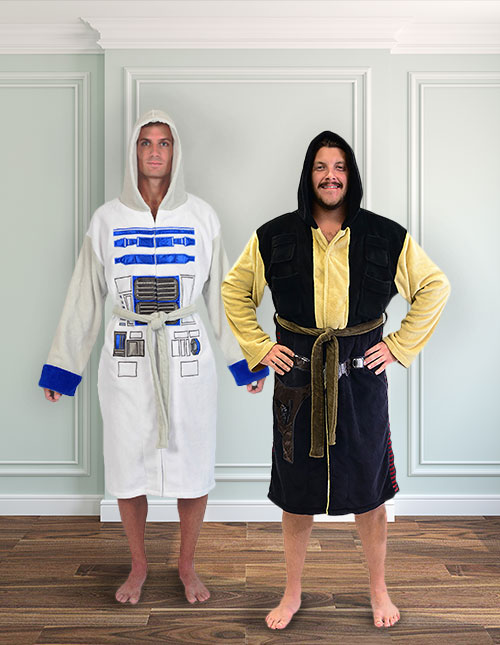 What's a hero to do once the galaxy is saved? After you've taken a nice sonic shower in the refresher and settled down to binge the seven volumes of The Bounty Hunter's Greatest Hits on the holoprojector, you're hardly going to dress back up in your adventuring gear. But, who can say 'no' to that heroic look!? Come to the place where comfort meets fashion and slip into some of our comfortable Star Wars fleece robes! Kick up your heels as only Han Solo can…or know what it is like when R2D2 takes a nap! Who knew that plasteel was so comfy!?
Star Wars Hats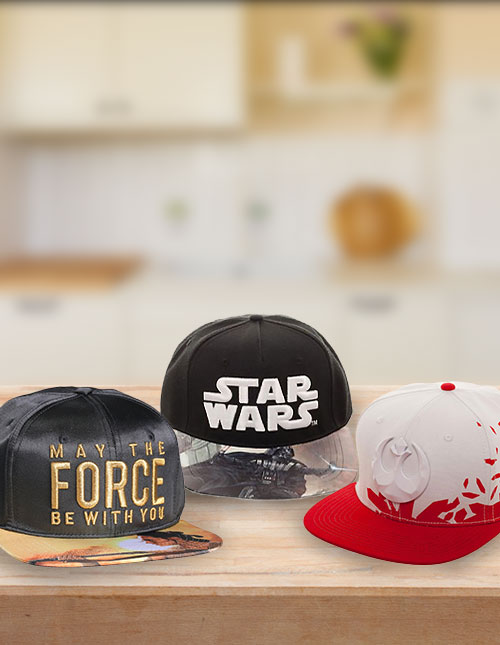 Helmets are pretty much a requirement for all the denizens of the galaxy. Even the main characters enjoy a few moments of helm-oriented disguise or fighter pilot fun. We wouldn't expect anyone to want to wear one on a standard day, but you can still enjoy showing off your Star Wars tribe and fandom with some of our hat options! Keep the sun out of your eyes so everyone can see the gleaming stars in your eyes when you're showing your pride in a Darth Vader hat. Hold onto the might of the Resistance or find your other niche with these great choices!
Star Wars Backpacks & Bags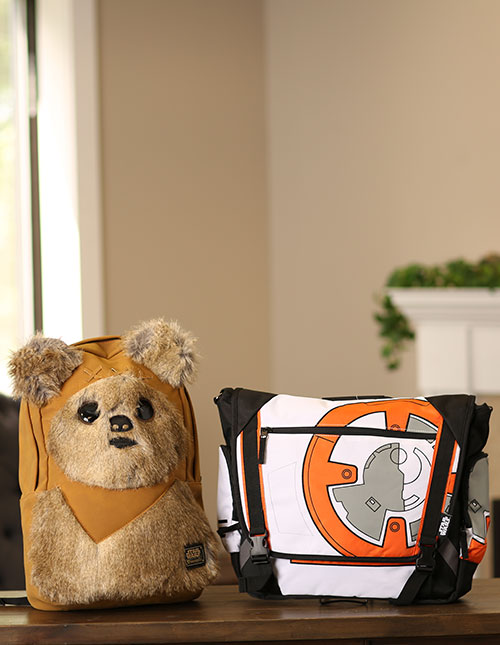 Ever notice how many folks living amongst the stars are particularly diminutive? We've got a ton of pint-sized buddies all over the place, often getting piggy-back rides! Of course, it would be silly to take these buggers for granted. Some of them have amazing skills, from mighty Force-wielders to those who know how to smuggle your stuff. Bring along an Ewok and know that your cute companion is carrying all your things. Know that the epic BB-8 always has your back! Choose from dozens of our Star Wars backpacks to keep your stuff as secure as a Magna-lock.
Star Wars Costumes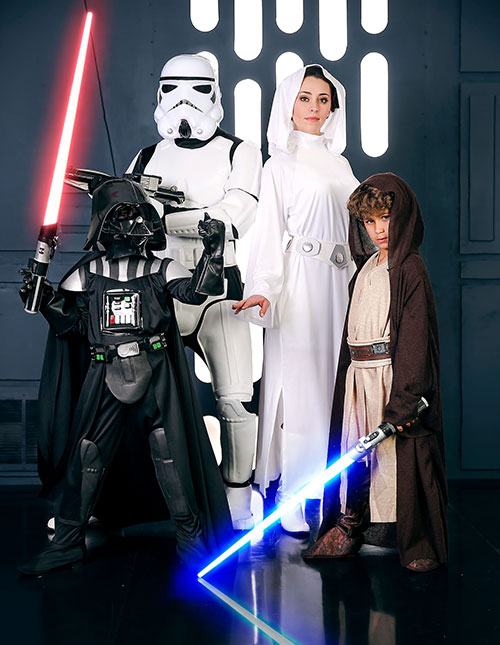 Of course, just when you think the Force is in balance, the galaxy can surprise you. It is at those moments that you need to get the whole family together to face down the real threats. We have tons of Star Wars costumes that you can enjoy, but nothing is better than garbing up the whole family in interstellar style. Get your deluxe experience started with an amazing Princess Leia and show some real creativity when Han Solo dresses up as a Stormtrooper! Don't forget your Kid Vader and Jedi youngling, because this is one adventure you're not going to want to miss!