Bath Robes
Alright, FUN fans. Let's get robed! Whether you're a long-time bathrobe wearer or are about to get your first comfy robe, we've got the goods. As in, we've got some of the most unique bathrobes on planet earth! Whether you're a fan of superheroes or sports or cult classic movies or video games, we've got robes that celebrate the most popular franchises. So start your shopping by taking a look at some of our FUN.com exclusive robes. Then, keep reading to learn more about comfy robes and for info on how to choose the right one for you!
Exclusive Bath Robes
We know that there are many, many bathrobes in the world to choose from. But you should definitely have our Made By Us robes at the top of your shopping list. Our plush robes for women and men feature costume-inspired designs for some of your favorite franchises, like The Karate Kid and Ferris Bueller's Day Off. With a focus on great designs and great materials, we're positive you'll love the style and comfort our exclusive robes offer. So check out each of these options to see if we've got the bathrobe you need in your life!
Harry Potter Red Black Gryffindor Robe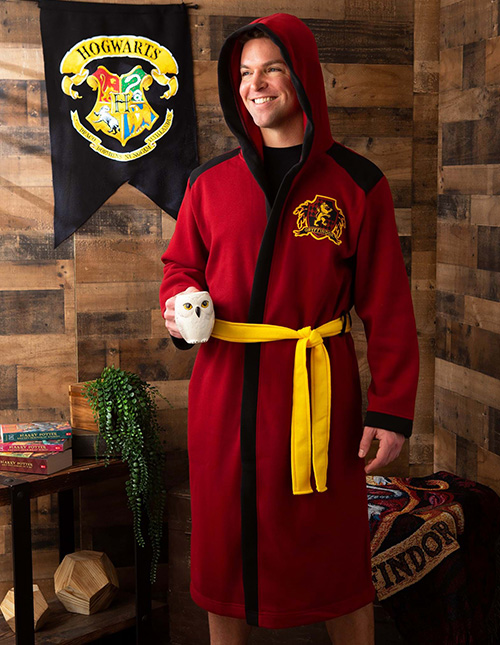 We're sure Harry Potter fans won't need much convincing on this. Because throwing on a Harry Potter Gryffindor Robe is absolutely, positively the best way to start your day! From the moment you wake up, you'll feel like a wizard prepping for a day of class at Hogwarts, even if your actual daily routine is a tad more boring. This men's hooded fleece robe features an elegant Gryffindor crest on the left breast and a large house logo on the back. In Gryffindor colors, red and black, you'll look like a dapper wizard even if the only folks you'll be dressed to impress are your housemates!
Karate Kid Cobra Kai Robe
Cobra Kai is one of the most popular streaming series, so we won't blame you if you sometimes wake up thinking about karate moves. But we can take it a step further, and all we have to do is get you this Karate Kid Cobra Kai Bath Robe! Officially licensed from the 1984 movie, this Cobra Kai robe looks just like the karate wear worn by the members of the feared dojo. If they wore ultra-plush karate uniforms when learning to sweep the leg, that is! With an appliqued Cobra Kai patch on the front and a large, embroidered patch on the back, any fan is going to love the cool styling of this short fleece robe.
Karate Kid Daniel San Robe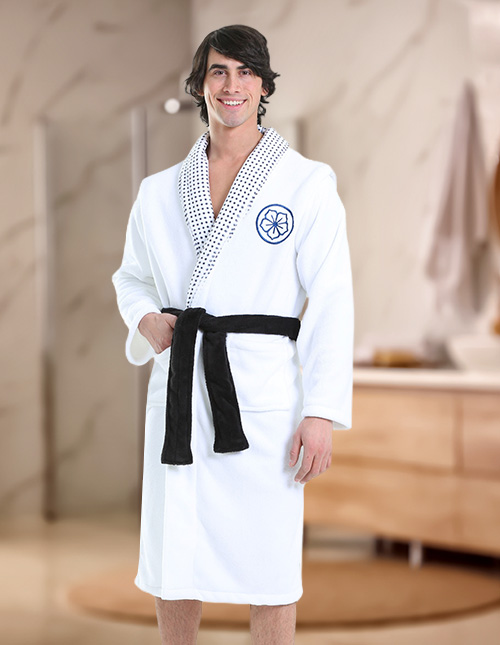 If you always root for the good guy, few movie characters are more endearing than Daniel LaRusso from Karate Kid. His underdog story, nurtured by the tutelage and friendship of Mr. Miyagi, is one that fans fondly remember. Which is probably why Karate Kid is considered one of the most iconic movies of the 80s! If you count yourself among its fans, then a great way to celebrate your fandom would be to get this Daniel Karate Kid Bathrobe. Styled just like the Karate uniform he wore in the movie (complete with Mr. Miyagi's bonsai tree logo!), it's a comfy choice to wear around the home. And maybe even for outdoor projects if you're so inclined. You know—wax on, wax off!
Ferris Bueller Adult Bathrobe Costume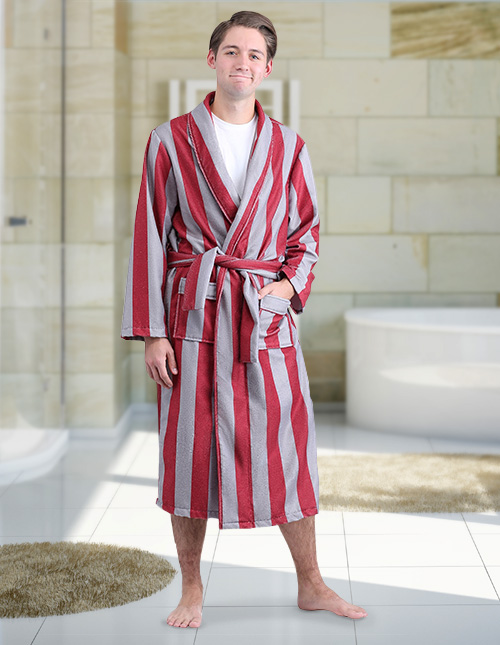 Life moves pretty fast. So, we recommend having a comfy bathrobe to help you stop and look around once in a while! Of course, Ferris Bueller might have recommended owning a comfy robe, since he sports a slick striped robe in the iconic opening scenes of Ferris Bueller's Day Off. And we've recreated that look with this officially licensed Ferris Bueller Bathrobe. It's equally suited for a costumed romp or for use as a real robe thanks to its soft terrycloth fabric. And if you have a day off coming for yourself, it will have you saying "Ferris Bueller, you're my hero!"
Comfy Robes FAQ
What Are Robes For?
Simply put, bathrobes are for drying after a bath, instead of or in addition to towels. But, as so many folks have found out, robes are a handy clothing item to wear around the home as morning wear or as loungewear in the evening. Many folks consider a bathrobe to be the luxurious way to dry off after a bath or shower, particularly when one is not in a hurry to get dry. And when one is not in a hurry to get dressed, either, they can be worn back to bed to watch the morning news or down to the kitchen to get breakfast started. When you finally do get dressed for the day, you might find yourself wanting to get back to the soft comfort of your robe as soon as possible. So, many people don them in the evenings as the perfect couch apparel for streaming and binge-watching their favorite TV shows.
How To Choose A Bathrobe?
Picking out the perfect bathrobe can really be as straightforward or as complex as you make it. But, for us, there's really only two questions to ask. Is it comfy? And is it FUN? If the answer for the robe you're looking at is yes and yes, then that is the bathrobe you should choose! If you're still having a tough time deciding between a few choices, start by looking at the fabric and determine what comfort level you'd prefer. A terry bathrobe will be a bit lighter and comfier during the summer, while a fleece robe is going to give you the warmth you want in a winter bathrobe. A plush robe will provide the best all-around comfort, so you can't go wrong there. After you know the fabric you'd like in your next robe, just think about which character or franchise you'd like your bathrobe to feature. Then you can pick out the robe that most fully expresses your fandom. You'll be relaxing like your favorite hero before you know it!
Should A Bathrobe Be Fun?
Yes. Definitely yes. A thousand times, yes!!! Ok, we may be a bit biased towards all things FUN. But when presented with the choice of having a plain, boring, or even a serious bathrobe (heaven forbid!), a plush robe in your favorite theme is the clear choice for us. A fun robe based on your favorite superheroes might make your feel heroic during your downtime. Or maybe you want a bathrobe based on your favorite funny guy to crack jokes around the house. Or even a women's bathrobe from your favorite animated feature to showcase your princess personality! No matter what kind of fun robe might be right for you, one of our licensed bathrobes is definitely going to liven up your bath routine.
What Are Made By Us Robes?
Glad you asked! In 2021, we were pleased to launch our first Made By Us bathrobes. As we curate and craft some of the most incredible fan gear available on the internet, we're always looking for new ways to help our customers celebrate their fandom. Loungewear was an obvious choice to expand our product line. So we figured what could be more leisureful than licensed bathrobes! It was a natural fit. We approach our Made By Us apparel and accessories a tad differently than other apparel brands. And that's because our company roots are firmly grounded in costume fun. When designing our exclusive bathrobes, we took that expertise to task and have produced designs for some of the most popular franchises around. And, of course, all of our Made By Us robes are officially licensed so you can be sure you're getting authentic fan gear. No knockoffs here, bub!
Where Can I Wear A Bathrobe?
Well, the obvious and accepted answer is your home's bathroom. And your bedroom. And, frankly, every other room in your house or apartment! Of course, it's also generally acceptable to wear your robe out of the house to pick up the newspaper or take out the recycling. But, with the selection of fan-favorite robes we have available, we'd like to make one more suggestion. You should consider wearing them as a costume! Whether for dress-up day at work or for an easy-going outfit for your next costume party, a character robe is a great choice. Provided, of course, you're appropriately dressed underneath. You definitely won't want to push those limits!