Chucky Merchandise
Most of us love our horror movie classics. You can probably picture some of the iconic monsters, stalking all around the lake for their would-be victims or even chasing them down in their dreams. Sure, there are a few villains that stick to mundane means, but when you add a little supernatural suspense, you can be sure that any audience member is going to be at the edge of their seat.
That's why we weren't too surprised to learn that folks couldn't get enough of Child's Play. At first, the evil exploits of Charles Lee Ray seemed simply sinister. But we had a whole new story when he broke out the warlock rituals and proved he had something in common with ghosts and voodoo masters. If you love the combination of evil dolls and slasher flicks, get ready. These Child's Play gifts are the perfect way to bring a little magic to you and yours.
Chucky Accessories
When you want to channel your inner horror fanatic but don't need to go all the way into costume territory, don't fret! You can still access that Good Guy energy (and villain pride) with our collection of Child's Play and Bride of Chucky accessories. Whether you're looking for Chucky apparel or seeking a surprising gift for a horror fanatic friend, look at these amazing Chucky gift ideas!
Chucky Socks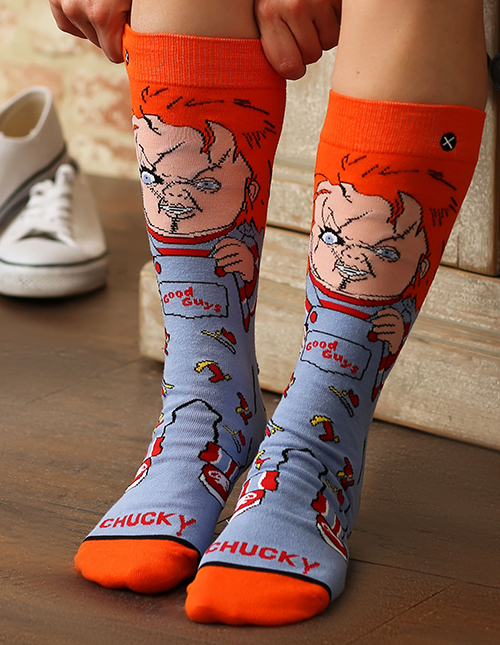 While running around as a plastic doll might mean Chucky and Tiffany are pretty resilient, they don't exactly look cozy. No matter how much plush you add, they're still clicking around wherever they run. Make sure that you and yours aren't feeling the same way with a pair of Child's Play socks. Your fandom at your feet and a comfy way to slide into a movie marathon!
Chucky Hat
Enchanted voodoo dolls don't really need to shield their eyes from the sun. Nor do they have to bother with their sense of style. They've got it pretty good… other than the fact that they can't enjoy any tasty treats or feel the wind on their skin. Of course, with a Child's Play Hat, you can be stylish while also trending with all your movie buff buddies. Swap hats, not souls!
Chucky Backpack
When you are a creepy enchanted doll, there are only so many ways you can get around. Laying still and being toted is your best bet. Otherwise, you're sure to draw way too much attention. The key is to find the perfect backpack to sneak into. What could be better than one that is depicting your own mug!? Okay, so you won't be hiding inside this Chucky Bag, but you can still keep on top of the horror movie scene when you bring home a backpack this bad!
Chucky Wallet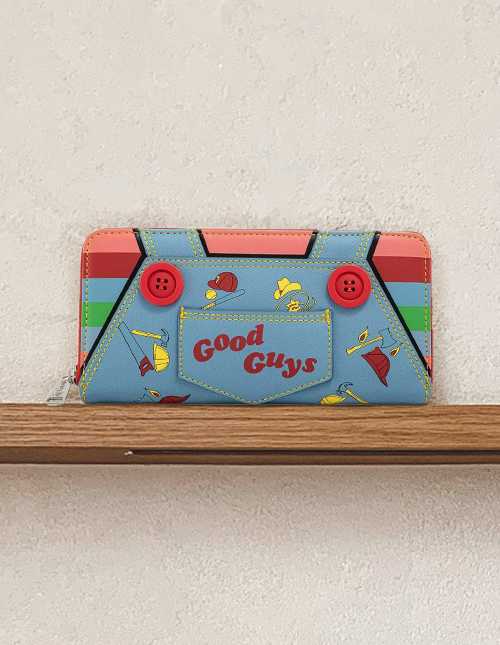 We don't imagine that Chucky and Tiffany really needed much in the way of money while they were wandering around in their doll form. You don't need cash when you don't need dinner and sneaking around in a bus compartment lets you skip paying the tab, too. For the rest of us, we might need a side back, wallet, or another trendy pack to keep our stuff together. Why not get one that also sports your favorite horror-comedy-fantasy flick, all thanks to Loungefly!?
Chucky Figures and Décor
It isn't very difficult to find a present for a horror fan. There are a ton of collectibles out there that are sure to bring a smile (or scream of glee) to any of them. But when you choose a franchise as fun and weird as one starring Chucky and Tiffany, the options expand a bit.
Imagine decking out your den with horror décor that you could swear will jump to life at any moment. How about snuggling up with a cozy pal who might be just a bit possessed? That's why these Chucky decorations are a dream come true. From Chucky Funko Pop! figures to animated dolls, find the perfect bit of Chucky movie memorabilia right here.
Talking Tiffany Bride of Chucky Doll
Tiffany Valentine has been a staple in more Chucky movies than she's missed! Appearing in at least 5 films between 1998 and 2021, her quirky personality, darkly contrasting style (and her famously fun voice actor, Jennifer Tilly) have ensured she maintains peak popularity among the fans. If you can't get enough of this dedicated villain, it is time to get your hands on a Talking Tiffany Bride of Chucky doll or a matching Tiffany action figure!
Talking Chucky Doll
Chucky always seems to take a few hits but keeps pressing on anyway. You'll rarely see this guy without several scars, burn marks, or a seriously messed-up hairdo. (Not that he doesn't deserve most of what comes to him!) But if you still love this villainous voodoo practitioner, you can't go wrong with a Talking Child's Play Chucky doll. Possessed with a voice box and deadly detail, this is the kind of collectible that will have you screaming!
Chucky and Tiffany Dolls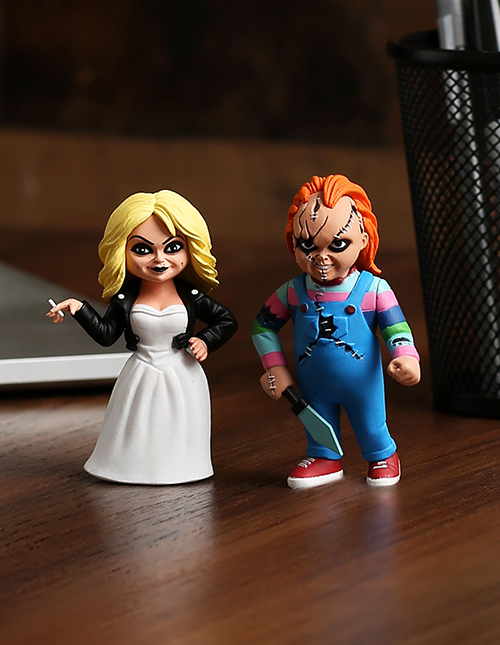 If you prefer to decorate your den with horror movie décor that isn't likely to run around the house on its own, we would recommend you focus on some of our collectible figures. From Chucky and Tiffany action figures to Chucky ornaments, you can have just enough of the cartoonish killers around to show your fandom without worrying that they're watching you!
Chucky Pillow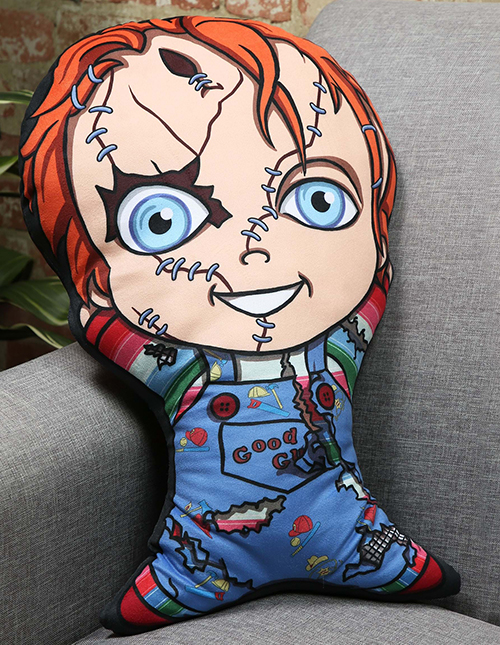 All right, we admit that Chucky doesn't usually look like the cuddliest of characters. He's usually got a bladed weapon somewhere nearby and, even then, his plastic appearance doesn't really scream "snuggle me!" But you can still enjoy the softer side of this Good Guy in the form of a Chucky pillow! Toss it on the couch for a talking piece or cover your eyes during scary scenes.