People love giving and receiving gifts, especially for events like birthdays, holidays, cheering someone up, or just because! We also love a themed gift exchange, from white elephant gift exchanges and silent auctions to an alphabet grab bag. You might ask, what is an alphabet grab bag gift exchange? Everyone participating draws a letter and fills a gift bag or box with presents that start with the letter they have drawn! If we have your curiosity piqued, keep reading to see a few of our favorite gifts for each letter of the alphabet. (With a nerdy FUN.com twist, of course!)
Gifts That Start With A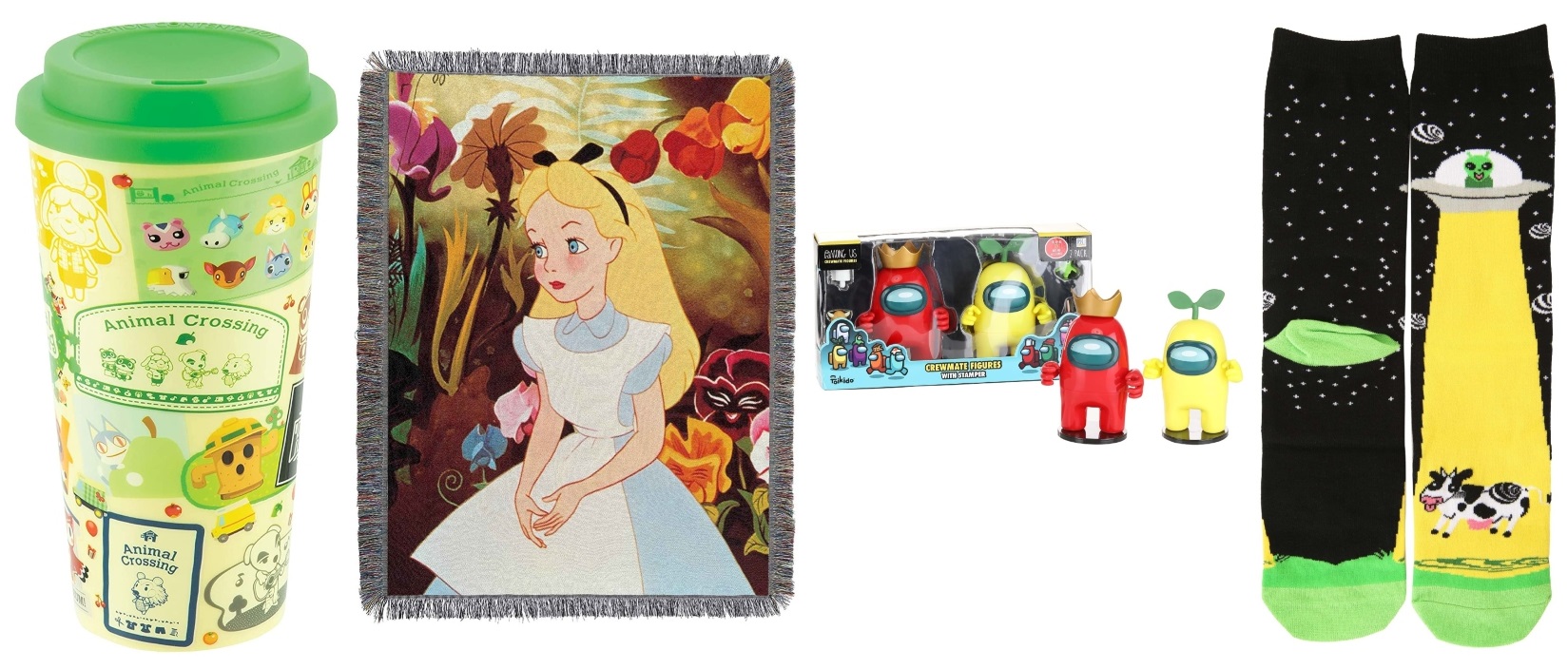 Because we're cataloging gifts for each letter of the alphabet, it's only natural to begin with the letter "a". Now, you'd typically think of items such as apples or animals, but we're looking at gift ideas under a pop culture lens. There are so many great Alice in Wonderland gifts, and who would expect anything AC/DC? After all, when you're having fun giving grab bag gifts, you're looking for something beyond the ordinary!
Gifts That Start With B
Sticking to our unique grab bag gift ideas, here are some uncommon birthday or Christmas presents that start with "b". You may feel obligated to yell "Beetlejuice" three times once their Beetlejuice gift is finally open, and Star Wars fans will love characters like Boba Fett. Even more unusual offerings like Bigfoot will make for hilariously unexpected gifts. B is such a popular letter that we're sure you can think of other fantastic letter gift ideas!
Gifts That Start With C
if you have a friend group with eclectic tastes, perhaps a Coraline gift or a Creature of the Black Lagoon product isn't such a crazy idea. (They're both excellent presents that start with "c".) We also have a superb selection of Care Bears gifts at FUN.com for both adults and kids. After all, 80s nostalgia is hot! We're confident that with a few fun prompts, you'll easily be c-ing letter gift ideas!
Gifts That Start With D
Are you familiar with Scattergories? We feel like we scored double points with these Dungeons & Dragons gift ideas. Also, these products won't break the bank as they're all gifts for $20 or less! There are still other fantastic holiday grab bag ideas that start with the letter "d". Darth Vader, Donkey Kong, Doctor Who, need we say more? You're bound to be a gift-giving all-star!
Gifts That Start With E
Gifting isn't always as easy as a, b, c, and that's ok! We're here to give you gift ideas for the more unusual letters, too, (as you'll see when we get into q, x, and z). You might be wondering what gifts start with "e", and one of the first to pop into our heads was Eleven from Stranger Things. Of course, 80s nostalgia also reared its head once again with these E.T. gifts and Elvira. (We love a good horror movie gift!)
Gifts That Start With F
What do horror, superheroes, and sitcoms have in common? Why, the letter "f", of course! We love a fluffy fleece Five Nights at Freddy's throw, and you'll feel like a letter gift pro with anything from Fantastic Four. We hope your event falls on a Friday because the alliteration will be flawless!
Gifts That Start With G
Don't be glum should you pull the letter "g"! There are great gift-giving opportunities from Godzilla to Grogu, and plenty of others. Golden Girls gifts are favorites of ours, and the Ghostbusters are always a good choice. Your giftee will surely giggle with delight when they see these glorious "g" letter gifts!
Gifts That Start With H
We'll be your hype man should you be hunting for gifts with the letter "h"! With a huge fandom like Harry Potter, there are all sorts of magical grab bag goodies. And, speaking of magic, there are plenty of Hocus Pocus gifts to go around. We hope you're hyped to discover even more gift ideas, including Marvel superheroes and anime!
Gifts That Start With I

Are you ready for another round of incredible gift ideas? These letter "i" gifts are ready for your next event! There are plenty of Iron Man gifts for one of Marvel's most popular superheroes, and horror fans will love scaring up some fun with It gifts. Even if you're not quite set on any ideas yet, we're happy to have inspired you.
Gifts That Start With J
Just so we're clear, we're not about to get hung up on letter "j" gift ideas. As Batman's greatest villain, Joker gifts are great for DC Comics fans. Of course, we also couldn't overlook critically-acclaimed movies like Jaws or Jurassic Park! Now, if you'll excuse us, we have more alphabet gifts to pull together.
Gifts That Start With K
Keep those cool gift ideas coming with the letter "k"! King Kong and Karate Kid gifts will make you the king of any gifts by letter events. And, for your video game-obsessed friends, a Kingdom Hearts keyblade is the key to gifting success. Throw in some easy wall mounts, and their game room will have fabulous new décor!
Gifts That Start With L
LEGO gifts are always a hit, whether or not you're having a themed gift party. (And with both kids and adults too!) We also have quite a few lovely Disney gifts that start with 'L", from Lilo and Stitch to Little Mermaid gifts. However, as big fantasy fans, we're partial to Lord of the Rings!
Gifts That Start With M
We know it feels like we just talked about Disney gift ideas, but there was no way we were passing up Mickey Mouse for the letter "m". (Or Mulan, for that matter!) And, of course, we couldn't forget about our gamers! Mega Man and Minecraft are so fun to play, and we keep returning to them years later. We hope your giftee will feel the same about their gift that starts with "m"!
Gifts That Start With N
We're not done yet! These nice "n" gifts are quite handy to have around the house. Mugs are always in fashion, especially when they're Nickelodeon-themed. And door mats will help to keep the outside from getting in, so you can have a cozy time in your NASA slipper boots. Then it's time to whip up a bowl of delicious ramen with Naruto gifts like these pot holders and kitchen towels!
Gifts That Start With O
Do you want to build a gift guide? Olaf cheered us on for the letter "o", so how could we refuse? The fact that there's a Star Wars character for each letter of the alphabet means that we had to include Obi-Wan. And gifts from The Office are always a hit, especially at work Christmas parties! (Although you may need to decide if your boss really deserves a world's best boss mug!)
Gifts That Start With P
While we could easily have just picked four Disney princesses and called it a day, we decided to challenge ourselves to be more original with our letter "p" gift ideas. Be the king or queen of alliteration with a pair of Peanuts pajama pants, or start a duel with the Princess Bride Prepare to Die board game. We did choose another princess for this gift guide, but we couldn't pass up Princess Leia!
Gifts That Start With Q
We apologize immediately if you happen to pull the letter "q" for your next holiday party grab bag event, but we're not about to quit! Disney comes through for you with excellent Queen of Hearts gift ideas, and even Quasimodo makes an appearance. If you're a classic rock fan, Queen likely came to mind almost immediately. (As it should!) And even Harry Potter had to return for their smash-hit game of quidditch. Kudos to you, should you happen to know someone who plays.
Gifts That Start With R
(Now that we think about it, is it weird that we didn't mention Batman gifts for the letter "b", even though we touched on his villains and sidekicks?) Well, it's far too late to turn back now, so we'll continue with Robin, Rugrats, Robocop, and Rick and Morty! 90s kids likely remember getting up and watching Rugrats as part of their Saturday morning cartoon lineup, whereas Robocop resonates more with 80s movie lovers. So many good characters and franchises start with "r" that we could hardly list them all!
Gifts That Start With S
Savvy gift-givers will love these gifts with the letter "s"! Classic cartoons like The Simpsons and SpongeBob SquarePants are guaranteed to get some laughs, and anime fans will squeal with delight for Sailor Moon gifts! There's also an entire Spider-Verse of gifts for Spider-Man lovers, from Peter Parker and Miles Morales to Spider-Gwen!
Gifts That Start With T
Quick! How many things that start with "t" can you name in 30 seconds? Honestly, there's more than you may realize! Did The Texas Chainsaw Massacre come to mind? If you're not a horror fan, then perhaps not. And Tinkerbell may not even be the first Disney character you think of. Maybe Tiana or Tigger? However, one of our favorites has to be the Teenage Mutant Ninja Turtles. It's a mouthful, but we wouldn't have our pizza-eating, sewer-surfing ninja turtles any other way.
Gifts That Start With U
Don't be one of the poor, unfortunate souls who overlook an Ursula gift for the letter "u". She's near the top of the list as one of our favorite Disney villains! Also, is our inner nerd showing? The Uruk-Hai may feel like a deep cut, and not everyone can just name a Pokémon for every letter of the alphabet. (Although it is possible!) At least Uncle Fester got his chance to shine again in recent Addams Family movie and TV adaptations.
Gifts That Start With V
We hope you're still with us as we're getting very close to the end of the alphabet—and we're not out of ideas yet! Velma has to be our favorite Scooby-Doo character of all time, and other "v" names are deliciously villainous for Venom and Voldemort. Even Venus gets her time to shine as the fourth Sailor Soldier. We hope you're very pleased with these "v" gift ideas!
Gifts That Start With W
We're feeling ready for a cozy night in with these letter "w" gifts. A Wall-E mug filled with a hot beverage, some comfy slippers, and a puzzle in front of the TV all sound like a great way to spend some time. The Where's Waldo puzzle is even a puzzle within a puzzle as you search for the famous man wearing red and white stripes. What's your go-to puzzle movie or show?
Gifts That Start With X
This is like the letter you have been waiting for, just to see if we could. We couldn't possibly lean on xylophone, like every other list—but the X-Men and Xena surely have our backs! (We're also not turning a blind eye to Alien's Xenomorph as that would be very unwise.) Also, serious Star Wars fans will love their own replica X-Wing fighter helmet. Now, which squadron would you prefer to lead?
Gifts That Start With Y
Who is your favorite character that starts with "y"? Yzma is a delight of a Disney villain, with some of the snappiest lines on record. And, as we said before, if you can't think of anything, there's a Star Wars character for that. Maybe you love anime, and Yu-Gi-Oh immediately popped into your mind. We're sure there must be more characters than what we represented here, so let us know!
Gifts That Start With Z
We did it, folks! We went through the ABCs of pop culture. As our gift-giving journey comes to a close, we still have some great characters here. Zorro is a timeless classic, and we love Zuko's redemption arc in Avatar: The Last Airbender! After mentioning some Power Rangers in the previous section, we couldn't possibly leave out Zordon, either. We hope you're more than prepared for your next gifting adventure!
Are you ready to get out there and try a creative gift exchange idea? What are some of your favorite franchises that we missed? Let us know if there's something you think we should carry! We hope you have a great experience the next time you find yourself shopping for the perfect gift online.