Wonder Woman Clothing
Ready to get out there and save the day? Whoo-hoo! We're excited for ya, and not just because you're committed to showing off your superhero ways, but because you're going to take on your adventure as one of the most revered superhero characters of all time. The one, the only, Wonder Woman! She's been starring in the pages of DC Comics for years, and she made quite the impression on her TV show in the 70s. But now, Wonder Woman has gone to even greater heights thanks to her foray onto the Silver Screen with 2017's Wonder Woman and 2018's Justice League!
So, you're ready for some snazzy Wonder Woman style, and we're here for it. Here to hook you up with some of the sweetest Wonder Woman clothing items to be found, that is! We have lots of t-shirts and awesome accessory items that will have you rocking a "WW" on your chest, and we've even got Wonder Woman Costumes, too, if you're ready for the whole superhero kit and caboodle. So, peruse all of these top-selling selections and see if any of them are just what you're looking for!
Wonder Woman Apparel
So, you're committed to showing off your Wonder Woman style no matter what your plans might be. Because you'd like cool licensed apparel for class, work, and for going to the movies, too! Don't worry about crawling all over the web to find excellent one-of-a-kind items, because we've got you covered with great selections right here at FUN.com. From t-shirts to leggings, to upscale apparel like our own FUN Wear line that features fantastic Wonder Woman Jackets, we've got the best selections you're going to find. So, go on, check out some of these top picks and see if any of them deserve a spot in your wardrobe!
Wonder Woman Sweaters
So, you'd like a stylish selection that's an upgrade from your regular Wonder Woman t-shirt. Well, we're proud to let you know that we've teamed up with DC Comics to produce our own line of DC Sweaters! Our Wonder Woman sweater for adults is an exemplary example, with a casual fan style that's perfect for a variety of settings. Wear it with your favorite jeans for movie night, or dress it up with a skirt for casual Friday. Kids can get in on the fun, too, with our Wonder Woman Christmas sweater for girls. We're sure she'll love showing off her favorite hero at school!
Women's Wonder Woman Shirts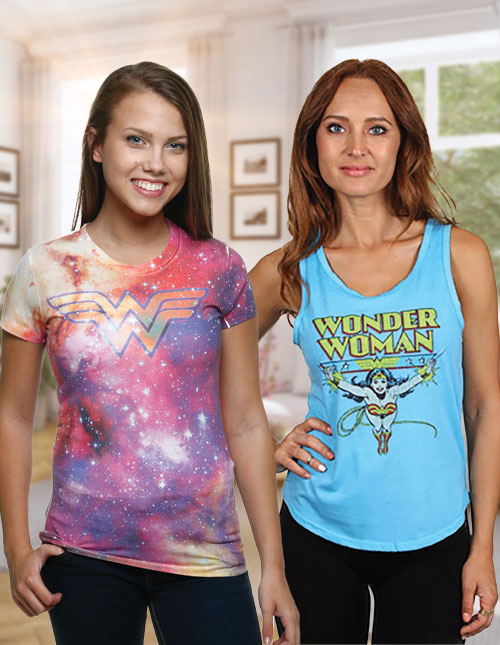 Still need to beef up your collection of Wonder Woman t-shirts? Of course, we can take care of you for that task! Maybe you'd like a new t-shirt for the gym, and if that's the case, then you should get a Wonder Woman Tank Top. And a great everyday selection is our Wonder Woman Sublimated Galaxy shirt. Because nothing shows off your fan style status like a sublimated shirt! We've got a bunch of other great tees inspired by Wonder Woman and all your other favorite comic book characters, too, so start working on upgrading your fan style right here. Like, pronto!
Girls' Wonder Woman Shirts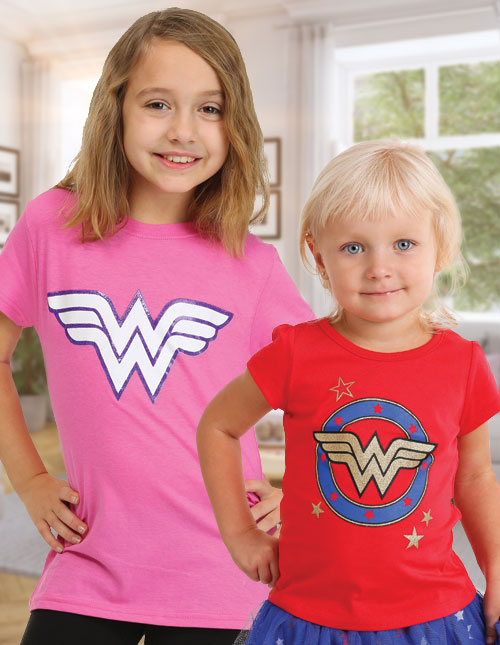 Kids can get into the Wonder Woman fun, too, of course. Because young girls ought to have an inspiring role model like Wonder Woman in their lives! Let your little one show off her girl power with one of our Wonder Woman t-shirts for girls. Our pink Wonder Woman logo tee is great for girls and our toddler Wonder Woman logo shirt is an excellent choice for toddlers. No matter their age, they're never too young to start learning about superheroes and saving the day. They might grow up to be pretty darn heroic themselves, after all!
Wonder Woman Jackets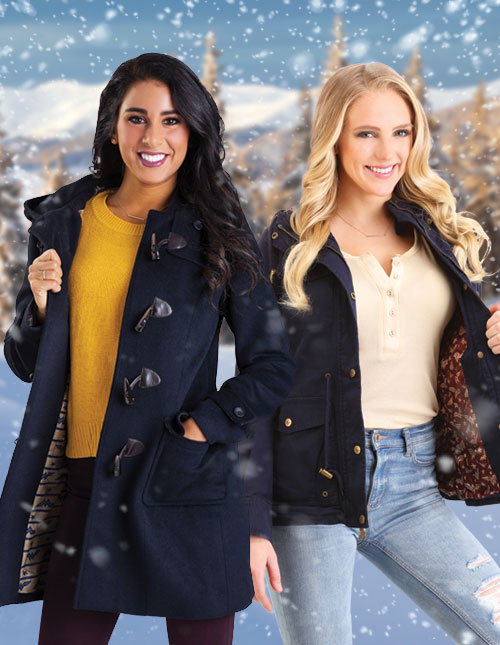 Do you have to take on your superhero mission in a winter climate? We've got you covered there, too! Our FUN Wear jackets are Made by Us in tandem with DC Comics, and they're the ultimate comic book fan style to take on the outdoors. Both our Wonder Woman Cargo Jacket and Duffel Coat are outstanding selections. We've got you covered when it comes to premium fan style, so be sure to shop our entire catalog of FUN Wear to see the coolest one-of-a-kind items we have available.
Wonder Woman Accessories
So you've already got a great outfit picked out for the day, but you're feeling like maybe you can still use the confidence boost of boasting about your favorite Amazon. Well, we're happy to let you know that we've got plenty of Wonder Woman accessories to complement your style! Pick out a Wonder Woman purse, or a belt, or even a pair of socks, and you'll be ready to take on your daily challenges with some extra aplomb. Shop some of those top-selling items right here. Each of these items will add a touch of subtle Wonder Woman style, no matter which one you choose!
Wonder Woman Accessory Ideas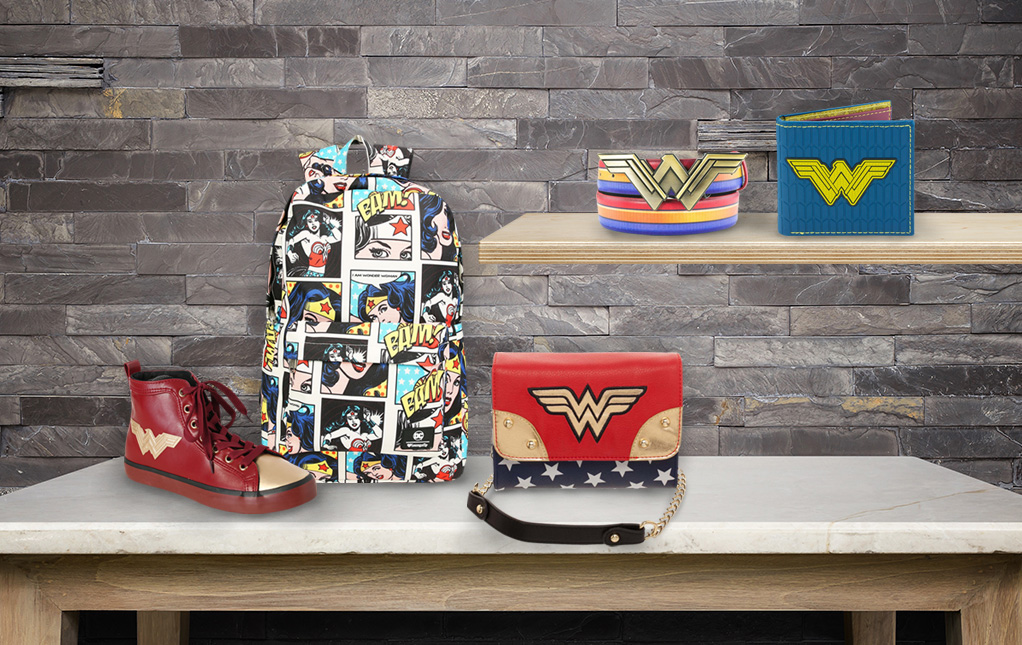 True fashionable fans know that accessories rule the day. Of course, our team knows that, too, which is why we're proud to offer awesome accessories for characters like Wonder Woman! We've perused the world to bring you these curated selections, so you can shop right here to add a touch of Wonder Woman style to any old outfit. A Wonder Woman belt might be an excellent choice when you're dressing casual, and a wristlet wallet is sure to keep your cash handy for whatever your daily plans are. Grab a Wonder Woman crossbody bag that works with any outfit from casual to glam, or a backpack for when you're bustling off to class!
Loungefly Wonder Woman Crossbody Bag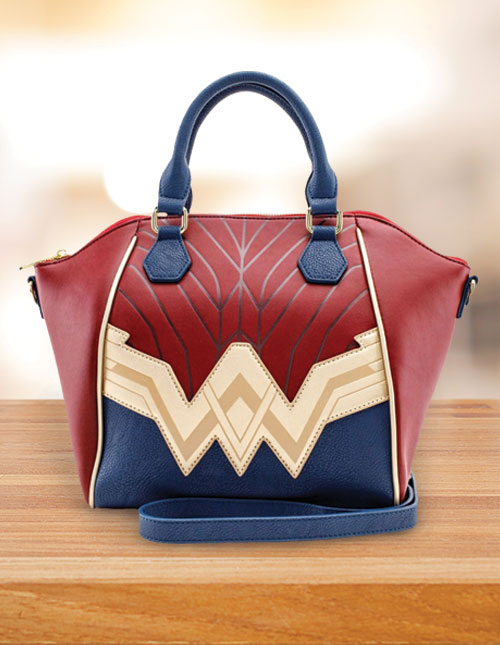 Who are our favorite fashion friends to call when we need some superhero style? Well, that's an easy answer. Loungefly! We're proud to offer tons of handbags and accessories from the premium fan gear company, and this Saffiano Print Wonder Woman Bag is one of our favorites. With styling infused from the Gal Gadot Wonder Woman movies, this bag is the perfect way to show off that you're a fan. Because it's both fan friendly, and fan fashionable!
Wonder Woman Umbrella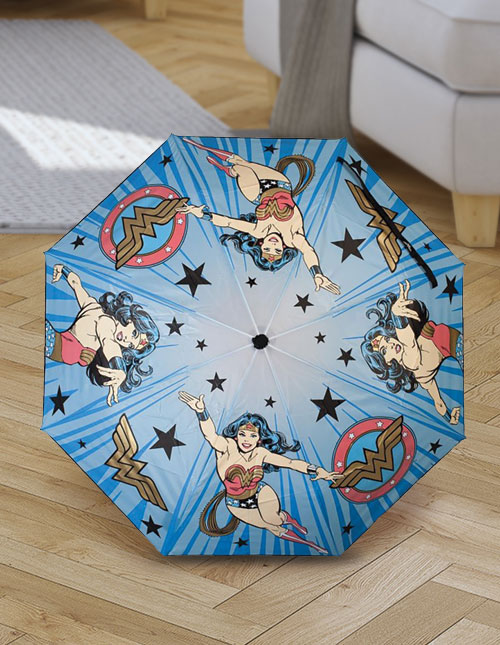 Don't forget your umbrella! When there's rain in the forecast that's one small thing that could put a little damper in any superhero's day. So battle the rain and keep yourself dry with this Wonder Woman umbrella. It features Wonder Woman logos and a even a sword handle! That's just the kind of accessory a modern woman could use. You know, the work-by-day, save-the-world-by-night kind of lady!