Superman Clothing and Apparel
If you feel like your day-to-day apparel game could be a bit more super, we'd say you oughta go for the upgrade. All you'll need is a little superhero gear. And when it comes to the hero that really brings the super, you should consider getting clothing that features the Man of Steel! Superman t-shirts and Superman hoodies are comfy clothes that can be worn in any setting. And when you wear a top that proudly shows off the Superman S shield, you're sure to feel a boost of confidence! When it comes to the best superman outfits, start with a tee and then consider accessories like a Superman hat or a pair of Superman socks. Check out these top apparel options to get going on your shopping!
Superman T-Shirts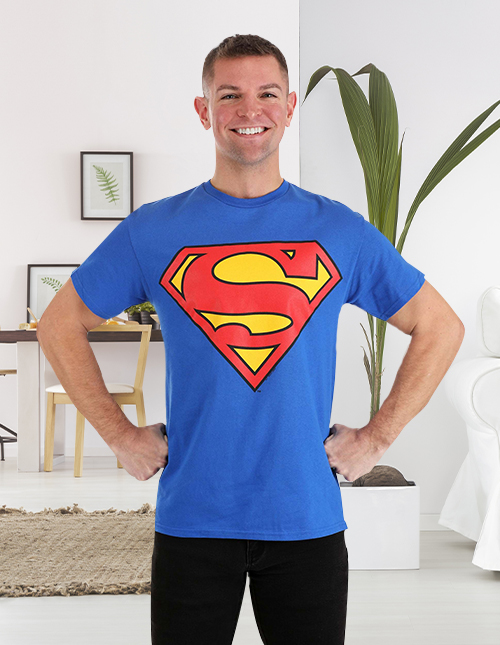 A Superman t-shirt will instantly show off that you're pretty cool. It might even show off that you have superhero strength, just like the Man of Steel! Whether you have your own powers or not, you will love proudly displaying the Superman shield with a tee like the one we have pictured here. We have it for sale along with other Superman shirts inspired by comic books and the many Superman movies!
Superman Shirts for Kids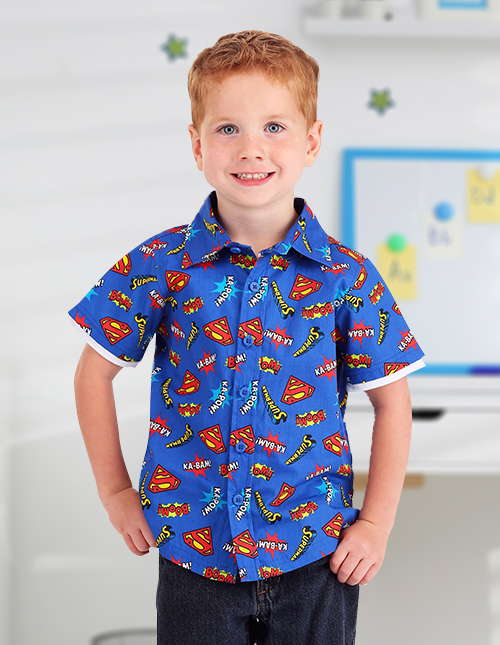 Kiddos just can't get enough of their favorite heroes! If your boy or girl is all about the Man of Steel, we're sure they will want to show it off with Superman clothes for kids. A t-shirt or button-up is a classic choice, and the Superman All-over Button Up Shirt we have pictured here will give them a look they will love. With Superman logos and Ka-Pow and Ka-Bam text, it's an action-packed shirt that's casual, cool, and fun.
Superman Sweaters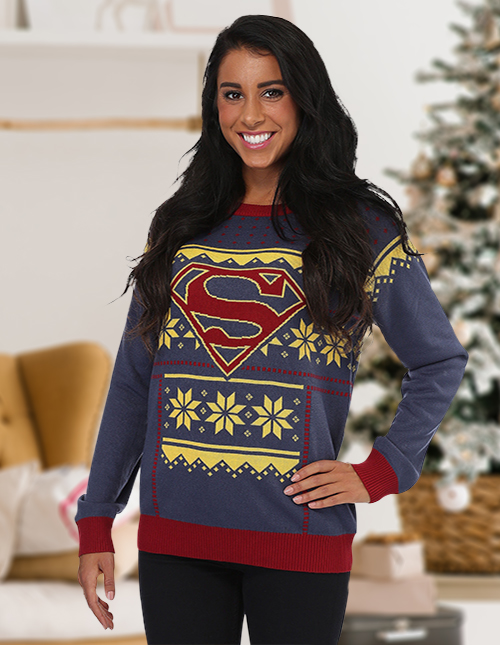 If you want to feel super during the holiday season, all you need is a Superman sweater! After all, a knit sweater will be a comfy choice for colder weather. And if you have a Superman ugly Christmas sweater, you'll be decked out for all of your favorite seasonal festivities. The sweater shown here features the iconic Superman S logo in red along with a knit pattern of snowflakes. It's a fun outfit for casual fans and DC megafans, too!
Toddler Superman Outfits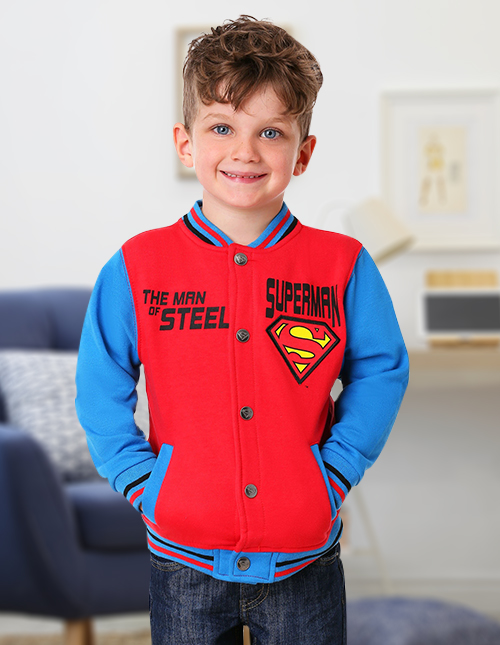 Putting together a Superman outfit for your little one isn't complicated with our selection of Superman clothes for boys! A toddler will look adorable in the Superman Fleece Varsity Jacket pictured here. To "supe" up the ensemble, just dress him in a Superman hoodie and a pair of Superman socks for an adorable head-to-toe superhero look. We sell Superman baby clothes along with toddler outfits, so you can shop for little ones of any age right here!