Spider-Man Clothes for Kids
If your little guy or gal is all about Spider-Man, we're sure they would love to have clothes that show it off. And if that's the case for your kiddo, we can totally help out. Because we sell apparel that will give them the Spidey style of their favorite hero! We proudly offer Spider-Man clothes that kids will absolutely love. We feature Spider-Man shirts with amazing graphic prints, Spider-Man sweatshirt and pants outfits that are incredibly comfy, and Spider-Man pajama sets that will have them dreaming about web-slinging action. You'll find lots of fashionable kid's Spider-Man apparel for sale on our site. But for a little more info, just check out these top-selling items to learn even more about kid's Spider-Man apparel!
Spider-Man Outfit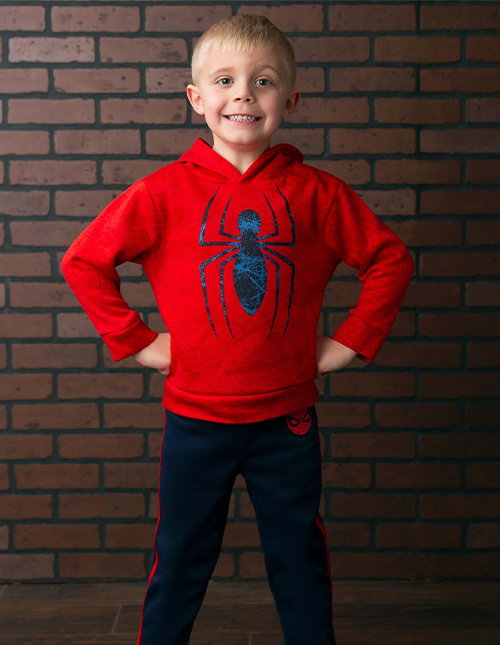 For playtime or hanging out with the fam, there's one outfit that rules for little boys and girls. And that'd be a classic hoodie and sweatpants outfit! We offer several kids' sweatshirt and pant sets that feature your friendly neighborhood Spider-Man. The Spider-Man Red Hooded Sweatshirt and Pants Set, pictured here, is a prime example. The hoodie features a cool Spider-Man logo on the chest along with a spiderweb design. And the coordinating pants feature stripes and a Spider-Man face right on the hip!
Spider-Man Hoodies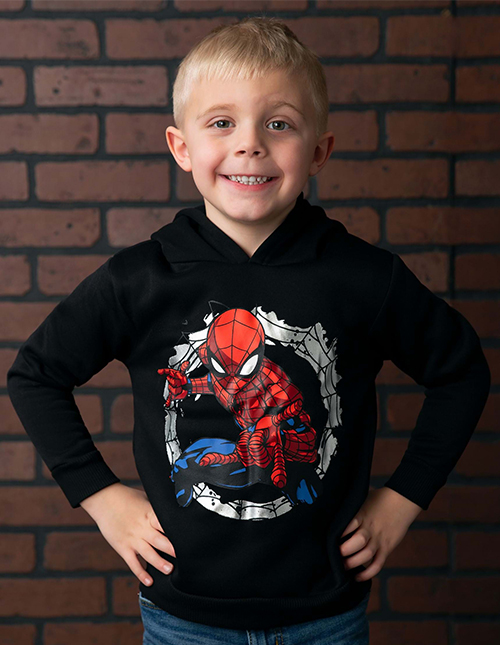 It doesn't take kids very long to learn a fact that adults already know about clothes: hoodies are basically the most comfortable article of clothing ever created! If your kiddo is a big-time Spider-Man fan, we're sure they'll be stoked to get a comfy hoodie that features his heroic style—just like the black Spider-Man hoodie seen here! Be sure to shop boy's clothing to see all of the Spider-Man sweatshirts we have available.
Spider-Man T-Shirts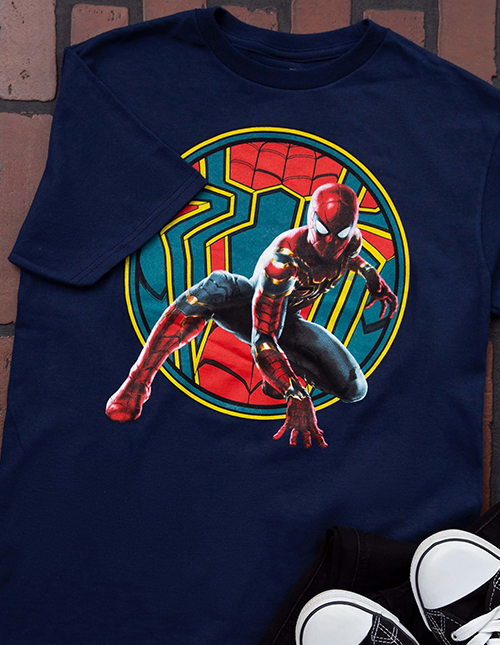 Any kid who can't get enough of Spider-Man's web-slinging action will love having a Spider-Man t-shirt to show off at school. And any of our Spider-Man shirts will have your boy or girl sporting some sharp Spidey style! We feature kid's Spider-Man shirts from the Marvel movies, the animated Spider-Man: Into the Spider-Verse, and classic comic book t-shirts. With intense graphics and epic designs, your kiddo is going to have a new favorite shirt when you buy one of these tees!
Spider-Man Jackets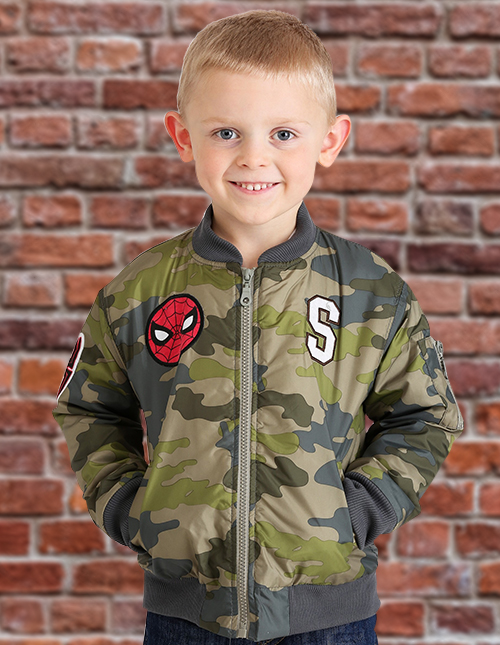 When jacket weather arrives, your child might not be very excited to cover up their favorite Spider-Man tee. But we have an easy solution: they just need a Spider-Man jacket! We feature coats like the Spider-Man Green Camo Print Jacket, pictured here, that will be just what they need. With fun Spider-Man-inspired designs, they're perfect to layer for chilly weather. Just so long as the jacket is the top layer and proudly showing off your kiddo's love of Spidey!