Jack Skellington Costumes
Do you have what it takes to run Halloween Town? Not yet! You might have amazing ideas and well-thought-out plans. You might even have the guts, the attitude, and the determination needed to manage a major holiday. But you don't have the outfit! If you want to take charge of Halloween, you'll need to imitate the Pumpkin King's signature style.
Fortunately, we have a wide selection of Jack Skellington costumes so you can find exactly the right outfit to help you feel just like this creepy character! Whether you want to imitate his suit from the movie or put your own fashionable flourish into your costume, we have costumes in all styles and accessories galore to help you achieve your own version of this spooky skeleton!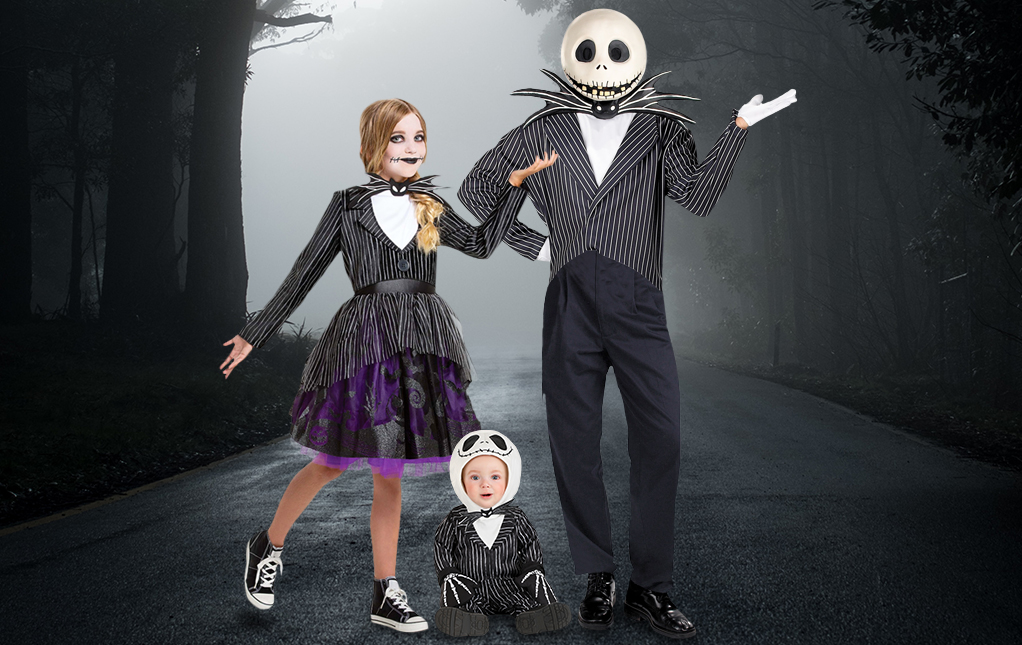 Jack Skellington Collectibles
Almost everyone likes to collect something. And when you love a character like Jack Skellington, it's easy to see why you'd start to bring home fun items featuring his face! When you shop our selection of Nightmare Before Christmas-themed items, you're sure to find something to add to your own collection.
Try out a beautifully designed Loungefly bag or decorate your space with a Jack Skellington Funko Pop. And when it comes to Disney gifts, the sky's the limit! We simply ask that you do your best not to mix up holidays too much!
Jack Skellington Funko Pop
Jack can make himself appear quite intimidating! First of all, he's very tall, and secondly, he can make rather scary faces when he wants to. But when you shrink him into a much shorter vinyl figure, he suddenly becomes rather more adorable than alarming. Shop our selection of Jack Skellington Funko Pop figures and bring home a miniature version of this spine-chilling skeleton.
No matter your style, we have just the Pop for you! And don't forget to check our wider assortment of Nightmare Before Christmas Funko products and complete your collection with Sally, Oogie Boogie, and the rest of your favorite characters!
Jack Skellington Plush
Although Jack is the patron spirit of Halloween and a literal skeleton, we've always suspected that he's a softie at heart. Including this Jack Skellington plush in our collection of soft toys has only confirmed our theory!
If you tend to feel that the Halloween season is more foreboding than fun, you need a huggable friend like Jack. And while there are plenty of horribly scary gifts you can get for your friends to celebrate the holiday, we don't think there's anything wrong with adding a bit of cuteness and comfort to Halloween as well!
Jack Skellington Figurine
Some collectible pieces are perfect for recreating all your favorite dramatic movie scenes or acting out new, imaginative adventures. However, others are better suited to display rather than play, like our Jack Skellington Christmas figurine.
Furthermore, if you're looking for a unique gift for a Nightmare Before Christmas fan, a collectible figurine might be just the thing! And if you'd like to expand your search to encompass other characters, we have plenty of Nightmare Before Christmas gifts to choose from. Add a quality piece to your collection or find the perfect gift to send to a friend!
Jack Skellington Mug
If you're going to make a potion, you probably need something to sip it from. Many of us enjoy brewing potions in the morning that include a magical ingredient—caffeine. Sip your energizing elixir out of a Jack Skellington Mug, and it's sure to make you feel extra powerful! Just be sure that nobody tries to add any frog's breath!
No matter your concoction of choice, we have plenty of drinkware to suit the occasion. Start your day with a special mug, teacup, or glass to add some extra charm to the morning, or find the perfect gift for the Nightmare Before Christmas fan on your list!
Jack Skellington Accessories
This Halloween, you're dressing up as Jack Skellington, and you're almost ready to go! You have your pinstriped suit, you have the debonaire attitude, and all you need is a finishing touch. You're in luck! We have anything you might need to complete your costume in our selection of Jack Skellington costume accessories.
Achieve Jack's pale, skeletal look with some gloves, makeup, or a one-piece mask. Of course, it doesn't have to be October for you to don some apparel designed with this beloved character in mind! Add a backpack, purse, or hat to your year-round wardrobe and bring a touch of the Halloween spirit to your everyday outfits.
Jack Skellington Mask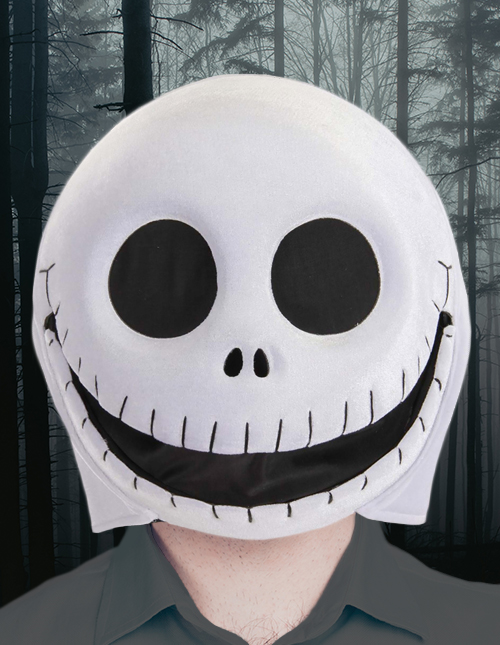 When the character you choose to imitate for Halloween isn't exactly, well, human, you have a choice to make. Are you going to spend the time to create an elaborate makeup look or are you going to don a mask to make your face match theirs? If you have a Jack Skellington mask like this one, we think that's an easy decision! Simply add it to your costume or cosplay and you'll be able to achieve a skeletal look in one easy step!
Jack Skellington Hat
What's the perfect way to top off any costume? With a hat, of course! Whether you're completing a Jack Skellington cosplay, adding your own touch to a costume, or simply adding a fun new accessory to your wardrobe, a Jack Skellington hat will do the trick (and maybe even the treat)! You'll look as dapper as the Pumpkin King himself with a fancy top hat that goes perfectly with his signature suit.