Preparing for Christmas can be a big deal, especially when it comes to gift-giving. Thankfully, if you have someone that's a little bit geeky or nerdy, it usually makes them easier to shop for. (We'd also argue that it's more fun too!) If the recipient loves superheroes, there are plenty of superhero gifts to order online, and this is similar for pretty much every other major fandom. Many of these items also make great gender-neutral gifts as well. We'll also throw in some other fun gift-giving ideas for people who are into other things, from sports to books, board games and more! You won't be stumped on what to give even your most difficult-to-shop-for relative or friend after browsing over this gender-neutral gift guide at FUN.com!
Board Games for Adults
"Cool" varies a lot depending on who you talk to, but we like to define cool gifts as items that would make any geek or nerd shriek with joy. (Shrieks of joy are a thing, and they're just as wonderful as squees or tears of joy.) There are a smattering of cool present ideas on FUN.com that aren't gender-specific, board games included. Feel free to take these cool gift ideas and run with them—if your giftee likes to host a board game night, find some cool board games for adults! You can find strategy board games, Disney board games, classic board games with a nerdy twist, and even some party games for the more casual board gamer. Even if you don't know who your gift will end up with, board games make great unisex gifts at Christmas gift swaps and work parties.
Plush Throw Blanket Gifts
Perhaps you have that one person on your Christmas shopping list who doesn't want anything unless they can use it multiple times in a year. (Let's face it: getting an ornament for Christmas, unless it's super-awesome, can sometimes be a downer as you have to immediately toss it into storage until the next holiday season.) Well, fleece throws and blankets are extremely practical gifts that are great no matter who you're giving them to! The best part about all of these unisex Christmas gift ideas is that they cover a wide variety of fandoms, so it's going to be hard not to find something your giftee will love. Even if you don't know who your gift is going to, in the cases of office parties and white elephant exchanges, a novelty throw like this is bound to make someone jealous!
Funny Coffee Mugs
It doesn't matter if you're on a tight budget or if your gift-giving group decided that they only want to do a white elephant gift exchange with some cheap gifts in a certain price range, because there are still plenty of inexpensive Christmas gift options for you! No Christmas gift blends form and function quite as well as the pop culture coffee mug. Be a little goofy and give them the gift of a job as a Jurassic Park ranger, or show them how much you care with a sweet surprise from Mister Rogers. Of course, should you know that they're a huge fan of Star Wars, a Star Wars coffee mug is sure to be appreciated! You can easily expand on this unisex gift idea with some instant hot chocolate, tea or coffee to sip on as a winter treat. What we're saying is that if you're looking for white elephant gifts under $25, you can't go wrong with any of these FUN.com products!
Holiday Sweaters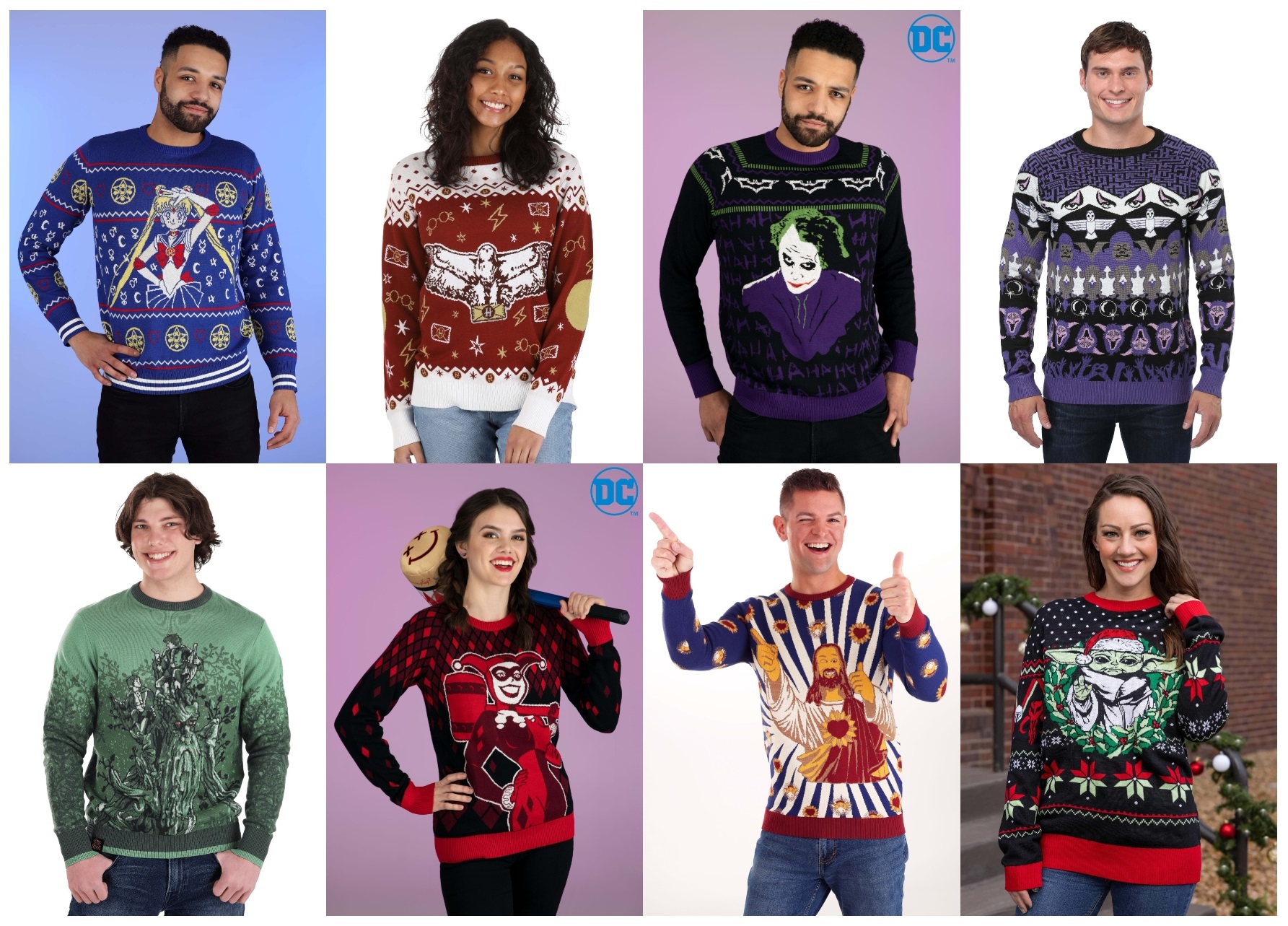 Our love for ugly Christmas sweaters at FUN.com runs deep—so deep, in fact, that we have a large number of exclusive holiday sweaters! The best part is that our ugly sweaters and Christmas sweatshirts are always unisex, making them wearable by everyone. While these particular pop culture sweaters aren't overtly Christmas in nature, that just means that you can wear them throughout the cold season. They also make great gifts for that Batman or Lord of the Rings fan in your life. Of course, we can't blame you if you also decide to snag a fun sweater for yourself!
Christmas Gag Gifts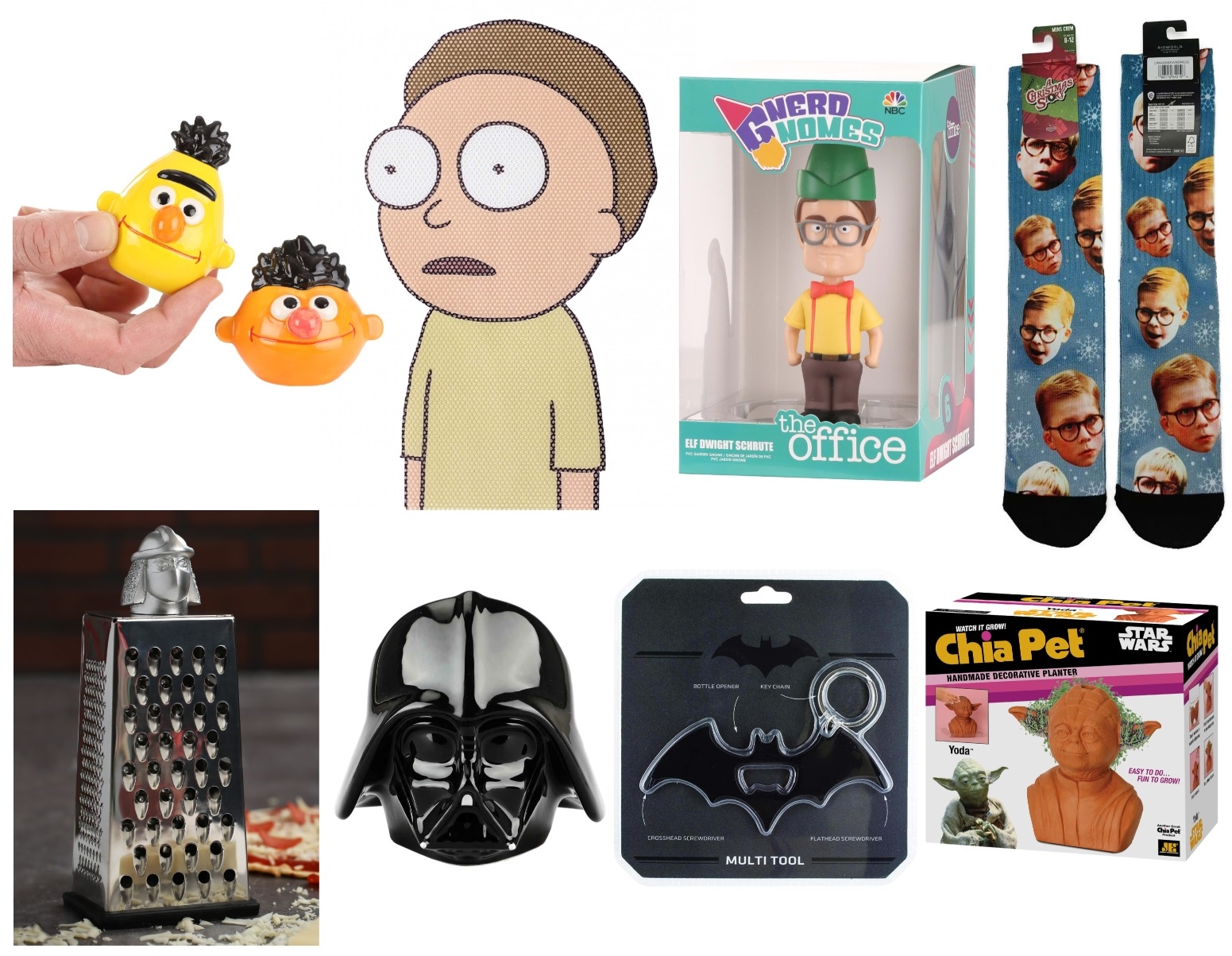 If you're in the market to purchase oddball Christmas gifts, check out these funny Christmas gift ideas. These gag gifts make great stocking stuffers, and they are also perfect for any white elephant gift exchange. If you know that your Christmas party crowd loves pop culture gifts, items like A Christmas Story leg lamp or a Boating School SpongeBob car sunshade will evoke some good laughs. Other funny gift items are all about visual or verbal gags. If you're trying to be even less subtle about the ridiculousness of your silly Christmas gift, a TP blaster gun or fortune-telling pint glass will certainly do the trick!
Best Funko Pop
This is definitely a holiday gift idea for nerdy friends and co-workers, but Funko Pop! vinyl figures are lots of fun to collect. Whether you know that someone would appreciate a Naruto Funko Pop! or maybe they're more of a The Office Pop! person, we have plenty of Funko on FUN.com to go around. They're also a wonderfully cheap gift idea if you're setting a maximum price on gifts this year. Don't be afraid to peruse the rest of our Funko gifts if you're looking for more than just Pop! vinyl figures too!
Cool Puzzles for Adults
If you're in the market for some gifts for people who love puzzles or that quirky friend or relative, we have a selection of unique gifts that might just be what you're looking for! Maybe you're looking for Thomas Kinkade Disney Puzzles or some cool Wrebbit 3D puzzles? Well, we're pleased to announce that you can find them here at FUN.com! However, don't be afraid to branch out either. There are tons of other pop culture puzzles to discover! Die-hard fans of these fandoms won't be able to thank you enough for these amazing holiday gifts.
Fun Office Supplies
This is an excellent idea for work Christmas parties, but fun office supplies work well as unisex gifts for adults. Bobbleheads, small planters, utensil holders, notebooks and other items are nice to add a little atmosphere to anyone's workspace. Of course, with this being FUN.com, you're not going to find anything ordinary here! Add a little pop of pop culture for a goofy, eye-catching piece that will make you smile throughout the day. (Does anyone like a stuffy, boring, corporate aesthetic?) Whether or not your giftee is an adult who works from home or the office, they'll love these goofy yet thoughtful office supplies to spruce up their workspace.
Collectible Statues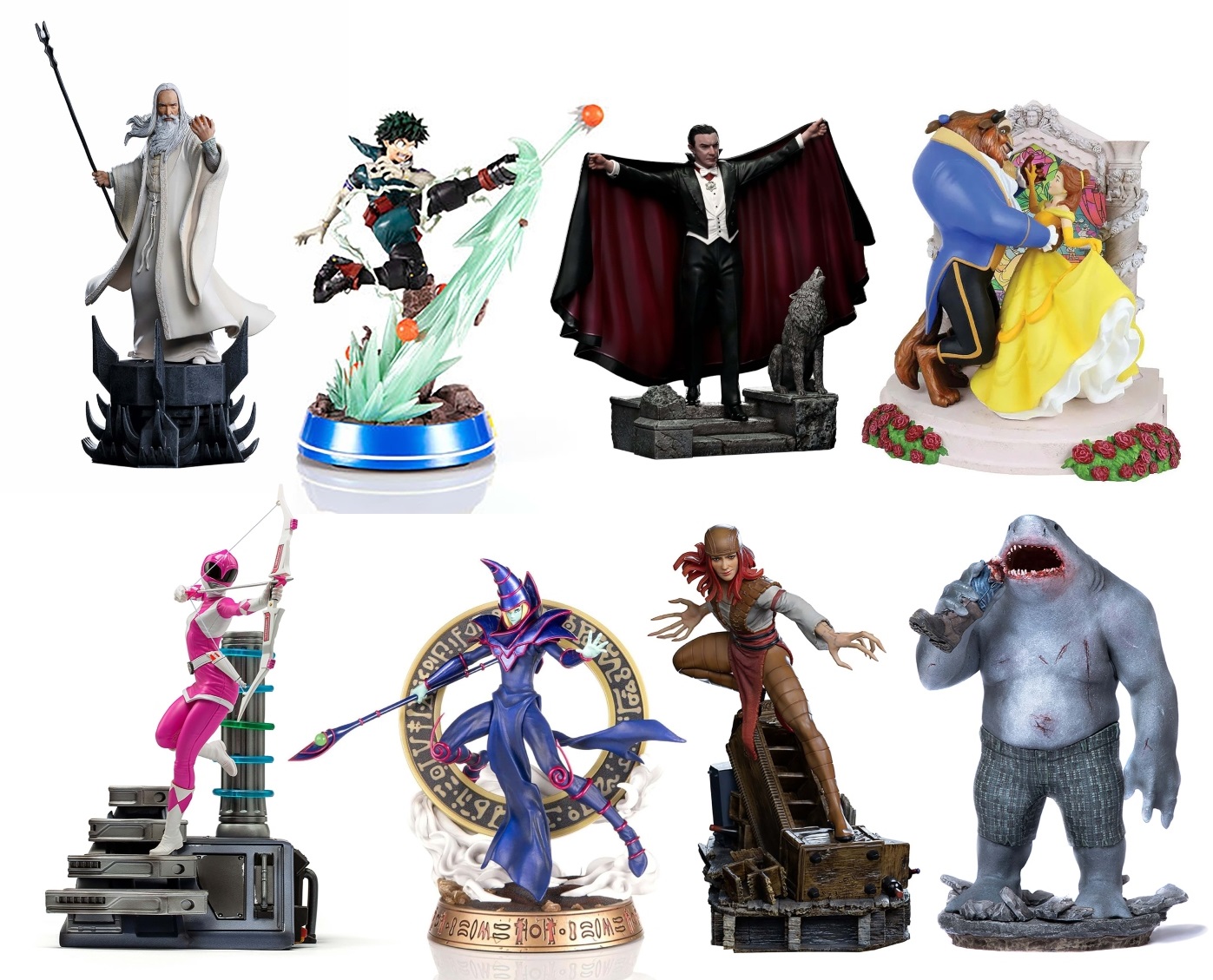 These expensive Christmas gift ideas all fit within the $100+ range, which is well above the average price for a single Christmas gift. If the giftee is a super-fan of Marvel, Power Rangers, or anime, these are some great Christmas gift items! (You'll definitely want to know who you're gifting, unlike a white elephant gift that can be more general!) Still, fans of these franchises come in all types, so they're perfectly suited as gender-neutral gift ideas. You can also find some other less expensive statues and figures if you're not willing to blow the bank this year.
Unique Umbrellas
Umbrellas are always in demand in some fashion, so why not find a unique umbrella gift? These licensed umbrellas cover a wide range of fandoms, and some of them even have cool handles like lightsabers, swords and bats! A few of these funny umbrellas are weird enough to grant them white elephant gift status, so that's a great idea as well. We expect them to get stolen a few times before the popular holiday gifting game ends!
Nerdy Backpacks
There are many great reasons to have a backpack, so why not pick a fun backpack to show off your pop culture style? School-sized backpacks are great if you like to carry books, notes, sketchbooks or even hiking snacks, but mini backpacks have their uses too! Whether you like them for their cool designs or for storing your convention swag, mini backpacks for women and men are great to have on hand. We have plenty of Loungefly mini backpacks and normal-sized book bags to give as gender-neutral gifts. Just pick a favorite fandom, and you're well on your way to offering the best X-mas gift!
Fun Kitchen Gifts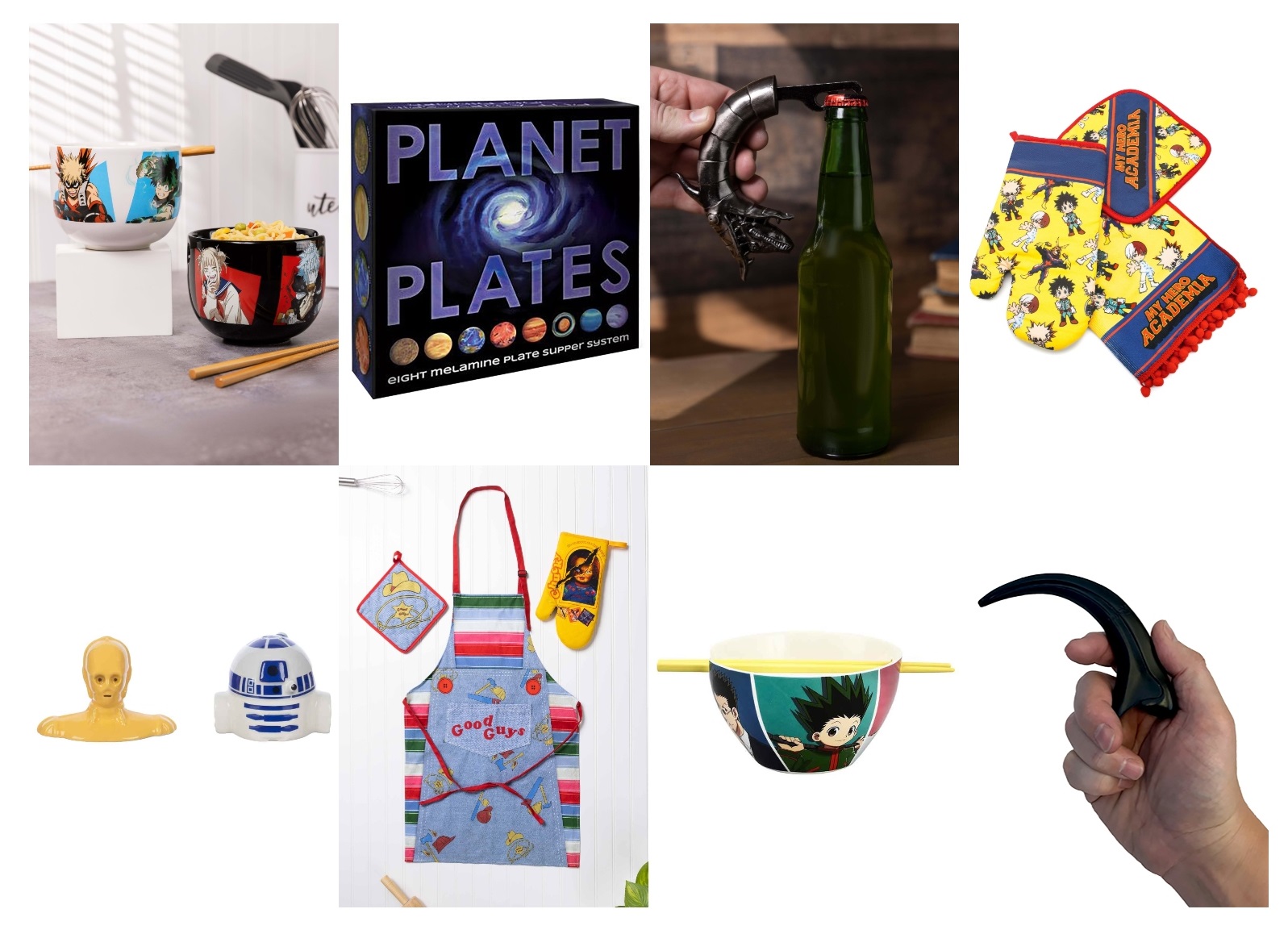 Many people love to cook and sample the fruits of their labor, so why not track down some fun kitchen gifts for that master chef in the family? You can find plenty of unique kitchen and dining gifts to inject a little bit of entertainment into their cooking routine. Get cute salt and pepper shaker sets, nerdy ice cube trays and other geek kitchen gadgets for the home. Even some cool ramen bowls and plate sets make great unisex gift ideas.
Geeky Pet Accessories
You undoubtedly know someone—whether they're a family member, friend, co-worker—who talks a lot about their pet. Help them spoil their favorite furbaby with many pop culture pet accessories! An adorable Mystery Machine pet carrier is sure to cause an adorable stir at the vet, and it will be tough not to smirk as they settle into a Star Wars pet bed. Even having a geeky squeaker toy friend to toss and play with is sure to have some silly moments! There are so many gender-neutral animal and pet supplies that make excellent Xmas gifts!
We hope you have plenty of gender-neutral gift-giving ideas for Christmas after checking out this Christmas gifts guide! What fandoms are your family and friends' favorites? Do you find it easier to do your online Christmas shopping if you're looking for pop culture gifts? Feel free to let us know your thoughts and share what nerdy gift item you'd love to get for Christmas!