Toy Story Clothing
To infinity, and beyond!
The Toy Story films started all the way back in 1995 when the first computer-animated feature film Toy Story was released in theaters. That's when the world was introduced to the beloved characters of Woody, Buzz, Rex, Hamm, Bo Peep, and so many more. That film was a huge smash with both critics and audiences and has continued to endure through a whole trilogy and now a fourth film! The magic that Pixar created with Toy Story is no less potent today than it was almost 25 years ago. New generations of kids have discovered the films that their parents grew up with, and that's something you just don't see every day. That's why you'll find Toy Story clothing and accessories for not only kids but adults, too, right here at Fun.com.
Toy Story Apparel
We're not sure if toys ever switch up their clothing (except you, Ken! We know you live for it) but you're not a toy! So, we think a big, diverse wardrobe that expresses what you love is exactly right. Our Toy Story apparel captures all the fun of the characters in lots of different looks, from sweaters, PJs, dresses, and hoodies! Anywhere you go you'll be able to show off your Toy Story flair.
Toy Story Ugly Christmas Sweater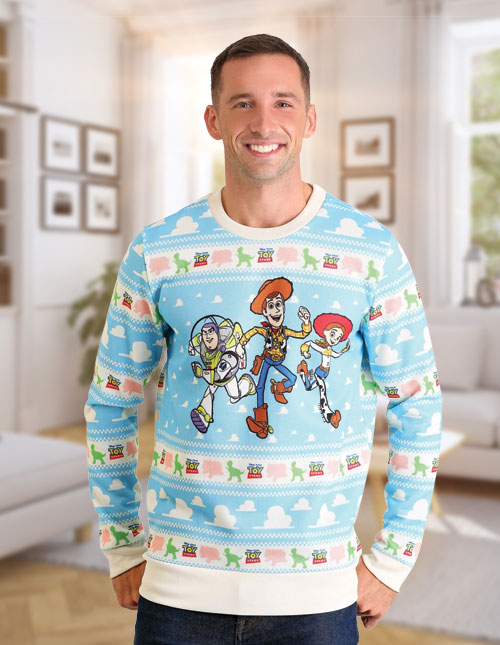 You might see this and say "what does Toy Story and Christmas have to do with each other?" Well, quite a bit actually! The first movie ends during Christmas while all the toys are worried about what Andy's next toy is going to be. Of course, it turns out to be a puppy! This merry and bright Toy Story sweater for adults features Woody, Buzz, and Jessie on the front along with Rex, Hamm, and the logo on bands between the recognizable white cloud sky from Andy's room! It'll be Joy to the toys when you wear this jolly sweater.
Toy Story Alien Pajamas
"The ClaaaAAAaaaw!" While you wear this Toy Story Alien kigurumi, you might have the sudden worry about a giant metal claw coming to pick you and take you to a better place. But don't you worry about that! All you have to worry about is being so comfortable you won't want to do much of anything besides kick back and binge watch the Toy Story movies. But really, that sounds pretty good, doesn't it? We think that might just be the better place the claw promised!
Toy Story Dresses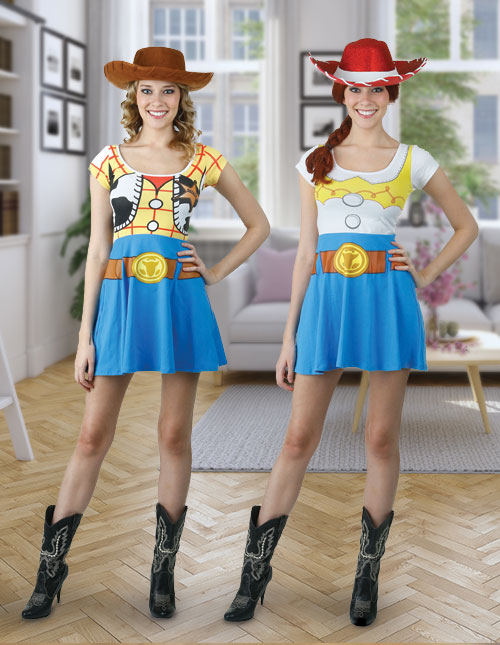 Get ready for the Roundup because here comes Woody and Jessie! They were the stars of a children's show way back in the 50s called "Woody's Roundup". Of course, Woody had no idea how special he was (to that mean collector guy) until later, but then again, he was always special to US, right? These Toy Story dresses recreate the iconic looks of Jessie and Woody from front to back with bright colors and costume details. These Toy Story dresses for women are perfect for a party, a rodeo, or even a visit to The Happiest Place on Earth.
Toy Story Buzz Lightyear Hoodie
If you've got a little space cadet in your family, then you're going to want to suit him up in the proper Star Command gear! This Buzz Lightyear costume hoodie for kids is not only comfortable, but it looks just like Buzz Lightyear's space suit from the films. It has all the buttons and bright colors that you know on a very nice little sweatshirt. Don't worry, they won't be able to really go battle the evil Emperor Zurg, except in their very active imagination.
Toy Story Lifestyle
When you truly love something, it can become part of your lifestyle. We truly love Pixar films, and that's why we have made it a part of our lifestyle! We have Pixar apparel and Toy Story accessories and, as you now know, a ton of Toy Story clothing. There's nothing better than getting dressed in the morning and being reminded of your favorite character that gives you a little joy at the start of your day. We hope all this Toy Story apparel has inspired you to make this beloved classic a part of your life in brand new and exciting ways.
Disney Pixar Ugly Christmas Sweaters
Please feel free to explore more of our Pixar clothing, including this Incredibles Holiday Sweater that will pair perfectly with our Toy Story sweater.